DVDs from TCM Shop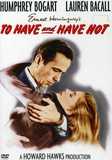 To Have and Have Not A skipper-for-hire's... MORE&nbsp> $14.96 Regularly $19.98 Buy Now blu-ray
NOTES
Ernest Hemingway's novel was based, in part, on two previously published short stories, "One Trip Across," published in April 1934 in Cosmopolitan, and "The Tradesman's Return," published in 1937. Walter Brennan was borrowed from Goldwyn for the production. Several sources state that this was Hoagy Carmichael's screen debut, but he appeared in several films in the 1930s (see Personal Name Index in AFI Catalog of Feature Films, 1931-40). This film marked Lauren Bacall's screen debut. Impressed by Bacall's sultry delivery of her lines, such as the often-quoted, "You know how to whistle, don't you, Steve? You just put your lips together and blow," the Variety reviewer called her "an arresting personality...she can slink, brother, and no fooling!" and the New York Times reviewer described her as "Slumberous of eye and softly reedy, she acts in the quiet way of catnip and sings a song from deep down in her throat." Bacall and Humphrey Bogart met for the first time during this film and were married later in 1945.
Information in the Warner Bros. Collection at the USC Cinema-Television Library provides the following details about the production: Ernest Hemingway's novel was set in Cuba, which originally was to be the setting of the movie as well. The U.S. Office of the Coordinator of Inter-American Affairs objected to this locale, however, believing that it might place a strain on Cuban-American relations. After the fall of France to the Germans in 1940, the location was changed to Martinique. According to a biography of William Faulkner, he was responsible for changing the story's location to Martinique. Technical advisor Louis Comiens was a native Frenchman who served with the army in Martinique. Some scenes were shot on location in Balboa and Laguna Beach, CA. Reviews commented on the similarities between this story and Warner Bros. 1943 film Casablanca, which also starred Bogart. Modern sources add the following information about the production: Although many modern sources claim that Bacall's singing voice was dubbed by Andy Williams, Bacall states in her autobiography that she sang the songs in the film herself. Williams did occasionally dub women's voices for M-G-M. The actress was discovered by Howard Hawks's wife Nancy, a former model known as Slim. She spotted Bacall's photograph on the cover of Harper's Bazaar and suggested that Hawks test her for the part of "Marie." Hawks felt Bacall had the potential to be an actress like Marlene Dietrich and suggested that writer Jules Furthman, who had written roles for Dietrich in such films as Morocco, Shanghai Express and Blonde Venus, model the role of "Marie" on Dietrich. According to a biography of William Faulkner, he was the sole author of the "second revised final" script, but Hawks changed so much of the story to suit his own style that little of Faulkner's work remained.
Ernest Hemingway's novel also provided the source for the 1950 Warner Bros. film The Breaking Point and the 1958 UA film The Gun Runners, starring Audie Murphy and directed by Don Siegel. A Lux Radio Theatre version of To Have and Have Not, starring Bacall and Bogart was broadcast on October 14, 1946. In 1957, a television version of the same title was broadcast on NBC as part of the Lux Video Theatre. It starred Edmond O'Brien and Beverly Garland and was directed by James Yarbrough. According to an August 8, 1957 Hollywood Reporter news item, writer Ben Hecht was planning to make a new version of To Have and Have Not for Associated Artists Productions, who purchased rights to the property from Warner Bros., but this version was never produced. Bogart and Bacall made three more films together after this: The Big Sleep (1946), Dark Passage (1947) and Key Largo (1948).