DVDs from TCM Shop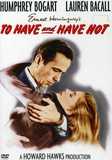 To Have and Have Not A skipper-for-hire's... MORE&nbsp> $14.96 Regularly $19.98 Buy Now blu-ray
Trivia
Humphrey Bogart and Lauren Bacall fell in love during production. Director Howard Hawks afterward said that it was actually Bacall's character Marie that Bogart had fallen for, "so she had to keep playing it the rest of her life."
Ernest Hemingway had bet Hawks that Hawks couldn't film this novel. Hawks did it by deleting most of the story, including the class references that would justify the title, and shifting to an earlier point in the lives of the lead characters.
The setting was shifted to Martinique because the Office of Inter-American Affairs would not have allowed export of a film showing smuggling and insurrection in Cuba.
Andy Williams was hired to dub Bacall singing "How Little We Know", but Hawks decided to go with Bacall.
The only film to date (2000) based on a novel by a Nobel Prize-winning author (Ernest Hemingway) to have its screenplay co-written by another Nobel Prize-winning author (William Faulkner).
The screenplay was rewritten to boost Slim's role to take advantage of the public interest in the real life romance between Lauren Bacall and Humphrey Bogart.
Contributions
Holz (2008-11-21)

Source: not available

Hoagy Carmichael played most of his scenes with a matchstick in his teeth. Seeing this on the set at the start of shooting, Humphrey Bogart gave kudos to Carmichael, telling him that the matchstick was a nice touch and would make him stand out in the film. Carmichael was surprised afterward to see a scene being filmed with Bogart and Walter Brennan, both of them chewing matchsticks throughout the shot. They finally revealed that they were having a bit of fun at Hoagy's expense.