DVDs from TCM Shop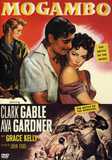 Mogambo In this remake of Red Dust, an... MORE&nbsp> $11.21 Regularly $14.98 Buy Now
Home Video Reviews
Clark Gable, Ava Gardner, Grace Kelly, and Donald Sinden star in John Ford's film
Mogambo
(1953), a remake of Victor Fleming's 1932 film
Red Dust
. Both films were adapted from a play by Wilson Collison. Thematically,
Mogambo
(new on DVD) is about the tensions and complexities of romance. Narratively, it follows safari guide Victor Marswell as he takes English anthropologist Donald Nordley (Sinden) and his wife Linda (Kelly) through jungles of Africa to film gorillas. Eloise Kelly (Gardner) accompanies the group for the ride. Obliged to ensure the well-being of his clients, Victor tends to them when ill and rescues them from all the dangers of a wild environment. Upon saving Linda from an animal trap, and later a raging rainstorm, Victor develops a soft spot for the blonde-haired, conservative housewife. Eloise looks on in jealousy-she landed in his homestead first.
A substantial amount of the expedition portion of the film address a Eloise vs. Linda scenario in the form of brilliantly written dialogue. Eloise impresses Mr. Nordley with her knowledge of baseball and Linda articulates how much she loves her husband. In addition to the interpersonal conflicts among the characters, director John Ford also presents a near ethnographic tableau of African landscape, animals, and human inhabitants. In fact,
Mogambo
begins with an establishing shot of the boundless African plains, and the narrative continues to underscore the role of the environment and its effects on the characters.
These colonial-accented, anthropological sequences suggest that Ford could be making a nature film-and not just because much of the animal footage was either filmed by a second unit or was archival footage. Ava Gardner shares the screen with a number of animals (a baby elephant, a lion, a chimpanzee, a leopard, and a baby rhinoceros), and while these moments are adorable, other sequences in the film could have benefited from a disclaimer assuring viewers that no animals were harmed during the making of this motion picture.
Known for his westerns, John Ford again displays his exquisite sense of picture composition and his use of Technicolor as cinematic paint. Produced by Sam Zimbalist for MGM,
Mogambo
manages to separate itself from middlebrow melodramas because of Ford's skills as an auteur and as a result of its outstanding cast. The chemistry between Gable and Gardner electrifies each frame, while Kelly's prim and uptight demeanor complements her Gable's rugged disposition. Their performances were so impressive that Grace Kelly won the 1954 Golden Globe for Best Supporting Actress and Ava Gardner was nominated for Best Actress at the 1954 Academy Awards.
Belligerent gorillas and the safari expedition places
Mogambo
within the realm of "adventure film," specifically the safari film, but the humor provides a comedic touch in the vein of a screwball comedy a la Katharine Hepburn and Cary Grant. Ava Gardner acerbically says of the Nordleys: "They look kind of shiny new and young to be scientific types, don't they?" When Victor has to go look for Linda, he utters, "Mrs. Nordley takes a walk in the bush like it's Hyde Park." Victor also has a python called Old Joe, "the migratory mousetrap." Perhaps a nod to screenwriter John Lee Mahin is in order as well.
After the opening credits have ended, bold canary yellow text informs the viewer that "Metro-Goldwyn-Mayer is grateful beyond measure to the government officials of: Kenya Colony, Tanganyika, The Uganda Protectorate and the Republic of French Equatorial Africa, whose limitless cooperation made this motion picture possible." This message grounds
Mogambo
in a historical context that fortunately doesn't overwhelm the story. It is a battle of the senses and affections, not of geopolitics.
To order
Mogambo
, click
here
. Explore more John Ford titles
here
.
by Stina Chyn