DVDs from TCM Shop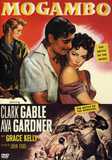 Mogambo In this remake of Red Dust, an... MORE&nbsp> $11.21 Regularly $14.98 Buy Now
NOTES
The African native expression "mogambo" is variously translated as either "passion" or "to speak." According to a December 17, 1951 item in Hollywood Reporter's "Rambling Reporter" column, M-G-M sought Lauren Bacall for a role in the film. Modern sources provide the following casting information: director John Ford originally wanted Maureen O'Hara for the role of "Eloise Kelly," and M-G-M wanted Deborah Kerr to portray "Linda Nordley." The role of Linda was offered to Gene Tierney, who declined because she did not want to take her young child on a lengthy location shoot in Africa. In her autobiography, Lana Turner recalled that the studio offered her a choice between Mogambo and Flame and the Flesh. Turner wrote, "The Mogambo script didn't appeal to me, and I elected to do Flame and the Flesh. A big mistake! Ava Gardner took the Mogambo role and played it beautifully, but with a script very different from the one I read." A modern source states that the director's brother, actor and silent film director Francis Ford, had been cast as the "Skipper," but died before production began.
According to contemporary sources, Mogambo was shot primarily on location in Tanzania (formerly Tanganyika), Uganda, French West Africa, French Equatorial Africa, Zaire (formerly the Belgian Congo) and Nairobi, Kenya. Additional scenes were shot in M-G-M's studio in Elstree. Contemporary news items add that M-G-M studio technicians constructed a large, well-appointed safari camp on the Kagera River, complete with a 2,000-yard airstrip. The studio also brought in hundreds of tribal warriors from different sections of Africa to serve as extras. News items also reveal security concerns over the Mau Mau uprising in Kenya, in which a radical sect of the Kikuyu tribe launched a violent rebellion against British rule. Production began only a month after the British declared a state of emergency in the area, and, according to M-G-M News, the film's stars and director were required to carry guns. John Hancock, an assistant director with M-G-M's British studios, was killed, along with two native workers, when his vehicle overturned during location shooting in Kenya. A November 26, 1952 Hollywood Reporter news item reported that Ava Gardner was in a London nursing home recovering from a "tropical illness" contracted on location. In her autobiography, however, Gardner revealed that she had learned she was pregnant during the shoot, and had flown to London for an abortion without then-husband Frank Sinatra's knowledge.
Mogambo is a remake of the 1932 M-G-M film Red Dust, which was directed by Victor Fleming and starred Clark Gable, Jean Harlow and Mary Astor (see AFI Catalog of Feature Films, 1931-40). Set on a rubber plantation in Indochina, Red Dust also featured a screenplay by John Lee Mahin. The 1940 M-G-M film Congo Maisie, directed by Henry C. Potter and starring Ann Sothern, is often referred to in modern sources as a remake of Red Dust, but Congo Maisie was actually based on the Wilson Collison novel Congo Landing. According to modern sources, Stewart Granger proposed the remake, hoping to recreate his success in M-G-M's 1950 African adventure film King Solomon's Mines (see AFI Catalog of Feature Films, 1941-50). Dore Schary, M-G-M's head of production, agreed with the idea, but decided to cast Gable in the role he had played twenty-one years earlier. In a modern interview, director Ford said, "I never saw the original picture. I liked the script and the story, I liked the setup and I'd never been to that part of Africa-so I just did it."
Although Mogambo was less risqu than Red Dust, the film encountered Production Code problems because of the scene in which "Victor Marswell" discovers Eloise using an outdoor shower-a new version of the famous scene in Red Dust in which Harlow's character is seen bathing in a rain barrel. According to information in the file on the film in the MPAA/PCA Collection at the AMPAS Library, the PCA believed the shower scene "involved too much exposure" and demanded that some footage be eliminated. On April 13, 1954, M-G-M executive Robert Vogel wrote to Geoffrey Shurlock of the MPAA regarding a recent, unidentified film that also had a shower scene. "In Mogambo, there are five shots of Ava Gardner in the shower; the five total exactly 40 feet," he wrote. "The sequence in the other picture runs exactly 160 feet-practically all of it in close-up, and the dialogue is obviously more questionable." Vogel concluded, "I presume you realize that I am not bringing this matter up because I object to anybody else having 160 feet of such a scene, but merely because we had a little difficulty before we were permitted to retain 40 feet in our picture."
Mogambo received generally good reviews, and boosted the careers of both its female stars. The Daily Variety review proclaimed, "What Red Dust did for the late Jean Harlow in 1932, this modern version should do for Miss Gardner in 1953." Gardner was nominated for an Academy Award for Best Actress, and Grace Kelly received a nomination for Best Supporting Actress. Some reviews noted that, like King Solomon's Mines, which also was produced by Sam Zimbalist, Mogambo had no musical score, and instead drew on native chants and the sounds of the jungle for atmosphere. According to a modern source, New York City disc jockey "Murray the K" used one of the African chants from the film as his theme song. According to a March 29, 1954 Hollywood Reporter news item, M-G-M tried unsuccessfully to have Mogambo designated as a British production in order to qualify for a tax rebate under Great Britain's Eady Plan. A modern source adds Asa Etula (Young native girl) to the cast and credits Alexander Fisher with sound and Richard Rosson, Yakima Canutt and James C. Havens with second-unit direction.