DVDs from TCM Shop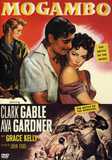 Mogambo In this remake of Red Dust, an... MORE&nbsp> $11.21 Regularly $14.98 Buy Now
USER REVIEWS
See Detailed Ratings
Acting of Lead Performers

Acting of Supporting Cast

Director

Music Score

Title Sequence

Screenplay

Cinematography

Historical Importance

Would You Recommend?

0 Member Ratings
Rate the acting of the Lead Performers

Rate the acting of the Supporting Cast

Rate the Director

Rating of the Music Score

Rating of the Title Sequence

Screenplay

Creatively uses the camera to tell the story

Importance in Cinema history

Would you recommend for fans of this genre
Submit Ratings
Cancel
Write a Review
Read Reviews
NO REVIEWS AVAILABLE
The title has not been reviewed. Be the first to write a review by clicking here to start.
One of Ms. Gardner's Best Performances

I believe this is one of Ms. Ava Gardner's best performances and whose performance carries this picture. There are rare instances of where the remake has been better but this film isn't one of them. Without Ms. Gardner, this film would be a so, so film.

Red Dust Is Better !

How can a film with the delightful Ava Gardner, the ravishing beauty of Grace Kelly and the masculine and heroic Clark Gable be less than great ? You make Clark Gable much too old to have two young beauties fall head over heels for him, in the same household. Have Ava Gardner look like she is groomed and propped like a Fifth Avenue model every second she is existing in the African jungle. Then use Grace Kelly in a part that seems to have been shoved into a crack between the larger than life Garner and the larger than life Gable. This is a remake plain and simple, the casting does not work -- at all !.................Garner is totally NOT Jean Harlow who was perfect for the part and made it work, beautifully. ....................But, that said the film is shot wonderfully on location and that has to bring it up a bit and its delightful more as a sort of comic misadventure, than a film of an dramatic quality. 3 1/2 stars...........................all three of the actors are worth the price of admission, although miscast in comparison to the original, they still a sensational to watch .

Red Dust was better

Remake of Red Dust, modified for the times. Gable is great, of course, as is Ava Gardner. But Grace Kelly is just awful--like in every movie. Most overrated actress ever! I cannot understand Grace Kelly's popularity. She is such a wooden actress, and watching her perform is like watching a high school play. She is not up to the material in this film. I agree with the reviewer who suggested the movie would be better if Grace Kelly had been eaten by wild animals.

Watchable Yes, Outstanding No.

Disappointing considering Africa, Ford, Gardner, Kelly and Gable. Some great shots of Africa and at times an OK story line but misses the mark. Seems disjointed. Grace and Ava are Grace and Ava and that is a lot. Can't help but compare to Red Dust and Jean Harlow. Nobody matched Jean.

5 stars! Fantastic!

Timeless romance & real drama (makes you wish for real love)! Different types of masculine men & feminine women play in an exciting, fun script, rich w/a bold use of language. The actors speak w/such intonation & inflection, & move so naturally in their passive or aggressive physicality, that Mr. Gable & Ms. Gardner could step out of the screen--1952 doesn't matter. The literary & playful dialogue studies each person, while their connections & contrasts are highlighted by wildlife & scenery locations, lush w/beauty & danger. Safe for teens.

greatest article ever

I just knew, watching Mogambo yesterday, there had to be some major turbulence on that set. The articles on this film is the best, most entertaining article on any film ever. A movie should be made based on these stories. Thanks TCM.

Hardly Essential

No I can't believe that this film is an essential. It often seems like two or three different films, considering the washed-out stock footage.The dialogue is corny and worse, the old-fashioned perspective towards hunting endangered animals makes this a tough one to stomach sometimes.On the other hand, Ava Gardner is excellent, looks beautiful and is relaxed and natural. Gable is good too and low key.Grace Kelly does not seem good at all - her British accent is not convincing and she takes the stiff, aloof Englishwoman thing a little too seriously. It is not a pleasure to watch her.

Hot and Dusty

Good Gable vehicle, and you have to catch Grace Kelly when you can, but you can see the mechanics of the plot creaking along, everyone going thru their paces, but catch Heat and Dust, Gable and Lombard in the thirties, for the essence of the piece, sex versus respectability, seduction versus commitment. As in other films, Grace opts for that phony British accent. Might have been better with her as the tramp and Ava as the aristocrat who has trouble with lust. Worth seeing for sure, if you haven't.

Mogambo

I very much like this film except for the horrible dialogue given to Ava Gardner early in the film. Fortunately, this seems to have been corrected some distance into the film. The baby animals are so cute and I loved seeing Ava's interaction with them. I was sorry to see another cheetah get a bad rap. They are probably the least agressive of African animals. So shy, in fact, that they were often made pets. In any case, I enjoyed the remake and, of course Ava and Grace Kelly. Not much of a fan for Gable's looks, I prefer William Powell, but I really enjoy his acting and the bold characters he plays. Back in the time this film was made, it was a great honor to have some of the African tribes involved and I hope they may have enjoyed it too. It would be unlikely that this kind of film could be made today will all the logistics involved. This film takes me on travels that I would never see otherwise. I hope that the viewers look at this film in context with the times and not presume how the African tribes related to the process or the people involved.

Mogambo

Director Ford makes a lusty, vivid reversion of "Red Dust." Gable repeats his "Red Dust" character, Gardner gives a splendid, Oscar-nominated performance & Kelly won the Golden Globe for her supporting work. Beautiful photography captures the African landscape, people & wildlife. A terrific film that's anything but dull. I give it a 4.5/5.

Ava Outclasses Them All

Loved Ava's character all the way.Clark looks a bit old,but who's counting,they're believable.

as good as the original

big budget remake of red dust with an older gable as good as in the original with a classy set of leading ladies.a handsome production directed by the great john ford which gives it real class.this was john ford's biggest hit of all the films he directed.

Mogambo (1953)

Even with Grace Kelly, the original (Red Dust) is much better.

Honest Remake of Red Dust.(1953)

Clark Gable stars with Ava Gardener and Grace Kelly as the love triangle invades Africa, sans a musical score, in an attempt to capture some "wild" animals. While the film appears dated, Gable is compelling as always. The stock footage drags the film down, and detaches the audience from the drama. Filmed in "Technicolor", the lovely people look good and so does the film. The story either works for the viewer or doesn't, there really isn't any inbetween. I find it interesting, yet a little trite. The beauty of Africa is captured, if only they leave the animals alone. Frank Sinatra, while not on screen , was at the shooting locations. He had his own love triangle going. I wondered if he sang to the animals... 4 stars out of 5.

White Trash Goes to Africa: Mogambo (con't)

...hundreds of assistants that must have been present constantly changing costumes and wiping brows. Grace Kelly gives one of her best performances as this emotional invalid from Frigidity land that has accidentally awakened like a twisted spore in the midst of the heat and Gable's fertilizing testosterone presence. Her husband is so stereotyped he even dines in the hut in a tuxedo, you can figure out the rest, so one can not blame her for what happened. Ava had the most difficult role in portraying human values in a 'fallen woman' that looks like a fish out of water from the first scene. But she quickly adapts, and does a very good job at trying to seduce Gable. She is authentically convincing as a wholesome city hustler coming to grips with real deep emotions while looking absolutely ravishing. My favorite scene is of her atop a truck swaying and chanting with the natives creating her own choreography. Gable dominates the scenes with his trong presence, never was the title "King of Hollywood' been more tangible than in this film. The supporting cast of slobs that hang out around Gable evaporates from memory with the last screen credit. What a tragedy when the black panther is actually shot, on camera, for all our "entertainment". Disgusting, in the final analysis.

White Trash Goes to Africa: Mogambo (con't)

...polluting their air with their cigarettes and cars and either killing them or taking them to circus/zoos destinations. Real nice. The record is no better when it gets down to the treatment the natives get from this disfunctional crew of alcoholic, neurotic white contingent. The Africans get yelled at, have towels trown at them and are talked about pretty much in the same terms than the animals, yet they clearly have a much more dignified presence than the people they serve, when they stand up close the brutish barbarian is obviously the fat man with the gun. One deeply regrets that when they set out on the big canoes a pack pf hippos does not clash into them and drowns them all, which would be a more than happy ending for their misguided and abusive lives. Never before have I seen in a movie so clearly delineated the superiority of animals over humans, but this was surely not intentional. There is also the 'civilizing' presence of a priest who is a clear demonstration even by the way he looks, that this religion is wrong for the people. The church he has managed to build inside a hut has the eerie atmosphere of a Martian compound so alien does it look within the environment, and it helps understanding why the new african nations, burdened with this well intentioned, yet cumbersome interventions, have such difficulties in making progress. The love triangle is also more difficult to understand from our contemporary perspective, but here it is: Gable's character is enthralled by the idea of falling in love with a white, educated, upper class prude that flashes 'respectable upper class' form the first scene. Her get up alone is ridiculous: perfectly ironed silk kimonos, sweaters with pearl necklaces in the middle of the African heat (sometimes it went as high as 130 degrees while filming) though ideal for the Hamptons, one can not believe this would be possible in the middle of the jungle and makes one appreciate the hundreds of assistants that... (con't)

White Trash Goes to Africa: Mogambo

This movie set in the African savannah is actually a vehicle for a love triangle: Ava Gardner plays the brunette bombshell that arrives from New York, in high heels, ready for her closeup with an Indian Maharaja who does not show up. This is the tragedy of the film, as we miss seeing what she would have looked like strolling by the African landscape with a royal sari and a couple of pounds of cabochon emeralds in head ornaments. Clark Gable is the animal trapper and super macho of the jungle, in charge of the safari and Grace Kelly is the repressed wife of an English anthropologist who is there to study the language of the gorillas but would have been better off to concentrate on their sexual training instead as the minute they arrive he starts losing his wife to Gable's powerful and charismatic persona. The film has beautiful moments showing off the landscape and the animals, but it's not great cinematography, it's the intrinsic beauty of the place that is there, the movie itself is like a play happening on top of it. The best acting roles go to the animals here: The trapped leopard that imitates Ava's walk back and forth on the float, the baby elephant who eats bananas from her hand playfully alongside a baby rhyno, both are trapped in an enclosure and will be sold for $5,000 each. There is also the Hippo that throws Ava off her seat with a nice spray of water, and the panther that attacks Grace Kelly and unfortunately, is shot down by Gable. Why do we feel that it would have been GREAT if the animal had gone inside the trap and had her for lunch?? Because by that point we can't stand her and also know that a glamorous obituary in the Times is all she needs to put her out of all trouble, permanently. From a Contemporary viewing point these animals are the true heroes of the movie. They stand by silent and graceful amidst this white trash that is there destroying their environment...(con't)

A Different Kind of Jungle Fever.

Clark Gable, Ava Gardner and Grace Kelly go on location with Oscar-winning director, John Ford in the African nations of the Democratic Republic of Congo, Uganda, Kenya and Tanzania, and in Borehamwood, England to star this lusty remake of Gable's 1932 original film, "Red Dust" based on the play by Wilson Collison. Gable reprises his original role of a rugged safari guide, who finds himself attracted to two beautiful women: a tough unemployed showgirl (Gardner) and his boss' beautifully wife (Kelly). The roles of the two women were originally played by Jean Harlow and Mary Astor in the 1932 movie, and John Lee Mahin reworked his original screenplay for this remake. A romantic triangle in Africa combines love and action. Beautifully filmed by cinematographers, Robert Surtees and Freddie Young. With Donald Sinden, Phillip Stainton, Eric Pohlmann, Laurence Naismith, Denis O'Dea & Bruce Seton.

Mogambo (1953)

Not as good as the original, Red Dust, but it is still an excellent film, expertly made by a very capable crew. Clark Gable and Ava Gardner make an excellent screen pair. Very good story, top notch production.

Wildly Entertaining

Paul Conrad Jackson

8/12/09

Strangely, as avid a movie aficionado as I am, had never seen this movie before (I was nine years of age when it was released). But, as someone who has been too Africa, must say I found it 'wildly' entertaining, so long as you don't take it seriously. The dialogue is badly outdated, but, again, if you don't take it too seriously, and look at it tongue-in-cheek it is great fun. Rife is animals, supposedly living side-by-side, it is pure fantasy compared to the real thing. I recommend it, but hilariously for all the wrong reasons.
*We protect your personal infortmation and will not provide it to anyone without your consent. For a complete explanation, please refer to TCM's Privacy Policy. By submitting your contribution, you agree to TCM's Terms of Use.