DVDs from TCM Shop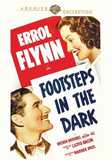 Footsteps in the Dark An aspiring mystery writer... MORE&nbsp> $15.96 Regularly $19.99 Buy Now
FULL SYNOPSIS
DVDs from TCM Shop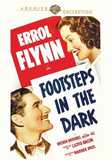 Footsteps in the Dark An aspiring mystery writer... MORE&nbsp> $15.96
Regularly $19.99 buy now
Unknown to his friends and family, investment councilor Francis Warren secretly writes detective novels using the pseudonym F. X. Pettibone. One afternoon, Francis has an appointment with Leopold Fissue, a suspicious character who wants to convert his supply of uncut diamonds to cash. When Francis objects, Fissue threatens to expose his secret life, so Francis reluctantly agrees to meet Fissue later that evening. Fissue is late for the meeting, however, and eventually Francis leaves without seeing him. Police inspector Mason, who knows Francis as Pettibone, ridicules his latest novel, stating that real crimes are not so easily solved.

When Fissue's body is found on his yacht, Francis, convinced that Fissue was murdered for his diamonds, decides to prove Mason wrong. A series of theater tickets leads Francis to burlesque dancer Blondie White, who has a habit of holding two matches together until they fuse. Having found two fused matches on the yacht, Francis is convinced that Blondie murdered Fissue, but her dentist, Dr. Davis, swears that she was in his office at the time of the murder. Meanwhile, Francis takes Blondie dancing as part of his investigation and is seen by friends of his wife Rita. Rita believes that Francis is having an affair and hires a private investigator. Blondie tells Francis that she must leave town to escape her ex-husband, Ace Vernon, and asks him for money. She also asks him to retrieve her suitcase from a storage locker. When Blondie does not show up, Francis rushes to her apartment, where the police, who have learned that Fissue was involved in a diamond smuggling ring, have found her dead body.

The police turn up a taxi driver who remembers driving a woman from Blondie's apartment to Francis' house. Francis hurries home to beat the police and confronts Rita, who believes that he killed Blondie. Francis, on the other hand, thinks that Rita is the murderer and urges her to leave town. When the police finally arrive, Francis' double life is revealed, and Rita admits that she went to Blondie's apartment to talk to her about Francis. Having found the missing diamonds in Blondie's suitcase, Francis realizes who Blondie's killer must be. He accuses Davis, who then attempts to inject Francis with the same poison that killed Fissue, not knowing that Francis has replaced it with water.

Tipped off by Francis' chauffeur, the police arrest Davis. Francis apologizes to Rita for keeping his writing a secret, but when he gets a call from Mason asking for his help in a new case, Rita is waiting to join him.