DVDs from TCM Shop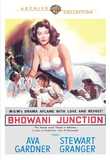 Bhowani Junction An Anglo-Indian beauty falls... MORE&nbsp> $14.36 Regularly $17.99 Buy Now
USER REVIEWS
See Detailed Ratings
Acting of Lead Performers

Acting of Supporting Cast

Director

Music Score

Title Sequence

Screenplay

Cinematography

Historical Importance

Would You Recommend?

0 Member Ratings
Rate the acting of the Lead Performers

Rate the acting of the Supporting Cast

Rate the Director

Rating of the Music Score

Rating of the Title Sequence

Screenplay

Creatively uses the camera to tell the story

Importance in Cinema history

Would you recommend for fans of this genre
Submit Ratings
Cancel
Write a Review
Read Reviews
NO REVIEWS AVAILABLE
The title has not been reviewed. Be the first to write a review by clicking here to start.
response to previous review

Thanks for the kind words. I'll look for your reviews, as well. Sorry I called this film a "piece of crap". You're right. Cukor is too good a director for that vulgar appellation to be applied to any of his works. But I sure as hell don't think "Bhowani Junction" can be compared to a great work like "Ambersons" under the too broad umbrella of their both being "flawed." That's like comparing Woodrow Wilson with Richard Nixon as presidents under the general rubric of both having defects. The problem with employing that standard is is that, like "Bhowani" Tricky Dick's faults...contempt for democracy, paranoia, and serial deceit...are much more egregiously destructive than Wilson's drawbacks of arrogance and imperiousness. And as far as Jean Simmons goes, I've noticed that a lot of TCMers don't like her. Wonder why? She strikes me as eminently intelligent and forceful on screen. Oh well. At least we both agree that you can't take your eyes off Ms. Gardner.

Response to Kevin

Dear Kevin,I've been reading your reviews for some time. I almost never agree with them, but I appreciate their intelligence and passion. All I can say is that neither Cukor nor I ever called BJ a "piece of crap" even if it's a shadow of what it was in the director's original cut (to hear him tell it.). Its quality shines through. I hope you will agree with me that the horribly truncated Magnificent Ambersons remains magnificent. I assume you saw A Star is Born as it was originally released (horribly cut by the studio), and the restored version the includes Cukor's restored footage and some still photos. The difference is like night and day. There are many examples in all media of flaw masterpieces. Frank Lloyd Wright's Guggenheim is seriously flawed -- it costs a bomb to maintain, the spiral is too narrow resulting in a constant downward tug as you're looking at the paintings (you feel you have to keep moving because the floor is urging you to), and generally overwhelms the collection. Does that mean it's not a masterpiece? Jean Simons?!?!? Gardner was so splendid, so radiant, so charismatic. Yours truly,Tony

response to previous review

Anthony seems to want to have it both ways. He's willing to take Cukor's word that this film was "mangled," yet he's not willing to agree with Cukor that it should be disowned. And, just like Anthony, I choose to both agree and disagree with Cukor, albeit in reverse. I thoroughly concur that this film is a piece of crap and should be rejected but am not willing to go along with ol George in disclaiming any directorial responsibility for a botched job. As far as Cukor's preferred metier being sophisticated comedy, as Anthony claims, I would cite all the Tracy /Hepburn movies he did, "Travels With My Aunt," his last great film, and "Born Yesterday" against the films Anthony cites which, with the notable exception I'll grant of "Double Life," is either an overblown, over rated musical, a turgid remake of a Hollywood expose, or yet another sophisticated comedy. And as for Anthony's spirited defense of Ms. Gardner's acting talents, I'll simply agree to disagree, citing obvious breach of ability, and ask Anthony to picture Vivien Leigh in the same role. Or at the very least Jean Simmons.

Excellent Picture -- and yes, it was mangled

Kevin -- You say this picture wasn't mangled, but how would you know unless you saw the director's original cut? The director said it was badly mangled, and he should know. He came close to disowning it. Cukor was much more than an accomplished director of sophisticated comedy. His range was considerable, almost on a par with Hawks' -- from the exquisite comedy laced with pointed social criticism Holiday, to the gorgeously rendered drama A Double Life, to the drama-with-music A Star is Born, to the Sophia Loren Western Heller in Pink Tights, to the big-budgt musical My Fair Lady, to the beautifully directed period piece Camille, etc., etc.Selznick would never have asked him to do Gone with the Wind if he did not think he was up to it. Digression: in my last mail I pointed how the clear indications in Bhowani Junction that Cukor saw this as his GWTW -- principally the appearance of a movie marquee as background announcing China Seas starring Clark Gable (who got Cukor bounced from GWTW) and directed by Victor Fleming (who replaced Cukor on that film). Having seen TCM's screening of BJ on November 25th, two more things occurred to me -- Ava Gardner's attending to the sick and dying after the terror attack on the train is clearly reminiscent of the scene of Vivien Leigh attending to the wounded in GWTW. Also, at one point, Stewart Granger utters the line -- "Tomorrow is another day." I would take exception to your disparagement of Ava Gardner's performance. I thought she was exquisitely cast, gave a splendid dramatic performance, and was utterly believable in the role of an Anglo-Indian even though she was neither. Gardner, like Elizabeth Taylor, was much more than a pretty face. She had presence and spirit and could deliver a line and you couldn't take your eyes off of her.

bhowani junction

With all due respect to the previous reviewer this film is neither mangled nor is it a masterpiece. To blame its considerable faults largely on the film editor is like blaming Hiroshima on a Los Alamos lab technician. So where should culpability be assigned? Despite the previous reviewer's special pleading I think the director, George Cukor, has much to answer for. For whatever reason, maybe because this director needs an atmosphere of sophisticated comedy the same way a salesman needs gullibility, the genre of the sprawling historical/political epic is a particularly awkward fit. Someone like Preminger or Vidor could have directed this picture in their sleep and made a considerably less ponderous product than George C. Also not helping matters is a heavy, humorless, expositional screenplay and rather uninspired cinematography that takes India and gives it the look of a railway switch yard in, say, Birmingham Alabama. And then there is the lead performance of Ava Gardner. To ask this eminently sexy actress, the perfect femme fatale or wisecracking working gal, to undertake the very complex role of a person caught in a web of three divergent cultures...English, Indian, and Anglo/Indian...and not knowing which way to turn is like asking a fry cook to go up against Julia Child. (And I promise no more strained analogies!) Give it a C. P.S. Isn't it pretty to think how, if this film about the British in India had been made today, all of the roles would have been assigned to Indian or English actors instead of exactly none, as was the case with this racist 50s endeavor?

Cukor's Mangled Masterpiece

It would be wonderful if the lost bits of this magnificent film could be found so that it could be reconstructed according to Cukor's original plan. Cukor always felt that this film, which I believe he regarded as his masterpiece or close to it, had been mangled by the studio in the editing process. And so it was. Despite that, it's greatness shines through thanks to a radiant Ava Gardner and despite a wooden, miscast Stewart Granger. (James Mason or Alex Guiness would have been better.)Cukor, of course, was the original director on Gone With the Wind until he was replaced by Victor Fleming apparently at Clark Gable's insistence. This movie -- also a sweeping romantic epic set against the backdrop of war and social upheaval -- is clearly intended to be Cukor's revenge. He depicts a world and a way of life -- that of British India -- that are gone with the wind (or soon will be.). And if anyone doubts that Cukor saw this parallel between the two films, consider this: There is a scene involving A. Gardner and S. Granger, a street scene with a movie marquee in the background. The film playing in the theater is Red Dust (1932) -- with Clark Gable, directed by Victor Fleming. Proof positive.My only gripe -- why is this in a 5 o'clock in the morning? Why does TCM constantly move its best stuff out of prime time, which means the key 8 an 10 PM time slots? The Barefoot Contessa and The Night of the Iguana -- both in prime time -- were recently screened by TCM. So why couldn't you have given pride of place to the comparatively rarely shown Bhowani Junction? I love TCM, but I do wonder about its programming priorities.

Nobel

Give the Americans a Nobel Peace Prize, for god's sake!

The Roman King

Director Cukor is the Roman king at the Victoria heroine in the Bhowani Junction, dedicates the honor of wars and the faith of diplomacy inventing the new interest of civility. Romance is a grace for peace for dialogue and trust. We love Jesus, because we love his pardon at the country cousin earthlings.

Merits

The merits of Victoria is the intellectual appeal at her missionary outlaw, Savage. Victoria is not Dalai Lama but the living grace of romance with the British officer. She could be more clever if she pays for the morose of the British enlightenment at the newly independent India. Maybe Dalai Lama could be Taylor that falls into the cradle desperate of the west and cries for the destiny mayhem. The signore agent wants a pretty exit, the cordial respectful for his civil decorations and alliance sympathy. Not the modern envoy Tony Blair, the latter lacks the smart wand of a pretence. Senator Blithedale Romance maybe the answer and Victoria like an exotic flower candid in every development of the film, unfortunately the sari is not the veil of elegance benign only the uniform of India in her culture. Moral is that Mayhem needs the favor of god, and the tarots of approval. I wish India good from the bottom of my heart. Amen

Beware

Virtue of a caste system has it that one stays inside a repertorie and takes the brutal repercussion stepping beyond, the unforgivable stake breaking the old rituals for advance at the unfamiliar perils. Beware abiding against predestination.

Love Story

A love story between a patroit and the passion suitor. Love is between a man and a woman living at the same lifeline and honor. Desertion is sometimes a weakness called for.

Peace for India

Victoria desperately wants to find her Indian identity, distrusting the British but mistrust from the Indian countrymen at the same time. She fails to find her role at Rajit's engagement as an original Indian race woman convert, and fails to implore the Hindus' support for Gandhi that honors peace demonstrations at the bad blood and uncompromised hatred between the common people with the British authority. Savage maybe the damsel's hero, but does not find Victoria's heart and soul for her country India, his purpose in India could spell the reason for saving Victoria at her last decision to choose to depart her quest for a difficult identity with the Indian natives. Victoria is not aware that Savage is her guardian that braved the English revulsion against his devotion for a woman that is not the same color with him. A tragedy of a patroit renewal and her missionary outlaw. Fate of a country thrown in chaos, a protagonist that lacks sober wise, and a new leader of a generation ushered in who was raised from the people at the will of peace for India. Savage passed off the new crisis of his own identity role outside his native England.

A Surprise Hit!

I was not expecting much from this film, but I was completely swept of my feet by the scale and grandeur of this film. Stewart Granger is so great as the handsome British Colonel. Bill Travers and Francis Matthews also deliver strong performances. This is, in my opinion, Ava Gardner's strongest role - her acting is at its peak. Of course, she is gorgeous in her sari! A wonderful film that everyone should see!

Bhowani Junction

THIS IS A SHOW THAT SHOULD BE RELEASED TO THE PUBLIC TO ENJOY.
*We protect your personal infortmation and will not provide it to anyone without your consent. For a complete explanation, please refer to TCM's Privacy Policy. By submitting your contribution, you agree to TCM's Terms of Use.