DVDs from TCM Shop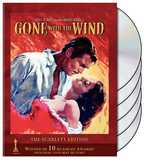 Gone With the Wind Classic tale of Scarlett... MORE&nbsp> $18.95 Regularly $34.98 Buy Now blu-ray
Alternate Versions
Originally shot in a 1:1.37 ratio; the prints re-released in 1967 by MGM, were converted to a "simulated" widescreen ratio, chopping strips at the top and bottom of the image.

For its fiftieth anniversary in 1989 a special restored version was prepared using some of the original negatives, some sections of which had been heavily damaged by time. This version restores the original 1:1.33 ratio, but has been usually projected in a 1:1.66 ratio because modern theaters lack the equipment to properly display the original screen size.

New Line Cinema spent $1 million to prepare a restored version using the original Technicolor printing process. This version was released theatrically June 1998.

The first broadcast showing, on Nov. 7, 1976, had an entirely unfamiliar moment in the scenic backgrounds of the scrolling prologue. In all known prints, the last scene was of slaves driving oxen toward the camera, silhouetted against a sunset sky. But NBC's print ended the prologue on a blue sky with moving clouds.

Original preview version of "Gone With The Wind" ran 4 and a half hours. Sadly, none of the footage cut from this preview print is known to exist.