DVDs from TCM Shop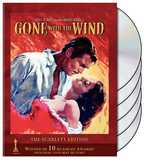 Gone With the Wind Classic tale of Scarlett... MORE&nbsp> $18.95 Regularly $34.98 Buy Now blu-ray
Trivia
1,400 actresses were interviewed for the part of Scarlett O'Hara. 400 were asked to do readings.
When filming began, the part of Scarlett O'Hara had not yet been cast. Vivien Leigh was introduced to producer David O. Selznick by his brother Myron Selznick during filming. (The actor in the long shots during the fire scenes is a double.) Leigh wanted the role so much that she read the novel and several volumes on the Civil War.
Bette Davis turned down the role of Scarlett O'Hara, thinking that her co-star would be 'Flynn, Errol' , with whom she refused to work.
Amongst the many famous actress considered for the part of Scarlett were Joan Crawford, Claudette Colbert, 'Carole Lomard' , Katharine Hepburn, Olivia de Havilland, Margaret Sullavan, and Tallulah Bankhead. Bankhead (an authentic 'Southern Belle' from Alabama) was the clear frontrunner, but her unsavory personal life made producers reluctant to hire her.
Production began with Robert Gleckler playing Jonas Wilkerson. After a month of filming, Gleckler died. His scenes were re-shot with replacement cast member Victor Jory.
Contributions
MarieTherese (2010-04-08)

Source: not available

Tallulah Bankhead was NOT a frontrunner in the Scarlett O'Hara race. She was quickly dismissed because she was too old. Of the many actresses considered, Paulette Goddard was the favorite. Her screen tests were impressive and Cukor worked with her on numerous technicolor tests and scenes. Yet, Selznick was worried about casting Goddard because of her relationship with Charlie Chaplin. Shooting began without a Scarlett. The night they shot the "Burning of Atlanta" scene, Myron Selznick brought Vivien Leigh and Laurence Olivier to the set. Myron introduced her to his brother with, "Hey genius, meet your Scarlett O'Hara." Cukor took her to his office where she read a few scenes for him and David O. Selznick. Screen tests followed. Vivien had a fire in her tests that Goddard did not. Exit Paulette Goddard. Enter Vivien Leigh!