DVDs from TCM Shop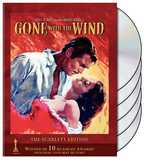 Gone With the Wind Classic tale of Scarlett... MORE&nbsp> $18.95 Regularly $34.98 Buy Now blu-ray
USER REVIEWS
See Detailed Ratings
Acting of Lead Performers

Acting of Supporting Cast

Director

Music Score

Title Sequence

Screenplay

Cinematography

Historical Importance

Would You Recommend?

0 Member Ratings
Rate the acting of the Lead Performers

Rate the acting of the Supporting Cast

Rate the Director

Rating of the Music Score

Rating of the Title Sequence

Screenplay

Creatively uses the camera to tell the story

Importance in Cinema history

Would you recommend for fans of this genre
Submit Ratings
Cancel
Write a Review
Read Reviews
NO REVIEWS AVAILABLE
The title has not been reviewed. Be the first to write a review by clicking here to start.
Best movie ever made!

A perfect movie. Superb acting, beautiful sets, and so skillfully adapted from the book. I marvel still at the burning of Atlanta scene and how well they were able to accomplish the realism with 1939 technology. I love everything about it. Such a shame that modern political correctness prevents people from recognizing the beauty, skill, and quality of this remarkable film.

Gone With The Wind

Everything is classic here as Clark Gable as Rhett Butler and Vivian Leigh as Scarlett O'Hara dominate this Margaret Mitchell story of Georgia during the Civil War years and beyond. This movie is almost 4 hours long but because the characters were so well written it could have gone on longer. Despite it being set during the Civil War years we don't see any battle scenes but just how the characters react to the changing times. This was one for the ages with the screenplay by Sidney Howard and music by Max Steiner keeping us more than interested. Isn't it amazing that director Victor Fleming could do "Gone With The Wind" and "The Wizard of Oz" in 1939. We all want to come back to Tara and find the southern plantation still there after the Civil War went through it. Tara and "Gone With The Wind" stood the test of time and about 400 million dollars from around the world came through the MGM studio starting with 25 cents at the movie theater boxoffice.

Best Movie Ever Made!

This is this best movie ever !! Why is it not included in the "The thirty days of Academy Awards" this year? When is it scheduled for this year? Please have it SOON!

Perfectly Cast movie

No matter how many times I have seen this movie, it continues to enthrall. The characters so perfectly cast, hard to imagine any other actors had been considered for these roles.

Love it but question for TCM

One of the best movies ever made! Perfect movie! So well-acted, so beautifully filmed, so well-written--it is timeless and perfection. But my question for TCM is why do you show it so late at night? Please air the film earlier in the evening so that we fans can watch it!

("I'm gone!") with the Wind

My wife's favorite movie . . . I have never watched it!!! I am looking for her "review" and there are fourteen pages of reviews to scan. ALWAYS WILL LOVE YOU AND MISS YOU!!! Happy 34th Wedding Anniversary, Bunny:)

the voices of unreason may be helpful.

may be a lot of inner conflict about this movie. I do not know.. but if there is.. a solution. dvd..original movie as is. then.. same movie..take out all the sounds .. have voices dubbed by Donald glover.. dr. ken hangover and a lot of people not white. donate any profits from sales to native American tribal college fund. great way to enjoy some movie history for all.

Timeless Spectacular Film

Sweeping classic is a blueprint for storytelling on film. I wonder what it would have been like to see it on the big screen in 1939.Spectacular color cinematography with star studded cast who some give career performances. Vivien Leigh (whom is always worth watching especially after knowing her personal life) is stunningly beautiful in color. She didn't make many films in Technicolor and I couldn't take my eyes off her when she is on screen. Still one of the greatest films ever made and a must-see movie.

Just Watched Again for the 50th or More Times

I love this movie but just recently learned that Bette Davis was originally offered the role of Scarlett but turned it down because she thought Errol Flynn was going to play Rhett whom she did not want to work with.While I thought Vivian Leigh was good, I think Bette Davis would had made a better Scarlett. Vivian Leigh in my opinion comes across as childish. However, I still love the movie while wishing Bette Davis had not turned in down. Also, Hattie McDaniel was superb as Mammie as well as Olivia de Havilland as Melanie.

ACTORS LISTED FOR THIS MOVIE

Maybe I'm confused but, why isn't Clark Gable listed for this movie ?

an timeless classic

my favorite movie of all time an timeless classic

Gone With The Wind

I have read the book twice and the movie. The movie is the best movie of all time, it is timeless, it's so real I feel as if I was actually there at the time. I first saw the movie when I was 15 and my father treated me by going to the theatre, I loved it. At the time I thought Rhett was the handsomest man I had ever seen and I feel the same today. All the cast were wonderful, together they made a memorable movie, that was and still is a timeless classic.

Wonderful Classic..

Gone With The Wind is a wonderful classic. It is timeless! I have seen it many times and enjoy it more with each viewing! The story, acting, sets all perfect. I wish they made movies this well done now. Everyone needs to view this masterpiece at least once.

Gone With The Wind

The amazing thing of "Gone With The Wind" is that its almost 4 hour story is told through its memorable characters with Rhett Butler and Scarlett O'Hara leading everyone through this Civil War period. They were so interesting that the story could have gone on longer. Here is a movie that people have not got tired of and has grossed about $200 million dollars even though its 4 hour length could have been tiresome. It is spectacular which was difficult to do in those days. Clark Gable and Vivian Leigh created iconic characters that is always a must see.

Timeless Treasure

Gone with the Wind is an amazing movie. A true timeless vehicle. I have seen it countless times and get swept up in it each and every time. The actors, writing, cinematography all perfect. I wish Hollywood would make them like this classic now!

Best Movie Ever Made Timeless Gone With the Wind

The greatest move ever made about life in the American Civil War and the Fall of Atlanta

Always, the best movie ever made!

I have seen this movie more times than I can remember. I first saw it in a theater when I was about five or six back in early fifties. I was awed then, and still am now. The story is an unparalleled story about the fall of the Old South, set against a backdrop of great set dressings, directing, acting, and unforgettable costumes (by Walter Plunkett)! The lighting is so soft and muted in many scenes, which one Never sees in movies today! Of course, the cast is beyond compare, each one born to play their role, and each one never playing a better role in any of their careers. Each time I see it, I discover something new that I did not notice before. My mother loved the movie and introduced it to me, and she saw it in original showing, and also so many more times after that. Today, we have computers and action stories, and this is great for this time, but they could not re-make GWTW today, and match the magnificence of the original. I think that is why no one has ever tried to re-make it. Some movies are not meant to be re-made.

Exalting Leslie Howard

Born April 3, 1893, Leslie Howard Steiner was one of two sons of Hungarian immigrant to England, a London stockbroker married in 1892. Debonair Englishman LH excelled, playing disillusioned intellectuals and gallant gentlemen on stages and screens in Britain and America for about 30 years. Painfully shy as a child traumatized by World War I, LH turned to the theater for therapy. Acclaimed in London, then in America on Broadway in the 1920s, he debuted Hollywood in "Outward Bound" (1930, intriguing allegory of "crossing over" on oceanliner to Heaven or else, 3.5-stars). "The Animal Kingdom" (1933, 3.5 stars) followed with publisher LH besotted by free-spirited Ann Harding, while married to manipulative Myrna Loy. Ditto depressing Bette Davis in "Of Human Bondage" (1933). He is best remembered for four, 4-stars roles: 1) swashbuckling hero in "The Scarlet Pimpernel" (1934), 2) wandering wise writer meets dreamer Davis and escaping gangster Bogart in "Petrified Forrest" (1936), 3) witty egoist, Prof. Henry Higgins in "Pygmalion" (aka "My Fair Lady," 1938, 4 stars for director star LH), and 4) milquetoast Ashley Wilkes in "Gone With the Wind" (1939). Despite his success, Howard held Hollywood in contempt. "I haven't the slightest intentions of playing another weak, watery character. I've played enough ineffectual characters already." LH told "GWTW" producer David O. Sleznick before accepting his part. In 1940 LH returned to England to fight for freedom. Leslie Howard's airplane shot down by Nazis, June 1, 1943. Exalting Leslie Howard

gwtw

Aside from it's many other virtues (and flaws) this film is one of the better Hollywood examinations of a dysfunctional marriage (although too much blame is assigned to Scarlett and too little to Rhett.) Give it an A minus.

Gone With the Wind - Best movie ever..?

My first viewing this movie was on the big screen - not in 1939 or even in the 40's, 50's or 60's, for one of it's many theatrical 're-releases'. But I was fortunate enough to attend a screening at my university - only a few weeks prior to it's network television debut in 1976 - almost 40 years after it opened in Atlanta.Two things I vividly recall about the experience - One, the collective "gasp" from the packed lecture hall when the camera "pushed" into Clark Gable's first shot - standing at the bottom of Twelve Oaks' staircase. A gasp from an audience not even born for 99% of Gable's career! That shot still gives me goosebumps. And - Two, the jaw-dropping awe I felt as I exited the theater and walked back into 1976. A cinematic sensation I have had only twice before - with Ben Hur and Titanic - This film can't be judged or fully appreciated on TV. Not even today's 50 " screens can do it justice. And while the meandering narrative sometimes betrays the fact that over 2 dozen screen writers and no fewer than 4 directors plied their respective trades to the final product - this is one masterpiece of filmmaking.In the context of any times, the technical achievements are stunning (despite the fact that a boom shadow can be seen in the second shot of the film), and included almost every color film camera in Hollywood at the time.The entire cast is excellent (despite Rhett's southern accent, that comes and goes more often than Scarlet's love for him), and it boasts perhaps the fullest and richest of any of Steiner's musical scores (including the likes of Casablanca or Now,Voyager - among countless others).Very few films have ever, or will ever be elevated to that coveted level of a cultural event, and with films more oft made by computers than artists these days the chances of another such masterpiece ever being produced is, well let's just say, "look for it only [on TCM], for it is no more than a dream remembered.An art of filmmaking gone with the wind.

Scarlet loves Rhett

If you haven't read the book you will miss out on a main motivation of Scarlet. She loves Ashley because he is a soft, sweet, idealistic - boyish. Remember, she is just a teen when the story starts. Teenage girls often have crushes on more feminine males like Paul McCartney, Justin Beiber. After Rett carries her up the stairs into ( well, you know ) she finally wakes up as a woman then she knows she needs and loves only Rett. Tragically, Rett doesn't give her a chance to tell him before he leaves her. When he eventually comes back she is genuinely happy and meets him on the stairway to tell him she is pregnant. He is still belligerent and starts a fight. She loses her temper lunges at him and falls down the stairs practically dooming the relationship. This is the universal truth of the movie. It is a reminder that communication is essential in marriage and that love often has bad timing.

gone with the wind

I think it was one of the best movies ever made. I think I have seen it severall times and looking to see again tonight on Turner Classic Movies @ 10:pm

Five PLUS stars for excellence!

Tonight, at precisely eight p.m., Robert Osborne appeared and said it was this night, 20 years ago, that TCM first began on the air and, the first film shown was "Gone With the Wind." I've seen this film so many dozens of times that I lost count years ago. It is, IMO. the greatest film ever made (and to heck with "Citizen Kane"!!!). It is so perfectly cast and perfectly shot and the best screenplay from a book that I've ever seen. The cinematography and the film score are perfection. This is a historical drama of the Old South and of our nation. Here I am in Atlanta, GA and I am thinking about how it must have been back then, before the Civil War and before the hubris of the South turned their sons into soldiers and resulted in a blood bath our nation endured. I learned more about our nation and the Civil War from this film than I ever did in a history class and I believe it should be required viewing in every high school. While I adore Rhett and Scarlett, the real star of the film is the South itself and a time that is truly gone forever. Whatever the right or wrong regarding our nation's sin of allowing slavery to exist and flourish is not the point of the film. Rhett's love for the strong-willed woman who doesn't love him, the weakness of the mealy mouthed Ashley Wilkes, the inbred strength of Melanie Wilkes, the loving kindness of Mammy - these are the backdrops for the story of what it was like so long ago in this nation that we love so dearly. Margaret Mitchell, the darling Southern belle herself, didn't want this time forgotten and set out to write this book so we would remember. She heard the stories at the feet of those who had actually lived through this time and she committed them to memory and then put pen to paper and, from that, we have this magnificent film. Thank you, Ted Turner, for being a visionary in bringing us all of the great classic films! Thank you, Robert Oborne, for being there to tell us about these films

I don 't quite get it

From the book to the movie, I have never been able to overcome a severe discomfort about Gone With the Wind. The central character is a spoiled slave owner--as for the opening statement, "When knighthood was in flower, " well not in my opinion. That many people are carried away by the production values and star power that were lavished on the movie attests to the power of good movie making. For me, the story about the reckless brat that is little Miss Scarlett is tiresome and its popularity is pretty incomprehensible.

Always worth revisiting

In a year when Hollywood's Golden Era hit the Mother Lode, "Gone With The Wind" was clearly the biggest nugget. Based on the best-selling novel of the 1930s, it is an epic drama about a headstrong Southern woman during and after the Civil War. Vivien Leigh gives a bravura performance as the film's main protagonist. Among many other fine performances is Harry Davenport as an older provincial physician who has to become a battlefield doctor during the siege of Atlanta. GWTW is excellent when showing us the impact of war and its aftermath on a society. The film's special effects best be described as amazing, especially when considering this was done long before movies did special effects with computers. Although it drags into melodrama in the last part, this film is a Hollywood classic that is always worth revisiting.

RE: Clark Gable Is Missing

This isnt a review but a reply to the poster that posted about Clark Gable being missing.TCM put the cast list in order of what the opening credits were in the movie itself and when you click to the see all cast button it does have Clark Gable that is in order of the opening credits of movie.I hope this helps.

Clark Gable Is Missing

This isn't really a review, but merely an observation that in the threesome of actors listed in your schedule, you have Barbara O'Neill(!!!) listed, and not Clark Gable! "Frankly, my dear, I don't give a damn" about Barbara O'Neill when you've omitted the male lead opposite Vivien Leigh. Please make the necessary subsitution of names today because "tomorrow is another day" is not an option. "Sez Who?" Sez me...Rich Bysina

Gone with the Wind

Greatest movie of all-time!

Gone with the Wind

The monumental adaptation of Margaret Mitchell's bestseller that served as the formula for epics and blockbusters for decades. A stubborn Southern belle uses any means to rebuild her home and love life after the Civil War. All around magnificent performances; from Oscar-nominated ones from Gable and de Havilland, and Oscar-winning ones from Leigh & McDaniel, the latter being the first African-American honoured for her work. Eight other Oscars were given to the film; including Best Picture for Producer Selznick, Fleming's direction, adapted screenplay, art direction, photography, editing and two special technical awards. This is a masterfully-made epic that will live on forever on celluloid. I give it a 5/5.

Gond With the Wind

Overall-5/5Lead Performers-5/5Supporting Cast-4/5Director-4/5Score-5/5Title Sequence-3/5Screenplay-5/5Cinematography-5/5Importance-5/5Recommendation for fans of the genre-5/5

giving a damn

When I was the ripe age of 5, my mother took me to my first movie. At 5, the movie was a new experience full of giant faces, mighty fire and luxurious wardrobes. Now, 50 years later, I get it. Truly the greatest movie ever filmed about those with gumption and those without. Hollywood gave the world a story of love and it's powers and the mighty struggles of life. With war as the backdrop, the characters interact with individual morals and desires. Scarlett, a young and fiery Irish Southern Belle, leads the viewer through pre war, the American Civil War and the harsh aftermath. Although there is little change in Scarlett, her determination and disillusionment only seasons the story. Rhett's coming and going is delightful, and eventually capturing Scarlett proves challenging and bittersweet. The movie makes clearly at it's intro that it is of a time gone by... indeed gone with the wind. This sets the tone perfectly. The viewer is thrust into a period of our grand nation's history that was improper yet lived, breathed and bled all the same. It is one of the few movies that offers something for everyone. No matter how cruel things get,... tomorrow is another day. None of the artists contributing to this film would have imagined how beloved it continues to be. "Gone With the Wind" is a rare romance-drama and period piece filled with passion, hope and the dreams that only struggles create. It is the very best depiction of the old South, a South of misguided pride now gone forever. And yet still, I will never see a vision so beautiful as Scarlett in love!

My personal favorite movie.

Gone with the Wind is in a league of its own as far as movies go. It has everything you could ask for, and is just thoroughly engaging.

Best movie ever filmed

This is a stupendous movie staring Vivien Leigh, Olivia De Havliand, Leslie Howard, and the famous and hansom Clark Gable. This movie has to be my favorite movie ever made and this film is like a treasury.

A Masterpiece

This is more than just a film, it's a work of art.

THE GREATEST MOVIE EVER MADE

THIS IS AND ALWAYS WILL BE THE GREATEST MOVIE EVER MADE. THE MUSIC, THE FINEST ACTORS I HAVE EVER SEEN IN ONE FILM. THE INTENSITY AND DETERMINATION OF SCARLETT AND MELANIE HER QUIET,SINCERE LOVE FOR ASHLEY. HER DEVOTION TO SCARLETT. AND THEN THERE IS RHETT(CLARK GABLE). OH MY GOD.....................EVERYTIME I SEE HIM LOOKING UP AT VIVIAN LEIGH AT THE BOTTOM OF THE STAIRCASE, I MELT.HE IS SOOOOO GEORGEOUS.LESLIE HOWARD - I DO ADORE HIM. VERY HANDSOME. WONDERFUL ACTOR. EVERYBODY WAS TERRIFIC. I COULD GO ON AND ON ABOUT THIS MOVIE.THEY CAN MAKE ALL HIGH TECH MOVIES THEY WANT THIS IS THE GREATEST.GOOD BLESS MARGARET MITCHELL AND DAVID SELSNICK AND THE WHOLE CASTAND EVERY MOVIE THAT WAS EVER MADE IN THE 1930'S AND 1940'S

What's the big deal?

Starring Clark Gable, Vivien Leigh, Leslie Howard (and others), I was looking forward to the movie. But it was not worth my time of watching for 2 hours, much less 4 whole hours. It seems that everyone loves the 1939 film of Gone with the Wind, but I don't see the apparent greatness. It held my interest for a while, but the story seemed to disintegrate with each of Scarlett's marriages. I found Hattie McDaniel's role as Mammy to be the most interesting out of all the characters. Overall, I don't feel like it was a satisfying movie to watch. At least I've now watched it once, and hopefully will not ever have to watch it again.

CAN GET ENOUGH

LOVE this movie. One of Hollywood greatest. Oh it was wonderful then. Wish we can still get great movies like this and the acting is absolutely superb.

The Very Best of Hollywood

In 1939, more movies were made than in any other year. "Gone With the Wind" won best picture against terrific competition, including "The Wizard of Oz". It remains a giant among films with so many midgets today to compare with. The reason for the success was the excellent novel it was based on. The only fault one can find with the book and movie is that the second half does not live up to the first. Before the intermission of the movie, we are exposed to one of the greatest threats to our union, its causes, its impact on normal people and the tragedy of war. In the latter part of the story, we see misunderstandings between Rhett and Scarlett, their troubled marriage, the devastating loss of their daughter and the constant near misses in their relationship. So, we go from very effective historical novel to above average soap opera. 1939 was still in the era of a strong anti-war feeling and the story shows very effectively the eager young men foolishly thinking war was all about glory and honor. Rhett and Ashley alone seem to understand the downside of war and the challenge of the agrarian south fighting a more populous and industrialized north. The philosophical questions and the few but well done action scenes depicting one of the first wars where the battlefield spilled over affecting the civilain population are excellent. We see and understand the futility and horror of war.The book and the movie remain classics and have stood the test of time.

Splendid! A must see!

I absolutely loved this film. It was so grand, so commanding, powerful, and just utterly unforgettable. Last night was my first time watching it and it just left me in awe. Vivien Leigh is so perfect as Scarlett. She's a very complex character that you either hate or love. I still can't decide how I feel about her, but I couldn't take my eyes off of her becase she just captivated me with her selfishness, her antics, and her strength. Clark Gable as Rhett Butler was amazing. He's so charismatic, wealthy, dashing, and intriguing. I have only seen one Clark Gable film and he just didn't grab my attention in it, but this was different. By the movie, I was completely into him. I loved the way he looked, the way he dressed, the way he loved Scarlett. I don't know how Scarlett could possibly even think of Ashley with this man as her husband. Rhett Butler made him seem like a wimpy kid. Clark Gable is all man in this role.I loved so much about this movie that I don't even know where to start. The homes and costumes are so amazing that you feel swept up in it all. I hated some of the slave parts because it just made me a bit uncomfortable to be honest, especially when Prissy played by Butterfly McQueen spoke anything. As Malcolm X said, when she started her act "it made me want to crawl under a rug." I feel exactly same way. Mammy played by Hattie McDaniel is perfection though. I love how strong and caring she is. I absolutely loved her character. She's as amazing as Rhett and Scarlett. Olivia de Havilland as Melanie is wonderful as well. She's the complete anthithesis to Scarlett-- vulnerable, gentle, charitable, and pleasant. I loved the whole production. The Old South was quite a place and when I watched this film, I completely understand why it has endured for over 70 years. A hundred years from now, it'll still live on. They just don't make em' like this anymore. Splendid.

The Real Lady With The Most Class

Miss Olivia,you are thought of as we prepare to watch GWTW again tonight.Your class shines through and we'll never forget you.How would the movie have been different with Basil Rathbone or Errol Flynn as Rhett?Still would've been a fine film,tho all British stars.I still prefer Basil to a lot of prettier actors,something refined about him.

one of the best

All time great film... One of the best.

immortal film

legendary film one of the most famous in history, beyond criticism

gone with the wind

My all time favorite movie, never get tired of watching it. There will never be another Clark Gable. I give this movie 5 stars.

Nothing will ever compare to it...

Gone With the Wind has been my all-time favorite since I first saw it on one of its re-releases. I think it is perfect. Just seeing Clark and Vivien as Rhett & Scarlett is priceless and sooo romantic. The entire film is the epitome of great filmmaking. I can't count how many times I've seen it and each time is as good as the first. Brilliant! Heavens, the beauty of Ms. Leigh and the handsomeness of Mr. Gable. Wow.I just can't describe how much I love GWTW. It is everlasting; and the love story of Rhett and Scarlett forms the entire backdrop during the entire film. It lasts forever; 75 yrs. - nothing else will ever come close to this.Why Clark did not win Best Actor for his perfectly-cast performance as Rhett has always bothered me; also Max Steiner for the beautiful score. Well, we know the so-called 'academy' has made very idiotic mistakes - the most recent fiasco being their inside job to deny Best Picture to Brokeback Mountain (and also the awards to the boys) in March '06 and the award of BP to Trash. That one will be remembered forever. But I digress. GWTW - yesterday, today, tomorrow. What a great film it is; what a great adhievement for DOS; what great performances. It really is more than a film. It is a legend, and deservedly so.

Great Movie

After all these years GWTW is still one of the greatest films ever made. Nothing made by a computer can top film making like this. One of the all time great perfect casts assembled as well I couldn't imagine any one else in the lead and supporting roles.

Gone with the Wind

Another of my all time favorite movies. Vivien Leigh at her most beautiful and Clark Gable at his best. I love this movie.

A blockbuster in the typical sense

There is no question that this movie is epic, lavish, and well-loved, but beneath all the spectacle is just a long, drawn-out Harlequin romance soap-opera about the love-hate-love-hate relationship between O'Hara and Butler. After a time it gets a little stale. Also, the character of Scarlett O'Hara is definitely not an endearing one and seeing her world crumble around her does not generate any sympathy. In fact, most people would (and did) call it progress. There were so many better and more meaningful films from 1939 that were far more deserving of the Oscar for Best Picture than this one.

Gone with the Wind (1939)

Everything about this movie was big: from the cast to the production design to the lavish sets to Max Steiner's terrific score, etc. The film is about a Southern girl named Scarlett O'Hara (Vivien Leigh) and her relationship with rogue Rhett Butler (Clark Gable) during the Civil War. The whole cast does well and the production design and sets are top notch. Steiner's score is the best cinema has ever heard. From the script, there are some memorable lines, including 'Frankly my dear I don't give a damn' and 'Tomorrow is another day' and it keeps you interested throughout its long duration. However, there are a few flaws in the script, which is why Casablanca (1942) and Citizen Kane (1941) better it. The real MVP of this film is the vastly underrated direction of Victor Fleming, who was behind another huge masterpiece that same year if you can believe it, in The Wizard of Oz. He does a terrific job in this film. The film may have a long duration, but it's enough to keep you interested throughout that.

leah's review

this film i recomend to a viewer that likes action,romance,drama and a little history lesson. the only changes i would make are to be more creative with the camera and to show both sides of the instead one. the musical score is a five star quality, same with the acting and the history. to conclude you must watch it its worth the four hours.

THE GRANDADDY OF ALL ROADSHOW EPICS!

when i was 13, my mother, this film being one of her favorites, had me watch it with her. i had already seen quite a number of old movies, but watching this film catapulted me to being the fan of classic cinema i am now, as i began to watch more of them one after the other (casablanca, Hitchcock fims, etc). truy one of the greatest films of ALL time! excellent cinematography, Max Steiner's soul-moving score (considering he is the father of flm music), the great likes of Vivien leigh and Clark Gable, Olivia de Havilland and Leslie Howard, and the sweeping mood of it all.

Epic

Its all been said. Great epic. The cast is amazing.

Edit

Just a quick edit: In the first sentence it says Ashley plans to marry Scarlett's cousin, but, Melanie and Scarlett are not related. It should say he is planning on marrying his own cousin.

Gone with the Wind

****1/2

Loved it !!!

Being from the south I just had to see it once when I was about 15 yrs old I thought the same thing many people do "its to long I'll hate it" but once I started watching I couldnt look away I love everything about this movie I even got my 14 yr old twins boys to watch it and they like it I try to watch it everytime it comes on TCM I love it!!!

what a glory

haeldkjdkkwdljkljewidoe

4/5/11

nice film

Long, but worth it!

Some stores just can't be told in a neat 90 minute package. Wonderfully acted, beautifully costumed and filmed. There is something for everyone to appreciate from this movie.

Longest movie. Ever.

Bloated, overlong tale of a simpering, conceited Southern Belle against the backdrop of the Civil War. I know 1939 was an exceptional year for film, but ugh. . .By the end, I hated Scarlett O'Hara. The movie did its job, but it's still a long flick.

Gone With The Wind

Oh, the thought of any one else playing any of the roles in this movie would be unheard of, every detail of this movie was perfectly cast from the music, the scenery, the story, the players every detail was perfection. The movie is breath taking from beginning to end and it just sweeps you away to that time in American history that we still have a caving to understand and secretly and momentarily live in as the beautiful South fades away and for ever is "Gone With The wind". One of the greatest movies ever made. Thanks TCM I look forward to seeing this movie every year.

Gone with the Wind

Clark Gable was absolutely fantastic in ths movie.

Classical and romantic.

Gone with the Wind is probably the longest romance movie you'll ever watch (about 3 hours?). I didn't even get to watch the whole thing! I just saw it from the middle to the ending. But that being said, I instantly fell in love with the movie mainly because how the acting and storyline was. I felt a little dramatic over some of the events that happened but this story is about a spoiled woman, that deals with major struggles in her lifetime and learns to get emotionally stronger from them, taking place in the American Civil War. Vivien Leigh and Clark Gable were the perfect choices to play their characters. I felt this story was written perfectly well.

Classic Forrever

The one movie that is 70+ years old, and I can still sit through it from beginning to end; and awe at the Cinematography, costumes, actors, and actresses. A movie that has it all; love, laughter, innocence, greed, life, and death. There are a few scenes that I consider on the cheap, when it should have been filmed out doors, instead of inside of the movie studio; but overall; GWTW will stand the test of time. It's only other rival, Titanic.

One of the Immortal Love Stories of All Time.

For more than 70 years, this Oscar-winning drama has entertained and enchanted movie fans for over three generations. Clark Gable is perfectly cast as Rhett Butler and Vivien Leigh in her Oscar-winning role of Southern belle, Scarlett O'Hara as they star in the brilliantly-made screen adaptation of Margaret Mitchell's world-renowned best-seller, of how this unlikely pair find love and romance during the outbreak of the Civil War, and their struggle to keep it alive during the re-construction of the South. Leslie Howard and Olivia de Havilland are perfectly cast as Ashley Wilkes and Melanie Hamilton. Hattie McDaniel made motion picture history back then, when she became the African-American recipient to win the Oscar as Best Supporting Actress. The movie won eight other Academy Awards including Best Picture, Victor Fleming as Best Director, Best Screenplay Adaptation, Best Color Cinematography, Best Art Direction-Set Decoration (Color) and Best Film Editing. Also Thomas Mitchell, Evelyn Keyes, Ann Rutherford, Barbara O'Neill, Victor Jory, Harry Davenport, Thelma "Butterfly" McQueen, Ward Bond, Isabel Jewell, Paul Hurst, Oscar Polk, Rand Brooks, Laura Hope Crews, Carroll Nye, Ona Munson, Cliff Edwards, George Reeves, Fred Crane, Jane Darwell, William Bakewell, Eddie "Rochester" Anderson, Eric Linden, Cammie King, & L. Kemble-Cooper. Cammie King Conlon died on September 1, 2010.

The most popular film

Back in college in the 1970's, on weekends were shown latestrelease films in the student auditorium. They were well attended, with the usual long waiting lines. One weekend Gone With The Wind wasscreened, and I wondered at how college-age students would accepta thirty year old film. Much to my amazement I saw the longest lines of any film ever shown! It was an absolute sellout. It showedthe power of what an outstanding film can do, and continuesto hold it's own throughout the ages.

gone with the wind

in one word incredible!this movie has everything love,lost love,action, humor and passion.the acting is outstanding and to this day i dont think there is a movie that is in the same category as gone with the wind it is timeless.

gone with the Wind

I so love this movie!!!my favorite characters are Rhett Butler and scarlett!!!!! my only complaint is that I cant find the sequel "Scarlett" and not the (1994) tv mini series. It was in black and white and with some of the orignal characters. im trying to find the movie if its out on dvd or vhs. if anyone has any info please email me @ jessica_062979@yahoo.com. thanks so much.

introduction into the lovely world of old film

this was the first movie i ever watched that was made before 1980. (I am a young person, don't worry!) It blew me away. It made me absolutely INSANE about old movies! It was the gate way to a fabulous world that was something i never experience before. If you have not seen this movie shame on YOU! JK....JK!But seriously you need to see this film.

love it

i love it! i love it! i love it!

Gone With The Wind

This, by far, is the greatest love story of all time. I love how Vivien Leigh was cast, she fit Scarlet O'Hara absolutely darling, never let anybody tell you different. I recently purchased this darling classic, & I cannot stop watching. If you haven't seen, darling, you're missing out. Watch watch watch.-loveaudrey

WILL BE THE GREATEST MOVIE EVER!!!!

Hi, my name is autumn, and I just love this movie. I have also read the book and a huge fan as well. I think this stroyline is one that can never be compared to any other movie....in the world! This is a movie that you will want to watch for the rest of your life and you will never get bored, only suprised every time. I am so in love with the cast, especially Vivien Leigh and, of course, CLARK GABLE! Vivien Leigh was no doubt the perfect choice, but she brought something to the table no other actress had.....passion and MUCH dedication. Many of my friends poke fun at me 'cause I think CLARK GABLE is handsome(but my friends,in my opinion, aren't that mature as me to know what good looks really are)but it's not only his outside(which is the reason my friends poke fun at me), it's also his soul and acting that literally takes your breath away the moment he comes on screen, without saying a word!! I also love his voice and his "bad boy" side, even though he was as sweet as a teddy bear, well when he wanted to be:). This movie will literally make your heart swoon and....hate with much passion! Just like the whole cast showed in this truely marvelous movie.....THIS MOVIE IS SIMPLY....GENUIS!

greatest film of all time

This is no doubt the greatest and most epic film ever made. If you are only going to see one movie in your life, it should be this one. It's a wonderful tribute to the old south and a story of the feminism brought when priviledge is lost. 1939 brought only the best films

WILL BE THE GREATEST MOVIE EVER!!!!

Hi, my name is autumn, and I just love this movie. I have also read the book and a huge fan as well. I think this stroyline is one that can never be compared to any other movie....in the world! This is a movie that you will want to watch for the rest of your life and you will never get bored, only suprised every time. I am so in love with the cast, especially Vivien Leigh and, of course, CLARK GABLE! Vivien Leigh was no doubt the perfect choice, but she brought something to the table no other actress had.....passion and dedication. Hahaha, alot of my friends poke fun @ me cuz I think CLARK GABLE is hot(handsome), but it's not only his outside(which is the reason my friends poke fun @ me), it's also his soul and acting that literally takes your breath away the moment he comes on screen, without saying a word!! I also love his voice and his "bad boy" side, even though he was as sweet as a teddy bear, well when he wanted to be.This movie will literally make your heart swoon and....hate with much passion! Just like the whole cast showed in this truely marvelous movie.....THIS MOVIE IS SIMPLY....LOVE!

Almost cliched

GWTW is a great movie, and it deserves all the fuss and adoration that it has recieved over the past 70 years. But it seems as though it has become cliched to love it. It is on every best list, every reviewer on this page has said that it is their favorite movie (that may be exaggerated). But everyone should know that there are other great classic movies out there. Pick a less known movie to put on your favorite list!

WILL BE THE GREATEST MOVIE EVER!!!!

Hi, my name is autumn, and I just love this movie. I have also read the book and a huge fan as well. I think this stroyline is one that can never be compared to any other movie....in the world! This is a movie that you will want to watch for the rest of your life and you will never get bored, only suprised every time. I am so in love with the cast, especially Vivien Leigh and, of course, CLARK GABLE! Vivien Leigh was no doubt the perfect choice, but she brought something to the table no other actress had.....passion and dedication. Hahaha, alot of my friends poke fun @ me cuz I think CLARK GABLE is hot, but it's not only his outside(which is the reason my friends poke fun @ me), it's also his soul and acting that literally takes your breath away the moment he comes on screen, without saying a word!! I also love his voice and his "bad boy" side, even though he was as sweet as a teddy bear, well when he wanted. THIS MOVIE IS SIMPLY....LOVE!

Easily the GREATEST movie ever made!

All I have to say is watch it, and you'll see what all the fuss is about. I made my boyfriend, who never ever wants to watch old movies, watch this. He admitted he liked it a lot, and discovered Clark Gable and now is fan of both the movie and Gable. Really just a Master Piece of Art! You need to at least watch it once in your life!

The Best Movie Ever Made!!!!!

I think that this is the best movie ever made! Nothing will ever be better than it. I am definately watching it on it's first release day! (Dec 15) Not only will it be it's 70th anniversary, it will be the 10th time that I've seen it! I love it so much! Thanks Vivien, Clark, Olivia, and Leslie for giving us this gift! Let's leave it up to us to keep it alive!

Gone With the Wind

The uncontested classic of all time. Gone With the Wind will always remain the quintessence of classic films. With memorable characters, witty dialogue, historical accuracy, and stunning technicolr, a better film you couldn't ask for.

Gone with the wind-Where is the uncut version?

Gone with the wind is the perfect classic film, the true splendor of the silver screen. I watched it dozens of times and I love it more and more. But still, there are many deleted scenes from the film and I want to know when are you going to release for us a true collection of GWTW? Why can't we, the GWTW fans, have access to the deleted scenes, just like the Casablanca fans? After all, GONE WITH THE WIND IS THE BEST MOVIE EVER MADE, far better than Casablanca and any other classic films, and we deserve a longer, better version.

Gone With The Wind

GWTW's 70th anniversary edition is scheduled for release in October.

Are the uncut scenes still in existence?

Mr Osborne-Do you happen to know? If you read this well perhaps I should post in the message boards. On other sites I have read that there are scenes missing from the film that Mr Selznick burned. Is this true? Thanks. I know alot of people would like to see them if they are in existence. In 1972 I turned two so I was too young to remember the version the other reviewer is referrring to.

Best Movie Ever Made!

Seen it very recently on TCM. This had to be the uncut version. There were scenes that were longer that I could remember. First saw it, uncut, on the big screen. That was the only way to really appreciate this movie. That was around 1972. Since then, I had seen the edited version about 5 times on television, with commercials.

a few more thoughts..

just a thought regarding a post I read I do not agree with the racial aspect of this film either but I understand why it was done that's the way it was before alot of us were born but I still think that we can agree that this movie is excellent. I read that Clark Gable was very fair minded and did not agree with the racial divisions of the time. He was fair-minded and had much respect for the black actors especially Hattie. I admire him for his conviction. I am sure that he wasn't the only one who felt this way.

More comments

The people on this film worked so hard without the benefit of computers, email, text messages. I read about how David O. Selznick loved to write memos. He would have loved text messages. Its amazing the color, the music, the acting it transcends time doesn't it? I wish they have made a sequel but as it stands it is the movie by which all others are compared.

GWTW a true classic

Although times and the world have changed so much in 70 years as Mr Osborne said this film remains a classic. I have a movie theater copy of the book that my grandfather got in 1939 when he worked a movie usher. I have fond memories of watching it with him. I still enjoy it today as I did in the early 80s as a 11 year old.

Best Ever

My all time favorite movie.

GWTW

This movie is such a classic. Who care's if anyone finds historical flaws in it?The acting is brilliant. I know the lead roles were offered to others first but I can't imagine anyone but Vivien Leigh and Clark Gable as THE characters to love and hate at the same time. And nobody could show off that red petticoat like Hattie McDaniel or be sweet as pie like Butterfly McQueen. The cinematography is beautiful, the director captured something special and timeless. I could go on an on but I won't. So for the die hard fans of "GWTW"(lovingly referred to by my late sister Pat) we will appreciate the old movies before we were born and pass them on to our kids. Because they don't make them like they used to!

Well it looks nice I guess...

Besides looking very nice this movie bored me

Beautifully... Overrated

I do have to hand it to this movie that it is made very well but I'm sorry but it's not without its flaws

What a movie

Although this movie is very long you couldn't ask for better actors. Unbelievable that it keeps your attention that long. And who can forget Carol Burnett and Harvey Korman's spoof of it.

Awesome

Loved it

the best movie ever

This movie has changed my life! the first time i saw it i got nervous and that's when you really know a movie effects you and makes a difference in your life, this one could really change any person! it changed my whole mindset and i really look at life differently, i watched this movie for the umpteen time yesterday and i had the same reaction to the first time i saw it, i yell at the screen and i scratch because i fell like it's my concern, my life and i guarantee any movie lover would feel the same way if you haven't seen this movie, you're not from the planet earth!

Absolutely the greatest movie ever.

This movie is the epitome of the greatest ever. Never again will there bee a movie of this magnitude. The cast, music, location, screenplay and book, in my opinion, is the only time I have ever experienced every element come together in perfect harmony. I believe there will never be another movie like this. This movie must be seen by anyone who calls himself a movie buff.

the best

wonderful, beautiful, the best acting

Love this Movie

This is one of the best movies ever made-I saw this movie for the first time when I was about 14 years old. I have watched this movie so much I can actually quote many of the lines from Gone with the Wind. I always feel so sorry for Scarlett because she didn't realize what she had with Rhett until it was to late. He always said he wanted to hear the words she had spoken to Ashley that day at Twelve Oaks but it was to late for her-Melanie's was also so cute she is one of my favorites to. She to was so caring and didn't wanted to think ill of anyone.It would of been neat to see them make a sequel to this movie with the actual actors and actressesNo one else could ever play Scarlett except Vivian Leigh-Still it is one of the best movies ever made

Don't know how to begin...

I really don't know how to begin to state how GWTW has effected me. It stands supreme forever as the #1 film of all time. I've seen it so many times and it amazes me every time. I love it so much; the entire story is wonderful; the performances are so great (how Clark Gable did not win the best actor for Rhett, I shall never understand - as great an error as Peter O'Toole not winning for LOA, which is my 2nd favorite of all time). But I digress. GWTW was, is, and will always be perfection in every way. How perfect a Scarlett in Vivien Leigh! And it will always be the biggest money-maker of all time - this has been proven by comparing 1939-1940, and re-releasing prices to today's ridiculously high prices for such awful films. Well, I hope I stated my feelings well. I will always, always love GWTW.

Soooo good and addicting!

This is truly my favorite movie EVER! I've watched this movie hundreds of times over the last 15 years and I will never get tired of it! Vivien Leigh is breath-taking! I love her! You can't find actors like these today. Very classy! This movie started my love of classic movies. It was so ahead of its time. I think everyone should watch this movie at least once.Happy Viewing!

MOVIE THAT DEFINES ALL MOVIES FOREVER!

MUST SEE TO BE CONSIDERED TRUE AMERICAN! This movie changed my life, I grew up in the South so I have been raised on the tale of Gone With The Wind. The first time I saw the movie, I was speechless. All I could think was "This is the best movie I have ever seen!" I've seen it over 200 times and still love it. Like I said if you've never seen it you must watch it or you are not an American!

Changed my life

This movie made me cultured. Before this, I had no idea about the power of cinema. Now I'm a gigantic movie buff.

It's all about Scarlett.

She's fiesty- that's why Rhett is obsessed with her- because they're alike.She loves being taken care of and always tries to look good- that's why I like her- she's like me... ;)The clothes are phenomenal. The movie is full of style and class. The book is superb.

GREATEST MOVIE EVER!!!!!!

I absolutely love this movie!! I honestly think it is the greatest movie of all time!! Everything about it I just adore!! The actors the storyline ,etc.. I just love it!! The story is pure gold!!! It is defintly my favorite movie and book! The entire time I watch it, I am just in awe!!!

Okay

I have to agree with the comment made on 03/07/08,the movie is okay,but to me it's not the best movie in the world,I've seen alot other movies that you could brag about,I think it is overated.To me the only good performances are really the supporting cast and the music is good.I don't mean to be critizing it so much and I hope people don't hate me for saying all of this,but then people are allowed to their own opinion,so anybody who likes this movie,would care to comment on what other movies I think could match up to this movie,I would be more than happy to answer them.

It's good, but not the greatest.

I'm probably going to get a lot of hate mail for saying this. Well, GWTW is good and a great landmark film and daring for the time, but to me, it's a little overrated. I know that Vivien had the role of a lifetime and did potray Scarlett wonderfully, but I don't like Scarlett O'Hara herself. I mean, the whole movie seems to be focused on her trying to win the affections of a man she will never have. It seems everything she does is trying to get Ashley to leave Melanie. Sorry, but that's my opinion. Well, I do like the supporting cast. (Especially Hattie, Olivia and Leslie) Please don't get too mad at me for saying that.

The best movie ever!!!!!!!!!!!!

GWTW is the bst movie ever. Why?Beacuse she had everything drama, romance, comedy, is a little scary is just the perfect movie. Clark Gable and Vivien Leigh they had so many chemistry and both are so good-looking. Vivien is my favorite actress and Clark my second best after the great Johnny Depp.Is so unfair that Clark dont won the oscar for this awesome perfomece.I just lov the movie and the book both are great.

why it isn't in letterbox

GWTW is not in letterbox because it was not shot in wide screen! This was not possible at the time. If they did show it in letter box they would have to cut the top and bottom from the picture and you would lose part of everyone's head! You also wouldn't get to see all the details of each frame. This is the one instance that letterbox (wide screen) doesn't work!

I can watch this over and over again!

I never miss a viewing of this movie even though I have the DVD!In answer to "Why not letterboxed" question: Movies were not filmed in widescreen format (aka Letterbox) until the 1950's so you are seeing the movie as it was filmed at that time. I hope that helps.

Why not letter boxed?

This classic is shown on TCM in full screen and not the far superior 'letterbox' format. So much is lost this way! Please correct this asap!

Single Greatest Performance By an Actress!

Best Moments: Near the Tree at Tara, with Scarlett & her Father & "As God is my witness they won't beat...I'll never go hungry again!"Hopefully quoted correctly.Also The Fire in Atlanta & Rhett: "Kiss me Scarlett" The greatest!

The epitome of Hollywood's Golden Age

It still rewards viewers after all these years. Vivien Leigh's Scarlett is probably the most durable piece of acting committed to film.

Greatest movie EVER!!!

I LOVE this movie!!! It is my most favorite movie ever!!! Also my favorite book!! Everyone should read it!!! Everthing about this movie is superb!! Vivian Leigh and Clark Gable are absolutely perfect in this movie!! Everyone should see it!! Everyone should read and see this movie!!

GREATEST MOVIE EVER MADE

I have seen this movie when I was Five years old. I am the Scarlett O'Hara of 2007. This movie is a great story of the old south and about the civil war. This movie is the great american classic of the desire between Rhett Butler and Scarlett O' Hara, a firey romance and the passion that they have between each other. I have GWTW collectables everywhere in my house, and my next house is going to be "Tara"

GREATEST EVER!

Saw GWTW when I was 8 years old and have watched it 100+ more since then. It is the film that made me fall in love with classic cinema. I have the utmost respect for the achievements of the filmmakers and the cast. It was a groundbreaking time for Hollywood and GWTW helped open the doors for some of the best decades the film community would experience. I would recommend watching the documentary "Making a Legend" for the doubters. You learn a great deal about why this film was significant and how many trials and tribulations Selznick undertook to keep it in production. It was and is a masterpiece in film making. Few films rival it and I am thankful I have been a part of its fan community.

Timeless classic.

I saw this movie when I was 10 years old & I could not believe how this movie made me feel. I sat thru the whole movie, and intermission, without moving!

This is and forever more be my favorite movie.

This movie has stood the test of time. It was released in 1939, the best year for film making in my opinion. It was so grand a movie with the costuming, sets, and story line. Superb. After all these years, I often wondered where Hattie McDaniel sat awaiting her oscar. I found out this year, in the back of the room in a discreet corner. I am still overjoyed that she won. She was phenomenal. There could never be another Mammy with those eyes.I just wish I never saw the documentary about GWTW. I hated that they burned the King Kong set for the burning of Atlanta and used a glass plate for the facade of Tara. I wish I wasn't so curious sometimes. All in all, nothing so far as topped my favorite movie of all time. If you don't like my review, then "Frankly, my Dear, I don't give a dam!"

Gone with the Wind

I feel that it is the best movie ever made! I have seen all of this movie once. But I just love it. I love Scarltte OHara the best. And of course I love Red butler. Every thing about this movie is amazing!

Best movie ever made.

at one time i thought that Anne of green gables was the best movie ever made and that nothing could ever be better but then after seeing gwtw i know that i was sooo wrong. the romance and adventure in this movie is breathtaking and can never be anything but number one in my book. every sceen in breathtaking and wonderful. if you havent seen it yet you need to take four hours and watch it.

My favorite movie of all time!!!

This movie is by far the best movie ever made. It has every aspect of a great movie ranging from war, to adventure, and to love. The actors who were chose to portray this beautiful story are spectacular. Vivien Leigh and Clark Gable work togather perfectly and are, in my opinion, the best on-screen couple ever. This movie is an all around CLASSIC!!!!!!

Gone With The Wind

This movie made no mistakes in choosing Vivian Leigh as Scarlett and Hattie McDaniel as Mammy. Over the many years you can't get better performances that ae so natural no matter how maany times they are viewed. There coulod be no dispute in their best performance awards.

A Classic

This, by far, is one of the best films or movie, that was ever made. What an all-star cast with great performances. It will truly remain a classic for generations to come. David O'Selznic will always be known for this great movie and so will the actors and actresses in this movie. What a classic!!!!

Still and always the best.

David O'Selznic couldn't top it because it can never be topped. Look at what it took to make? I love Bette Davis in Jezebel and Gone with the Wind. They are beyond the beyond. It is impossible to make movies like that; Only once in a ifetime like the Sistine Chapel. Max Steiner should be commemorated as the greatest musician in the movies.

Great Movie

This is a wonderful film! My sister and I have just watched it for the first time,and we thought it was wonderful. We are both 17;our mother promised us we could watch it with her when we were 16,but we never got around to it.We were very entertained by the great acting and drama. The music in this film is superb!!!Anyone who has not seen this film should because it is a wonderful clasic that will touch you deeply!

The Myth Lives On

The struggle to make GWTW was almost as dramatic as the movie itself. But the results were well worth it. So were the machinations that resulted in the perfect cast. It's beautiful to watch on a visual level, with its gorgeous Technicolor and the contributions of a highly creative art department. Max Steiner's score moves the story along, weaving rousing themes and subtle melodies to underscore the action and the quiet sorrows. GWTW was producer David O. Selznick's finest hour; he spent the rest of his life trying to duplicate its success, but it was not to be. It may not be high art, but it's marvelous entertainment, all done on a budget that is 1/3 the going rate for many current Hollywood stars!

A beautiful and touching film!

I finally watched Gone with the Wind just recently, I of course tried watching it when I was younger, but I wouldn't of truly understood it and it wouldn't of meant anything to me as it does now. I am only 18 now but I have never been so moved, every scene was breathtaking. Gone with the Wind will forever be one of my favorite films, it's a story of survival, courage, heartache, and true love. I love how at the end you have hope, hope that Scarlet and Rhett with be together again someday. It is a true Masterpiece!

nearly 70 years old and still a great classic

I first saw this movie back in the 1970's when I was a kid and I have loved it ever since. While some aspects of the story, both book and film, are understandably controversial, the sweep of the story, the cinematography, Steiner's background score, the fabulous pairing of Gable and Leigh, etc. all make for a remarkable film experience that still manages to capture audiences' imaginations nearly 70 years after it was first released. Seeing this in a theater is a real revelation.

A very damaging film

Yes, it's a landmark film, compulsively watchable, fully deserving of its position as one of the most popular movies of all time. But it's very popularity made acceptable its distortions of the past and its impact on race relations in this country. One example: the "political meeting" at which Ashley and Frank are attacked by those horrid Union soldiers; this was a gathering of the KKK. The film endorses the right of slave-holders to reconstruct the south without outside interference, leading to a century of oppressive Jim Crow laws calmly accepted by the rest of us because as Rhett says, the former slaves are "simple-minded darkies."

The Greatest Movie of All Time

This movie is by far the greatest movie ever made. The all-star cast makes the movie seem just as I imagined it to be. Gone with the Wind is one of the most viewed movies of all times and touches generations. My mother and grandmother are fans, and now, I being their daughter and granddaughter adore the movie. This movie is definately my favorite movie of all time and has stunned audiences for almost 70 years now and will continue to stun genrations after mine.

The Greatest Movie Ever Made

I have this movie and watch it all the time. Everyone should watch it.

Gone With The Wind...

One of the greatest movies of all time, Gone With the Wind has left its audience breathless for almost 70 years. The movie is based on Margaret Mitchell's portrayal of the old south before and through the Civil War. This movie seems to lead people who have never seen the movie to be a romance drama, but is actually more about the war then Rhet Butler's (Clack Gable) lover affair to Scarlet O'Hara (Vivien Leigh).

Breathtaking

I never had a chance to see this movie before so my first time was this February 26th on TMC. I can't believe I spent 18 years without seeing this. It's beauty, charm, sadness and raw emotions took my breath away. Seeing it made it stay on my mind for very long, thinking about how in my heart I wished Rhett and Scarlett would once again meet and let their guards down. I can honestly say it's the best picture ever, and whoever sees it and isn't sincerely moved should get their heart checked, because this is a masterpiece.

Fantabulous

i first watched this movie when i was six. i thought it was fabulous then and still even to this day i love it. i have the limited vhs edition and the dvd and can watch frm begining to end and quote almost all of it. if u havent seen this movie, go out and watch it. take four hours out of your time and watch it.

My personal review

I know the length of this movied may turn many away but it is worth seeing. There is some much in this story that the you can't help but want to see all.

Best Movie Ever

My all time favorite movie. I have the DVD. I watch it a lot. Everyone needs to see this master piece.
*We protect your personal infortmation and will not provide it to anyone without your consent. For a complete explanation, please refer to TCM's Privacy Policy. By submitting your contribution, you agree to TCM's Terms of Use.