DVDs from TCM Shop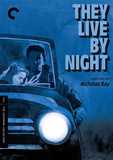 They Live by Night After an unjust prison... MORE&nbsp> $22.95 Regularly $29.95 Buy Now blu-ray
NOTES
The working titles of this film were Thieves Like Us, Your Red Wagon and The Twisted Road. Film Daily, Daily Variety and Variety reviewed the film as The Twisted Road, which also was the British release title. The film's opening credits are interrupted by the following written statement, superimposed over a close-up shot of actors Cathy O'Donnell and Farley Granger: "This boy...and this girl...were never properly introduced to the world we live in...to tell their story..." The New York Times review speculated that Edward Anderson's novel was "no doubt inspired by the two or three real-life sagas that we've had of 'boy bandits' and their brides." It is not known to which "real-life" events the review refers. Nicholas Ray, an established stage director, made his screen directing debut with this picture. The New York Times review said of Ray's work on the film: "...this well-designed motion picture derives what distinction it has from good, realistic production and sharp direction by Nicholas Ray. Mr. Ray has an eye for action details." In a modern interview, Ray mentions They Live By Night as one of his favorite films.
MPAA/PCA Collection files at AMPAS and RKO production files contained at the UCLA Arts-Special Collections add the following information about the writing of the screenplay: Writer/director Rowland Brown, who controlled the rights to Edward Anderson's novel, wrote the first drafts of the picture's screenplay in 1941. (Modern sources claim that, in 1941, Brown sold the book's rights to RKO for $10,000. Production file notes indicate that RKO had read the novel in galley form in December 1936, but had apparently rejected it.) When Brown's script was first submitted to the PCA in April 1941, PCA director Joseph I. Breen deemed it "unacceptable," claiming that it contained too much criminal activity and "loose sex." A revised script, written by Robert D. Andrews, was submitted in October 1941 and was rejected for the same reasons as the previous draft. RKO did not submit the script again until September 1944, when it was rejected for a third time. From August 1946 to May 1947, when Ray was working on the script, the PCA rejected three more versions of the story, stating each time that the adaptation dwelt too much on the characters' crimes and not enough on morality.
The title of Ray's adaptation, which included a detailed treatment, was Stranger Here Myself. (The line "I'm a stranger here myself" figures prominently in Ray's 1954 picture Johnny Guitar.) In December 1946, Breen met with RKO representatives to discuss how to change the script and suggested, among other things, that the "loyalty and honor among thieves" aspect of the story be downplayed. Breen advised adding a "note of treachery" to the plot and eliminating "Bowie's thoughtless acquiescence" in the crimes. In addition, Breen suggested that the character of "Hawkins" be changed from a corrupt judge to a justice of the peace. All of these suggestions were eventually incorporated into the final script, and on June 10, 1947, the script was finally approved by the PCA.
Contemporary news items and RKO production files add the following information about the production: They Live By Night, which was made over two years before its U.S. release, was Granger's first film following his discharge from the military. RKO borrowed Howard Da Silva from Paramount for the production, and Granger and O'Donnell from Samuel Goldwyn's company. Although CBCS lists Suzi Crandall as "Lulu," Erskine Sanford as "Doctor" and Frank Ferguson as "Bum," those roles were not included in the final film. (According to modern sources, Lulu was "T-Dub's" girl friend.) Hollywood Reporter production charts credit Art Smith as a cast member, but he did not appear in the final film. Modern sources note that Smith was replaced by Will Wright. Among those tested for parts in the picture were Guy Madison, Jane Greer, Michael Steel, Bill Williams and Jeff Donnell.
They Live By Night was George Diskant's first effort as a director of photography. Some scenes for the film were shot in the San Fernando Valley, including Canoga Park, Van Nuys and RKO's eighty-acre ranch in Encino, in Culver City, Newhall and Rancho Santa Anita in Arcadia, and in Griffith Park and Benedict Canyon in Los Angeles. Second unit shooting was done in Providencia and Flintridge, CA. The film's opening action sequence was shot by a helicopter camera, placed on a gyro-stablized mount. At the time of this production, aerial helicopter photography was quite uncommon. During production, Granger broke his ankle while making a leap from a freight train. The total budget of the production was $808,397. The picture was first released in Great Britain in late 1948, where it was a "surprise hit," according to Los Angeles Times.
Modern sources add the following information about the production: In addition to uncredited writers Brown and Andrews, Dudley Nichols contributed to the script. In March 1946, RKO turned the entire project over to producer John Houseman. Houseman, who had worked with Ray on two Broadway productions and at the Office of War Information, had earlier brought the novel to Ray's attention, and by April 1946, Ray had completed a treatment of the story. After Houseman convinced RKO to hire Ray as a screenwriter, Ray wrote a second treatment, submitted in August 1946. The project was then shelved until early 1947, when Dore Schary became RKO's head of production. Ray then worked with screenwriter Charles Schnee on the script, the first draft of which was finished in May 1947.
Having read the script, RKO leading man Robert Mitchum asked to play one of robbers, but was told by the studio that he couldn't play a criminal, or die, in a picture. Ray tested folk singer Pete Seeger, who did not make his motion picture debut until 1964, for a role. In the modern interview, Ray recalls that he made Cathy O'Donnell work in a gas station for two weeks prior to rehearsals. Several scenes were cut in the final editing stage, including one in a dance hall in which a young couple explains the southern expression "your red wagon" ("it's your business"). Modern sources list Gene Palmer as an assistant editor. The film lost $445,000 at the box office. In 1974, Robert Altman directed Thieves Like Us, a second version of Anderson's novel, starring Keith Carradine and Shelley Duvall and released by United Artists.