DVDs from TCM Shop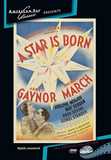 A Star Is Born A fading matinee idol marries... MORE&nbsp> $11.95 Regularly $10.99 Buy Now blu-ray
Home Video Reviews
While there have been numerous, well-regarded films about the film industry, from
The Bad and the Beautiful
(1952) to
The Player
(1992), none of them can touch the quintessential movie on this subject - the 1937 version of
A Star Is Born
. Originally based on an idea by director William Wellman, a script outline by Robert Carson and Wellman was pedaled from studio to studio by the director for years before David O. Selznick finally agreed to finance the film. It also helped that his wife, Irene (the daughter of Louis B. Mayer), thought the story had box-office potential. After giving Wellman the green light for production, Selznick became more involved in the creative process, requesting the film be made in the new three-color Technicolor process and demanding a title change from
It Happened In Hollywood
which was rumored to be the name of a competing project at Columbia Studios. Selznick also ordered numerous re-writes behind Wellman's back. Dorothy Parker and her husband Alan Campbell worked on the dialogue and Budd Schulberg, Ring Lardner, Jr., and John Lee Mahin are a few of the writers who contributed to the screenplay. Selznick's meddling finally ceased when Wellman threatened to sue through his agent, Myron Selznick, the producer's own brother! Regardless of the turmoil behind the camera,
A Star Is Born
(now on DVD from Image Entertainment) proved to be a compelling subject for most moviegoers because it was based on the lives of a few Hollywood celebrities (It later inspired two remakes, one in 1954 and one in 1976). Obviously, it was a subject close to Selznick because he had made an earlier film -
What Price Hollywood?
(1932) - that covered some of the same territory (failed careers, alcoholism, suicide).
In
A Star Is Born
, the central premise concerns a fading matinee idol, Norman Maine, whose career is rapidly declining due to a drinking problem, and his wife, a budding actress whose career is just beginning and will soon eclipse his in terms of success. The fascinating thing about
A Star Is Born
is that in real life, the actors playing Norman Maine and Esther Blodgett/Vicki Lester, were having the reverse experience of their screen characters. Fredric March, in the role of the drunken has-been, was actually at the height of his profession while Janet Gaynor as the up-and-coming actress was really at the end of her career. Gaynor had been a major player ten years earlier when she scored a success in the silent classic,
Seventh Heaven
(1927). The same strange parallel also held true for the 1954 remake; James Mason was just beginning to establish himself as a leading man in Hollywood while Judy Garland was experiencing numerous health and emotional problems.
A Star Is Born
would be Garland's last major film role until
Judgment at Nuremberg
(1961) which was really only a lengthy cameo role.
In keeping with the fame and celebrity obsessed theme of
A Star Is Born
, Wellman cast many of Hollywood's former but forgotten greats in minor speaking parts like silent star Owen Moore and director Marshall 'Mickey' Neilan. Wellman even found a part for his ex-wife, actress Helene Chadwick, whose fan mail he used to deliver. Of course, the juiciest bits of the story were culled from real-life events. The Norman Maine character was loosely based on infamous stories surrounding John Barrymore and John Gilbert during their final years as self-destructive alcoholics. The climactic suicide at the end of
A Star Is Born
was also drawn from real-life; actor John Boles drowned himself in the ocean shortly after the death of his wife. The funeral scene bears an uncanny likeness to the way that Norma Shearer was mobbed by fans at her husband's funeral, an incident that occurred while
A Star Is Born
was in production. And the famous final speech by Vicki Lester was inspired by a national radio broadcast by the wife of Wallace Reid who died as a result of his morphine addiction. Her first words at the broadcast were, "This is Mrs. Wallace Reid....."
During the 1937 Oscar® race,
A Star Is Born
was up for six Academy Award nominations including Best Picture, Best Actor (March), Best Actress (Gaynor), Best Director (Wellman), Best Screenplay, and Best Original Story, the only one of the nominations which won an award (for Wellman and Robert Carson). The Academy also gave
A Star Is Born
a special award for the color photography by W. Howard Greene. After winning his award, William Wellman reportedly took it to Selznick's table and said, "Here, You deserve this. You wrote more of it than I did."
Although promoted on the box art as the "Technicolor remaster from original 35mm nitrate," the Image Entertainment DVD of
A Star is Born
is still a public domain title. It's certainly the best version available in any format but be aware that the colors can be uneven from scene to scene and there are some noticeable splices throughout. The audio mix is good. There are no DVD extras.
For more information about
A Star is Born
, visit
Image Entertainment
.
by Jeff Stafford