DVDs from TCM Shop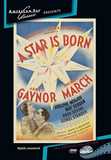 A Star Is Born A fading matinee idol marries... MORE&nbsp> $11.95 Regularly $10.99 Buy Now blu-ray
NOTES
According to a Hollywood Reporter news item, director William Wellman, in collaboration with Robert Carson, formerly a New York magazine writer and novelist, was developing a screenplay in early August 1936 entitled "It Happened in Hollywood," which was based on a idea by producer David O. Selznick. The projected film, to be made entirely in Technicolor, was to star Merle Oberon. Some modern sources state that Wellman came up with the original idea, which he based on experiences of people he knew, and that he tried to interest Selznick in the screenplay, which he was writing with Carson. Selznick, the sources state, expressed little interest until his wife Irene read it and encouraged him to produce it. This version of the creation of the story is disputed in a memo from Selznick dated January 7, 1937, after the initial shooting had ended, in which he wrote that the film "is much more my story than Wellman's or Carson's. I refused to take credit on it simply as a matter of policy....The actual original idea, the story line, and the vast majority of the story ideas of the scenes themselves are my own."
Selznick, in a modern source, stated that his intention in making the film was "to disprove what I had long believed had been a tradition until this time, that pictures about Hollywood could not succeed" and that he would do this by presenting the story "of a rising star in order to have the Cinderella element, with her path crossing that of a falling star, to get the tragedy of the ex-star." After the film was produced, the legal department at RKO, for whom Selznick had produced What Price Hollywood? in 1932, recommended that a suit should be filed to charge Selznick International with plagiarism of the earlier film. No further information concerning the proposed suit has been located ( for What Price Hollywood?).
In a memo dated September 21, 1938, Selznick stated that he originally spoke to George Cukor, the director of What Price Hollywood?, about directing A Star Is Born, but that Cukor declined. (In 1954, however, Cukor directed a remake of the film.) Cukor has stated, in modern sources, that the scene in which "Oliver Niles" visits "Norman Maine" in a sanitarium was inspired by a visit he himself made to John Barrymore in a Culver City, CA sanitarium, during which he offered Barrymore a role in Camille. Modern sources have suggested that the character of Norman Maine was based on Barrymore, John Gilbert, B. P. Schulberg and John Bowers. According to a Variety obituary and a Hollywood Reporter news item dated November 18, 1936, Bowers, a prominent film star in the years 1923-26, who had been married to Marguerite de la Motte at the height of his career, was found dead on a Malibu beach on November 17, 1936. He had rented a small sailboat on 15 November and had told a friend that he was going to commit suicide by "sailing away into the sunset." Bowers' death occurred approximately two weeks into the filming of A Star Is Born. Modern sources state that the funeral scene in the film was inspired by occurrences at the funeral in 1936 of M-G-M production chief Irving Thalberg, whose widow, actress Norma Shearer, was hounded by a mob outside the church.
According to Hollywood Reporter news items, production was halted on December 7, 1936 when Wellman developed a case of the flu. He was replaced by Jack Conway until 19 Dec. A modern source states that when Wellman viewed the rushes of the funeral scene (which the modern source states was directed by Victor Fleming), he decided to reshoot it to have Janet Gaynor scream at the scene's conclusion. This was the first film of Margaret Tallichet and the first American film of British stage and screen actress Elizabeth Jenns. Although a Hollywood Reporter news item stated that this was the first film of J. C. Nugent in five years, in reality, he had appeared in two films in 1935, although those May have been his only films since 1931. Marshall Neilan, who plays a small role in the Santa Anita clubhouse scene, joined Selznick's writing staff in early December 1936, according to a Hollywood Reporter news item. Sound recordist Oscar Lagerstrom's name is misspelled in the onscreen credits. According to a Daily Variety news item, the final scene in front of Grauman's Chinese Theatre in Hollywood was shot using crowds there for the preview of the United Artists release Rembrandt. According to a Hollywood Reporter news item, initial filming was completed five days ahead of schedule.
Scenes in the film were shot at the following places in and around Hollywood: Grauman's Chinese Theatre; the Club Trocadero; the Hollywood Legion Stadium, where the boxing match was filmed; the swimming pool at the Ambassador Hotel; the Santa Anita Racetrack; the Hollywood Bowl; an estate in Beverly Hills; and the Biltmore Bowl, where the Academy Awards ceremonies were held. A New York Times article states that the studio rented for two days the house of a prominent Los Angeles realtor for the country house sequence, and that the rental was arranged through the Film Location Bureau of the Assistance League.
According to information in the MPAA/PCA Collection at the AMPAS Library, PCA director Joseph Breen, after reading an incomplete script before production began, ordered a drinking scene cut, but wrote to Selznick, "This is a great picture." Reviewers agreed and praised the film highly, particularly for its treatment of the subject matter. Frank S. Nugent, of New York Times, called it "the most accurate mirror ever held before the glittering, tinseled, trivial, generous, cruel and ecstatic world that is Hollywood," and Variety stated that the film was "unquestionably the most effective" film made about Hollywood. According to a New York Times article dated July 25, 1937, because of the success of A Star Is Born, which had only been in release for three months, fifteen films with Hollywood as their subject had either been completed or were in production. Reviewers also lauded the naturalistic use of color in the production. Film Daily called it the first film with a modern theme to be made in Technicolor. Nugent, in New York Times, stated that the film demonstrated that Technicolor "need not, should not, be restricted to the gaudy costume drama," and Hollywood Reporter remarked, "the color is at all times kept subordinate. It enriches without overwhelming." According to a New York Times news item during the production period, the scene during which a black-and-white film is projected in the preview screening marked the first time that the technique of projecting film on a transparency screen and then rephotographing it was used.
According to modern sources, a number of writers in addition to those credited worked on the film. Ring Lardner, Jr., in his autobiography, states that he and Budd Schulberg wrote a few scenes, including the ending. At the time, according to Lardner, he was a twenty-one-year-old assistant to Selznick's publicity director, Russell Birdwell, and Schulberg was a reader in Selznick's story department. Other sources state that John Lee Mahin wrote the final scene, among others. While Matty Kemp is listed as having been cast in a Hollywood Reporter news item, he was not in the film. Modern sources state that this was the first film for both Lana Turner and Carole Landis, who, they claim, appeared as extra in the Santa Anita clubhouse scene. Modern sources also list the following additional cast members: Dr. Leonard Walker (Orchestra leader at Hollywood Bowl), Bob Perry (Referee), Willy Morris (Niles's secretary), Jane Barnes (Waitress), Edward Hearn (Orderly), Vera Steadman and Helene Chadwick, who was director William Wellman's first wife.
The film was named the No. 1 Money Making Film of 1937 in a national exhibitors' poll. Wellman and Carson won the Academy Award for Writing (Original Story), and W. Howard Greene was awarded a Special Award for color photography, which was recommended by a committee of leading cinematographers. In addition, the film was nominated for Academy Awards in the following categories: Best Picture; Best Actor (Fredric March); Best Actress (Janet Gaynor); Best Director (William Wellman); and Best Assistant Director (Eric Stacey).
According to a Daily Variety news item dated March 1, 1938, Selznick planned to produce a sequel under the title Heartbreak Town, based on an original story by Budd Schulberg about the rise of a child star in Hollywood. The screenplay was to be written by Schulberg and Marshall Neilan, and the film was to star Tommy Kelly and Ann Gillis, who had played together in The Adventures of Tom Sawyer. A Daily Variety news item dated August 18, 1938 noted that Schulberg and Neilan were working on a screen story entitled "Cavalcade on Hollywood," that would deal with the history of Hollywood. No further information concerning the proposed sequel has been located. A Star Is Born was remade twice: a 1954 version produced by Warner Bros., directed by George Cukor and starring Judy Garland and James Mason; and a 1976 version, released by Warner Bros., produced by Jon Peters, directed by Frank Pierson, and starring Barbra Streisand and Kris Kristofferson. Garland also appeared with Walter Pidgeon on a Lux Radio Theatre broadcast based on the film on December 28, 1942. On March 12, 1987, a reconstructed print of the 1937 film, preserved by UCLA Film and Television Archives, had its premiere.