DVDs from TCM Shop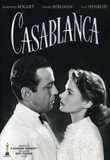 Casablanca An American saloon owner in... MORE&nbsp> $7.85 Regularly $12.98 Buy Now blu-ray
Alternate Versions
In 1987 a specially re-edited version prepared by Joao Luiz Albuquerque was shown at the Rio Film Festival. This version had the ending changed (Ingrid Bergman does not take the plane and goes back in Bogey's arms).

Fans should check out the original theatrical trailer, which is included on the DVD release. It features alternate takes of numerous scenes featuring Bogart, Bergman, Greenstreet and Henreid. Most notable is a sequence showing Rick saying, "You asked for this, Colonel" before shooting Strasser -- a line of dialogue NOT in the final film.

In the Italian version, the sequence where the Italian Officer Tonnelli meets Strasser is cut.

At the time of release, the film was banned in Germany because the story was considered to be anti-Nazi propaganda by the wartime censors. After the end of World War II, the picture was finally released in Germany but with around 20 minutes of footage cut (all scenes with Major Strasser and all references to Nazism). Other scenes were dubbed so that they had a totally different meaning (Victor Laszlo became Victor Larsen, an atomic physicist). In the 70s the film was redubbed by the ZDF, this time in its uncut form.

A colorized version was shown on Australian TV.