DVDs from TCM Shop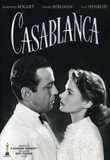 Casablanca An American saloon owner in... MORE&nbsp> $7.85 Regularly $12.98 Buy Now blu-ray
Quotes
Mr. Leuchtag


Come sit down. Have a brandy with us.

Mrs. Leuchtag


To celebrate our leaving for America tomorrow.

Carl


Oh, thank you very much. I thought you would ask me, so I brought the good brandy. And -- a third glass!

Mrs. Leuchtag


At last the day is came!

Mr. Leuchtag


Mareichtag and I are speaking nothing but English now.

Rick


Your cash is good at the bar.

Woman


What makes saloonkeepers so snobbish?

Banker


Perhaps if you told him I ran the second largest banking house in Amsterdam.

Carl


Second largest? That wouldn't impress Rick. The leading banker in Amsterdam is now the pastry chef in our kitchen.

Banker


We have something to look forward to.

Ugarte


Heh, you know, watching you just now with the Deutsche Bank, one would think you've been doing this all your life.

Rick


Oh, what makes you think I haven't?

Ugarte


Oh, n-n-n-nothing, but when you first came to Casablanca, I thought ...

Rick


You thought what?

Ugarte


Hm, what right do I have to think, huh?

Ugarte


You know, Rick, I have many a friend in Casablanca, but somehow, just because you despise me, you are the only one I trust.
Contributions
myfairlady86 (2007-03-08)

Source: umm...the movie

Richard Blaine.........Humphrey Bogart
"Here's lookin' at you, kid"

Richard Blaine.........Humphrey Bogart
"Louis, I think this is the beginning of a beautiful friendship"

Claude Rains
"Round up the usual suspects"

Ilsa............Ingrid Bergman
"Play it Sam, play 'As time goes by'"



Holz (2007-11-13)

Source: not available

Captain Renault: What in heaven's name brought you to Casablanca?
Rick: My health. I came to Casablanca for the waters.
Captain Renault: The waters? What waters? We're in the desert.
Rick: I was misinformed.


Rick: How can you close me up? On what grounds?
Captain Renault: I'm shocked, shocked to find that gambling is going on in here!