DVDs from TCM Shop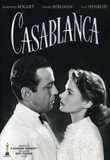 Casablanca An American saloon owner in... MORE&nbsp> $7.85 Regularly $12.98 Buy Now blu-ray
USER REVIEWS
See Detailed Ratings
Acting of Lead Performers

Acting of Supporting Cast

Director

Music Score

Title Sequence

Screenplay

Cinematography

Historical Importance

Would You Recommend?

0 Member Ratings
Rate the acting of the Lead Performers

Rate the acting of the Supporting Cast

Rate the Director

Rating of the Music Score

Rating of the Title Sequence

Screenplay

Creatively uses the camera to tell the story

Importance in Cinema history

Would you recommend for fans of this genre
Submit Ratings
Cancel
Write a Review
Read Reviews
NO REVIEWS AVAILABLE
The title has not been reviewed. Be the first to write a review by clicking here to start.
My Favorite Scene in Casablanca

Whenever I watch this movie the scene that stands out is the one in Rick's when the German's start singinig their anthem.....then the French come in with La Marseillaise and drown the Germans out. Tears me up.Such a womderful film.

can't resist weighing in

this movie, despite gaping holes in the plot, is one of the most emotional of all. That it was made in the darkest days of WW2 when we didn't know the ending makes it more poignant. The moment when Rains hesitates just a moment before saying "Stroessner has been shot, round up the usual suspects" is not only the source of a great oft-quoted phrase, it was call for people to find their conscience and act on it, just when that message was so needed. Similarly, the silent assent of Bogart to signal to allow the playing/singing of the defiant Marseillase, an emotional highlight to this day.

perfection

What's not to like? There is a powerful, emotional simplicity to this movie. It's a love story for the ages and a reminder of the incredible courage of those who stood up to the Nazis during the War. Paul Henreid, Humphrey Bogart, Claude Rains, Peter Lorre, Conrad Veidt, Sydney Greenstreet--all are outstanding. But it is Ingrid Bergman I can never forget. She is truly magnificent in this movie.

Bogie's best?

Sure, one of the great movies of all time. That being said, I still think it is only Bogie's third or fourth best performance, definitely behind "Maltese Falcon" and "Treasure of the Sierra Madre". And you can see a lot of these "usual suspects" in "The Maltese Falcon". But I still love it. I even have the poster on my living room wall!

For movie watchers

Critics, generally, will tell you that Citizen Kane is the greatest. Lovers of soap-opera will tell you that Gone With The Wind is "the One". I daresay the majority of lovers-of-good-movies will choose Casablanca. I can't narrow it down to say there is one movie that is better than every other movie in the world, in the history of movies. But I certainly do narrow it down enough to say that there is no better movie anywhere, at any time. Equal, maybe. MAYBE.

destino

many people say a lot of things about this story. most experts say it was a fantastic accident of making a project by studio system. it is not a film.it is a movie. if you are on a date..and see this movie with someone..and they do not like it..things probably will not work out. it was destiny that made this movie happen.. that and a lot of hard work.it is a great legacy to the studio system.

You Must Remember This

Something to remember is that we have the luxury of seeing these films on TCM not in the order in which they were made (as those who lived during that era) but in the order and frequency TCM wishes us to see them. If CASABLANCA was your first introduction to Bogart, you might have a completely different impression from those who had already seen him in many cheesy gangster films over a period of 10 years. We actually have it better, since we see their best performances first. Nevertheless this is and was Bogart's best effort and a complete break from his previous characters.

Casablanca is the best movie ever made

CASABLANCA is the best movie ever made. What more is there to say? It's perfect. There's nothing better.I have to note how sly TCM is in today scheduling the perfect CASABLANCA to be followed by an evening schedule of garbage 60's films including I LOVE YOU, ALICE B TOKLAS, BUTTERFLIES ARE FREE, and ALICE'S RESTAURANT. Point made! Quite a juxtaposition to go from the best movie ever made to the popular pulp of the 60's garbage movies. Thanks, TCM!

At Of All The Gin Joints.....

First, Bogie and Bacall films were my introduction into classic films. My long lost love Trish got me into older movies. As for Casablanca, after watching it for the first time in 1975, I thought it was a terrific film but I still loved a few other Bogie films more. But as I seen it a few more times I enjoyed it more and more. It is one of the greatest films ever made with a perfect cast and it was made during WW2 so there is that side of history which is lost to some reviewers when rating any movie. Bogart is my favorite actor of all time and I have seen almost all of his films. This masterpiece and 'The Big Sleep' are two of his best films overall. This movie is great and when it holds a place and time in your heart,this makes the film special. Absolutely a Top 5 film of all time....'as time goes by'....

Not a dry eye in the house.

It's all been said about this great movie from director Michael Curtiz (not enough said about him though, and why?). Just one thing, if you can keep back the tears during "La Marseillaise" you are either not alive or you are watching the David Soul version.

Casablanca

5 star all the way. Best movie ever, with great cast and so many memorable lines. Loved it long ago and still love it today. This movie wears well.

its been 4 years but i must respond

i know its been 4 years since Techni graced the classic movie faithful with his inspired insight on this "hated movie":However The TCM tattoo on my wrist complels me not so much to defend this national treasure. but instead to question this gentleman's competance. not only to review classic movies BUT TO WALK UPRIGHT. why aren't you watching Naruto or dragonball Z and leave the real cinema to those who love it!!!!

CASABLANCA: Best Movie Ever Made

Openly considered the finest film of all time, nothing can be added to such a statement. Do look for all the astonishing catch phrases that have stayed with popular culture for the past 75 years. Don't go to sleep tonight without being able to say that you have seen this treasure of story, acting, direction and style.

The Bogart Factor

If anyone would ask my opinion on why Casablanca is such an iconic movie, I would say the main reason is simple. Its Humphrey Bogart's performance that makes Casablanca the great classic that it is. It is easy to take his powerful yet subtle performance for granted. But it a great performance. Bogart could do so much with a simple turn of a phrase,a look,even a wordless grunt of sadness. Casablanca will never grow old. It will live forever because great performances live forever,

How to Make a Movie

There is nothing I can add to the scores of terrific reviews of this classic film except that it is the answer to every 'how to' pertaining to movie-making. How to direct a film. How to write a film screenplay. How to act & not over-emote in a film. How to cinematograph a film. How to edit a film. How to costume design a film. & on & on. The 50th time you view this movie you will notice something new to appreciate.

Most movie fans have a favorite movie. "Casablanca" is mine, always will be, as I'm sure it is with countless others around the world. On the American Film Institute's various lists, no film is ranked higher in so many categories. It is ranked as the #1 Love Story of all time, certainly helped by the #2 song of all time in a movie, "As Time Goes By", which is woven throughout the film so effectively. More lines of "Casablanca" dialogue are included in the AFI's 100 Best Quotes: "Of all the gin joints in all the towns in all the world, she walks into mine.", spoken by Humphrey Bogart's character, Rick, about the woman he never stopped loving, Ingrid Bergman's Ilsa. Great supporting cast (most notably Claude Rains and Paul Henreid), great screenplay, set against the backdrop of World War II. No wonder it won the Oscar for Best Movie of 1942...and maybe any other year. To my granddaughter Julia, this is the last, and the best, of the 12 movies about love I'm recommending that you see, all of which you now have in your possession from the TCM Shop, as part of my year-long 12th birthday present to you. I hope someday you'll watch "Casablanca" with someone you share your love with. So now that you're 13, and I'm all out of movies, what more is there to say except, "Here's looking at you, kid." Love, Grandpa

Casablanca

At Warner Brothers when they were making a movie a week came a classic that ended up winning Best Picture and became forever remembered. "Casablanca" has the characters you don't get tired of and there was many famous lines that they said that are...forever remembered. It's a black-and-white film which focuses on characters more with Rick Blaine from New York running a saloon in Casablanca Morocco during the War years with the German influence getting worse. Rick meets an old flame Ilsa and...the Bogart and Bergman magic started up again. Made by director Michael Curtiz this enduring love story amid the shocks of war with people trying to get to America this story ends with Bogart and Claude Rains walking from the airport..."Louie, this is the beginning of a beautiful relationship".

Agree With Peach-Citizen Kane No Match

Have spoken to many elderly who consider Casablanca THE BEST MOVIE OF ALL TIME-they would know best.Have watched each time TCM plays it-middle of night or middle of afternoon,and it never gets old.The sacrifices everyone made in their everyday lives in 1940s to support the War Effort compared to our days of plenty.And yet wars still rage for politics and power even now in Africa.A timeless love story played out amid WWII and Rick's great love is married to THE leader of the Underground,a great freedom fighter who gets Rick & Capt Rennault to join in with the side that wins.Many great character actors,themselves refugees from War-torn Europe each contributes their all.And the scene with Thee Marseille is compelling!Citizen Kane,what is it in comparison to this classic!

Movie perfection

Magical

One Of The Best Ever

Bogart really praises Ingrid,saying how when she told you she loved you,you had to believe.He's at his best here,and his career was taking off.The cast if top-notch,esp the character actors,most all Nazi refugees in real life,which gives the film so much that it has.I really LOVEDClaude Rains,he's magnificent,no wonder why they starred him opposite Cary & Ingrid in NOTORIOUS.Thrilled Passage To Marseille is also on today!That was a truly good film,too,and deserves its propers!

Claude Rains

"Casablanca" really is THE classic film from the Golden Era of Hollywood; the script and casting are perfect. I really get a kick out of Claude Rains in this movie. He's always great, but he's really kind of hilarious in this movie--he has the funniest/wittiest lines and delivery!

The GREATEST

Citizen Kane cannot touch Casablanca.

classic

A timeless movie. The acting by everyone is excellent. Bergman is gorgeous. So many quotable lines. Great music. Simply memorable.

Cutting/directorial flaw?

I've been wanting to get opinions on this for some time. I'm not questioning this movie's place as one of the best of all time, but there's an irritating little film edit that I think is a mistake and can't understand how it got through. When Ilsa comes into Rick's for the first time and Sam is playing 'As Time Goes By', Rick comes over and says "I thought I told you never to play that -" and Sam nods towards Ilsa. I think there's about a quarter second (too long) lag between the nod and Rick's reaction. To me this seems an obvious error that could have been corrected by a simple snip of the cutting scissors. Anyone else notice this?

The number one of all time!

The best movies have to hold up to the test of time. Casablanca does this and more. I can only imagine watching this in 1943 when the fate of the world was very much in doubt. It has something for everyone. Action, romance, drama and just enough humor to make it the best of all time. Watch it and watch it again!

My Favorite Movie of All Time

I've lost count of how many times I've seen this movie. It just never grows old. FINALLY saw it on the big screen a couple of years ago when it was shown in theaters across the country for one day only to celebrate the 70th anniversary of it's release. Every character was cast perfectly. It still sends a chill down my spine every time Victor says "Welcome to the fight" to Rick at the end of the movie. It contains so many classic lines that have become embedded in our popular vernacular, people use them every day without even realizing where they came from. Sure the early 40's special effects don't compare to modern movies, but that just adds to the character and charm of this film. Not that there aren't some very good movies being made today, but too many of them seem to showcase special effects instead of relying on the story to carry the film.

Really, #1

You have your Citizen Kane fans, Gone With The Wind Fans, but this is really #1.Hollywood's best effort, and all that means. Everyone in the cast is brilliant, particularly highlighting the mysterious appeal of Bogie, but let's face it, as always, it's the script. So many zingers in one film, and it could only come for Warner Brothers.Did you realize Sam's NOT playing the piano?

Bogie at His Best

There's a lot of cigarette smoke in this movie. From the players. From ashtrays. But Bogie is smoking hot as Rick, owner of Rick's Caf. Really good character actors support Bogie, Bergman, Claude Rains, and the guy whose name I can't remember who was in Now Voyager with Bette Davis. It'll come to me. Just when Rick makes peace with the memory of his love affair with Bergman in Paris, she shows up at his place asking for what else--a favor. For her husband, no less, who is a leader in the French resistance. Bogie and Bergman have maximum-strength chemistry in this tale of a man (Rick) who at the end of the day, stays true to his convictions even if it means sacrificing his own happiness. Classic lines. Classic scenes. And Claude Rains simply superb as the corrupt police chief who tells his boys to "Round up the usual suspects." Play it again, Sam.

CASABLANCA

THIS IS ONE THE MOST AMAZING, CLASSIC AND ROMANTIC MEANINGFUL MOVIES EVER.. LOVE BOTH ACTORS. THEY BOTH SHINE AND GLOW IN THIS MOVIE .

The Essence of Good Acting

I suppose if Chuck and Joseph recall Lauren Bacall being in 'Casablanca' then their version of the movie may be a little muddled compared to the rest of us. Nevertheless, I think it is plausible that Bogey's magnetism could conquer even the ice-queen Bergman, particularly under the circumstances outlined in the plot. This is a film I wish could be seen for the first time over and over, such is the perfect reading of a perfect script.

Excellent film

An outstanding film.... The superb acting, the excellent script, the love of Bacall and Bogie are elements not to be missed

Toffee?

Tekni, it's "gin-joints", not bars. What is toffee? Did you misspell coffee?

'Tekni'kally A Moron

I find it amusing when someone who is probably barely out of diapers "tries" to write a review on a classic movie. Especially when it is obvious they don't have a clue about the actors or their characters. Not only did Lauren Bacall kiss Humphrey Bogart in the movie, she married 'the poor guy'. The cast of this movie were some of the greatest actors of their time. It is truly a shame that youth is wasted on the young.I suppose, by that logic, that "Hunger Games" was the greatest movie ever made, and Lindsay Lohan is the greatest actor to ever live.I'm with TCM! It is quite possibly the best movie of all time, but then there are so many of the old classics that put today's movies to shame.

The Best Movie Ever

I have seen Casablanca every year since I was a child, and it has always had, and always will have, a deeply personal meaning for me. It is perfect in every aspect, but my favorite moment is the scene when the German sing is drowned out by Paul Henreid's rousing rendition of Les Marseillaise. That has to be the greatest and most dramatic scene ever in movie history...and, in the middle of Germany's occupation of France WW II !!! It simply steals your breath away. My Dad was at Omaha Beach during the D Day Invasion, and this scene really affected him as well. In fact, every time it played he would ask me to watch it with him, and he would stand at attention, with his hand over his heart. As a kid, I also stood at attention, too. In fact, to this day, whenever I see Casablanca and that scene comes on, I STILL stand at attention, in his honor and the honor of all those who served in WW II, an as a result, saved the world. It is a moment I shall always cherish, and a moment during which I am, again, one with my Dad, and my Mom. I generally hate rankings, but this movie is definitely the best !

"Dear Teckni"... And other "deficiants.

This is not at the top of my personal favorites, but it's one of the most popular/highly regarded films in history. And THIS is somebody who couldn't hardly stand a B & W movie during his first dozen years of life... BUT, perhaps that's right about where the coherence of the "Teknis" in the world stopped developing. Surely the world will be talking & remembering movies like "Casablanca" LONG after it's forgotten "Dumb & Dumber", & "The Hangover"... Except for the "Techni"-types out there, that is.... Besides, Ingrid Bergman was too gorgeous for ANYBODY... Putz.

Anyone but Humphrey would have been better

"Of all the Bars in all the world." - Says it all. Totally unbelievable corn. Wet lips, cant act for toffee, Humphrey (Who would kiss that stiff wet drooling mouth), in a romantic lead with a much taller gorgeous lady who probably would never give him the time of day normally. Nothing could make me believe in this badly cast partnership, and unethical story. If the critics like a movie I can almost guarantee I will not. So bad it made my skin crawl.

Best movie ever made

This movie is simply nothing short of perfection...If anyone thinks otherwise,,, well,, they are stupid...

Casablanca

Everything that was good about the studio system was put into this legendary film. A cynical bar owner, trying to stay neutral to the war around him, meets a former lover married to another man. Bogart deserved to win Best Actor Oscar, as did Rains in his supporting performance; although not nominated, Bergman & Henreid are great as a freedom-fighting couple. Despite it's magnificent status, the film only won three Academy Awards; Best Picture, Best Director for Curtiz & Best Adapted screenplay, for the first time shared by brothers. As part of our popular culture, it's now almost impossible not to see or hear references to this outstanding film. I give it a 5/5.

Incomparable!

I too have seen this film so many times I lost count long ago and, for the life of me, I cannot figure out why anyone would dislike it. There are historical miscues, the most important of which is the fact that not one German soldier ever set foot in Casablanca during WWII but, after all, this is a fictional story, not fact, and one can take a lot of license when writing fiction. Nobody remotely connected with this film ever believed it was anything but average and they had no idea it would become one of the most loved films of all time. It has it all - the good guys, the bad guys, the eternal triangle, friendship, patriotism, murder, intrigue - so what's there not to like! It also has some of the greatest Hollywood actors of all time, along with an incredible supporting cast, many of whom were actual refuges from the war in Europe. The film is heightened by the use of black & white film, much like the film noir genre. The use of shadows and light is especially well-placed and should be thoroughly enjoyed and noticed. For Bogie's first romantic leading role, he knocked this one out of the park and still maintained the toughness he was known for. Bergman is at her most beautiful and her face lights up each scene she is in. Both of them are gone from us now but we will always have them together in this great film!

Gets better and better every viewing

Outstanding acting and wonderful script. Everytime I watch this movie I find something I previouosly missed. Extraordinary in every regard. The film is not to missed.

Who elso could walk into Rick's...

and break Bogie's heart but Ingrid Bergman...Like "Gone With The Wind" all the stars (pun intended) are aligned and cinematic magic is forever captured for many future generations to revel over "as time goes by"!Yes, only Bergman coudl bring Bogie "back to the fight" - the good fight!5 genuine stars for cast and crew!

The Best Ever

I first saw Casablanca in Buenos Aires, Argentina in the early '60s. I probably have seen it over 100 times and each time I catch a little more of what went into this great film. I hope to watch it 100 more times. One of the best ever...the start of 'a beautiful relationship'!

Tops!

I came to this film late in my film watching career, and it was burdened by previous opinions. Being cynical, I resisted, but over the years and many viewings I've come to agree with the feeling this is near or at the top of what Hollywood can do.First, the script is great. Well constructed, and zingers very other sentence. All the loose ends wrapped up. Bogey at his peak, his appeal still mysterious and compelling. Arguably Ingrid's best role, never lovelier. Claude Rains, Conrad Veidt, everyone in the cast is superb. But have you noticed Sam appears to be faking his piano playing?For you youngsters, grab this one. BTW my wedding song is "As Time Goes By". She wore blue, the Germans wore gray.Here's looking at you, kid.

All-Time Favorite As Time Goes

Was there ever such a true portrait of WWII and what was happening around the globe?Again,many fought,died,were hopelessly changed for the worst.A story for all time,which I love more every time it's on TCM.

As Time Goes By - The Best Film Ever Made

Maybe, because, this is my Dad's favorite film and the first one I remember watching with him - it has become hands down my all time favorite film as well. It has stood the test of time; and like a fine wine, it just gets better and better 'as time goes by'. Truly aborbing -- with great intrigue, action, and romance -- and no matter how many times it is shown, I look forward to seeing it again and again on TCM. Here's looking at you TCM -- Thanks.

#1 Movie of All Time

Round up the usual greatest movie suspects and Casablanca wins. Also a great black comedy. Depth of supporting characters unmatched. Thanks to Casablanca we'll always have Paris and all the gin joints in all the towns in all the world, although the problems of 3 little people don't add up to hill of beans in this crazy world. Here's looking at you kid!

No Greater Love

Have come to consider this movie as the greatest of all time.Thanks TCM for including highlights of 2012 Film Festival,esp today featuring cast,stars of Cabaret.Love to Mr Grey,Ms Minelli and esp Sir Michael York!Such wonderful actors who deserve special salute during Casablanca time period 4/13/2012.Hope Sir Michael realizes we love him and hope his health improves.Ms Liza and Mr Joel were delightful,too!Thanks TCM!

The Ultimate Sacrifice For Freedom is Love

LoveLostandRegained

2/16/12

A classic of love and loss and sacrifice for redemption and fighting for freedom

Loved by many

To me and so many other fans, Casablanca is a cherished treasure. A few reviewers seem to be hung up on Rick Blaine's political beliefs, but for some reason I never felt that mattered much to the story. I suspect that underneath my cynical shell I am "at heart a sentimentalist".

Yes, Please...

"Play it again, TCM!"

Casablanca

5 Stars. 10/10 on IMDB. 100% on Rotten Tomatoes. My favorite movie of all time. Whatever the ranking scale for me, this one is tops. Didn't see it for the first time until October 2002 at the age of 32. Exactly one week after watching arguably the greatest Film Noir ever for the first time, Double Indemnity. Good month. Back to Casablanca. Directed by Michael Curtiz. A great director. This a film that in my estimation transcends all movies. The acting is just, great. Bogart, Bergamn, Henreid, Greenstreet, Lorre are all at their best here. But you know who tops them all? Claude Rains, as Captain Renault. The ultimate "whichever side will win, that is the side i'm on" character. Casablanca is movie I can watch over and over again and again. It's not about the sets, there was no location shooting. It's your basic golden era studio film in that regard. Driven by the actors. Making it in my mind, the greatest film ever.

5 out of 5

Much more than the sum of its parts. How anyone could rate this movies less than a 5, I do not know. Arguably the greatest hollywood movie ever made.

Casablanca

I watch this movie at least once a month. Humphrey Bogart deserved the oscar for this movie. Claude Raines was wonderful and Ingrid Bergman was superb. The acting is excellent and you can feel Ilsa's angst in loving Rick but not wanting to hurt Victor Lazlo. Love this movie.

One Of The Greatest Film Experiences

A Film I Can Watch Over And Over Again.

cool

Bogart is so cool and Reigns is great... One of the best films ever.

One Word

It is amazing how one word can change the meaning into something new. Imagine if you will, that Captin Renault says the following to Rick (bogart) Renault:----in 1936 you fought on the LOYALIST side. Rick (Bogart) answers: Got well paid for it on both occasions". Captin Renault says: The winning side would have paid you much better. Just change one word and watch how this dialogue changes the meaning dramitically. Captian Renault says instead: ---in 1936 you fought on the COMMUNIST side. This of course is how the left use there own dictionary to deceive the audience of the truth.

Simply brilliant

When you say "Casablanca" you automatically think Bogie, but for my money it's really Claude Raines who steals the show. He's really got all the most memorable lines and makes the most of them. If you're one of the four people on the planet who still have never seen this movie, keep your eye on the Prefect of Police. His interaction with Bogart is just delightful.

Choice?

To: Rita P. If one believes in God, one realizes that when one has to choose between two evils (communism or fascism) one chooses neither. Rick Blane should not have fought in that war at all---if he was a true hero. Of course this is a film but it shows Hollywood's true colors in the political sence.

One of the best films ever made

I've only become a Bogart fan in the last year or so. Now I regard him as one of my favorite actors. His performance is wonderful! And Ms.Bergman more than holds her own with an equally stellar performance. The film draws the viewer in like no other! Just awesome in every way!

Classic war time romance film

One of my favorite Bogie films!With Ingrid Bergman & Claude Raines you got yourself a winning formula.

fantastic

claude rains should have gotten an oscar. not only delivered he a brillant performance, he did it with gusto. he WAS the bribable yet loveable de facto ruler of the city, showing with tongue in cheek his disgust for the germans and vichy. his personal "weaknesses" made him even more human and real.

As time goes by.

This film holds up beautifully. Never fades.

Casablanca

4 out of 4 stars!

Casablanca (1942)

The best movie ever made. Period. This film is what cinema is all about. The leading actors, Humphrey Bogart and Ingrid Bergman, have never given better performances and they are the best performers ever to step on screen. The supporting cast is the best used in cinema history with Paul Henreid, Claude Rains, Sydney Greenstreet, Peter Lorre, and Dooley Wilson. No one sings As Time Goes By like Dooley Wilson. Even Bing Crosby and Frank Sinatra have tried, but to no great avail. Michael Curtiz's direction and Max Steiner's direction and Owen Marks' editing are also treasures in this film. However, the real MVP of this film is the screenplay, written by Julius and Philip Epstein and Howard Koch, which has countless immortal lines from 'Here's looking at you kid' to 'Round up the usual suspects' to 'I stick my neck out for nobody'. The plot twists and turns with a mind of its own while the characters are each greatly defined. The film is about Ilsa Lund (Bergman) and her French Resistance leader husband Victor Lazlo (Henreid), who must escape from Casablanca. However, the only way out is the letters of transit and that lies in the hands of Ilsa's cynical onetime lover Rick Blaine (Bogart). This should be a fact by now, after all these years: this is the greatest movie of all time. In conclusion, play it again.

Great film in all aspects

One of the best movies ever made. Clever casting. Dynamic dialogue. Marvelous mix of suspense, intrigue, comedy, pathos, and joy. Ingrid Bergman says "God bless you" (at the end) like no one else. Speaking of God, and in response to Rita, the loyalists (communists) were supported by the Soviet Union during the Spanish Civil War, and the rebels (fascists) were supported by Germany and Italy (Hitler and Mussolini). So really it was the "we-want-to-be-godless" fascists (in the 30s it was just nationalist socialism) against the "we are godless" reds. Hitler was intent on suppressing faith from the conscience of their citizens. The clueless commies eliminated God. Both sides were testing their weaponry in Spain. Hollywood in general has always had an affinity for communism. The only time such "faith" has been suppressed was at the outset of the Cold War, with the Iron Curtain, China going communist, the Korean War, etc. The suppression did not last long.

Hey Jack the Hat...VIA RICK BLAINE

Hey Jack the Hat...the Communists (Loyalists) fought against Fascists (conservative generals against Spain's legal gov't) who was subsequently supported by Nazi Germany and Italy. They won and subsequently supported the axis powers in the war. Some choice to begin with, Ha?

Perfect

Every line is absolutely perfect- the writing and delivery from every actor could not have been better. That being said, Claude Rains (in my opinion) steals the show (if that is possible with such good acting by all.) He is simply brilliant! "I'm shocked, shocked to find gambling going on in here." It doesn't get better than that!

Casablanca

This movie is about one thing: Chemistry, that between Bogie and Bergman; it is some of the best ever put to film, it makes the movie which quite frankly has a somewhat confusing plot not only watchable but memorable. Letters of transit held by Germans soldiers issued by DeGaulle that are in effect a free pass (can't even be questioned) yet having them is a crime?The chemistry between Bergman and Henreid is nonexistent.I have seen this picture some 20 or 30 times and will continue to watch it because of Bogie and Bergman.The supporting cast is top flight.

Pro-communist?

It is interesting that most do not realize that Rick Blane (Bogart) admits to being a communist in this film. It seems that black listed (Howard Koch) had Rick fighting on the loyalist side in Spain. In case you haven't studied your history the loyalist were the communist in Spain at the time. The films real asset is the film score.

Casablanca

One of the best movies that was ever made! Fabulous cast . Can't get any better Humphery Bogart, Ingrid Bergman, Paul Henreid, Claude Rains, Sydney Greenstreet & Peter Lorre. Everyone should watch this classic movie!

Casablanca

Many, myself included, consider this to be the best film made to date. The reasons are numerous and valid --great cast, great chemistry, great story, great themes, including patriotism, altruism, love in its purest and most unselfish form, excellent direction, cinematography, costumes, exotic locations, Humphrey Bogart, Ingrid Bergman, Claude Raines, the Burbank Airport, the list goes on. One reason I like it so much is that it was not made with the notion that it would be the greatest movie ever--it just turned out to be that way. In this instance the best film happened accidentally when the right mix of story, cast and political climate came together at the right time. When this film was made, no one knew for sure how WWII was going to turn out--the Axis might have won. As I understand it, "Casablanca" was just another weekly offering, unlike "Cleopatra", for example, which was made with the idea that it would be one of the best films ever. In theory, "Cleopatra", with the money spent on costumes, extras, scenes, etc, shouldn't have been the flop that it is. I never get tired of seeing "Casablanca", even though I have memorized the dialogue.

an importnt movie

what can you say?----a triumph on every level----acting--producing-----and the music------these were the days of great directors-----(not like the john landis type directors of today-who dont mind murdering children)----this film is crucial if for only its historcal content---a vehicle of at the very least-to foster interestin these dynamic years which shaped the world---the dialog-supreme-----camera angles---magnificent-----casting---well try replacing any major characher with anyone else---and i believe we have a different fim----well as yu see----i love this movie

There's only one Casablanca

There is a reason why certain films are considered classics. Don't ask--simply sit down and see this film. Then you'll understand.

"Casablanca" IS a 10 rating!

Enough said - heck, just watch it!

The Greatest Wartime Romance Drama of All Time.

Frank Harris Horn

11/24/09

The AFI has named Casablanca the greatest romance story of the 20th century. It ranks number 2 on it's 100 Greatest Films list just below Orson Welles' Citizen Kane. Humphrey Bogart and Ingrid Bergman make movie history as one of Hollywood's greatest leading couples. Bogie plays Rick Blaine, a saloon keeper, who is suddenly confronted by the lovely Ms. Bergman as his old flame along with Paul Henreid as her husband, both of whom, are fleeing the wrath of the Nazi tyranny. Winner of three Academy Wards including Best Picture of 1943, and Michael Curtiz as Best Director. Here's looking at you, Kid. Also starring Claude Rains, Conrad Veidt, Sydney Greenstreet, Peter Lorre, Dooley Wilson, S.Z. "Cuddles" Sakall, Madeleine Le Beau, John Qualen, Richard Ryen, Joy Page, Dan Seymour, Helmut Dantine, Leonid Kinskey, Marcel Dalio, Charles La Torre, Ludwig Stossel, Ilka Gruning, Corinna Mura & Jean Del Val.

7.73 Overall Rating?

Please people....This is one of the finest films ever made. It just doesn't get any better than this.

The greatest movie ever made

"We will always have Paris", "play it Sam, play it again", "round up all theusual suspects",here's looking at you'kid", "of all the gin joints in all theworld...", "this is the start of a beautiful friendship". Almost every line of dialogue in this movie is mem-orable or quotable. The greatest movieever made still after 67 years there isnteven a second place. If I've seen thismovie once I've seen it a thousand times.The blend of characters, direction, thehistorical time period all blend to makethis the "king of movies".

Agreed: Number One US Film

If ever there's been a US made film that's close to perfect in every way, this one's it. The cast is one of the finest. I couldn't even pick my favorites of these actors. My favorite scene is the ending with Bogie and Claude Rains walking off together saying it looks like theirs is going to be a perfect friendship. Of course Ingrid Bergman is a spectacular actor. Paul Henried is too. Peter Lorre, Sydney Greenstreet, SK Sakall, Dooley, Veidt, what a supporting cast. I have the colorized version and it is so much better watching it in color. Plus the quality of this colorization is superb. I highly recommend seeing the Warner Bros. cartoon starring Bugs Bunny called "Carrotblanca." It is too cute for words.

America's Greatest Film

This film is my personal favorite and in my opinion, the greatest movie ever made. My apologies to Citizen Kane, the Godfather, Dr.Strangelove, etc. The ensemble cast of Casablanca truly shines in this cinema masterpiece and has there ever been a cooler character than Bogey's Rick?

A Cinematic Masterpiece

Watching "Casablanca" colorized is so much better than seeing it in B&W. Rather than taking anything away from the noir effects, color adds to them. It's like seeing a Da Vinci where it is hanging. The performance artistry that's loaded into this film is awesome. My favorite scenes are between Claude Rains and Humphrey Bogart. It seems just right that they walk off in the fog together talking about friendship.

Memorable

Eevery line in this movie is completely memorable

Beautiful

Rick: Your cash is good at the bar. Banker: What? Do you know who I am? Rick: I do. You're lucky the bar's open to you. CLASSIC!

Favorite scene.

There are many great scenes in this movie but my favorite is the one where Lazlo leads everyone in the French national anthem and drowns out the Nazis. This always brings tears to my eyes.

The best

Here's looking at you kid

As Time Goes By....

"Casablanca" gets better each time I see it. It is one of my top 5 Bogart films (Key Largo, The Big Sleep, High Sierra and The Desperate Hours the other 4) and it has all the elements of classic film - a stellar cast, powerful performances and a solid script and plot. If Casablanca had been made a few years later after Bogart married Lauren Bacall, one wonders whether she might have been cast in the role of Ilsa instead of Ingrid Bergman. Also, I wonder if the ending could have been different, and Rick decided his love for Ilsa was more important than helping fight the Nazis and he got on the plane with her. Casablanca is a true classic and nobody should even think about remaking it! I watch it every time it's on TCM. Here's looking at you, Casablanca!

numero uno

The best movie ever made,enough said.

A MUST SEE classic movie!

This is THE quintessential romantic classic! Humphrey Bogart, Ingrid Bergman, Claude Rains, and Paul Heinreid worked beautifully together. I LOVE the song As Time Goes By, the man who sang it did great. Even though Rick and Ilsa wanted to be together they simply can't, it wasn't meant to be, ugh! This movie won Acadamy Awards for Best Picture, Best Director, and Best Screenplay. This movie deserved it. This movie also came in at #2 on AFI's 100 years, 100 movies. This movie is a sure favorite of mine.

Unforgetable and Beautiful Film.

Casablanca is the greatest movie of all time. There's no arguing about it. Every aspect: the acting, the plot, the direction, the screenplay, the music---flawless. Bogart and Bergman are at their finest. The supporting cast do a great job of keeping up with the leads and are cruical to the story. The dialogue is witty and flows perfectly. And above all, it really is just a great joy to watch. No matter how many times you watch Casablanca, the impact will be just as strong as the first time you saw it. There is a reason why Casablanca is always on every 'greatest film' list and why it is viewed as such an iconic movie. You are completely pulled into the story and when it's over you are totally blown away. Absolutely brilliant.

casablanca

Best movie of all time!!!!!!!!!!

Play it ,Sam, play as time goes by

What a quote don't you think? One of my favorities after Frankly my dear... and here's looking at you,kid.Casablanca is just lovely it makes me cry when Ingrid says Play it... and when Humphrey say at the last time Here's looking at you wow.I am 14 and i believe that is for me the second best movie. (after GWTW).XOXO.

it was an excellent movie...

it was really a terrific ... brilliant movie..i am only 15 years old .and i really enjoy watching this film..and i also love watching classic films...and this is one of the best...

Superb film

This is a superb film. It is a romantic film and is also thrilling. It has a great script, great cast and great performances. This film also has the most famous lines. Superb masterpiece.

Masterpiece of 20th Century Cinema

makes my top 5 movie list.

An Movie Icon

An icon and a work of art. CASABLANCA is more than a romantic melodrma. It is flawlessly directed, well acted, evoking daydreams about lost chances and lost loves and honor. Every shot is just right

Bogie

I love this movie more than I can express in words. This movie introduced me to Humphrey Bogart, and now, I have a collection of his movies. My grandpa and I love to watch his movies, and our favorite is Casablanca. The airplane scene is magic.

all time favorite

This has been a favorite of mine as long as in can remember.It is my mother's favorite movie and hence I have seen it since birth. I love it more each time i see it

Better and better

I've seen this film many times before, but in a recent viewing I fell in love with it all over again. I developed an even more intense appreciation of this timeless classic and anybody would do well to give up a couple hours to watch it.

My personal ratings

This is by far one of the greatest romantic movie performed by an A list cast. They made it into the classic it is known for.

Thriller of all time

This is my family's favorite movie. My aunt from Taiwan requested the limited edition for her 50th birthday which was not available there. We bought a copy that traveled half way around the world.
*We protect your personal infortmation and will not provide it to anyone without your consent. For a complete explanation, please refer to TCM's Privacy Policy. By submitting your contribution, you agree to TCM's Terms of Use.