DVDs from TCM Shop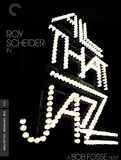 All That Jazz Director/choreographer Bob... MORE&nbsp> $19.47 Regularly $29.95 Buy Now blu-ray
Home Video Reviews
From the 1930s through the 1960s, musicals were one of Hollywood's favorite genres. The best of them were bouncy, tuneful, and fun. And almost all of them, from
42nd Street
to
The Sound of Music
, were comedies that softened the dark sides of their stories-if there
were
any dark sides-with jokes, gags, and happy endings.
Bob Fosse's spectacular
All That Jazz
, now available on DVD in a "Special Music Edition" from 20th Century Fox, belongs to the modernist breed of musicals (e.g.,
Cabaret
,
Chicago
,
The Phantom of the Opera
) that have too much darkness to be called true comedies at all. If you're a traditionalist who thinks a musical should trade in light-hearted laughs, you won't be pleased with Fosse's tragicomic portrait of a show-business genius burning himself out with addictions to everything from alcohol and cigarettes to speed, sex, and work, work, work. The story has a fair share of funny moments, but even these have a fever-dream ferocity about them. Love it or hate it, you've never seen a musical-or any kind of movie-quite like it.
The main character, choreographer and filmmaker Joe Gideon, is based directly on Fosse himself-so directly that you can spot Fosse's home address on the Dexadrine bottle Joe picks up every day to jump-start his morning. Joe is hard at work on a new Broadway show, auditioning dancers and dreaming up new production numbers. At the same time he's editing his new movie, obviously based on Fosse's own 1974 biopic about comedian Lenny Bruce, and trying to stay on good terms with his exwife and young daughter.
He's also cruising for a walloping heart attack, but no amount of pleading by his friends can get him to smoke a single Camel less or relax his work-hard-play-hard habits for a moment. When disaster inevitably strikes, he even turns his hospital room into a party zone. Can he keep this up forever? Probably not--which may be why he's started looking back over his life, trading memories and might-have-beens in his dressing room with Angelique, an alluring angel of death.
Many critics accused Fosse of shameless self-indulgence in
All That Jazz
, complaining that the movie's countless similarities to his own well-publicized experiences amount to navel-gazing narcissism. Fosse's actual death in 1987, from the same sort of heart attack that bushwhacks Joe, seemed to prove their point. But what these pundits missed was the huge amount of severe self-criticism Fosse built into the picture. As likable as he is, Joe is also a wildly irresponsible guy who's wrecked his marriage by cheating and undermined his health by abusing every substance in sight. Even his work is suffering from his recklessness. The dialogue for his new show is so awful he can't bear listening to it, and his producers wouldn't mind if his failing heart put him clean out of the business, since they're afraid his sexy routines will scare off family audiences. Self-indulgent or not, Fosse's autobiographical movie is anything but flattering.
Although its content is rooted in Fosse's life during the early 1970s, when he was staging
Chicago
for Broadway and editing
Lenny
at the same time, the style of
All That Jazz
is plainly inspired by Federico Fellini's towering 1963 masterpiece
8½
, about a director struggling to escape the filmmaking equivalent of writer's block. Fosse even hired
8½
cinematographer Giuseppe Rotunno to shoot
All That Jazz
. Just as
8½
leaps freely between reality and fantasy, Fosse's film embeds its copious flights of imagination in hyperactive dances that interweave with the story as Joe conducts training sessions and rehearsals. Realistic elements fade altogether when Joe's body kicks up a last lethal protest against his rotten health habits. The movie's final half hour, labeled a "hospital hallucination," is a free-flowing stream of song-and-dance delirium packed with his fantasies and fears. The ending is exactly what you would have expected, but it packs a strong emotional punch all the same.
Before he appeared in
All That Jazz
, star Roy Scheider was best known for action pictures like
The French Connection
and
Jaws
, and many Hollywood insiders were surprised when Fosse chose him. It doesn't take much close analysis of the movie to tell that Scheider is no dancer. But he manages to fake his way through the modest choreography Fosse designed for him, and his acting in the dramatic scenes is excellent, making Joe steadily sympathetic without downplaying his zillions of character flaws. Scheider also looks exactly right, although he sports more hair than Fosse, who covered his baldness with the hats that became one of his trademarks. The first-rate supporting cast includes Fosse protégé Ann Reinking as Joe's girlfriend, Erzsebet Foldi as his daughter, Jessica Lange as the dark angel, Ben Vereen as an over-the-top entertainer, Cliff Gorman as the actor playing Lenny Bruce-great casting, since Gorman played Bruce in
Lenny
on the Broadway stage--and Leland Palmer as Joe's former wife, based on the great dancer Gwen Verdon, who was married to Fosse in real life.
It's appropriate that the "Special Music Edition" of
All That Jazz
comes complete with a Fosse-style top hat and gloves, fun to have even though they're cheesier than the genuine articles. Among the DVD extras are two useless shorts extolling Fosse's greatness, a sing-along version of the song "Take Off With Us," a special menu for accessing the film's musical numbers, and a commentary track by film editor Alan Heim, who says surprisingly little about his Oscar-winning film editing, but does explain how hard it was to avoid showing the bottoms of the dancers' feet-one of Fosse's rules, since he hated the dirt that accumulated there.
Fosse was a superb choreographer-see
The Pajama Game
and
Damn Yankees!
for great examples of his brilliance-and a daring filmmaker, with
Lenny
and the jolting
Star 80
to his credit. His death at 60 years old cut short an amazing career. But according to
All That Jazz
, it was a death at least partly of his own doing.
For more information about
All That Jazz: Special Music Edition
, visit
Fox Home Entertainment
To order
All That Jazz: Special Music Edition
, go to
TCM Shopping
.
by David Sterritt