DVDs from TCM Shop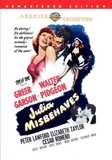 Julia Misbehaves A showgirl returns to her... MORE&nbsp> $14.95 Regularly $17.99 Buy Now
NOTES
DVDs from TCM Shop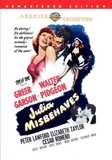 Julia Misbehaves A showgirl returns to her... MORE&nbsp> $14.95
Regularly $17.99 buy now
The working titles of this film were The Nutmeg Tree and Speak to Me of Love. M-G-M first announced plans to film a screen adaptation of Margery Sharp's novel in April 1941, at which time a Hollywood Reporter news item noted that James Hilton had been set to write the screenplay. According to a November 1941 Hollywood Reporter news item, Hilton worked on the screenplay for several months, but the extent of his contribution to the released film has not been determined. The same news item also noted that Dore Schary replaced Sidney Franklin as the producer and the film was being shelved in late 1941 due to the fact that actress Gracie Fields was not available for the starring role.
Producer Everett Riskin was assigned to revive the production in September 1946, and the film was placed on the 1947 M-G-M production schedule with Greer Garson set for the title role, according to Hollywood Reporter. A December 1947 Hollywood Reporter news item noted that screenwriter Clemence Dane was set to work on the script, but the extent of his contribution to the final film has not been determined. Hollywood Reporter production charts list Dame May Whitty in the cast, but she did not appear in the released film. Whitty died on May 29, 1948. Julia Misbehaves was the last film directed by Jack Conway, who died on October 11, 1952. Conway began his career in show business as a stage actor in 1907 and appeared in several silent films before directing his first picture in 1915. Conway directed many films for M-G-M, begining with the studio's first sound picture, the 1928 film Alias Jimmy Valentine.
Julia Misbehaves was the fourth of six films that co-starred Walter Pidgeon and Garson, and was their first since 1944. The film also marked Garson's first starring role in a slapstick comedy. According to the New York Times reviewer, M-G-M cast Garson in the film in response to her "agonized pleas that it let her play something less lofty than the stuff she's accustomed to." The New York Times reviewer commented that the film "discovers Garson in a bathtub and leaves her in a puddle of mud," and that she was "out of her element" in this film. However, some reviewers were more complimentary to Garson, including the Variety reviewer, who wrote that Garson "aquits herself like a lady out to prove she can be hoydenish when necessary. She proves it and audiences will like the new Garson." Sharp's novel also provided the basis for the 1940 Broadway play Lady in Waiting, which starred Gladys Cooper as "Julia Packett."