DVDs from TCM Shop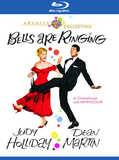 Bells Are Ringing An answering service operator gets mixed up in her... MORE&nbsp> $18.95 Regularly $21.99 Buy Now
NOTES
The film opens with the following onscreen credit: "Metro-Goldwyn-Mayer presents Judy Holliday, Dean Martin in An Arthur Freed Production, Bells Are Ringing." The film opens with a voice-over narration presented like an advertisement, glorifying the "Susanswerphone" business. In addition to attributing Susanswerphone with successfully life-altering results for subscribers by catching all missed calls, the location of the business is said to be an elegant and upscale office.
When the dramatic action of the film begins immediately thereafter, Susanswerphone is shown to be located in a basement apartment in a run-down brownstone. At the close of the film, after Susanswerphone operator "Ella" Peterson finally resolves her own love dilemma, voice-over narration claims that using Susanswerphone can solve all subscribers' problems.
According to a August 7, 1957 Hollywood Reporter news item, M-G-M purchased the rights to the 1956 musical Bells Are Ringing that year and planned to have Judy Holliday reprise her stage role in the film. Sidney Chaplin, who co-starred with Holliday on Broadway, was tested for the picture; however, Dean Martin was later chosen as Holliday's co-star. Although an November 11, 1959 Hollywood Reporter news item notes that Hal Linden, who played the role of "Master of ceremonies" in Bells Are Ringing, co-starred with Holliday in the Broadway production, he was actually Chaplin's understudy. Hollywood Reporter news item add Carmen Phillips, Woody Herman, Milton Parsons and Mitzi Chapman to the cast, but their appearance in the final film has not been confirmed.
According to a August 10, 1959 Hollywood Reporter news item, Comden and Green created two new songs for the motion picture version of the musical. Memos in the Arthur Freed Collection at the USC Cinema-Television Library indicate that Comden had been working on a new song entitled "My Guiding Star," but that song was not in the released print, nor were any songs not in the Broadway musical. Portions of the film were shot on location in New York City, including the areas of Times Square and Bay Ridge and in Los Angeles.
Bells Are Ringing received an Academy Award nomination for Best Music (Scoring of a Musical Picture), but lost to Song Without End. In addition to the 1956 Broadway musical, another stage version of the musical opened in London (14 November 1957) starring Janet Blair. According to modern sources, Holliday broke into acting after serving as a switchboard operator for Orson Welles's Mercury Theatre, where she made her debut in a cabaret group known as the Revuers, which also included Comden and Green. Holliday, whose final role was Bells Are Ringing, died of cancer in 1965.