DVDs from TCM Shop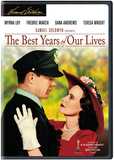 The Best Years of Our Lives Three returning servicemen... MORE&nbsp> $11.21 Regularly $14.98 Buy Now blu-ray
NOTES
The working titles of the film were Glory for Me and Home Again. In the opening credits, actor Fredric March's name is spelled correctly, but in the end credits, his given name is spelled "Frederic." Hollywood Reporter news items, the film's presskit and other contemporary sources reconstruct the evolution of the film from August 1944: After reading a August 7, 1944 Time magazine article, "The Way Home," on apprehensions and adjustment problems that were facing some soldiers returning from World War II, producer Samuel Goldwyn's wife Frances suggested that the men's story would be a good basis for a film. Taking the title of the proposed film from the hand-written "Home Again" sign in a photograph accompanying the article, Goldwyn decided to go ahead with the project. That same night, Goldwyn contacted MacKinlay Kantor, who had written a number of novels that had been adapted for the screen, to write a treatment. In January 1945, Kantor turned in the first part of the story, which was more than 100 pages of blank verse. Given the go-ahead to continue, Kantor eventually completed his story in more than four hundred pages and submitted it under the title Glory for Me. The novel was published in 1945.

When frequent Goldwyn collaborator William Wyler returned from his own war service, Goldwyn brought him onto the project. According to both contemporary and modern sources, Wyler was somewhat reluctant to film the project, in part because he had just started his own company, Liberty Films, along with fellow veterans and filmmakers Frank Capra, George Stevens and Samuel Briskin. Wyler, who an September 11, 1945 article in Hollywood Reporter quoted as saying that he wanted to resume his career with "socially significant" films instead of "pure escapist" ventures, soon agreed to direct the story, and together with Goldwyn worked with Robert E. Sherwood to adapt Kantor's blank verse novel into a shooting script. Sherwood's adaptation, which had significant differences from Kantor's novel, was entitled The Best Years of Our Lives. According to a June 1947 article in Hollywood Citizen-News, Kantor was very vocal in his irritation over changes from his original novel and the film, particularly over the title change.

One major change from the novel was that the disabled soldier in the book was a spastic, while in the film, he is an amputee who has lost both hands. Wyler had seen a short educational army film, "Diary of a Sergeant," featuring Harold Russell, a soldier who lost both hands in a training mishap in 1944. Russell's ease using the metal prosthetics that replaced his hands, and his naturalness in front of the camera, convinced Wyler and Goldwyn that Russell could play a major role ("Homer Parrish") in their film, which marked his feature film debut.

According to a Hollywood Reporter news item in August 1944, Goldwyn planned to cast Teresa Wright, Dana Andrews, David Niven, Farley Granger, Walter Brennan and Constance Dowling, but only Wright and Andrews were in the released film. A Hollywood Reporter news item on August 27, 1945 includes George Davis in the cast, but his appearance in the released film has not been confirmed. A January 1946 Hollywood Reporter news item noted that June Haver was being borrowed from Twentieth Century-Fox as a "leading lady," but she was not in the film. Drummer Gene Krupa and singer Georgia Kane are seen performing very briefly in the nightclub montage; the shots were outtakes from other films. Cathy O'Donnell, who portrayed "Wilma," made her motion picture debut in the film.

Various news items indicate that some backgrounds and aerial shots were filmed in the Southern part of the United States and that Sacramento, CA was to be used as the fictional town of Boone City. It is unlikely that much, if any, Sacramento footage was used in the film, though. According to the film's presskit, Cincinnati, OH was the prototype (but not location site) for Boone City. Many of the exterior scenes in the film were shot in and around Los Angeles. The apartment building in which "Al Stephenson" and his family live is located on Beverly Blvd. near La Brea Avenue in Los Angeles, not far from the Goldwyn studios. A pre-production news item indicated that songwriter-actor Hoagy Carmichael was to compose two songs for the film. Although Carmichael did appear in the film, the film's principal song, "Among My Souvenirs," which he played on the piano in the film, was a 1927 song bought to lend a nostalgic atmosphere to the picture. According to various news items, scheduling problems arose during production because Virginia Mayo was appearing concurrently in The Best Years of Our Lives and another Goldwyn picture, The Secret Life of Walter Mitty. Although a July 22, 1946 Hollywood Reporter new item announced that shooting might shut down for twenty days to accomodate Mayo's schedule, later news items indicate that no significant shut-downs or delays took place on The Best Years of Our Lives.

Contemporary news items and feature articles stated that to publicize the picture, Goldwyn switched advertising agencies from Donahue & Coe to Foote, Cone & Bleding, who were handling the film's $500,000, six-month ad campaign. Hollywood Reporter news items from August through November 1946 indicate that the film's planned November 21, 1946 premiere at the Astor Theatre in New York became problematic because United Artists was suing the theater owners to have the British-made Caesar and Cleopatra forcibly withdrawn prior to the premiere of The Best Years of Our Lives. The theater's management was threatening to leave the theater "dark," but the suit was settled in mid-November when New York State Supreme Court Justice Levy ruled that Caesar and Cleopatra would stay at the theater until just before the Goldwyn picture's debut. The New York premiere for The Best Years of Our Lives was held as a benefit for the Lighthouse, an organization that aided the blind. Road show engagements began in several cities in Dec, and the film opened at the Fox Beverly Theatre in Los Angeles on Christmas Day, for a limited engagement for 1946 Academy Award consideration.

The film received outstanding reviews in trade and consumer publications, both in the United States and abroad. The Film Daily reviewer wrote that the film "comes close to being the perfect film-as close indeed as you've ever seen"; the Variety reviewer called it "one of the best pictures of our lives"; and Bosley Crowther of New York Times stated, "It is seldom that there comes a motion picture which can be wholly and enthusiastically endorsed not only as superlative entertainment but as food for thought. Yet such a one is The Best Years of Our Lives." The film won many critical awards, including Best Picture of the Year by the New York film critics, Look magazine's Industry Award, New York Times's and Time's Best Picture award. The film won the BAFTRA award for Best Picture of the Year in Britain and won Academy Awards in the following categories: Best Picture; Best Director (William Wyler); Best Actor (Fredric March); Best Supporting Actor (Harold Russell); Film Editing (Daniel Mandell); Music (Hugo Friedhofer for scoring a dramatic or comedy picture); and Best Screenplay (Robert E. Sherwood). In addition, a special Academy Award was given to Russell "for bringing hope and courage to his fellow veterans through his appearance" in the film and Samuel Goldwyn was given the Irving Thalberg Award. The film received one additional nomination, for Sound Recording. March earned his second Best Actor Academy Award for the film; his first was for the 1932 Paramount production Dr. Jekyll and Mr. Hyde (see AFI Catalog of Feature Films, 1931-40; F3.1076).

Articles in Film Daily and Motion Picture Herald just after the Academy Awards ceremony indicated that touting the film's "nine Oscars" early in the film's run, when it had yet to open in many cities in the U.S., would significantly increase the film's box office grosses, which had thus far amounted to $5,000,000. To capitalize on the large number of Academy Awards, Goldwyn produced a new campaign book and presskit for exploitation of the film. The new publicity materials prominently displayed pictures of the awards and called The Best Years of Our lives "The most honored Picture of All Time...the only picture ever to receive nine Oscars and such an avalanche of honors from all over the world." New one-sheet and three-sheet posters with a picture of an Oscar and the tag line "The Academy Award Picture! Winner of 9 Academy Awards" were also distributed, both to theaters already showing the picture and to future venues.

The new ad campaign was one of the first examples of a studio's capitalization on winning Academy Awards to further promote a film still in release. Despite the fact that ads seemed to promote the idea that The Best Years of Our Lives had earned more Oscars than any previous film, in fact, it did not. The "nine" Oscars mentioned in the ads included the special award for Russell and Goldwyn's Thalberg Award. Gone With the Wind was still the film with the most Academy Awards, having earned eight regular awards, plus one scientific and technical award and one special award, thus bringing its overall total to ten, not including David O. Selznick's Thalberg Award that year (see AFI Catalog of Feature Films, 1931-40; F3.1674).

According to a modern source, The Best Years of Our Lives went on to earn over $11,300,000 dollars at the North American box office. A April 19, 1948 Variety news item reported that the film earned $8,000,000 in Britain in its initial release. The picture was re-released in 1953 in "first run" houses, according to Hollywood Reporter and New York Times, to tie-in with the homecoming of soldiers returning from the Korean War. Reviews upon the picture's re-release were excellent, with many critics pointing out that time had not diminished the film's emotional impact.

Shortly after the film's completion, Hollywood Reporter reported that Wyler was being banned from the Goldwyn lot after a heated argument with the producer. Although biographies of both Wyler and Goldwyn indicate that the two continued to have an on-again, off-again social relationship, Wyler never made another picture for Goldwyn, for whom he had directed a number of important films from the mid-1930s through 1941, including Dodsworth, These Three, Wuthering Heights (see AFI Catalog of Feature Films, 1931-40; F3.1090, F3.4556 and F3.5212) and The Little Foxes (see below). In 1958, Wyler sued Goldwyn for $408,356. That amount, Wyler claimed, was owed to him based on his 1939 contract with Goldwyn, which entitled him to twenty percent of the profits from all films he directed for Goldwyn. In a July 1, 1958 Los Angeles Times article, columnist Hedda Hopper quoted Goldwyn as saying, "...if Willy feels that he has been mistreated by being paid such a 'paltry' sum as $1,400,000 for directing that picture, he is certainly entitled to the great American privilege of going to court." A May 4, 1962 Daily Variety article stated that Wyler's suit was set to go to court on September 11, 1962, but the exact disposition of the suit has not been determined.

In July 1992, Harold Russell announced his intention to sell one of his two Oscars, the one for Best Supporting Actor, at auction. Russell, who only appeared in one other picture, Inside Moves (1980) and a few television programs, needed what he termed a "financial cushion" beyond his military and disability pensions. According to a feature article in People magazine, incumbent AMPAS president Karl Malden urged Russell not to sell his award because the Oscars "should not become objects of mere commerce." Despite the protests of AMPAS and considerable publicity, Russell's award was sold on August 6, 1992 for $60,500.