DVDs from TCM Shop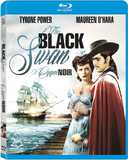 The Black Swan When he's named governor of Jamaica, a former pirate... MORE&nbsp> $14.95 Regularly $24.99 Buy Now
Quotes
Jamie 'Jamie-Boy' Waring


I always sample a bottle of wine before I buy it. Let's have a sip, see if you're worth taking along.

Jamie Waring


In Tortuga when a woman slaps a man's face, it means she wants him to grab her, over-power her, and smother her with kisses. I understand in Jamaica a gentleman must refuse such overtures.

Don Miguel


What is that?

Jamie Waring


The devil looking after his own!

Capt. Sir Henry Morgan


Now put your shirt on. You look much too naked for a decent English gentleman.

Jamie Waring


The occasion seems a little lacking in enthusiasm, Henry.

Capt. Sir Henry Morgan


I imagined we'd meet with some slight disapproval.

Tommy Blue


At least we don't have to shoot our way in.