DVDs from TCM Shop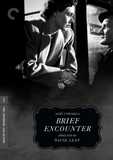 Brief Encounter Two married strangers meet in... MORE&nbsp> $19.47 Regularly $29.95 Buy Now blu-ray
USER REVIEWS
See Detailed Ratings
Acting of Lead Performers

Acting of Supporting Cast

Director

Music Score

Title Sequence

Screenplay

Cinematography

Historical Importance

Would You Recommend?

0 Member Ratings
Rate the acting of the Lead Performers

Rate the acting of the Supporting Cast

Rate the Director

Rating of the Music Score

Rating of the Title Sequence

Screenplay

Creatively uses the camera to tell the story

Importance in Cinema history

Would you recommend for fans of this genre
Submit Ratings
Cancel
Write a Review
Read Reviews
NO REVIEWS AVAILABLE
The title has not been reviewed. Be the first to write a review by clicking here to start.
Brief Encounter

This is the first time seeing this movie tonight. It took me back many years and had the same experience. Fell in love with another while being married. Being a Christian Mom and bringing my children up in the faith..But I met this man whom my husband brought into our home to live to help him during hard times he was going through. So complicated with children and family involved. I can understand the strong love and influence and misery with a man who is not your husband. My story ended differently, however. I left my family for this man I loved and could not live without. Ultimately a divorce from my husband.. This man I loved and I were married for 15 years after which he died of cancer. Years have passed since his death. Thankfully, my grown children have dealt with the sins of their mother and have forgiven through much turmoil in our family. The movie touched me but happy it ended as it did.

Snap Out of It

To Lois and Marie - repeat after me, it's only a movie, it's only a movie.

Remade in 1984

One of my favorite movies. Stumbled upon it years ago after I saw "Falling in Love" 1984 with Meryl Streep and Robert DeNiro. Both films hold well for the time they were filmed.

Major Deceit!

Marianne McDermott

2/14/19

A reviewer, Lois, titled her review "Enlightened" and she is absolutely right! Trevor Howard's character, Alec, is sexually abusive to unsuspecting women! He chooses innocent married women like Laura(Celia Johnson) to hurtand abuse them, especially emotionally and finally, sexually! His roommate, is very disapproving of what he is "doing"! At first, I liked this film, but in seeing this many times - I had no respect for Alec for his deceitfullness and plain "hatred" of women! It sounds harsh, but this can truly happen to anyone of either sex!!!!!!!!!!!!!!!!!!!

Brief Encounter

It's perfection on the screen. I've watched it several times, and this movie just doesn't get old.I love the pure "Britishness" of it, with the "Refreshment Room", the "way out" signs in the train station. Oh, the trains! The scenery, the wonderful accents and the dialogue - I am hanging on every word.Will watch this again anytime TCM plays it !

Brief Encounters again.

The first time I was introduced to this film was on a station that played brief clips from different films. I watched the first five minutes and I was hooked. I had to order the film on DVD. I have watched it several times and each time I get lost in it. I can not understand exactly why that is. First off it is really quite unbelievable unless you have ever been bitten by a love that hits quickly and unexplainably. For these two it is most inconvenient and surprising. We morn for them and yet we understand their decision to step back from it. I am sure I will watch it a few more time over the next few years. it just has that affect on you.

Part 1: A Romance of Many Dimensions

Brief Encounter is one of those rare films that upon first viewing might disappoint but with still draws you to view it again. Why? For one, the protagonist's husband has been debated as cold and overly complacent, or doltish and superficial or is there something going on with him which the movie intentionally omits. The antagonist the doctor who falls in love with the married woman remains somewhat mysterious too as everything is given through the married woman's viewpoint. Furthermore the woman running the canteen and stationmaster is it simply comic relief and if so why so many appearances? Repeated viewings reward the viewer immensely with the immense psychological symbolism Lean and Coward imbue the train station, its components. It is made obvious only once when the two married folks secure an illicit kiss and a train goes roaring thru. Later the doctor tempts them both to go farther. Do they? An especially brilliant move on David Lean's part is to enmesh the prominent music into the story pay attention to who is the pianist in the piano concerto that is heard through most of the film. Note the appearances of musicians. The musicians give a clue to the exceptional of the woman running the canteen these seemingly minor characters are rather what one would call the wife's Jungian shadows of what paths she did not take or could take. Finally, the form of the movie is quite musical with the opening scenes being recapped but in an entirely different light. There is the traditional sonata form in music where an exposition is repeated after a long development of materials, however it is not a simple repeat, some themes are pitched higher and the music altered to provide a conclusion. This movie works at many levels likes providing the viewer many riches upon repeated viewers. It is this subtlety and wedding of image, sound and story that makes it one of the best films ever made.

Enlightened

Having watched and loved this film for many years, sad to say it is only just recently that I noticed how this film represents sexual abuse. Very nuanced and subtle, but the married male character, Alec, consistently and persistently pursues Laura, a sensitive, kindly, but naive housewife. Previously I was enchanted by what seemed to be a sad, love affair that could not be justified/realized when both parties were married with children. However, after studying each scene carefully, it was crystal clear that Alec in his pursuit of Laura really brought severe anguish and near death to this vulnerable person. This film illustrates how women can often be easily targeted with clever pursuit. As humans we really want to see ourselves through the kind, loving eyes of others.

Over rated

I'm a minority here, but I think the direction is mediocre when not bad. (The flip flop of shots of her, shots of him.) Heavy handed & trite -- the insensitive husband doing the crossword & not getting what his wife says. The actors do a good job with a poorly written script.

One of my Favorites

Incredibly well done. I really feel their anxiety about what they are doing and their desire to be together.

Excellent--Don't Miss This One

I would argue that "Bridges of Madison County" borrowed some themes from this film. Two not young adults become immediately attracted to one another and fall in love, even though neither one was looking for anyone, an oblivious woman neighbor keeps getting in the way, and the relationship is doomed from the start. Nevertheless, the love that was there, although brief, was very sweet and changed each of them forever.

A favorite

I was so happy to watch this lovely movie once again. Forbidden, yet innocent romance between two married people. Their last moments together before he leaves the country were interrupted by an annoying acquaintance. Somehow you just want to see them have their final good-byes, but alas they cannot. Adapted from an one-act play by Noel Coward, the cast was excellent as was the movie.

A Gem

Wonderful acting, touching story and worth seeing more than once. I've seen it twice already in the past year and will watch it again. Very good film making.

Dont Forget The Astonished Heart

One of my all time favorites with Celia Johnson. Ben Mankiewicz forgot to mention another fabulous film wjth Celia Johnson and Noel Coward. The Astonished Heart written by Noel Coward as well. Another movie that requires a box of tissue at the ready.

Could kick myself...

I normally watch "Bob's Picks". For some reason, I got busy doing something else. I caught the final 40 minutes or so of "Brief Encounter"; got hooked immediately. Even though it is a very British film, would you please be so kind as to show it again really soon?It looks like such a beautifully done film; so touching and well done. You repeat a great number of films so many times over. Please show this one again, soon. Thank you so much.

Celia Johnson and Trevor Howard

Before I saw 'Brief Encounter', I had only seen Celia Johnson in 'The Pride of Miss Jean Brodie' as the narrow minded headmistress, and Trevor Howard in the 1962 'Mutiny on the Bounty" as Captain Bligh. Both were unattractive and unlikeable characters.Here, Celia Johnson is a beautiful woman and Trevor Howard a handsome leading man. I never would have guessed! It shows the actors' talent and range! Bravo to both!

Celia Johnson is enthralling in this movie

I can watch this movie over and over solely to enjoy Celia Johnson's captivating performance as a woman living a stable, middle-class existence who unexpectedly finds her inner world awakened when she meets a doctor in a train station. They start to meet regularly and enjoy simple, innocent pleasures together. It's amazing to watch Celia Johnson's face, especially her eyes, as she portrays a "happily married" woman in deep conflict over emotions stirred up by a new romance. A beautiful, touching film worth savoring.

@ "Connie"...

...most likely because July/'12 was LESLIE Howard month, not Trevor Howard, on TCM. Wonderful line-up of movies from a first-rate legacy, but I suppose disappointing, if you're expecting someone else's films...This film:Stunning; I just adore David Leans' earlier work (pre-epic, I mean). Simply beautiful, understated (yet exceptionally profound) performances. Kept me rapt from the get-go. We will watch it again in December; can't wait!

A luminous film

A luminous film which grabs hold of you from the moment of the first scene to the last. Rachmaninoff score beautifully accentuates the acting, direction and b&w cinematography. British actress Celia Johnson and actor Trevor Howard give truly wonderful performances; It is hard to believe that epic director, David Lean directed the film - quite spectacular; and the final scene is quite cathartic - a must see film.

Where?

"Brief Encounter" is one of my favorite films EVER! I just could not find it on the schedule for Trevor Howard month, July, on TCM. Why? This is one of his best performances. I'm shocked.

Loved it so much

This movie is excellent you should really consider watching it if you haven't already (and even if you have!). I look forward to finding it in a movie store sometime and buying it. - <3

Very touching!

I saw this true classic- Robert Osborne's opening wwords as he introduced it last night. WOW! Shows that some of the best acting is done quietly and powerfully with a face and a few words! One of my new favorites! Thanks tremendously for TCM!!

Brief Encounter

A touching, romantic masterpiece. Howard & Johnson both give sensetive performances, with Johnson recieving an Oscar- nomination for her work. Lean's direction & screenplay adapted for the Noel Coward classic are carefully handled by the directing icon. A painfully true tearjerker. I give it a 4.5/5.

Close Encounter of the Three Minds

The brief encounter between the two old friends in the flat was the best part of this intelligent adult yarn that would make many in today's child culture yawn due to its lack of gratuitousness and hip leads. Thoughtful tale of the id, the ego, and the super-ego at work and one of filmdom's first forays into what, years later, would become a fixation on adulterers.

Riveting!

Magnificent performances, to say the least. A classic romance, and I don't particularly like romance movies. You won't be able to switch stations, I kid you not. I would say without a doubt, the best movie about an "almost romance" which really is the definition of a Romance, in my opinion.

Brief Encounter (1945)

There is an inherent Britishness about this movie that is charming at the very least, breathtakingly romantic, desperately dated and yet remarkably ahead of its time. The storyline is one of basic human emotion which has to have one of the most heart-wrenchingly touching final scenes of any film ever made. Ignore the irritating English snootyness and just wallow in the thwarted passion... The cinematography is beautiful, the acting sublime.... Enjoy.

Fantastic Movie!

The storyline is quite ahead of it's time.

One of my favorite movies!

I love this movie. It's the story of two ordinary people who meet, fall in love and part before their encounter destroys the lives around them. Both leads are wonderful and believable. I've seen it many times and always crave tea for weeks after!

A Wonderful Movie!

This move bears watching and re-watching. The acting is understated and powerful. The music adds to its intensity. It has become my favorite movie of all time.

Referenced in "Eyes Wide Shut?"

There's a scene at the Christmas party in "Eyes Wide Shut" where Dr. Harford meets a woman who says he helped her get something out of her eye once, and then she offers to take him to the place where the rainbow ends (along with her female friend). Do you think Kubrick was influenced by "Brief Encounter" since that's how the two adulterers meet in this film?

Touching

The suble performances by the actors interwoven with the Rachmaninov music makes this 'little' movie truly memorable.

Brief Encounter

Tonight you have on three remarkable films. I think that it is a pity that these films are so far beyond the reach of the youth today who can only connect with violence and sex and drugs and all the rest of their narrow mindedness. They cannot connect with talent, genius of the golden era than they can with opera, ballet or Tschosky or Beethovan or Remoir. We need more shows like TCM .We need all the genius we can get because it's gone.

It Doesn't Get More Romantic Than This

Without a doubt, Brief Encounter is at the top of my list for romantic movies. Everything in this movie whispers of romance, from the performances and story to Rachmanioff's composition used in just the right places. This movie shows how romance in movies should and could really be done - with subtlety and without smut. This movie should be required watching in film school for up and coming writers, directors, etc.

A PERSONAL TRIBUTE TO BRIEF ENCOUNTER

I FELL IN LOVE WITH BRIEF ENCOUNTER FROM THE FIRST DAY I SAW IT. AND I HAVE LOST COUNT OF HOW MANY TIMES I HAVE SEEN IT SINCE. ALSO AS A LONG TIME FAN OF CELIA JOHNSON I FELT THAT I MUST BE PART OF THIS FILM AND I WOULD NEED TO TRAVEL BACK IN TIME AND FILM IN THE SAME LOCATIONS AS DAVID LEAN USED IN 1945 IN THE MAKEING OF BRIEF ENCOUNTER WITH CELIA JOHNSON AND TREVOR HOWARD. HERE ARE OUR LINKS BELOW.http://sclarke3.photosite.com/http://briefencounter1945.mysite.wanadoo-members.co.uk/index.jhtmlhttp://www.youtube.com/profile_videos?user=steveb17diy

A classic

I finally saw this in it's entirety and was hypnotized by the performances of Celia Johnson and Trevor Howard. A superb storyline and great direction have made this film a true classic.

Love and Duty

Here is a masterpiece that proves that an intelligent script, skilled director, and superb actors need no special effects. This film is so richly woven that with each viewing it seems to get better and better. If you want to experience the joy and pain of love once again, with no easy answers, then watch Brief Encounter.

Improves With Age

Each time you watch Brief Encounter there is the satisfaction of knowing you are seeing a classic film that cannot be remade. The voice over narration and low-key performances contribute mightily to this beautiful film. This movie is also done tastefully and it manages to uphold the dignity of the characters. This is one of the few great love stories ever put on film.

A Classic

This movie is the most beautiful thing ive seen....although i thought i could predict it like most movies of today...but I was proven wrong. I LOVE IT...I LOVE IT...I LOVE IT!!! I hope that whoever happens to stumble across this movie enjoys it as much as I did.

Timeless!

I saw it, and I loved it immediately. It's timeless. The classic boy meets girl, girl is unhappy, boy falls for girl, boy and/or girl is unavailable, boy and girl decide "for the good of everyone concerned" to deny their love. I bought the video. I'll watch it 100 times.

Enjoyable

I liked this movie. At least, unlike the movies of today, they fell in love, and did not just jump into bed ! I will watch it again, and again!

Simply Beautiful

Everything about this film is beautiful the characters, the story, and the cinematography especially. I was very pleasantly surprised.

I kept waiting for the movie to start.

I found no compelling reason to care about these characters. A story like this needs a backdrop. It needs characters of some importance in order to carry any weight. "Oh, were in love" who cares! Was the doctor a good doctor ? Was she a good wife? A good Mother? The characters were too thin.Boring boring boring.

Wonderful Movie

This has to be one of the most moving and touching movies ever made. The acting, the script, the direction are almost flawless.

'Blue Skies'?

There was a British film from the '30s or '40s in which two married people innocently and rather naively fall into an affair. The director skillfully used the Irving Berlin tune 'Blue Skies' as their theme, drawing the viewer into the passionate, yet fleeting joy the couple felt together. The clear message was that the 'Blue Skies' were an illusion, and that anyone, including the viewer, was susceptible to this temptation.If Brief Encounter is not the movie I am referring to, does anyone know which one it is?

Can't Let Go

I've seen this film countless times, but find it impossible to forget. The subtleness of Lean to weave a great love story within the ordinary was masterful. The acting was beautifully "underplayed" as was the minimal dialogue. It was sad, simple and sensational!

just realized where I'd seen this movie before

Was watching this last ****ht and I realized that this movie is in another movie. It's in 84 Charing Cross Road when Helene is sitting in a movie theater watching English films and dreaming of England!!

poetry in movie form

This is one of the most touching romances ever filmed. The film also makes use of many elements, such as stark noir-like cinematography, flashbacks, monologues and a well known piece of classical music to arrive at a personal, classic statement that a remake could not touch. And not to fear, Hollywood tried with Sophia Loren and Richard Burton. What a waste. Hopefully the big boys will not try a second time.Celia Johnson and Trevor Howard manage an impossible feat under David Lean's direction. They have made two very ordinary people lushly beautiful and real with restrained, effective performances. They benefit by a wonderful supporting cast that includes Joyce Carey and Stanley Holloway. After seeing this film ,you may want to run out and stand on a train platform in hopes of meeting the love of your life. Boy, I sure wish there were commuter trains here in Rochester NY!A final testament to this film: I was at a concert last summer where the orchestra was performing Rachmaninov's Second Piano Concerto. In seconds, I was seeing images from this film as the orchestra went at the first and second movement. In short, if you like a good romance, you will love this film and always cherish it.

... of the third kind

Romance is in the air. Lov'd it!
*We protect your personal infortmation and will not provide it to anyone without your consent. For a complete explanation, please refer to TCM's Privacy Policy. By submitting your contribution, you agree to TCM's Terms of Use.