DVDs from TCM Shop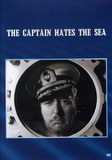 The Captain Hates the Sea A bond thief, a private eye... MORE&nbsp> $17.95 Regularly $20.95 Buy Now
Articles
SEE ALL ARTICLES
The Captain Hates the Sea (1934)
Compared by critics to Grand Hotel (1932) at the time of its release, The Captain Hates the Sea (1934) was an ambitious, big-budget (for Columbia Pictures) comedy that showcases a number of the studio's better character actors. Wallace Smith's original 1933 novel seems written with exactly this kind of film in mind; one of the book reviewers for the New York Times wrote: "Those who like the Hollywood style of sophisticated frivolity will find the book entertaining." John Gilbert, in his final screen role before his untimely death at the age of 41, plays an alcoholic writer who goes on a cruise to stop drinking and to finish writing a book. The captain is played by Walter Connolly, a much admired character actor who appeared in some of the best comedies of the Thirties, including It Happened One Night (1934), Twentieth Century (1934), Libeled Lady (1936) and Nothing Sacred (1937). The underrated Akim Tamiroff plays a Latin American general, Victor McLaglen plays a private detective, and Leon Errol is memorable as Layton, the constantly tippling head steward. The Three Stooges, who had just signed on with Columbia, appear as musicians on the ship.

The Captain Hates the Sea was Gilbert's sole picture for Columbia. At MGM, he had been stuck in an unsatisfactory contract and had a well-publicized history of conflict with Louis B. Mayer, who honored the contract on paper but otherwise impeded Gilbert's career. At Greta Garbo's insistence, he returned as her love interest in Queen Christina (1933), but his other films during this period hardly helped his star image. Unfortunately, Queen Christina also failed to earn the box office returns that the studio expected. The frustrated Gilbert took out a full page ad in the Hollywood Reporter saying: "Metro-Goldwyn-Mayer will neither offer me work nor release me from my contract. --Jack Gilbert."

Now that the MGM contract was over, Gilbert had difficulty finding new roles, as he stated openly in an interview for Movie Classic: "Today I can't get a job for $25 a week or for nothing at all. It doesn't make sense, but there it is." In response, the director Lewis Milestone convinced Harry Cohn at Columbia to let Gilbert test for a role in his new project, The Captain Hates the Sea. Milestone recalls that by that point Gilbert lacked confidence due to his career troubles and only agreed to shoot a screen test with no more than a few crew members present in the studio.

The production proved to be very costly, due in part to the need to rent an actual ship for the shoot and sail it off the California coast. It didn't help that the cast was full of legendary drinkers, including Gilbert, Walter Connolly, Walter Catlett, Fred Keating, Leon Errol and Victor McLaglen. According to Milestone, at one point Cohn wired him: HURRY UP. THE COSTS ARE STAGGERING. To which Milestone wired back: SO IS THE CAST. In one of this letters to his wife, the novelist and RAF Major Eric Knight mentioned that during a conversation with Joseph Breen, Breen told him that Harry Cohn complained, "Mr. Breen, if I should ever send you a script what's got a ship in it--even so much as a rowboat, you should please, for my sake, say it's immoral and ban it."

Although The Captain Hates the Sea was not a success at the box office, Variety praised it for its "thoroughly competent and well chosen cast, smart direction and a fine sense of comedy values."

Producer: Lewis Milestone
Director: Lewis Milestone
Screenplay: Wallace Smith, based on his novel
Photography: Joseph H. August
Film Editor: Gene Milford
Cast: Victor McLaglen (Junius P. Schulte), Wynne Gibson (Mrs. Jeddock), Alison Skipworth (Mrs. Magruder), John Gilbert (Steve Bramley), Helen Vinson (Janet Grayson/Michigan Red), Fred Keating (Danny Checkett), Leon Errol (Layton), Walter Connolly (Captain Helquist), Tala Birell (Gerta Klargi), Walter Catlett (Joe Silvers), John Wray (Mr. Jeddock).
BW-84m.

by James Steffen

Sources:
"A Voyage Out." [Book review of The Captain Hates the Sea.] New York Times. March 26, 1933.
"The Captain Hates the Sea." [Film review.] Variety, December 11, 1934.
Fountain, Leatrice Gilbert, with John R. Maxim. Dark Star. New York: St. Martin's Press, 1985.
Gehman, Geoff. Down But Not Out in Holly-weird: a Documentary in Letters of Eric Knight. Lanham, MD: Scarecrow Press, 1998.
back to top
---