DVDs from TCM Shop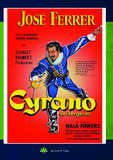 Cyrano de Bergerac A swordsman and poet helps... MORE&nbsp> $10.95 Regularly $14.99 Buy Now blu-ray
Home Video Reviews
While producer Stanley Kramer's splendid mounting of
Cyrano De Bergerac
(1950) has previously made its way to the DVD marketplace, Image Entertainment has recently joined with the Hal Roach Studios to offer up a version newly mastered from the original 35mm nitrate fine grain. Use of this mainly-intact source takes the presentation a cut above other prints making the rounds, and does justice to the experience of Jose Ferrer's bravura title performance.
Ferrer received universal acclaim for his 1946 Broadway run as Edmond Rostand's glib Gallic swordsman with the improbably distended nose, and Kramer, who had acquired the English-language film performance rights to the material from Alexander Korda, knew that he wanted the actor to commit his performance to celluloid. Ferrer deservedly captured the Best Actor Oscar for his efforts; his long and distinguished film career would never offer him another such opportunity to display the same brio.
Rostand's fiction depicts the real-life poet/soldier as one of the most intimidating figures in mid-17th century Paris, disposing of fools with his trenchant wit, or for those most persistent, the point of his sword. For all his unflappable bearing, he harbors insecurities regarding his features, as well as unrequited affection for his distant cousin, the beautiful Roxanne (Mala Powers). His heart breaks when she discloses her attraction to the handsome Christian de Neuvillette (William Prince), a handsome young soldier recently assigned to Cyrano's company.
The affable Christian reciprocates her feelings, but is something of a tongue-tied clod when called upon to couch his sentiments to her face. Desirous of his cousin's happiness, and the opportunity to declare his devotion, Cyrano offers his lyrical gifts in order for he and Christian to jointly woo the soon-enraptured Roxanne.
Powers and Prince make a pretty couple, but their performances are workmanlike at best; as before, the show is Ferrer's all the way. Wholly convincing in his swordplay, reveling in the withering insouciance of the repartee, and commanding of our sympathies for the impossibility of the character's situation, the performance remains a singular showcase for his abilities. Kramer's frequent collaborator Carl Forman capably adapted Rostand's drama for the screen; between his efforts and those of director Michael Gordon, the proceedings seldom seem stagebound.
The video is presented full screen, and the mono audio track is suprisingly clean. Image's release is pretty spare in terms of extra features, with only a particularly action-oriented theatrical re-release trailer included. As is the case with other Roach Studios offerings from Image, the insert boasts several lobby card reproductions.
For more information about
Cyrano De Bergerac
, visit Image Entertainment. To order
Cyrano De Bergerac
, go to TCM Shopping.
by Jay S. Steinberg