DVDs from TCM Shop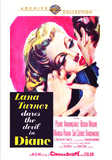 Diane A beautiful woman serving as... MORE&nbsp> $18.95 Regularly $21.99 Buy Now
NOTES
DVDs from TCM Shop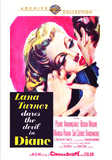 Diane A beautiful woman serving as... MORE&nbsp> $18.95
Regularly $21.99 buy now
The opening title card reads: "Metro-Goldwyn-Mayer presents A story based upon the life of Diane de Poitiers, one of the most famous and romantic figures of 16th century France. We call her by her married name, Countess de Brz, but she will always be known to history as-DIANE."
Diane de Poitiers, Duchesse de Valentinois (1499-1566), came to the court of King Francis I of France as a lady-in-waiting for his mother. After the death of her husband Louis de Brz in 1531, Diane became mistress to Francis' son Henry, the future King Henry II, despite being twenty years his senior. When Henry ascended to the throne due to the death of his older brother in 1536, he placed Diane in his court as his queen, even though the true queen was his wife, Catherine de Medici. Although the cultivated Diane was a patron of poets and artists, she was not interested in the politics of the court, but rather in the financial well being of her family and protgs.
When Gabriel, Count of Montgomery, killed Henry with his lance a during a tournament game, Henry left four sons and three daughters by his marriage with Catherine and one natural child named Diane de France, who was legitimized and often thought to be the child of Diane de Poitiers. After Henry's death, Catherine demanded the return of royal crown jewels Henry had given Diane and sent her husband's mistress to live in isolation at the chteau of Chaumont.
According to a February 8, 1954 M-G-M News article, Christopher Isherwood was assigned to write the screenplay from the late John Erskine's (1879-1951) unpublished manuscript "Diane de Poitiers," which included some finished chapters and notes on the ending. 1955 Hollywood Reporter news items add the following actors to the cast; however, their appearance in the film has not been confirmed: Ramona Magrill, Robert Mitchell Boys Choir and Jacques Sernas. These new items also noted that John Williams was to play King Francis, Walter Hampden was to play Ruggieri and Joan Collins, Charles Boyer, Nicole Maurey, Alan Napier and Laurence Harvey were considered for roles, but none appear in the final film. A February 7, 1955 Hollywood Reporter "Rambling Reporter" item states that actor Edmund Purdom turned down the starring role in the film. Diane was the last M-G-M film made by Lana Turner, one of the company's longest-running contract players, who came to the studio in 1938.