DVDs from TCM Shop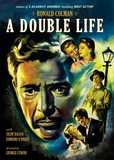 A Double Life An actor starring as Othello... MORE&nbsp> $13.97 Regularly $19.95 Buy Now blu-ray
NOTES
DVDs from TCM Shop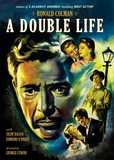 A Double Life An actor starring as Othello... MORE&nbsp> $13.97
Regularly $19.95 buy now
The working title of this film was Imagination. Although not released nationally until March 1948, the picture was screened in Los Angeles in late December 1947 to qualify for Academy Award consideration. A Double Life was the initial release of Kanin Productions, a company headed by producer Michael Kanin and his brother, writer-director Garson Kanin. It also marked the first of seven collaborations between Garson Kanin and his co-writer wife, Ruth Gordon, and director George Cukor. Universal borrowed Cukor from M-G-M for the production. According to modern sources, the script was originally intended for English star Laurence Olivier, but he was unavailable. Although "Pat Kroll" was not Shelley Winters' first screen role, A Double Life is considered to be the picture that launched her film career, and was the first of many films she made for Universal. John Drew Colt, the son of renowned actress Ethel Barrymore, made his screen debut in the film. Screenwriter Fay Kanin, the wife and frequent collaborator of Michael Kanin, appeared briefly in the film as a cast member of Othello. According to a 1954 New York Times article, writer-director Paddy Chayefsky, who played a photographer in the picture, was Garson Kanin's accountant at the time of production. A Double Life marked Chayefsky's first and only appearance as a screen actor.
Technical advisor Walter Hampden, who supervised the Othello sequences in the picture, was a well-known Broadway actor-manager, with an extensive background in Shakespeare. According to studio production notes, Milt Harker, the manager of the Los Angeles office of the International News Service, served as technical advisor on the newspaper coverage scenes. Production notes also state that the film's theater set was first used in the 1925 Universal picture The Phantom of the Opera. Some scenes were shot in New York City, including the Empire Theatre lobby, the Brooklyn Bridge and a lower East Side apartment building, according to production notes.
In addition to a best actor Golden Globe award, Colman went on to win an Academy Award for his performance in A Double Life. Colman, who, according to modern sources, had never performed any Shakespeare before, considered "Anthony John" his most satisfying film role. Composer Miklos Rozsa also won an Oscar for his music score. Others nominated for Academy Awards for their work on the film include Cukor for Best Director and Gordon and Garson Kanin for Best Screenplay.