DVDs from TCM Shop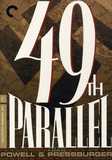 49th Parallel The crew of a stranded German... MORE&nbsp> $25.97 Regularly $39.95 Buy Now
Home Video Reviews
You may think you've seen this story and, honestly, you could be partly right. A group of soldiers stranded in a hostile country must fight and scheme their way overland to safety, encountering surprises at every turn. Sounds like any of dozens of action films, right? But what if those soldiers are Nazis? Instead of rooting for the underdogs this time you're increasingly appalled by their behavior, subverting the mechanism that gives a thriller its thrills. This twist occurs in director Michael Powell and writer Emeric Pressburger's
49th Parallel
(1941), now available in a solid DVD edition by the Criterion Collection. It's something you rarely expect to see: a work of propaganda that can be enjoyed for more than mere camp value. Funded by the British government, it was intended to get Canadians more fully behind the war effort and to prepare Americans for their entry, though by the time it appeared in the U.S. in March 1942 the country was already involved. It still made enough impact that Pressburger won an Oscar® for Best Original Story and the film was nominated for best of the year. Decades later, it remains rousing, moving and suprisingly complex. It's the sort of film that makes you proud to be Canadian whether you actually are or not.
49th Parallel
wastes little time setting up the situation. It opens with a German U-boat attacking ships off Canada's Atlantic coast. A successful raid by the Canadian air force leaves a group of the German sailors stranded on a sparsely populated coast though fortunately for them near a trading outpost. That's the start of the Germans' plan to escape using a contact on the Pacific coast but first, of course, they have to get there. Along the way the Germans encounter Laurence Olivier as a French-Canadian trapper in full Pepe Le Pew accent, Leslie Howard playing a nature-loving writer who reads Thomas Mann, Anton Walbrook (
The Red Shoes
) as a charismatic Hutterite leader and even Raymond Massey as an AWOL Canadian soldier. This type of cross-section of Canada is filled out with travelling salesmen, shop clerks, sightseers, farm hands and others that the sailors meet. Whatever sympathy the Germans may have-and remember this was 1941 when there was still some lingering sentiment that the Nazis weren't really as bad as all that-such sympathy evaporates as they become more desperate and brutal. The film consistently contrasts the Nazis' single approach to problems with all the variety of a liberal democracy.
Powell and Pressburger frequently shift the setting or the pacing so that
49th Parallel
isn't quite predictable even as you probably know where it's going in the end. Action sequences towards the beginning and end balance the long, almost meditative section set at the Hutterite village where questions of immigrant assimilation and self-creation are discussed naturally and not as some screenwriter's forced ideas. The filmmakers also bring a lot of little touches that keep the film grounded, elements such as the bravery of an Eskimo hunter, Leslie Howard's off-hand comments about an Indian festival being for tourists, an almost-comic argument about whether an airplane has enough fuel and the daily routines in the Hutterite community. Helping on the film are an array of talent including the great composer Ralph Vaughan Williams, three-time Oscar® winner cinematographer Freddie Young and future director David Lean as editor.
One of the more interesting aspects of the film is that the Nazis aren't treated monolithically. The ranking officer is a true believer in Hitler, at one point even delivering a speech in praise of his hero (misjudging his audience as it turns out). He allows for no gray areas but the rest of the crew isn't quite so sure and comes in varying degrees, such as the young sailor who is the tiniest bit hesitant about his guarding duties to others who become even more doubtful of their mission. An indication of Powell and Pressburger's artistic temperament rising over their intentions for propaganda is that they made perhaps the most fully realized character in the film as a Nazi, Vogel ( played by Niall MacGinnis, who was the devil worshipper in
Night of the Demon
). At first he's just one of the group but you can see a crack when he surreptitiously passes along a rosary to a wounded enemy. Later he becomes less and less interested in their escape and more in a regular life, convinced that somewhere he made a mistake in telling himself that he had no choice in siding with the Nazis. Apart from the characterization, it raises a political issue that may not have been entirely intentional at the time. The portrayal of Vogel as a regular person caught up in the Nazi movement could be laying the groundwork for the time after the war when Germany would need to be rehabilitated while also portraying the damages that Nazis caused on Germany itself, a reminder that not all Germans were Nazis.
As a bonus on the DVD is
The Volunteer
, an hour-long 1943 film that Powell and Pressburger made to promote the Fleet Air Arm. Starring Ralph Richardson as a famous actor who watches his former dresser rise through the service,
The Volunteer
has to be one of the most peculiar propaganda films ever made (including a brief, goofy cameo by Laurence Olivier again). Apart from small digressions on the nature of acting and of cinema, it's full of strange touches like odd comic relief, frank admission of sailor's fears and even an intimation that Richardson may have his own designs on the former dresser's girlfriend. An extended sequence where the ship's crew watch a film of their trip to the Casbah is an inventive mix of twisted images and self-reflexive dialogue that's all the more remarkable for seeming like something that might actually have happened. The double-disc set of
49th Parallel
also includes a solid BBC documentary on Powell & Pressburger with charming footage of the two of them together and of Powell at Francis Ford Coppolla's ill-fated Zoetrope studios. There's also a commentary on the film by historian Bruce Eder and almost an hour of audio material that Powell recorded for his autobiography.
For more information about
49th Parallel
, visit
Criterion Collection
To order
49th Parallel
, go to
TCM Shopping
.
by Lang Thompson