DVDs from TCM Shop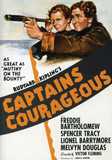 Captains Courageous A spoiled rich boy is lost at... MORE&nbsp> $15.79 Regularly $19.98 Buy Now
Home Video Reviews
Harvey Cheyne (Freddie Bartholomew) has had all of the privileges that the son of a rich industrialist could expect, and it shows. He is a well-tailored ten-year-old who has learned deportment and manners, and he attends the boarding school which has been heavily endowed by his father. Unfortunately, at school Harvey shows himself to be nothing more than a spoiled rich kid. He carries out plans to enter into school clubs and activities as if he were a ruthless businessman, not above bribing or even blackmailing anyone who stands in his way of getting what he wants, and wielding his father's influence as if it was a sword of his own making. His most recent attempt at blackmail is a particularly insidious plan to convince a fellow student that if does not get Harvey into a club he wants to join, Harvey will bring pressure on the school authorities to have the boy expelled.
But Harvey's plan backfires when the boy brings his concerns about being turned away to the headmasters. As punishment for Harvey's treatment of his fellow student, the school administrators decide to administer one of the school's harshest punishments—a prolonged silent treatment. Of course, Harvey chafes at this and takes off for home where, dousing himself with ink, he claims that he was attacked for no reason when he went to his job at the school printing press. Mr. Cheyne (Melvyn Douglas) calls in the school officials for a chat, and they explain what the situation really was, and how difficult it seems to be to handle young Harvey. Cheyne seems equally at a loss, since he is forced to spend most of his time with the endless details of running his companies. When Cheyne informs the officials that Harvey's behavior will be much-improved when they get him back to school, the officials regretfully inform him that Harvey has been expelled for six months. There is nothing for it but for Cheyne to bring Harvey along on his overseas business trip
Once aboard the luxury liner Cheyne is, as always, taken up with business, and still doesn't have time for his son. While Harvey is running around decks on his own, he manages to fall overboard and watches as the liner speeds away. Harvey is pulled from the drink by simple Portuguese fisherman Manuel Fidello (Spencer Tracy), who is working on the schooner
We're Here
, helmed by Captain Disko Troop (Lionel Barrymore). Harvey is so disconnected from the "common man" that he can't understand why none of the fishermen will accept money to bring to England, or at least to the nearest port. Nor is he any happier to learn that he will be stuck on the schooner for the next three months, because the fisherman's very livelihood rests entirely on how much they'll be able to catch on their three months at sea before returning to port. For the first time in his life, Harvey finds that his family fortune and his family name mean nothing.
While sympathetic to the boy's desire to be returned to his family, Captain Troop has no intention of risking the livelihood of his crew, and promises Harvey that when they return to Gloucester at the end of the three months, he'll help Harvey locate his family. In the meantime, in order to be fair he offers to hire Harvey on as crew, principally to pair Harvey with his son Dan (Mickey Rooney) in daily grunt work. But Harvey blanches at the idea of doing manual labor, and the crew refuses to have anything to do with him, believing that a passenger on a fishing boat is a Jonah. Harvey is more or less left under the wing of Manuel to learn the ways of the fisherman, .and little by little as they learn about each others lives, they grow a great deal of respect for each other. In Manuel, Harvey has finally found the father who will let the boy spend time at his knee, learning the practical things of life and growing a special bond. With the care and understanding of Manuel, Harvey begins to enter into the life of a fisherman, trying to learn the right ways to do things, and eventually earning the respect of the crew.
It is when the crew are finally on their way back to Gloucester that a storm blows up, the intensity of which blows out one of the main masts, sending it and Manuel crashing down into the sea. While the crew desperately works free him, and Harvey begs him to hold on, Manuel explains to the captain in Portuguese that his lower extremities were severed in the accident, and so wasting precious time trying to free him would be futile. The captain finally, reluctantly gives in , and Manuel is cut free and slips from Harvey's grasp and under the water.
Based on the story by Rudyard Kipling,
Captains Courageous
is not the run-on-the-mill coming-of-age story, but rather a story in which the less-then-sterling upbringing of an over-privileged child is corrected when he's faced with the realities of the real world. The basic story may seem simplistic, but the execution is not: director Victor Fleming gives the story the time it needs to build to an emotional impact. He provides a telling backstory for Harvey that shows the alarming extent to which his spoiled nature has been allowed to grow, and gives a glimpse of the futility of effecting a change in the boy without some sort of intervention (Divine or otherwise) from the outside sadly demonstrated by his father's reactions to news of his latest exploits: his response is a mixture of faint amusement and resignation.
Even with the fine script and Fleming's direction, the film still could've become cliched (or even maudlin) were it not for the extraordinary performances of the entire cast. Of course, Spencer Tracy won his first Oscar for his portrayal of Manuel. But at the film's center is the incredibly believable, compelling performance by Freddie Bartholomew. This would've been an impressive performance by an adult actor: for a child it is no less than stunning. Bartholomew doesn't strike a false note throughout the emotional transformation he must undergo over the course of the film. Alongside Tracy and Bartholomew are a cast of veteran character actors including Lionel Barrymore, Charley Grapewin, John Carradine, and Mickey Rooney, all of whom give performances so honest that they keep the film well-anchored in reality.
Warner's new DVD includes a lovely transfer, struck from a source that is in remarkably good condition, free of damage and, for the most part, free of debris. The image is beautifully contrasted throughout with deep blacks, well-balanced whites, and clearly defined shadings. The soundtrack is showing some deterioration, mainly during the opening and closing credits, thought there some mild deterioration throughout, though it is never pronounced enough to impact on the listening experience.
Extras include the vintage short "The Little Maestro," classic carton "Little Buck Cheeser." Also included is the "Leo is on the Air" Radio Promo and two theatrical trailers.
For more information about
Captains Courageous
, visit
Warner Video
. To order
Captains Courageous
, go to
TCM Shopping
.
by Fred Hunter