DVDs from TCM Shop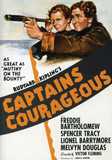 Captains Courageous A spoiled rich boy is lost at... MORE&nbsp> $15.79 Regularly $19.98 Buy Now
USER REVIEWS
See Detailed Ratings
Acting of Lead Performers

Acting of Supporting Cast

Director

Music Score

Title Sequence

Screenplay

Cinematography

Historical Importance

Would You Recommend?

0 Member Ratings
Rate the acting of the Lead Performers

Rate the acting of the Supporting Cast

Rate the Director

Rating of the Music Score

Rating of the Title Sequence

Screenplay

Creatively uses the camera to tell the story

Importance in Cinema history

Would you recommend for fans of this genre
Submit Ratings
Cancel
Write a Review
Read Reviews
NO REVIEWS AVAILABLE
The title has not been reviewed. Be the first to write a review by clicking here to start.
must see movie

I cant think of a movie that produced as much emotion as captains courageous.It is a family movie with more emotion and feeling than a lot of movies.Great lesson for children as well as fathers.this is a must see.This is above all my favorite movie and watch it every time its played.Thanks for tcm for all the great movies I have watched on your channel.If I could watch only one channel, this would be it.

Still terrific after all these years

It's tough to get children to watch old movies like this one, but the story of a spoiled brat and a distant dad is an absolute classic that should be a must see for kids and parents of all ages. Freddie Bartholomew is perfect as the boy we love to hate, and Spencer Tracy gives his Academy Award winning performance as the fisherman who saves the boy in more ways than one. Lionel Barrymore in one of his last performances on his arthritic legs, and nice work from John Carridine as Long Jack. Also a fascinating depiction of a fishing life that no longer really exists anymore. I hope they never remake it, because it can't be topped.

Captains Courageous

For entire family. Why run it at 3 AM on Thanksgiving?

in your face brad pitt.

between this and the old man in the sea.. spencer tracy is the greatest on screen fisherman of all time.

One of the best

Group fine stars like Spencer Tracey, Freddy Brtholmew, Lionel Barrymore, Mickey Rooney, and others, together with a fine sea-themed story... well..., you have a true classic film which we, who love true classic films,, want to see again and again.Please show this one again.Thank you, TCM

Captains

I've watched this movie every time it is on TCM, and cry each time. I don't know why I never wrote a review for it. The entire cast is excellent, Kipling's story from which this movie was made is heartwarming. This is not a child's movie but a movie for the whole family, we can learn so much from watching the interactions between all the crew and how a young spoiled brat grows up and learns what is important. Thank you TCM for once again bringing this movie into our homes.This is a 10 star movie, one of the few times I agree with Maltin.

Awsome

One of the best movies I've ever seen.

Chemistry

Tracy and Bartholomew's chemistry makes me cry. Is there any part Tracy could not play well? Thanks to TCM, I have grown to appreciate Tracy's depth. The message of this film = even a so-called common man can do great things for others.

Captains Courageous

I found this movie to be one of the best I have ever seen, bringing out a lot of emotions. Freddy Bartholomew went from being such a brat to tugging at my heartstrings. A great little actor. Also I can easily see why Spencer Tracey won an award for this movie. It was well deserved!! I have recommended this movie to many people.

Captains courageous

Dads take note give that son of yours room but keep him close to your heart time goes by too fast

Best seafaring movie ever.

I'm specially interested in movies about ships and the sea. This one is the best of the genre, as far as I'm concerned. Never mind that it's b&w, and has little to do with the Kipling story. It was filmed aboard real fishing schooners, with scarcely any special effects. The acting is classical (my favorites are Carradine and Barrymore - surely the ultimate sea captain.)I once told a staff member at Mystic Seaport Maritime Museum that I'd watched "Captains Courageous" 12 times. His reply:"Then you haven't watched it enough."

Best Tracy Film Ever!!

This is my all time favorite film of Spencer Tracy. I had seen many of his films before this one and always admired him. But after seeing him in C.C. I fell in love. Even though he looks so different and speaks with a funny accent- it's his heart that shines through. The evolution of the boy he befriends is so heartwarming. Of course I cried like a baby watching this, but when that happens, I know it must be a g r e a t movie. I recommend it to anyone who loves the classics and great actors of yesterday when the focus was the story-- not violence, nudity, foul language and all the other gimmicks that today's films are littered with. Thanks for listening.charly

Honorary "Little Fishyees"

I can't say enough good things about this film. It is one you can watch over and over again, and it touches you differently every time. You notice things you didn't notice before, so it's like this film is alive and keeps growing and growing. Watching it today, I noticed Bartholomew's pleas as Tracy was going to fish with his father. It reminded me of what it's like when you just can't believe someone you love is leaving you on this earth. The denials, then the numbness sets in as your whole world twists to the unfathomable. It was just amazing that someone as young as Bartholomew could capture that moment in such a poignant way. He certainly was perfect for his role. And really, everyone in this movie blended together so well to create such a masterpiece. Tracy did a splendid job in his role as Manuel. Every now and then he would jar me with his accent. It seemed to happen when he was over-simplifying some of his words. But, really, who cares!? It takes absolutely nothing away from the film. This too, is a movie where my anchor, Barrymore, absolutely shines. Whenever he speaks to me with words of encouragement in my mind, it is usually as Captain Disko. When I'm doing an unpleasant chore, I don't know how many times he's told me he'll pay me $3 a month to do it. $3???

Much more than on the surface

While indeed, Captains Courageous is the story of how a spoiled brat comes to appreciate more than money and what it can buy, it is also a true study of human nature. Certainly, the main characters are the focal point of the book, but Kipling knew a bit about man at his basest. The side and back stories of how people treat each other have been brought out and are as well-acted. Additionally, each early supporting character showed, bit by bit how the boy got that way, and then on the fishing boats, we have more to learn about all the characters. The household staff, Harvey Cheyne's wheeling and dealing with his equally selfish classmates, and the teachers -- all lent to show the stuff we are made of, and they all did it well. Spencer Tracy, Freddie Barthlemew, Melvyn Douglas, and Lionel Barrymore were at the top of their game here. This is a fabulous book, which transferred to a fabulous film. 5 stars!

Captains Courageous

Spencer Tracy totally deserved the 1937 Best Actor Oscar for his portrayal of fisherman Manuel Fidelio in MGM's big screen adaptation of Rudyard Kipling's coming-of-age story. Tracy would win the prize once again in 1938 for Boys Town, making him the first back-to-back Best Actor Oscar winner. Manuel fishes Harvey Cheyne (wonderfully played by Freddie Bartholomew) out of the ocean after he's fallen overboard from his father's ocean liner. Manuel then transforms him from a spoiled rotten arrogant rich kid to a mature and responsible man. Manuel also instills in Harve a love of fishing and the sea, as Manuel's father had done with him. The scene towards the end when Manuel gets caught in the rigging is a real tear-jerker, as he knows he's going to die and tries to console Harve ("I go and fish with my father!"), who's totally saddened by losing his friend. The rest of the cast is also excellent, including Lionel Barrymore, Mickey Rooney and John Carradine. I disagree with a previous reviewer about Tracy's portrayal of Manuel. I think they did a good makeup job so that he'd look Portugese, and he does a pretty good Portugese accent.

Not Like any Portuguese that I know!

Despite the dark curly hair and the "tan" job, Spencer Tracy still looks very Irish in this movie. And his accent! He didn't sound like the Portuguese fisherman I grew up with. His take on a portuguese fisherman is weird to me because I grew up in a town full of portuguese immigrants.However, the ensemble cast is great and the story is wonderful.

trawling and jawing, then hauling and balling

When Harvey says "I want to be as good as you are" to Manuel, the transformation is complete, Harvey shedding the last of his armor of arrogance because of the real, sometimes tough, love and attention of one man. Our society's ever-increasing selfishness would benefit if more of our citizenry would tune into TCM to see classics like "Captains Courageous" for Hollyweird doesn't make movies like this anymore. Tracy is good, Bartholemew is at his peak, and Rooney is on the verge of stardom ("Boys Town"). 2-time Oscar winner Melvyn Douglas did an outstanding job as Harvey's father.

Loved this movie!

I watched Captains Courageous for the first time after my husband told me it was worth it. I LOVED IT! I would recommend this movie to anyone who likes old black and whites!

Captains Courageous: surprisingly touching

classic movie lover

8/18/12

To look at the cast and crew of Captains Courageous you would think that it would be a boys movie, a testosterone-fest, but i must say that i was pleasantly surprised by the heart warming story line between a young spoiled boy and a burly fisherman who plucks him out of the ocean. Spencer Tracy gives an excellent performance as the boys savior, friend and mentor. Freddie Bartholomew gives probably his best performance as the boy who grows close to the sailor who shows him what's what in the world. Lionel Barrymore also doesn't disappoint as usual. But don't let my girly review put any men off of watching this movie, it's heartfelt, yes, but it doesn't slack on the manly aspect of fishing. They go through some scary and hard things that only truly strong men can go through and men would really appreciate that. Overall i give Captains Courageous four stars and tell you that it truly is an essential. =)

Captains Courageous

Enthralling adaptation of Kipling's novel. Tracy, with an accent & curls, deservedly won a Best Actor Academy Award & Bartholomew is impossible to ignore over an ensemble cast. Director Fleming brings humour & pathos to a good coming-of-age film. Overall, this is one of the best children's film of the '30's. I give it a 4.5/5.

Captains Courageous

****

Excelente

Eu amo este filme por sua mensagem e por Spencer Tracy nesta interpretao maravilhosa de um pescador que tem que transformar um menino em um ser humano melhor e humilde. Um filme que deveria ser apresentado mais vezes, pois maravilhoso.

Captains Courageous

I love this movie. I love how he tries to be this rough and tough kind of guy but deep down inside he is a teddy bear. He really is a father figure to this little boy and you can see how much they care for one another. Captains Courageous is a great family movie and should be watch and admired by all classic movie lovers.

Wholesome & worthwhile

1st rate movie has great chemistry between the cast that is hard not to love.Just watching how this young boy becomes closer to being a man and finding his way under Manuel's guidance and love is heartwarming.It shows how important spending time, showing support,and demonstrating integrity can influence a childs life.I feel this film will hit home with many who give it a chance.Why cant Hollywood make great movies like this anymore?

One Of Tracy's Best!

You can watch CAPTAINS COURAGEOUS a million times and still want to see it again and again.Keep the kleenex handy cause this classic has it all. The DRAMA of men at sea. The COMEDY of a young man about to grow up, and the TRAGEDY of losing a loved one. The acting is superb.One of MGM's finest films for all times.

Tracy's greatest role!

Spencer Tracy truely emersed himself into this role. FREDDIE BARTHOLOMEW & Spencer Tracy, both deserve credit for their outstanding performances, but it was Tracy that set the entire premise of the money...redemption of a spoiled rich kid by love and understanding from a common working man. Tracy shows us that the best things in life are truely free.

A great Family Movie

I love this movie.It is one of my favorites. I hope every child and family, gets to see this movie. It has alot of life long lesssons, for all ages of the human race. Spencer Tracer performanced in this movie is excellent. It is a heartwarming story, which, I highly recommend foe everyone to see.

There are no words

There are no words to describe how amazing this film is. I've recommended it to everyone. Of course everyone knows Spencer Tracy won Best Actor for his portrayal of Manuel, but Freddie Bartholomew stole the show for me and I've watched all of Freddie's other films since. He was a terrific young actor. This is perhaps his best performance out of all his films. Watch it and you will definitely not be disappointed.

Heartwarming

A great movie! Don't be fooled by the title. A swashbuckler it's not. It's a movie with deep meaning and timeless lessons. To feckless youth it's a lesson in self-worth gained through hard work, honesty, and devotion to duty. An awesome family movie!

Great movie!

I started watching this film without realizing what it was and was immediately swept into the story. Spencer Tracy does a fantastic job as Manuel and for anyone who has issues with their own father, you just may be weeping like a baby by the end. The plot was predictable, but never boring. I'll be watching it again and recommending it to friends.

Excellent.

This is one of the best movies I've ever seen. I am 43 years old and had never seen it until a few months ago. Now I've got a huge crush on Spencer Tracy!
*We protect your personal infortmation and will not provide it to anyone without your consent. For a complete explanation, please refer to TCM's Privacy Policy. By submitting your contribution, you agree to TCM's Terms of Use.