DVDs from TCM Shop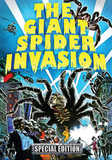 The Giant Spider Invasion Following a mysterious... MORE&nbsp> $16.95 Regularly $19.97 Buy Now blu-ray
Trivia
Alan Hale Jr. greets Davey (Kevin Brodie) in the opening scene with the line, "Hi, little buddy!" This is an obvious reference to his role as The Skipper on "Gilligan's Island" (1964).
Cost about $250,000 to make.
Jed and Ev have a conversation which includes the exchange: Ev: "I'm sorry I missed the sermon. What was it about?" Jed: "Sin." Ev: "What did the minister say about it?" Jed: "He was against it." President Calvin Coolidge and his wife had the same conversation.
There was supposed to be a dramatic shot of the giant spider crushing the house by having the spider dropped from a crane onto it while a bulldozer chained to the back of the house would pull away. However, when the shot was filmed, the spider's legs all went straight up into the air! The crew inside working it's arms were nearly killed when broken wood from the destroyed house came up through the spider and came close to impaling them.
There was supposed to be a shot of a big spider in a tree bursting into flames. To achieve this, the director covered a large prop spider with gunpowder and had two crew members sitting above it in the tree who would drop a match on the spider. The director got the camera up to a very fast fps to achieve a slow motion look, and had them drop the first match. Nothing happened, so they dropped a second. Still nothing happened, so they lit the entire book of matches and dropped it on the spider. With nothing happening, the director turned off the camera - and immediately afterwords a huge explosion and fireball shot up, burning the hair off of the crew members and starting several small brush fires. The director was furious that he wasn't able to get the shot on film.
In a scene depicting the "giant spiders" attacking a little league baseball game, the "spiders" are obviously Volkswagen Beetles with puppet legs attached. Tread marks from the VW's tires can actually be seen in several camera angles.