DVDs from TCM Shop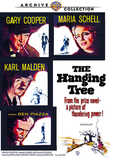 The Hanging Tree A doctor saves a man from... MORE&nbsp> $15.96 Regularly $19.99 Buy Now
USER REVIEWS
See Detailed Ratings
Acting of Lead Performers

Acting of Supporting Cast

Director

Music Score

Title Sequence

Screenplay

Cinematography

Historical Importance

Would You Recommend?

0 Member Ratings
Rate the acting of the Lead Performers

Rate the acting of the Supporting Cast

Rate the Director

Rating of the Music Score

Rating of the Title Sequence

Screenplay

Creatively uses the camera to tell the story

Importance in Cinema history

Would you recommend for fans of this genre
Submit Ratings
Cancel
Write a Review
Read Reviews
NO REVIEWS AVAILABLE
The title has not been reviewed. Be the first to write a review by clicking here to start.
Solid Western....

Watched it and found it to be an excellent movie....but ya know, there's one reviewer here that never seems happy!! Can you guess who it is????

coop's main limitation

Don Riley's coupling of Gary Cooper with Robert Mitchum is the perfect rope with which to hang Cooper as an actor. For Mitchum had the very thing that kept Cooper from being anything but high end of mediocre, and that thing, of course, is RANGE. Mitchum could be terrifying ("Night Of The Hunter" "Cape Fear") as well as heroic ("Longest Day," "Farewell My Lovely") and if ambiguity is what you were after he could do that too ("Home From The Hill," "Wonderful Country.") As for Coop, he was heroic and nothing else. He had the range of a crippled goalie. So while you may enjoy this one trick pony (I don't) don't confuse him with a great or even very good actor.

Gary Cooper A Study

Unfortunately, many Americans are totally clueless on Shakespeare or classical drama. Gary Cooper or Robert Mitchum are not classically trained actors and it is very believable that they never had an acting lesson or a course in classical drama. Thay both are fine actors. Warning:.........don't attempt to be either one of them in your own home. They are beautiful, they are large, they are imposing, they are one out of two million and if you want to become an actor in the same way they did --- you will fail. Both of them also have an incredible temperament for the screen, which is something most potential actors have to be trained to do. Gary Cooper is a genius and is far from ordinary. The training in Shakespeare is also valuable to the person whether or not he should ever become famous. Jimi Hendrix never took a guitar lesson but he never was able to play like Segovia - either. Classical training has its value as a life lesson. That said I love Gary Cooper.

My opinion

My own opinion of Gary Cooper and his films, including this one: I have not read the bio book on Gary Cooper. I did, however, listen to his daughter's testimony "short" on TCM. She talks about her father as someone who never had the first acting lesson. All he wanted to do was to play the "good guy" because He felt it fit him best. Early on, according to TCM, actors had no say so in what movies they could be in. That resulted in some pretty poor stories and pretty bad films. Gary Cooper, later on played the lead role in so many truly memorable classics almost all of us enjoy watching over and over again. Why don't we give him credit for what we do know about him? He was a fine actor and, by all that we know, a fine man and fellow American, who both gave us many great old classics, as well as caring enough to want to play those "good" parts so many of us do not consider important enough to emulate today. So sad! Thank you, TCM for showing those classics we love so much. Please continue. Whether we know it or not, we need to see stories like this. Thank you so much.

coop's acting ability

I agree with Ms. Cavendish that Gary Cooper was never over the top. At his most energetic on screen he was always somewhere toward the lower end of the emotional spectrum, even when expressiveness was called for. This catatonia is not my idea of good acting. In its own way it's as bad as scenery chewing. As far as Ms. Cavendish's recommendation that I watch Al Jazeera TV in order to write "agreeable" reviews, I think I'll pass since I prefer to write the opposite kind.

Cooper's Last Western And One To Go Out On.

I can only say to Kevin and his review of 11-15-14, "Did we watch the same movie?" After "High Noon" and "Vera Cruz", the "Hanging Tree" was Cooper's best western and one of the more realistic ones in his career. I finally got to see after hearing everyone talk about it, and it's totally worth it.

The Hanging Tree - Never over the top. . .

. . . like some of these reviews, Cooper never was. What does the morality of one person have to do with measuring another persons' sense of morality? Clue? Use your thumb and forefinger and describe yourself. Nothing! Whatever happened to watching a movie and enjoying a performance? Did Haing Ngor make any memorable movies after The Killing Fields? No he didn't and died a horrible death at the hands of scum in a parking lot somewhere [In California or Nevada, I believe], after surviving those same killing fields. Watch each movie for what it means to you, not for what it means to others, the politics of actors I have seen many movies rated at two stars which I found more than adequate as a movie to like. The Hanging Tree was a wonderful movie and Maria Schell, Piazza, Malden and Cooper gave memorable performances. I could not care less that F L Wright was an adulterer, etc, for if anything he might know more about morality than do you, Mr Sellers? Furthermore, Cooper wasn't portraying FLW in the movie you referenced? I give your review and F! The Hanging Tree, I give an A. Mr Sellers, what has the political affiliation of actor have to do with his acting? You should watch more Aljazeera TV, if you want to write a more agreeable review!

Professionals persevere

In my 256-words review, celebrating Gary Cooper's amazing record of 70 films, pleasing millions of Americans over decades, yet a critic cherry picked out only one name in a series of representative examples to find fault in a personal attack. Yet, I am respectful and thankful to TCM for providing this film forum with so many intelligent reviews focusing on films, so here are professionals affirming Coop's many contributions: During filming of "The Hanging Tree," director Delmer Daves became ill, hospitalized. Coop's co-star Karl Malden, who had recently directed his film, Time Limit (1957) and been a film actor since 1936, was encouraged by Coop to complete directing of "Hanging Tree." Director Karl Malden did and concluded: Cooper "did exactly what I wanted him to do, not at all rigid Cooper knew himself and he knew the lens of the camera...Cooper knew what to avoid and what to do. He always relaxed in front of the camera and concentrated on the role. He knew what would appear on the screen and he played for it. People have often mistaken his ability to relax on the set for indifference, but he was very interested in the making of the film, the acting process." "The Hanging Tree is now considered a superior western one of Gary Cooper's best performances comparable to his fine work in High Noon" SOURCES: 1) Coop: The Life and Legend of Gary Cooper by Stuart M. Kaminsky (St. Martin's Press). 2) Gary Cooper: American Hero by Jeffrey Meyers (Book publisher, William Morrow & Co.) 3) The BFI (British Film Institute) Companion to the Western, edited by Edward Buscombe (Da Capo Press) 4) www.afi.com (American Film Institute). May educateable people benefit honestly.

mr morality???

In his celebration of the crashingly dull actor, Gary Cooper, Will Fox cites his playing architect Frank Lloyd Wright as an example of the actor embodying "moral" characters. Correct me if I'm wrong, but wasn't Wright a serial adulterer and neglecter of both wives and kids? How is this "morality"? Kinda weakens Mr. Fox's argument, but then again that's nothing new.

Celebrating Mr. Morality

Gary Cooper, Top 10 film star, personifies integrity in more than 70 films, as the quintessential moral American. In the beginning Paramount made him a contract player and notoriously randy A-list actress Clara Bow gave him a role in her picture "It" (1927). The "It-girl" romance made Cooper the original "It-boy." That led to his first top-billing as a heroic cowboy in "Arizona Bound" (1927), then he played with Bow in "Wings" (1927), the first film to win the Academy Award as Best Picture. Additional highlights include Coop's first cowboy talkie "The Virginian" (1929), Frank Capra's "Mr. Deeds Goes to Town" (1936) and "Meet John Doe" (1941), then celebrated biopics "Sergeant York" (1941 Oscar), "Pride of the Yankees" (1942), and "The Fountainhead" (1949, architect Frank Lloyd Wright), plus his Oscar2 in "High Noon" (1952). Cooper codified "Deeds" the character, as an archetype of integrity and innocence in the face of smug, New Yorkers' charlatanry. Longfellow Deeds, a small-town Vermonter inherits a fortune, then beats NYC's lying lawyers and grifters. Director Capra wrote, "had to symbolize incorruptibility, and in my mind Gary Cooper already was that symbol." His intuition paid off with a hit, earning Coop his first Best Actor Oscar nomination. Director Howard Hawks has Coop, as Sgt. Alvin C. York, the World War I hayseed-pacifist drafted into the U.S. Army, overcome conscientious objections and capture a German Army company single-handed. "Sergeant York" earned 11 Oscar nominations. Coop won 1st of 2, Best Actor Oscars, playing Mr. Integrity. Ditto Doc in "Hanging Tree," champion of morality.

answer to Raymond Binacki's question

Uh, 'cause he's not a particularly memorable actor?

"Doc" Frail, Elizabeth and Rune!

"The Hanging Tree" is a terrific Western with one big mystery - why didn't Ben Piazza become a star?

hanging tree

Why do I love John Wayne, but not Gary Cooper? Both were uber masculine Republicans who made westerns and war movies. Hell, they both died of the same disease. And yet I don't think Cooper is fit to wear Wayne's spurs. Why? Maybe it's because Cooper never even came close to the complexity Wayne showed in his portrayals of Ethan Edwards, J.B. Books, Matt Dunston, or Tom Doniphon, all tortured souls who rage against death and civilization. You can't picture Cooper raging at anything, so emotionless is he on screen, the true "strong, silent type," (read boring.) Anyway, "Hanging Tree" is a typical Gary Cooper western, slow and uninvolving. It's the same length as The Searchers, but feels twice as long. Give it a C.

GREAT!!!! Gary Cooper film

I love Gary Cooper in most all movies but mostly westerns. He was just a natural and so believable. One really thinks he isn't acting. Tall and lean, what more could you ask for in a movie. "The Hanging Tree" is finally out on DVD and I purchased mine and am now watching it as I type this. One of my all time favorites along with "Friendly Persuasion." Finally found both on DVD.

GREAT!!!!

I love Gary Cooper in most all movies but mostly westerns. He was just a natural and so believable. One really thinks he isn't acting. Tall and lean, what more could you ask for in a movie. "The Hanging Tree" is finally out on DVD and I purchased mine and am now watching it as I type this. One of my all time favorites along with "Friendly Persuasion." Finally found both on DVD.

the hanging tree

This is my favorite western even more than any john wayne western. Gary Cooper is great in this movie even better than High Noon, I think. I love the theme and the music through out.

The Hanging Tree--an undiscovered masterpiece

From the moment the WB logo appears and you hear Marty Robbins singing, "I came to town to search for gold..." you're hooked. This is absolutely one of the best weswterns ever made and certainly Delmer Daves masterpiece. It gets better with each viewing. Maria Schell is wonderful, George C. Scott is terrifying as the preacher and Karl Malden as Frenchy is wondefully bad. Gary Cooper gives a strong understated performance. This movie needs to be rediscovered and remastered. Don't miss it.

The Hanging Tree

I love this movie it's one of my all time favorites. Please put it on the TCM broadcast schedule as soon as possible. If you can advise me by e-mail when it will be on.

Finally available on DVD R1

Memorable performances by Karl Malden and Maria Schell, and of course, Gary Cooper. The Warner Archive folks have (just) made this available as a MOD (made on demand) DVD. Widescreen and the color is quite good.

One of Gary Cooper's Best

This is a classic western at it finest, also from my favorite Movie Studio, Warner Brothers. Directed by Delmer Daves and Karl Malden. I rank this western in the top ten of all time. One of Gary Coopers best (along with Man of the West). Great cast and a wonderfull story. It is a great dis-service that this Classic Western is not on dvd???

great movie

I love Gary Cooper and this is one of his best movies. I do not understand why it is not on more often. My husband loved it also. I saw it 20 years ago and have been searching for it every since. Please put it on dvd.

very good movie

I love this movie. I just saw it tonight (mar. 21, 2012) for the second time. I saw it probably about 15-20 years ago late one night. Gary Cooper is fantastic. I hope they put this movie on dvd. It is one I would like to see periodically. This is one of the best westerns. My husband liked it also.

Coops darker side

I remember watching this movie last year (11) not having seen it before. I love anything that Gary Cooper does especially westerns. I thought it was a pretty good movie, although it seemed a pretty dark character for Coop compared to what he had played before. Karl Malden was really believable as "the bad guy" to the point I really didn't like him at all half way through the movie!!! What made me come back to this review and movie was a autobiographical clip done on a Local PBS station about Gary Cooper. When they were interviewing George C Scott, he mentioned when they were filming in Yakima, WA!!! At the time I watched this movie I had no idea that it was filmed only about 40 miles away!!! So, I really cannot wait till TCM shows it again in March so I can watch more carefully and really look at the cinematography. Unfortunately, I don't remember much of Mr Scott's performance, the three that stuck out were Malden, Cooper and Schell. I found it interesting that one of Scott's comments was, when they were in Yakima, Coop was asked to come out of his trailer to sign autographs which he did willingly, Scott wouldn't be bothered!!! REALLY?? Here Coop was the veteran actor, who had more prestige then Scott could even think of, (this being his first film) and he had the grace and integrity to sign autographs for some youngsters and Scott couldn't be bothered!!! Gary Cooper was an exceptional actor and an awesome guy!!!

The Hanging Tree

This is one of the movies that I have been looking for on TCM and thank you so much for bringing it out. Now I hope they bring it back on DVD so I can purchase it. Been waiting a long time to see it. Thank you TCM

The Hanging Tree

Thanks for finally showing this great film. I'll lend my voice to the others in this forum by saying please bring The Hanging Tree to DVD!

"The Hanging Tree" a Gothic Western

This movie has to viewed in context of the times. It is post MacArthy erra. The topic of a woman trying to be independent and is assaulted and raped by a Gold rush miner in a boom town was earth shaking for the times. Coop and new commers to like Anerican films the German actress Maria Schell, The Brothers Karamazov (1958_film) and sister of Max Schell a well known actor in the USA at the time was an adventure in itself. Add to it The great theme song Written by Jerry Livingstonabd Scire by Max Steiner, song sung by Marty Robbins. The theme song is used in the begining and end of thd movie just like "High Noon" worksWell. With performances of veteran character Carl Malden "Street Car Named Desire", and George C.Scott his first major film appearance are treats. The dark characters with well developed personalities are not the typical western movie. The dark past of Doc Frail/Cooper plays Doc Frail a very flawed man, with a tragic dark past ala "Othello" and saves a young man from bein hung for stealing and manipulates him by the threat of exposing him. A human bondage relationship that the two principle chacters end up having with Doc Frail. It is later learned that Doc has a past of his own darker than the heroine (Maria Schell) and the boy. The climax and the confrontation of issues and human conflict are dramatic in this film. It is much more extreme than the episodes in High Noon. The scenery is little seen area in Eastern Washington where I used to deer hunt near the Yakima Indian Reservation. Principal photography was done on location in the "Oak Creek Wildlife Area;" it is located in the mountains west of Yakima, Washington. The cinematography and color for the period was wonderful. I recommend it with five stars. It amazes me the junk that makes it's way to DVD and a gem like this site in the archive. I blame the critics for the problems involving the release of this movie to DVD and the over exposure to early TV releases.

The Hanging Tree

My favorite movie and can't find it anywhere and haven't seen it in years and missed it on TMC, so sad. Want to buy it on DVD but no where to be found in USA format. Please advise why this is. I read once its because Gary Cooper didn't like the movie. Well, it was one of his best. Could I please have a date & time when you will be playing the movie again, and if there will be a chance we will be able to get it on DVD.Thank You

Another Vote to put "The Hanging Tree" on DVD!

I just saw "The Hanging Tree" for the first time the other night on TCM. It instantly became one of my all-time favorite westerns. Gary Cooper was great, the story was terrific and what an ending! I immediately wanted to buy it on DVD, but to my dismay, I discovered that it was not available. I, too, like many others here, would love to see this movie brought to DVD. Maybe TCM could help in this regard. Also, I noticed that it was not going to be shown again on TCM until October 21st. At the very least perhaps you could arrange to have it shown sooner.

The Hanging Tree

Thanks for finally showing this movie. I've been waiting 50 years to see it again. My favorite Gary Cooper movie, then comes Friendly Persuasion. Probably saw this at the drive-in movies, when they were popular in the 1950's. My vote is to get it on DVD. A TCM fan only since 2008, you are my number one viewing channel.The movie is fine acting and wonderful scenery.

When is this coming out on DVD??

I have always loved this Western and have wanted to own it for years, but its never been on DVD. I hope they do get it out there--it's shown so rarely.

The Hanging Tree

Stephanie Schlegel

6/17/11

My Dad has requested "The Hanging Tree" Movie with Gary Cooper for quite a few years now as a gift that one of us three kids to get him. But the sad thing is, we have never been able to find it for purchase on DVD, just on VHS. But who even has a VHS machine this day and age. Our's pooped out on us years ago. This is one of my Dad's all time favorites!!! Please, please consider releasing it on DVD ASAP!!! We, his family would like to see this movie ourselves and would like to be able to give this DVD to him!!! I can tell from the other reviews that there is more people that are waiting for the release of The Hanging Tree on DVD. Please hear our cry.

happy old times

my dad and i saw this on tv in 1977 when i was in 7th grade----it had a super part at the end when she gives up her gold to save gary coopers life and they play the song (hanging tree)----my dad said to me that love is worth more than all the gold in the world and i remember it to this day--to a guy like me being 13 at the time i had to think about it-my dad has been gone for 20 years but that special night watching hanging tree will always be with me---pass this movie on to your child--its great

Thanks

Thanks for airing Hanging Tree. It is one of my favorite Westerns. For years I was waiting for someone to play the show uninterrupted. TCM is one of the main reasons we still have cable.

The Hanging Tree (1959) with Gary Cooper

Could you please tell me when this movie will ever, ever be on DVD? Been waiting for years and years. It's such a good western movie with Gary Cooper, Maria Schell and Karl Malden.Got any information on this? Much appreciated. Thankyou...

The Hanging Tree

There are 4 Gary Cooper movies that stand out for me: They Came to Cordura, High Noon, The Fountainhead (which I saw on TCM for the first time last year-excellent movie!) and The Hanging Tree. The Hanging Tree stands out because its main character is a contrast to other parts Gary Cooper has played. He's a flawed man who is searching for something (redemption?) in this dreary mining town and who finds it in his relationships with the people who live there. It's good drama, good acting and a good story--maybe not his best, but certainly one of my top 4. If it was shown on TCM, I'd watch it every time. If it was on DVD, I'd buy it so I could watch it as often as I wanted.

The Hanging tree.

Dear Sirs: "Kathy", my wife is tearminally ill with brain cancer! This is her favoriate movie of all time and it would put a big smile on her lovley little face if they could make this movie avalable to us. She does not ask for much and never complains of her fate, so if you could arrange for her to have her own copy I would be willing to pay any amount for my wife's smile once again before she passes away. "GOD" Bless you, & Thank You, Dave Anderson --- dav1942@msn.com ---

The Hanging Tree (1959)

Excellent adult western. Shows how unpleasant mining towns most likely were.

The Hanging Tree

My parents and I love this movie and many others like it. Unfortunately movies nowadays are not this classy. Too much violence, profanity and sex. We older people are still very much alive and well and would appreciate it if a lot of the older classics would be provided on DVD so that our young people can appreciate the same types of movies we use to enjoy. Turner Classic Movies on cable needs to show more of these great oldies. There are very few western movies produced. Please get us away from what the world is becoming and get back to the real romance of life.

would buy it at any price

This movie is one I will never forget. It kept you on the edge of your seat. Why wouldn't it be available for families to watch? I've looked everywhere for it. I would recommend it to anyone who loves westerns, dramas, action and romance movies.

The Hanging Tree

A classic Gary Cooper movie up there with High Noon. Beautifully filmed in Yakima, Washington with then unknown George C. Scott. A must see movie for Gary Cooper fans.

The Hanging Tree

Actually, it is a gold-mining camp, not a western town, but the movie is one of Coopers best...It was George C. Scotts debut film, and is star studded....It is also LONG OVERDUE for release to DVD....Great soundtrack coversong by Marty Robbins. Filming is awesome location, and one of my all time favorites.....

Better than High Noon! The Hanging Tree!

I first saw this movie in black and white,it is outstanding! Gary Cooper is great as Doc Frail as is Maria Schell as Elizabeth Mahler. The story is a classic Western with a love story, gunfighter and gold. The music is great in it similar to High Noon. Classic! Classic! The camera shots in the ending scene where Gary Cooper holds Maria Schell's face in his hands under the hanging tree is fantastic! This movie had young supporting actors who later became great actors, Karl Malden, George C. Scott. This movie is a must for any Gary Cooper fan!

The Hanging Tree, a forgotten classic

An enjoyable movie from the "It could have happened" side of things. I saw it at the drive-in and actually watched the show! I have seen it on television some time ago and am surprised it hasn't been on TCM, I'm even more surprised it is not out for sale. The Hanging Tree may not have been the greatest movie ever, but it is ahead of a lot of the releases of today. This is one of Cooper's better movies and needs to be shown as an example of his work.

The Hanging Tree

I agree with Julio. The Hanging Tree is an excellent movie. I saw it several years ago and never forgot it. Wish it would be shown on TCM or come out on DVD. I guess Gary Cooper's estate has some reason this movie has not been released.

0ne of Gary Cooper's better movies.

The Hanging Tree has a strong story.Excellent cast. I have been looking for it to be shown on TCM.

show this movie on tmc

would like to see this movie come out on dvd

Bring back The Hanging Tree

I agree with Deryl. I don't understand why this movie is not available for viewing. I remember watching it years ago and have never been able to find it since. It is one of the few movies that has always stuck with me and and it is so frustrating to not be able to see it again.

The Hanging Tree- Best western of that era

I can't figure out why this movie hasn't been made available on DVD or why it is never shown on cable. It is simply one of the best westerns of all time.

Originally in wide-screen?

I have one of the very rare VHS videotapes of this movie, in superb condition (Today, I saw it selling for over $200 on the net!). Does anyone know--was this movie originally filmed in wide-screen (WarnerVision)? The location shots must be astounding.

The Hanging Tree

It is a real shame this movie cannot be seen. In my opinion it is one of the best westerns ever made. I am 58 and remeber seeing this movie as a child and every time in the past that is was available for viewing, I had to watch it, but that has been years since it has been on TV or has been made available for home viewing. Please make it available for purchase.

The Hanging Tree available on Video

The Hanging Tree was released on Video several years ago, but only so many copies were made. I personally have 2. They frequently come up for auction on ebay, but buyer beware...make sure that you ask questions. Not a rental - not a copy - american and not international...etc. They are even making copies on DVD now. I have one of those too. They are off of the VCR tape. I got it off of ebay also thinking it had finally been released on DVD...NOT. The copy is not bad though. Anyway, just wanted to let everyone know that there are copies available. Judith

The Hanging Tree

I saw this movie when I was ten years old and thought it was one of the best westerns I'd ever seen. I'm now 59 andwoul love to see it again and purchase it on DVD.

The Hanging Tree

Does anybody know why this Gary Cooper western is still not available on dvd?

Hanging tree on DVD!!

Lne of thebest Westerns I've even see! Classic Cooper, wonderful music and performances.! Cooper fans would love this one!!

The Hanging Tree - Great Gary Cooper film

I saw The Hanging Tree originally and think it should be made available to Gary Cooper fans. The performances were outstanding; karl Malden & Cooper were absolutely tops as well as the rest of the supporting cast. I look forward to seeing this film available on DVD.

The Hanging Tree

The Hanging Tree was a classic movie I have been trying to buy or rent this movie for a few years. Now looking at your home video vote I see its not available for home video. If its at all possible could i be notified of when it will be available. thanks

Robert Osborne, Please read this!

I was 12 when this film was released. I never had the opportunity to view it but have loved the Marty Robbins recording of the title song for 49 years. I recently read that this movie marked the debut of George C. Scott, another reason for TCM to show it.My guess is that The Hanging Tree is not in the TCM library but hopefully someday it will be.

I agree

I agree with the others the movie The Hanging Tree is a truly excellent Gary Cooper movie, we always watched it with great enthuasium and enjoyment, please show it . It should always be in the Gary Cooper line up . Thank You Also Maria Schell is outstanding as the blind girl and Karl Malden is exceptional.

Please show the movie.

Steven J. Beeler

12/12/07

When the hangin tree was filmed my uncle had a part as an exstra in the story.And I have been trying to buy or rent the film for some years now.What has happened to that old classic? Marty Robbins played a big part in the making of it. As the lead song and title became a big hit for him,In 1959.So please play the movie!!!!! Thanks, Steven J.

" Awesome Movie "

I cannot believe that this classic western is not on your list to be shown.

A Gary Cooper Classic

I would hope that Turner Classic Movies runs this great Gary Cooper western and makes it available as a DVD soon. I have a personal connection to this movie as it was made in my hometown area of Yakima Wasington. My sister and I were nearly cast as extras but the cast and film crew brought enough of their own children and we were not needed. The remains of the tree that hollywood created in a forrest of ponderosa pine still lays down the cliff were the tree stood.

The Hanging Tree

One of the classic westerns of the past. It should be made available to new viewers. Other movies of a lot less quality have been restored, why not this one?

The Hanging Tree W/Gary Cooper

Would like to see this movie againwhen will it be scheduled and availableon dvd???

The Hanging Tree

When will TCM schedule The Hanging Treewith Gary Cooper?

A forgotten classic!

It would be great to see old classics like this restored and represented to the public instead of some of the mindless, violent tripe we veiw today as "Westerns".
*We protect your personal infortmation and will not provide it to anyone without your consent. For a complete explanation, please refer to TCM's Privacy Policy. By submitting your contribution, you agree to TCM's Terms of Use.