DVDs from TCM Shop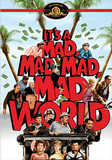 It's a Mad, Mad, Mad, Mad... A group of greedy clowns tears... MORE&nbsp> $5.15 Regularly $9.98 Buy Now blu-ray
Alternate Versions
DVDs from TCM Shop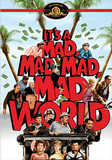 It's a Mad, Mad, Mad, Mad... A group of greedy clowns tears... MORE&nbsp> $5.15
Regularly $9.98 buy now
Original 70mm roadshow version ran 192 minutes (excluding overture and entr'acte music); this 70mm version was then re-edited to 162 minutes, and in the subsequent 35mm general release it was cut further to 154 minutes. The original video version was mastered off the 35mm negative and also ran 154 minutes. In the nineties additional 70mm footage was found in the form of an old theatrical print and was transferred to video which was then combined with the 35mm footage video transfer to create the new "video restoration" The original 65mm camera negative has not been restored and it would appear that the missing original negative segments have been irretrievably lost. The new "video restoration" runs approximately 186 minutes.

The current DVD release contains the General Release Version of 154 minutes. The 186-minute version has played occasionally on cable TV.

While the 186-minute version is occasionally shown, it is important to remember that it is a patchwork job including footage never intended to be shown in any version. The 154 minute version (161 minutes including intermission and exit music) is the only version currently authorized by Kramer.

A new print is being restored by Robert Harris, and so far 188 minutes of the original 192 have been discovered.

Up through the late 1990s, the video widescreen version had been letterboxed for the 1.85:1 format even though the film was originally shot in Ultra Panavision. Another video transfer has since been made with the image letterboxed for the 2.35:1 format. This film is currently (2003) going through an extensive restoration which may soon result in a complete and fully letterboxed version being released.