DVDs from TCM Shop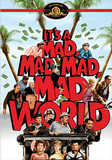 It's a Mad, Mad, Mad, Mad... A group of greedy clowns tears... MORE&nbsp> $5.15 Regularly $9.98 Buy Now blu-ray
USER REVIEWS
See Detailed Ratings
Acting of Lead Performers

Acting of Supporting Cast

Director

Music Score

Title Sequence

Screenplay

Cinematography

Historical Importance

Would You Recommend?

0 Member Ratings
Rate the acting of the Lead Performers

Rate the acting of the Supporting Cast

Rate the Director

Rating of the Music Score

Rating of the Title Sequence

Screenplay

Creatively uses the camera to tell the story

Importance in Cinema history

Would you recommend for fans of this genre
Submit Ratings
Cancel
Write a Review
Read Reviews
NO REVIEWS AVAILABLE
The title has not been reviewed. Be the first to write a review by clicking here to start.
Not that bad, but.......

Watch for Jonathan Winters.....he steals every scene. Saw this when it came out. Not great, but then Stanley Kramer was never very funny. Don't dump on Tracy....anytime an actor is being paid, it is a triumph!

How come these people were left out..?

Bob Hope, Red Skelton, Danny Kaye, Lucille Ball, Harold Lloyd, Charlie Chaplin, Groucho and Harpo Marx, Tony Curtis, Doris Day, Cary Grant, Bud Abbott, Stan Laurel, Peter Sellers, Jackie Gleason, Rosalind Russell, Margaret Dumont, Jerry Colonna, etc etc. Yea I guess the film would have cost several more millions of dollars and been around 6 hours but what the Hell. My favorite movie of all time. Impossible to ever duplicate-don't even try. Low comedy for sure but belly laughs are guaranteed! Can't pick a favorite scene--perhaps the gas station debacle?! Bought the restored-footage version years ago on VHS and I understand why most of the additional scenes were left out. Film had to be tightened up a bit. Still, what would it have been with a few of the above mentioned actors included?! We'll never know. But it's a truly great, hilarious film just the way it is. Bravo Stanley!

dumb movie

There. I said it. This movie is ridiculous. What I cannot understand is why Spencer Tracy sold this soul to have a part in this moron parade. It appears he actually tries to act and ply his trade. Perhaps he had no idea what was being filmed on the days he was off. This film is always billed as a wonderful comedy but it's just a bunch of slap stick scenes stitched together to take the place of an actual plot. And the sad part of this fact is that the Three Stooges, masters at slapstick, only have a lousy cameo scene and don't do a damn thing. Ethel Merman screeching, Mickey Rooney going into a moronic frenzy, and Phil Silvers playing the same con man he always played do not add up to funny. Those is just a waste of time.

Outlier review

I found this film entertaining but neither wonderful nor terrible, unlike most reviewers. What did surprise me was Milton Berle's acting. Usually a leading ham, he played it somewhat low key. I do wish Kramer had given bigger roles to Buster Keaton and the delightful Edward Everett Horton.

Notice the release date 1963

I first saw this film in 1966 while I was stationed in Europe in the military. We laughed so hard we were sliding out of our seats. Yeah it may not fit the standard of the younger generation today but I never miss a chance to view it. I grew up watching all of those comedians on TV and seeing them all together was a treat. As far as the comments that it should have been shown after midnight, I would reply that there are a lot of new films that I don't think should be shown at all.

Too Many Comics

I can't believe that TCM would show this movie. The story line is completely tedious and ridiculously senseless and shows no coherency . If it had to be shown, it should have been aired anywhere between midnight and 6 a.m. The great talents of Spencer Tracy were wasted on this movie. IT'S A MAD, MAD, MAD, MAD WORLD does not compare at all to other great classics. This movie can be summed up in one word.................*STUPID*

Mad Film

I see some of the reviews were not good by other people, and I respect those opinions, but I think they were looking for some epic type film. It was designed to be slap stick and it was just that! It was a very funny picture at times I am laughing and cannot stop. It was a brilliant film for the design and purpose.It had an array of stars and/or comedians that no one film I have ever seen can compare. Most of these people in fact are no longer with us if any of them are still alive.I really think it was excellent, the one point I will agree on is that it was drawn out for the eventual end and could have been made a little shorter as when they finally got to the big W. Of all I loved Pike the truck driver LOL.

Stanley Cramer's Odyssey

Is it as funny as the Marx Bros? No, but in some ways just as anarchic. A mod squad of crazies break every law in the book in the greedy pursuit of a pot of gold at the end of the rainb-, I mean THE BIG W. Along the way, every vice, twitch, hangup, perversion, neurosis and prejudice of American life is exposed. This was Comic Relief for the mid-century madhouse rat race that his country had become by 1963. The frequent explosions of anger and angst in this movie are telling the story as much as the comic bits. The whole movie is worth watching just to hear Terry-Thomas' summation of American culture.

Don't Waste Your Time

Although I'm not a slapstick fan, I do sometimes enjoy it. This film doesn't even make it on that aspect. Being extremely generaous by giving it two stars...

The more stars, the worse the picture

Three rules of film:The longer the chase scenes, the more boring the movie.More stars mean fewer ideas.Black helicopters and voice over narration are how studios add drama to movies with no drama.This dreadful movie violates the first two rules. Placing it in the prime spot of the week, Saturday at 8:00 PM, does TCM fans no favors.

One of the worst movies ever made

This has to be one of the worst movies ever made. I was disappointed to see TCM wasting prime time on such a disaster.

Biggest waste of resources in film history

Stanley Kramer wanted this to be the "comedy to end all comedies" and he damned near succeeded. How can you take a collection of the century's greatest comedians, spend many million of dollars, and emerge with this misanthropic mess? If you think watching two people trapped in the basement of a burning building and waiting to be incinerated is funny, then go for it! This didn't end all comedies, but it tried.

Supremely unfunny

This picture is not remotely funny. Sorry to see the great Spencer Tracy mixed up in such a mess.

Funniest movie of the 20th century

Can't stop laughing. Slapstick at its best. Highly recommended

A Good Movie That Hasn't Aged Well

This movie featured an all-star cast of comedians of the period. Classic opening scene with the vaudeville veteran Jimmy Durante, whom I didn't see listed as a cast member, probably be because it's a cameo role. I saw it as a kid in a theatre and thought it was a scream back then. But, I've tried to sit through it on various TV showings and it could definitely benefit from trimming the running time which is long for a comedy. Tracy is at his cagey best as the police detective waiting for the lunatics to lead him to the loot. BTW, the 'Big W' is reportedly a reference to Warner Bros, from whom the producers got the money to finance the film. Word is that the script and casting was shopped around Hollywood and WB greenlighted it.

Mad, etc., World

This is without a doubt one of the funniest movies ever made! Ms. Merman's shrewish portrayal is annoying, just as she's meant to be in her character. Paul Ford's falling out of the air traffic control tower, after portraying a pompous moron in the ATC tower, is wonderful. Overall, excellent comedic performances by all, including small spots like Jack Benny's.Great family fun, and there's not an obscenity in the script, which is a welcome change from today's movie tripe! The stunt work is excellent, too, especially the driving. Pure slapstick all the way! Enjoy!!!

Smiles but no laughs

Fun movie to watch, but the people commenting on how people were laughing there heads off need to be checked out by a professional. A lot of stupid humor if that turns you on.

It's a Mad,Mad,Mad,Mad World

There's something funny in every scene in this mammoth comedy of screwballs trying to find a fortune under a big W buried in a state park. Many comedians of Hollywood were in this one as Jimmy Durante drives off a cliff but tells others about his $350,000 before he dies. They all want they're share. Spencer Tracy as the chief of police is on to all of their moves and he's also there when they get to the money and....he wants it for himself. Directed by Stanley Kramer this comic king explodes on the screen with all of its zaniness and fun. Movies started getting bigger in the 60s and finally a comedy got HUGE. But this one was all put together smartly with effective editing and camerawork and stayed around movie theaters for a long while. Maybe this was America's answer to "Tom Jones" and "Dr.Strangelove" from the British the same year.

2nd funniest movie ever made

What is truly great about this movie are the brilliant one liners, the pitch perfect performances by several of the greatest comedians ever and the wonderful slapstick and stunts. There are some parts not as funny as others( ladder) but gosh you have to rest your belly laughs sometime. A word must be said about Mickey Rooney in this film. He starts out manic at a fever pitch and maintains that intensity the whole movie, even on the ladder he is still gaping with aurdour. He allows the audience to enjoy the whole movie at high intensity too. Dick Shawn is just unspeakable funny. He stole every movie he was in even from the worlds greatest comedians. Terry Thomas - perfection! Winters great, Silvers superlative. The only exception is Merman not a funny person) -should have been played by Lucille Ball. " What happened to you? " Sid Cesear: " We had an accident. We fell into yellow" Now that's genius comedy writing perfectly delivered as a throw away line. Shawn: " you're crowding me baby. get out, " Winters: What's this baby stuff. " lol The movie is full of hilarious stuff like that. Every moment Silvers is on the screen he does something incredible with his expressions. I could watch him for 3 hours playing this character. Same with Dick Shawn .and Jonathan winters delivers a pitched battle as the blue collar guy that we're all rooting for. We want him to get there first , clobber Silvers and get the money. Just great entertainment for any age.

The humor has not aged well

I watched this many times as a theater usher. Watch it for the stars and cameos. There are some very good, funny bits but there is a lot of frantic running around and essentially no character development. It is a road runner cartoon on steroids. Chase, chase, chase and director hoped you wouldn't have time to think about the logic (or lack thereof) - but when it clocks in at 3.25 hours you do have time to think. (Theater manager hated this one. We could only do one showing a night instead of the usual two.)

Kicks the Bucket

its a great movie..good ol Ms. Merman sometimes can get a bit shriekish at times but the movie is wonderful. Great cars the fashion is wonderful..its just mad cap comedy at its best..you really do get caught up in the race to find the W. But the beginning when Jimmy Durante kicks the bucket is fabulous! Drink martinis and enjoy!

Funniest Movie of All Time

Undoubtedly the funniest movie of all time. When I first saw this movie, about 1964, most of the audience in the theater was actually bent over in laughter, wiping their eyes & trying to catch their breath. What makes it so funny? I can relate or know of someone who relates to a character in the movie. A funny, clean movie without sex or bad language - wish their were more like it today! Sorry for those of you who can't relate - you are really missing out!! Try watching it without any commercial interruptions - commercials do interrupt the momentum of the movie.

UGH--No Make That Double Ugh!!

Either I don't have a sense of humor or this film is not funny---I believe that people are taken in when someone deems a picture funny and they believe it even though it is not true. This picture is a perfect example.

It's a mad ,mad ,mad world

This entire picture is a masterpiece!!! It is without a doubt the best comedy ever made!!! It can never be out done !!! Everything about the picture is great!!! The cast couldn't have been better!!! I recommend this movie to anyone who wants to see all of the masters at their best!!!

a masterpiece of comedy

to me, this is perhaps the funniest movie i've ever seen. i saw it in '63 or '64, perhaps at radio city in nyc. i remember everyone laughing hysterically as i was. this is comedy at its best -- clever, clean for the whole family, and a terrific cast. anybody who was anybody in hollywood wanted to be in this movie. when i saw it again a year or two later in brooklyn, everyone was still cracking up, the laughter was contagious. this movie is proof you don't need toilet humor or sexual innuendo to get great yuks in a modern film. even though lots of sight gags, i think one needs to be reasonably intelligent and perceptive to really get all the humor, and occasional seriousness. i have seen this movie about 15--20 times through the ages, i have stopped counting. after 20 times, i admit it's not as funny as it used to be, but i still never miss it, it's a true tour de force for the ages and a great social commentary.

But it's New Years!

This movie (at one time) had become a New years tradition; from original network broadcasts till it moved to TCM. You used to show it on or about New Years, but never see it on the schedule any more. This is an all-time classic; we lost the two remaining stars this past year (Mickey Rooney and Sid Caesar). It's a shame you've broken that tradition.

It's a mad mad mad mad world

One of the best ever comedies. One of my favorite movies. I wish you would show it since Mickey Rooney died.

Good escape

I was ten years old when I saw this movie with my parents in January 1964. I still remember hearing everyone in the theatre laughing loudly. I realize now that this movie may have been good for the soul at that time since America suffered through the tragedy of President Kennedy's assassination in the previous November. We needed something to laugh at and escape to. I realize it's not for everyone, but I loved it. I.A.M.M.M.M.W. played for a long time even into the summer where I lived. I guess a lot people went back to see it. It will always be one of my favorite movie comedies. Teba

A funny movie

I write this review a few minutes after hearing that Sid Caesar has passed away. I came here to see if the movie was scheduled to be shown soon, and unfortunately, it's not. I couldn't leave this site knowing the latest review of this movie was negative.I can understand people not thinking it's funny, since its humor is of a type rarely seen today. And perhaps I'm too ready to laugh at the collection of comedy giants in this film. But, I sincerely believe that this movie will continue to find an audience for decades.

This is supposed to be a comedy? Now THAT'S funny.

Would someone who skews this wretched film in favor of being "good" please list a sampling of which lines are supposed to be funny for the rest of us who find it dull and obnoxious? Seriously, I'm kinda curious. Milton Berle, Phil Silvers, Jonathan Winters ... it's like a who's who of all the most unfunny and pretentious "comedians" ever. I'm surprised Jimmy Durante isn't in this, too. Oh, wait, he is. Just like "Around the World in 80 Days," a boatload of cameos does not automatically a good movie make. I know what humor is and there are many, many classic comedies I enjoy. This "spectacle" isn't even in the same species as comedy. Surely one of the guiltiest grotesque follies ever put to film. To those who like it or have some fond affection for it, that's your preroagative. This is just a warning to those who are thinking about watching it for the first time: it's not a surefire winner, it's not for everybody. Please keep that in mind.

FUNNNNNNY!!!!!!!!!!!!!

Love this show. One of my all time favourites.

Hilarious

I consider this one of the funniest movies ever made, even though I am not, as a rule, terribly fond of slapstick. The acting, plot, dialogue, characters, sight gags, cinematography, and editing are all perfect. It is unfortunate that quite a few people with obviously no sense of humor are able to pan this great film and skew the overall ratings.

mad mad world

a few years ago, a movie called rat race came out .i laughed till it hurt, and it reminded me of a critics( not an exact quote) review of mad mad world i read when it came out. if mad mad world had been pared down to a hand full of great comics instead of wasting such incredable talents on momentary flashes, this would have been a masterpiece.sid ceaser brilliantly funny ethel merman, incredably annoying, a great singer not a great comic, at least not in this one.dick shawn a riot.jack benny, a brief glimpse, a flash of one of the funniest comics that ever lived, then gone. a wasted opportunity so it went, jerry lewis lost in a flash.jonathan winters doing the best he could but out of his element with one gag, anger, no opportunity to break out and ad lib. dont get me wrong i love this movie. so many great talents we, sadly wont see again.i thnk if you want to see what a pared down version might have looked like watch rat race i still love this movie to.

It's A Mad Mad Mad Mad World

This is my all time favorite comedy. I could watch this over and over again. I remember seeing it at the show with my mom, aunt and cousin, I remember the intermission. If I could only watch one more movie before I died it would be this one. I laugh everytime I see it, its perfection!"He went sailing right out there"!!!!! Gets me every time!

Dull!

I wen't to see this film when it first came out, I may have expected to much because of the cast. I do remember that no one in the theater laughing at any time---I kept thinking what a waste of good film and my time. It stinks!

One of my all time favorite comedies

This movie is totally hilarious. There is some violence, Ethel Merman is dangerous with her purse.

It was MAD,MAD,MAD to add the extra footage.

The original 154 min. cut for TV viewing was the definitive version because what was cut out was extraneous and not funny. The added footage is only excessive maudlin verbiage at best and at worst ruins the comedic timing of the bits. Kramer knew what he was doing when he made the 'final' edit for TV.

fun for the whole family

Mad World Classic

1/10/13

This is an all-star comedy cast and it lives up to its' lineup of stars. Everybody who was anybody was in this gem, and no one is funnier than Jonathon Winters. A laugh a minute and a classic for every generation that should not be missed. Even the Three Stooges made a cameo.

like a good wine, it gets better with age

As a youngster, I only saw the trailer of the movie on our black and white tv, but even then it captivated me. When it first was shown on tv, I laughed so hard that my aunt upstairs came down tosee if I had gone mad. A never to be forgotten cast, some of the funniest situations, and a great bunch of stunts, this movie has it all. It is a bit of comedic history, that shows its age, but like ancient brandy, leaves with a warm feeling inside. I loved it 40 years ago, and I love it now.

The best Movie ever

This is my favorite movie. The one liners, sight gags and character development is excellent. Modern audiances want potty humor or violence. This should be viewed as one of those from its period, such as The Russians are Coming, and etc. Terry Thomas's speech about America's obsession is worth watching if nothing else.

It's a Bad, Bad, Bad, Bad Movie

Terrible. Simply terrible. I know there are connoseurs of this brand of low-brow (and I mean scraping-the-ground low) "humor" ... but ... wow this film makes the three stooges look subtle in comparison!! I have a funny bone but jeez it likes to be tickled not smashed at with a sledge hammer! For the insane only. :p

Devoid of all humor.

I'm not going to waste a lot of words explaining why. It should be self-evident to anyone who watches this film (without looking through their rosy spectacles of nostalgia) that this flick is alternately boring and obnoxiously unfunny. To think that the poor director had to endure shortening his work of art from a running time of five hours to three! Oh, the humanity!! Well no sympathy here. There isn't enough worth in this thing to fill its three-minute trailer.

Mad, Slow, Mad, Slow World

I do like this movie, especially at the very end. As a kid, after seeing it at the theater, I was intrigued by all the various ways the men fell off of the hook and ladder, and how they landed. I tried to remember and draw pictures of that. Now when I watch on TV, the first act is slow for me. It just takes the main group - the ones with Smiler - to get going.The airplane episode and the hardware store episode are exhausting, just waiting for them to end.There is only so much of Paul Ford that one can take. I know cameos are cameos, but I wonder how lengthier takes/interactions with some cameo actorswould have added to the film.

Vastly overrated

No real laughs in this violent, misanthropic mess, and no one to root for - every single character is despicable. Couldn't the screenwriters have made one of them just a bit more altruistic (or less greedy and stupid) than the others? I don't understand the popularity of this film at all, except among those who think "Jackass" is funny.

It's a Mad, mad, mad, mad World

The comedy that's equvilant to epics like "Ben-Hur" & "Lawrence of Arabia." Tracy headlines a cast that consist of some of the funniest comedians from all forms of entertainment, the fun lies in spotting these icons throughoutthe film. The Oscar-winning sound effects add to the chaotic, albiet far-fetched scenarios that are presented to us for the audiences amusement. It's not as iconic as other conmedies, but this is a classic that shouldn't be denied viewing. I give it a 4.5/5.

mad mad mad mad mad world...

this is one of the greatest movies of all time bar none!...people who dont like it or criticize it just dont have good taste...not a shot at those people but come on...yes its a lot of cameos but its part of what makes the move...so much history behind the actors and comedians all in one place...its fun just looking for them while watching it...and guess what? not a single cuss word in it...so many comedies today have so many of those words it makes you numb to them and the real comedy slips through the cracks...they couldnt make a movie like this today because of the talent to make such a film is gone forever...its a film anyone can watch! the cars, the people, the locations are all gone save a few...i cant say enough about this movie...i saw it when i was young and i loved it then, my mother is and old movie watcher and i learned to appreciate all the older actors and knew them all wthout the credits...i feel sorry for the people who do not like this film because they are missing something...its not just a movie...its movie history!

Best Comedy of All Time

From start to finish MMMMW will have you in stitches and holding your sides from laughter. The all star cast has the best comedians of the day with Spencer Tracy as the straight man. True, the roles played by Jerry Lewis and the Three Stooges are cameos, but no matter, their appearances just add to the laughter. If you done't believe a movie based on a car chase can be funny, you've never seen MMMMW.Unlike so many movies today, this one can be enjoyed by the entire family with no bleeps, voice-overs, or out-takes. It's proof that good comedy doesn't need to be rated R. If you don't laugh or enjoy this movie (assuming you like comedies) you'd better make an appointment with your psychiatrist because you have no sense of humor. Perhaps it is not "sophisticated" comedy. To that I say, "what the heck, it isn't supposed to be." The whole idea is great, impossible, fun with sight gags, quips, and stunts. If you haven't seen MMMMW, make an effort to check TCM's schedule or buy the disc, you will not be disappointed.

Best all time comedy

The greatest comedy of the 1960's. The only comedian missing of this era was Don Wrinkles. Anyone who can't find the comedy in this movie is severely ill

It's a Mad, etc. World (1963)

I don't know why Spencer Tracy (or Mickey Rooney) signed on for this one. I didn't find anything about this film to be funny. But then I usually don't find slapstick and physical pratfalls - such as the kind you find in Three Stooges or Marx Bros. movies - to be at all humorous. However, if you like 3.25-hour long movies filled with endless car chases and pointless cameos, then this is the movie for you. If you like intelligent, character-driven comedy, then look elsewhere. I will say, though, that in the "long search for money with a big cast" film genre, the 1979 movie "Scavenger Hunt" is much better than "MMMMW" as it has some sophisticated humor mixed in with the stunts, a more talented cast of actors, and (best of all) it is under two hours.

Funniest Ever

The funniest movie I've ever seen, I have never laughed so hard in my life, kinda long but actors like Sid Ceaser and Spencer Tracy, it is worth your time.

A true authentic EPIC comedy

It was in 1963,days after Americans are dealing with the tragic death of President Kennedy;when a comedy came along to ease the pain of saddened nation.IT'S A MAD,MAD,MAD,MAD WORLD was the remedy.The story of a group of people on a wild,no-holds-barred chase for $350,000 improves with age like vintage wine.The cast that's a who's-who of funny people with 2-time Oscar winner Spencer Tracy leading the pack as a straight laced cop and Ethel Merman as the 'Loudmouth' Mother-in-law from hell(her character makes the Peanut's Lucy VanPelt look like a debutante).There were many Knock-off remakes(Examples:Million Dollar Mystery(1987) and Rat Race(2001)).But this is the KNOCKOUT punch.BAR NONE!!!!

A classic comedy in restored HD at last!

I couldn't believe my eyes when I saw IT'S A MAD, MAD, MAD, MAD WORLD on TCM's schedule today and saw it was the newly restored version of this classic looking even better than ever on TCM HD!Everything I said in my previous review about Kramer's madcap, one-of-a-kind treasure holds true, and now the film can be enjoyed in this beautiful, excellently restored version which truly shows off the genius behind its Ultra-Panavision design.Gone are the faded sidebars and format-squeezing distortion at the edges of the frame. The letterboxed 2.35:1 original ratio keeps the images flat and distortion free (except for any curvature appearing in original shots), and very thin vertical borders at either side ensure we're viewing the entire print image now.Better still, this HD-quality restoration maintains constant and rich color saturation which marks a vast improvement over the previous version aired even on TCM. Detail quality is superb given the age of the source negative, allowing the best look ever at Kramer's rollicking road farce.My ears also detect a restored sound mix which fills the surround audio field much more dynamically than before without making a gimmick of the channel separation.In short, IT'S A MAD, MAD, MAD, MAD WORLD has never looked or sounded this good. TCM plans to rerun the film on December 30th, so do not miss it!Only one question remains: when will this new restoration get its long-awaited Blu-ray release, now that it's up for the challenge? Thank you TCM for today's surprise classic film gift just in time for the holidays!

Classic Comedy of a Bygone Era

So much about IT'S A MAD, MAD, MAD, MAD WORLD can never be duplicated, and all attempts to imitate it have fallen harder than a firetruck ladder. Stanley Kramer's 1963 epic stands alone in assembling a stunning cast of comedic legends who literally crowd the Ultra-Panavision widescreen cinematography.The story is ridiculously simple and the plot is hilariously convoluted, but it's the multiple lead performances -- thankfully preserved forever -- that keep fans of this masterpiece coming back for multiple viewings. Spencer Tracy, Sid Caesar, Milton Berle, Edie Adams, Mickey Rooney, Buddy Hackett, Ethel Merman, Jonathan Winters, Terry-Thomas . . . the cast list goes on and on boasting stars across the board. Their on-the-spot embodiments of these broadly typed characters mine the endless wordplay to make this one of the most quotable comedies of all time.Naturally Kramer offers liberal set pieces of outstanding and outrageous physical comedy and death-defying stunts, including one of the longest car chase sequences ever which manages to be both suspenseful and laughable at the same time. The cast backs it up with plenty of their own heightened physical action and expressions scaled-up to fill the big, big, big, big screen.Kudos well-earned for Ernest Laszlo's brilliant, kinetic photography, superb comedic/action editing by Frederic Knudston, Robert C. Jones and Gene Fowler Jr., and a memorable score by Ernest Gold and Mack David.I continue to praise TCM for showing this cinematic treasure unedited and in full widescreen ratio, I dearly wish and hope for a long-overdue restoration of the film for the high-definition era. TCM's print shows significant color fading of image in many scenes. It desperately needs a new transfer for the HD era worthy of its historical value and legacy.Still, IT'S A MAD, MAD, MAD, MAD WORLD remains a most enjoyable race to comedic nirvana whether you're watching for the first time or the fiftieth.

The Most Outrageous Physical Comedy of them All.

Director Stanley Kramer assembles an all-star cast of slapstick comedy performers led by Spencer Tracy and turns them loose on a mad treasure hunt to find a satchel of stolen bank money. The cast reads like a list of Who's Who? including Milton Berle, Edie Adams, Carl Reiner, Ethel Merman, Jimmy Durante, Dorothy Provine, Jack Benny, ZaSu Pitts, Mickey Rooney, Buddy Hackett and the Three Stooges. The movie won an Academy Award for Best Sound Effects. This one is a real side-splitter. Also starring Buster Keaton, Madlyn Rhue, Phil Silvers, Jerry Lewis, Jonathan Winters, Jim Backus, Arnold Stang, Peter Falk, William Demarest, Eddie "Rochester" Anderson, Sid Caesar, Don Knotts, Norman Fell, Jesse White, Dick Shawn, Andy Devine & Terry-Thomas.

Too many cooks spoil the pot

This movie is really a grab bag of cameos, thrown together in haphazard fashion and called a movie. It is absolutely dreadful. Why? The performers all compete with one another to steal each scene. As a result, this film serves up more ham than a NYC deli. It is more so a caricature of a comedy than an actual comedic effort, and the only laughs come straight from a can. There is nothing fresh or original here.

Stan Kramer does an ode to greed and slapstick!

This movie pays homage to slapstick comedies of the pastand gives a lession in the evils of greed.As a group of foolishpeople,try to find the hidden loot of a dying crook. The film doesn't have much of a plot..but is does featureappearances from the movies most beloved comedy and character performers and alot of chases and pratfalls,a greatscore and a memorable theme song.

WOW...Thanks indeed TCM!!!

Love,love,love,love this movie but the current DVD's on the market are terrible. Thank you so much TCM for showing the 192 minute version-heres hoping it hits DVD soon!

Original Version

Thank you TCM for showing the original edit. The DVD version is about 10 minutes shorter!! Word on the street is that MGM is finally going to do a special 2 disc edition for the fall of 2009. Love TCM!!!

It's A Mad Mad Mad World

My wife & I watched the movie last night, we both loved watching it because we haven't seen it in years.It's a great movie & love watching good old movies like this one.We love watching great old movies like this one. Thanks Rick

One Of The Best Comedies Ever

It's a who's who of comedy from Hollywood's classic era.I watch "Mad World" every time it's on TCM, and no matter how down I'm feeling it makes me laugh and forget my troubles.Considering the time at which it was made, the tremendously talented cast and the wild stunts involving cars and planes, I seriously doubt that it could be made today.This film was a great departure for dirctor Stanley kramer, considering his previous dramas such as "Inherit The Wind" and "Judgement At Nuremberg".I have seen almost all of his films, and he proved he could do comedy also, and I think he is a much underrated director.I would recommend "Mad World" to anyone who needs a break from reality and is looking to for a lot of laughs.

Mad World will always make you laugh.

Just like everyone else I have seen this film a dozen times or more and find something new to laugh about each time. You will never see an assemblance of the top comedians of the time again. Each comic is a legend in his or her own right. I would have loved to be on the set(s) when this was being filmed. How Stanley Kramer did it is something to be analyzed for future generations. This was another time that we will not see the likes of again.

One of the funniest films ever.

I have seen this film many times and never fail to get a bundle of laughs every time.Every comedian is trying to outdo the other one, but if I had to pick the best of them in this film it would have to be Jonathan Winters by a narrow margin over Phil Silvers.Stanley ramer is a genius.

It's A Mad Mad Mad Mad World

America should look back on its arts in America and rember its Deans. Hollywood is a dried up prune of its old self. Few of the real showman are still triing. clint eastwood, and other "Old School" actors.

Lots of Laughs!

Bob Galvin-Oliphant

2/23/06

An epic Stanley Kramer comedic romp. What an amazing all-star cast, led by Spencer Tracy! Also there are many cameo appearances by such people as Jack Benny, ZaSu Pitts, Jerry Lewis, Buster Keaton, and The Three Stooges. Lots of laughs, and great, fun closing scenes.
*We protect your personal infortmation and will not provide it to anyone without your consent. For a complete explanation, please refer to TCM's Privacy Policy. By submitting your contribution, you agree to TCM's Terms of Use.