DVDs from TCM Shop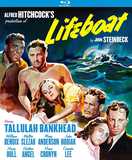 Lifeboat Survivors of a torpedoed boat take in a German Naval officer... MORE&nbsp> $22.46 Regularly $29.95 Buy Now
Articles
SEE ALL ARTICLES
Lifeboat (1944)
SYNOPSIS

A group of mismatched passengers -- a glamorous newswoman, a millionaire industrialist, a ship's stoker, a nurse and a fiery, liberal seaman among them -- huddle in a lifeboat after their ship is sunk by the Nazis during World War II. Their desperate plight gets tenser when the German captain who torpedoed them swims up to the fragile craft. As his leadership abilities and navigational skills come to the fore, the little boat becomes a microcosm for the war taking place in the outside world, particularly when the German starts trying to commandeer the lifeboat and its passengers for the Third Reich.

CAST AND CREW

Director: Alfred Hitchcock
Producer: Alfred Hitchcock, Kenneth Macgowan
Screenplay: Jo Swerling
From a story by John Steinbeck
Cinematography: Glen MacWilliams
Editing: Dorothy Spencer
Art Direction: James Basevi, Maurice Ransford
Music: Hugo Friedhofer
Cast: Tallulah Bankhead (Constance 'Connie' Porter), William Bendix (Gus Smith), Walter Slezak (Willy), Mary Anderson (Alice MacKenzie), John Hodiak (John Kovac), Henry Hull (Charles S. Rittenhouse), Heather Angel (Mrs. Higgins), Hume Cronyn (Stanley 'Sparks' Garrett), Canada Lee (George 'Joe' Spencer)
BW -97 m.

OVERVIEW

Lifeboat was the first film in which Alfred Hitchcock explored his fascination with filming in a confined setting. As in his later Rope (1948) and Rear Window (1954), he would limit his action to a single set, though neither of those later pictures had as confining a setting as Lifeboat. His solution of the shooting problems this posed was a technical marvel that would influence his use of similar confined spaces for scenes in such later classics as Psycho (1960) and The Birds (1963).

The film presents a microcosmic look at global attitudes toward the war, providing a clearer reflection of divergent thinking at the time than most Hollywood films. As such, it provides very cogent criticism of how everyone from the wealthy to the working classes stood by and allowed the Nazis to take over Germany and almost conquer the world. It also suggests the only way the free nations could defeat the Axis is to forget their differences and work together.

At Hitchcock's insistence, Lifeboat was one of the few Hollywood films of the '40s released with no musical soundtrack apart from music over the titles. He wanted to intensify the sense of isolation on the boat by having nothing interfere with the sounds of waves and wind. The result is an almost hallucinatory picture that, despite its strong political basis, often seems timeless.

After years of failed films in Hollywood, Tallulah Bankhead returned to screen stardom after 11 years for her one true hit and the only film to truly capture the magic she created on stage. The role of fashion reporter Connie Porter gave her a chance to start out glamorous, with a mink coat and diamond bracelet, and flash her wit in a series of putdowns of her fellow passengers. Then as the lifeboat was struck by storms and internal disputes, she broke down the glamorous façade in a truly riveting performance.
back to top
---
Lifeboat (1944)
With her success in Lifeboat, Tallulah Bankhead's film career briefly recovered after an 11-year drought. 20th Century-Fox offered her the role of Catherine the Great in A Royal Scandal (1945), originally planned for Ernst Lubitsch. When he became too sick to do more than produce, it was taken over by Bankhead's friend, Otto Preminger. Unfortunately, the film was not as successful as Lifeboat, finally laying to rest Bankhead's dreams of film stardom.

Playwright Sidney Easton sued 20th Century-Fox in 1945 claiming the film had plagiarized his play Life Boat No. 13. He claimed the script had been given to John Steinbeck, who then used the plot and characters in his own novella. During court proceedings, Steinbeck denied ever having seen Easton's script. In addition, screenwriter Jo Swerling stated that he had only read Steinbeck's novella once before writing the screenplay on his own, and studio records documented director Alfred Hitchcock's extensive use of interviews with wartime shipwreck survivors to develop material for the script. Easton finally dropped his suit in return for a one-time payment of $9,000.

Hitchcock directed Bankhead in a one-hour radio version of the film for Screen Director's Playhouse in 1950.

The final shots of the S.S. Claridon sinking inThe Last Voyage (1960) are so similar to the ship sinking at the opening of Lifeboat some critics have suggested the studio simply colorized Hitchcock's original footage.

In 1993, Lifepod translated the film's action into science fiction, with eight passengers surviving the destruction of a space ship. Robert Loggia, Ron Silver (who also directed) and CCH Pounder head the cast.


back to top
---
Lifeboat (1944)
Lifeboat was the first original fiction film written directly for the screen by John Steinbeck. His only previous screenwriting credit was for the 1941 documentary The Forgotten Village.

The stormy seas through which the lifeboat sails are stock footage taken off the Florida coast.

With the constant rocking of the boat during filming, most of the cast needed pills to combat seasickness.

The wardrobe department prepared six versions of each costume so that at least one would always be dry when a scene had to be re-shot. Unfortunately, that didn't always work, so at times the actors had to stand in front of the most powerful stage lights trying to dry their costumes before the next shot.

With the action confined to a lifeboat and only the relatively small cast of nine on camera, inserting Hitchcock's customary cameo appearance was a challenge. Since he had recently lost weight, he used full-figured and slimmer shots of himself to create a before and after weight-loss ad in a newspaper William Bendix reads. After the film came out, Hitchcock was deluged with letters from people trying to find Reduco, the product advertised.

When Tallulah Bankhead patiently shot a scene in which she was doused with 5,400 gallons of water, the crew burst into spontaneous applause.

Bankhead was so vehemently anti-German she would only learn her German lines, spoken to the submarine captain played by Walter Slezak, phonetically. She had hired Paula Strasberg, wife of director-actor Lee Strasberg, to travel as her companion/secretary, and Mrs. Strasberg drilled her on the lines until she got the inflections perfectly.

Hitchcock socialized with Bankhead off-screen during filming. She took him to several art galleries and got him started collecting modern art.

On the last day of shooting, Hitchcock presented Bankhead with a Sealyham puppy in appreciation for her professionalism. The puppy was named Hitchcock.


back to top
---
Lifeboat (1944)
Lifeboat was born when the Maritime Commission asked 20th Century-Fox head Darryl F. Zanuck to make a film about the menace posed by German U-boats in the North Atlantic shipping lanes.

At the same time, Zanuck had signed a deal with independent producer David O. Selznick to have Alfred Hitchcock direct two films for the studio during a 40 week period. The director had long dreamed of facing the technical challenges of filming in a single, small setting, at one point considering a film set in a telephone booth. When asked what he wanted to work on, his first suggestion was something set in a confined space, which made Lifeboat a natural choice for him.

Zanuck paid Selznick $300,000 for Hitchcock's services, of which the director got less than half. His extensive loan-outs, with Selznick making a considerable profit off his services, would be a sticking point with Hitchcock and Selznick and lead to the director's moving into independent production when his contract ended.

Hitchcock's first choice to write the story was Ernest Hemingway, but the writer was already obligated to other films.

Hitchcock went through several writers to get the screenplay he wanted. The first, novelist John Steinbeck, felt constricted by the director's demands that the entire film take place in the lifeboat. He turned in a novella based on interviews with seamen who survived submarine attacks and told from the viewpoint of a sailor with leftist leanings. Hitchcock felt the story unusable, so he hired Harry Sylvester to work with Steinbeck on a scenario that would eventually be published in Collier's magazine (November 13, 1943). At that point, Steinbeck left for Europe to cover the war as a correspondent. Hitchcock would later write "Lifeboat was a group story lasting several days and within the narrative [were] a number of sequences. These were well written but I found they were 'no scene' scenes. By this I mean that the little sequence might have a narrative value but in itself is undramatic. It very obviously lacks shape and doesn't have a climax as a scene on the stage might." (Alfred Hitchcock, quoted in Bill Krohn, Hitchcock at Work) Hitchcock then brought in first MacKinlay Kantor and two weeks later Jo Swerling. When he still couldn't get the script he wanted, he rewrote all of the dialogue himself, then hired Ben Hecht, who had also done a final polish on his Foreign Correspondent (1940), to do revisions. Other writers mentioned in Fox's files include Hitchcock's wife, Alma Reville, actress Patricia Collinge, Albert Mannheimer and Marian Spitzer. Swerling was the only writer credited with the screenplay, with Steinbeck credited with the original story.

The first actor cast in the film was stage star Canada Lee, cast as the black steward Joe. Fox borrowed Hume Cronyn and John Hodiak from MGM and cast their own contract player Mary Anderson, whom they were hoping to develop as a leading lady.

Having failed in her first attempt at film stardom in the early 1930s, Tallulah Bankhead was eager to accept the leading role in a Hitchcock film. She even accepted the relatively low fee of $75,000 for her work, even though she was coming off two big stage hits, The Little Foxes and The Skin of Our Teeth. Her only stipulation was that she never say "Darling," for fear audiences would think she was playing herself. It was her first starring role in a film in 11 years.

Contrary to myth, Hitchcock did not storyboard every one of his films from beginning to end. Many of his most famous storyboards were actually created after the fact for publicity purposes, which helped give rise to the legend. For Lifeboat, however, he did some of his most extensive storyboarding, a necessity when working within the confined space in which the film was set. The director frequently departed from his storyboards for the film to meet specific demands of day-to-day shooting.


back to top
---
Lifeboat (1944)
Alfred Hitchcock insisted on shooting the film in sequence, which meant most of the actors had to be paid for the entire shoot. When studio head Darryl F. Zanuck objected, the director insisted this was necessary to shape the unconventional narrative.

William Bendix joined the cast a few days into shooting when the original actor cast as Gus, Murray Alper, fell sick. Two weeks into shooting, cinematographer Arthur C. Miller also grew too ill to continue. He was replaced by Glen MacWilliams.

Zanuck's major concern about the film was length. Before production began and during its earliest days, he badgered Hitchcock to cut the film, insisting that he had had the script timed and felt that without cuts it would come in at almost three hours. Hitchcock insisted that whoever was timing the script was wrong and possibly sabotaging the production. He claimed the film would come it at about 90 minutes (it actually ran 97). Since Hitchcock was shooting in sequence, it was fairly easy to cut the film as they went along. As soon as Zanuck saw the first complete reel, he was satisfied and trusted Hitchcock.

To get all the camera angles he needed, Hitchcock actually used four boats for the film. Two were the complete lifeboat. The other two were cut in half, one lengthwise fore to aft and the other from port to starboard.

The film was shot entirely at the studio, with lifeboats set up in two places. One was the studio tank, in which the boat was held in place by a system of underwater wires. There were water chutes on all four sides of the tank, each fed by a tank containing 4,000 gallons of water. For some scenes, however, there was a lifeboat suspended above rollers that duplicated the boat's movements on the waves.

Leading lady Tallulah Bankhead created a stir in Hollywood by refusing to wear underwear, a fact that was readily apparent whenever she hiked her skirts to climb into the lifeboat set. When a female journalist visiting the set complained, Zanuck sent orders that somebody tell her to dress properly. The problem was, nobody wanted to tell the temperamental star to do so. When the unit manager asked Hitchcock for advice, he responded dryly, "I've always tried to be very careful of getting involved in departmental disputes. And in a case like this it's hard to decide where the responsibility lies. You might consider this a matter for the wardrobe department, or perhaps for the makeup people -- or perhaps it's even for hairdressing!" (Hitchcock, quoted in Hume Cronyn, A Terrible Liar: A Memoir) In the end, Zanuck simply ordered the set closed.

To allow for quick changes in composition that would keep the picture visually exciting, Hitchcock kept a clipboard with a legal pad hanging from the camera dolly. Whenever he felt the need for a new composition, he would grab the clipboard, sketch out the image in a square approximating the film frame and hand it to the cameraman.

With so much of the film shot in the studio tank, Hitchcock had a lifeguard stationed out of camera range in case of emergencies. He came in handy when Hume Cronyn fell off the boat and got caught underneath one of the water agitators. The lifeguard saved him from drowning.

That wasn't the only mishap for Cronyn. During the storm at sea, he was supposed to be washed overboard by one wave and washed back on by another. They attempted to use a stunt double, but that wouldn't give Hitchcock the shot he needed. After the crew rehearsed the stunt with the double, Cronyn was wired into a harness that would allow them to pull him off the boat and back on. But since the stunt had been set up for a heavier man, it didn't work quite right. Cronyn was pulled back into the boat so violently he broke two ribs and had to get through the rest of the shoot with them taped up.

The rigors of production took their toll on the entire cast. They were regularly doused with water, shivering in wet costumes and then sweltering under the hot stage lights. By November, Tallulah Bankhead had contracted pneumonia, which shut down production. After three days off, she returned to the set, only to suffer a relapse. With only one shot remaining in the film, she convinced her doctor to send her back to the set immediately.

Bankhead was noted for her fierce political positions, including a vehement hatred of the Axis powers during World War II. Although co-star Walter Slezak was an outspoken critic of the German government, his Austrian background and the Nazi character he played in the film put him firmly in Bankhead's sites, and she insulted him constantly. When Italy surrendered during filming and Slezak expressed the hope that this would bring the war to an early end, Bankhead spat out "I hope they spill every drop of German blood there is. I hate them all! And I HATE YOU!" All he could say was "I'm sorry about that, Tallulah." (Bankhead and Slezak, quoted in Cronyn)

Production finished on November 17, 1943. The final budget was a little over $1.5 million. Hitchcock had spent so much time in story development and production that he never made the second film for which Zanuck had contracted him. Some biographers have suggested he deliberately dragged his feet working on Lifeboat since he made the same weekly salary whether he directed one film for them or two.

When Lifeboat premiered it triggered a major controversy over the depiction of Slezak's German submarine captain as more capable than any of the American characters in the lifeboat. Newspaper columnist Dorothy Thompson famously gave the film "ten days to get out of town" (Dorothy Thompson, quoted in Donald Spoto, The Dark Side of Genius: The Life of Alfred Hitchcock), while New York Times critic Bosley Crowther said that with very little cutting the film could be turned into a piece of Nazi propaganda. The Writers War Board called it "a credo of German super-intelligence and of the degeneracy of the democratic peoples." (Writers War Board, quoted in Joel Loebenthal, Tallulah!: The Life and Times of a Leading Lady) When he read the comments, John Steinbeck was so upset he wired Zanuck demanding his name be removed from the credits.

Although the film did good business in New York and other big cities, it failed to attract audiences in smaller theatres and rural areas. As a result, it was a rare Hitchcock film that actually lost money at the box office.

The film placed tenth on the National Board of Review's annual ten-best list.

Tallulah Bankhead was named Best Actress by the New York Film Critics.

Lifeboat was nominated for three Academy Awards: Best Director, Best Original Story and Best Cinematography.


back to top
---
Lifeboat (1944)
"The characters are reasonably free of clichéd personalities, so what happens between them is rarely predictable, and there are enough crises and tensions within the 96-minute running time to hold a viewer fully attentive." -- Douglas Pratt, The Hollywood Reporter

"Conceded that Mr. Hitchcock and Mr. Steinbeck -- plus Jo Swerling, who rigged the script -- have turned out a consistently exciting and technically brilliant drama of the sea....Conceded that all of the performances are extraordinarily fine, especially Tallulah Bankhead's shrewd and brittle playing of the parasite and William Bendix's tough-grained, heart-breaking job as the wounded man. There remains the alarming implication, throughout all the action of this film, that the most efficient and resourceful man in this Lifeboat is the Nazi, the man with 'a plan.' Nor is he an altogether repulsive or invidious type. As Walter Slezak plays him, he is tricky and sometimes brutal, yes, but he is practical, ingenious and basically courageous in his lonely resolve. Some of his careful depictions would be regarded as smart and heroic if they came from an American in the same spot." -- Bosley Crowther, The New York Times

"As allegory, the film is nicely knit, extensively shaded and detailed, and often fascinating. But the allegory itself is always too carefully slide-ruled. None of it gives off the crazy, more than ambiguous, nascent-oxygen quality of first-rate allegories....The handling of the cinematic problems is extremely astute, in spite of a smell of studio about most of it. But since too little was ventured of what followed as a logical obligation, out of the root of the idea, it remains an interesting, disappointing demonstration of possibilities at a second or third remove." -- James Agee, The Nation

"The movie starts off in an uncomfortably didactic fashion (John Steinbeck did the original story, and his heavy hand can sometimes be felt), but Lifeboat is actually much more complicated than it first appears. Its emphasis on moral debates in dialogue can seem a little dry, but Hitchcock's shifting sympathies guarantee our guilty involvement with the characters until he builds to a climax of intellectual and spiritual excitation." -- Dan Callahan,


back to top
---