DVDs from TCM Shop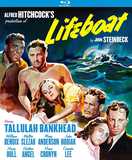 Lifeboat Survivors of a torpedoed boat take in a German Naval officer... MORE&nbsp> $22.46 Regularly $29.95 Buy Now
NOTES
The film's opening title card reads: "Twentieth Century-Fox Presents Alfred Hitchcock's Production of Lifeboat By John Steinbeck." According to a November 16, 1942 Hollywood Reporter news item, Twentieth Century-Fox obtained Hitchcock's directorial services in a deal whereby the studio purchased from David O. Selznick the rights to three story properties and the services of several actors and technicians. The news item stated that Hitchcock would direct two films for Twentieth Century-Fox; however, he did not direct a second film for the studio. [Modern sources assert that the contract remained unfulfilled because of the studio's dissatisfaction with the length of production on Lifeboat. For more information on the Selznick sale to Twentieth Century-Fox, see the entry above for Claudia.] A December 28, 1942 Hollywood Reporter news item announced that Hitchcock's first film for his new studio would be based on an original idea by himself, and would star an all-male cast. Information in the Twentieth Century-Fox Produced Scripts Collection and the Records of the Legal Department, both contained at the UCLA Arts-Special Collections Library, confirms that the original idea for the film was Hitchcock's. The collections further reveal that Hitchcock first considered asking A. J. Cronin or James Hilton to write the screenplay, but no evidence was found confirming an offer to either author. The studio records contain a December 30, 1942 telegram from Hitchcock to Ernest Hemingway, requesting his assistance in preparing the screenplay. Hemingway declined, citing pressures from his own work, after which Hitchcock turned to Steinbeck.
Lifeboat marked the first time that Steinbeck wrote a fictional story directly for the screen. [His first screenplay was for The Forgotten Village, a 1941 documentary.] Hollywood Reporter news items indicate that Steinbeck originally intended to publish his story as a novel, to which the studio would then purchase the screen rights. Steinbeck's screen story was never published, however, and the studio paid him $50,000 for his novella, according to studio records. According to a May 13, 1943 memo from producer Kenneth Macgowan to Hitchcock, contained in the legal files, Steinbeck's literary agent, Annie Laurie Williams, and Pat Covici "felt that Lifeboat was very inferior Steinbeck, however good it might be for pictures, and they decided it would be a great mistake for him to publish at this time another 'little' book, and one rather inferior." A condensation of the story appeared in Collier's (13 November 1943) with the credits "By Alfred Hitchcock and Harry Sylvester. Based on an original screen story by John Steinbeck for 20th Century-Fox." According to the legal records, Hitchcock declined an onscreen credit for his contribution to the film's screenplay, although Steinbeck's contract with the studio stipulated that Hitchcock would receive the credit "based on a story idea by Alfred Hitchcock."
A comparison of Steinbeck's novella and later drafts of the screenplay, included in the scripts collection, reveals that much of Steinbeck's work was altered by subsequent writers or by Hitchcock. For example, in Steinbeck's story, the German character is a physically weak man with a broken arm, whom "Joe" attempts to save after the others push him overboard. According to the studio records, Alma Reville [Mrs. Hitchcock], MacKinlay Kantor, Patricia Collinge, Albert Mannheimer and Marian Spitzer worked on drafts of the screenplay, but the extent of their contribution to the completed picture has not been determined. A January 27, 1943 studio press release indicated that Macgowan would write the screenplay version of Steinbeck's book. According to a February 1, 1943 Hollywood Reporter news item, during the writing of the story, Hitchcock and Steinbeck conferred with "the Maritime Commission, which is interested in the picture as a morale builder."
According to an February 18, 1943 Hollywood Reporter news item, Hitchcock was planning to shoot the picture in Technicolor and use only eight male characters. A April 29, 1943 Hollywood Reporter news item stated that, "following his usual procedure," Hitchcock would try to "cast as many unfamiliar faces as expedient" in the film and planned to "use unknowns for all principal roles." Stage actor Canada Lee was the first actor cast, according to a June 22, 1943 Hollywood Reporter news item. Tallulah Bankhead, who was paid $75,000 for her performance according to modern sources, had not made a film since the 1932 M-G-M production Faithless (see AFI Catalog of Feature Films, 1931-40; F3.1265). except for a cameo appearance in Stage Door Canteen (see below). Hollywood Reporter news items indicate that Hitchcock tested Barbara Booth, Ron Randell and Eve March for parts in the film and note that William Bendix replaced Murray Alper in the role of "Gus Smith" when Alper fell ill after the start of filming. A 28 July 43 Hollywood Reporter news item noted that it was crucial for all of the actors to be cast before filming began because Hitchcock intended to shoot in sequence. A October 15, 1943 Hollywood Reporter news item stated that Patricia Knox was to be included in the cast as a "vision" seen by William Bendix, but Knox does not appear in the completed film.
An May 18, 1943 Hollywood Reporter news item noted that during pre-production, Hitchcock and Macgowan used a miniature lifeboat and model figures to plan camera angles, as well as "official British lifeboat manuals" for authenticity in the script. According to a August 13, 1943 Hollywood Reporter news item, four lifeboats were used during the production: one for rehearsals, one for close-ups, another for long shots and the last was kept floating on the "studio lake," or tank. Hollywood Reporter news items note that background shots, supplied by a camera crew led by James Havens, were taken near Miami, the Florida Keys and San Miguel Island, CA. According to a studio press release, director of photography Glen MacWilliams replaced Arthur Miller after the first two weeks of filming when Miller became ill. The strenuous production, which often resulted in the actors being soaked with water and oil, led to two cases of pneumonia for Bankhead, a serious illness for actress Mary Anderson and two cracked ribs for actor Hume Cronyn, according to his autobiography. Filming was suspended for several days due to Bankhead and Anderson's illnesses, according to November 1943 Hollywood Reporter news items.
Hitchcock made his trademark appearance in the film in a newspaper advertisement for a fictional diet aid called "Reduco." The ad features "before and after" photographs of Hitchcock, who had recently gone on a rigorous diet. In the December 2, 1950 issue of The Saturday Evening Post, Hitchcock stated that the ad in Lifeboat was his favorite "role," and that he had had "an awful time thinking it up." He also commented that, after the film's release, he was besieged by letters from fans requesting information about "Reduco." Some modern sources erroneously state that Hitchcock appeared in the film as a dead body floating in the water. Although Heather Angel's character is often referred to as "Mrs. Higgins" by contemporary and modern sources, she is called "Mrs. Higley" in the film.
Lifeboat generated much controversy upon its release, as some critics were angered by the character of "Willi." Political columnist Dorothy Thompson and film critic Bosley Crowther were among the influential writers who accused Steinbeck and Hitchcock of glorifying the German character while presenting the "Allied" characters as negative. The irate Thompson gave the film "ten days to get out of town," while Crowther professed to having a "sneaking suspicion that the Nazis, with some cutting here and there, could turn Lifeboat into a whiplash against the 'decadent democracies.' And it is questionable whether such a picture, with such a theme, is judicious at this time." The criticism led Steinbeck, who had previously been accused of being pro-Nazi with reference to his German characters in the novel and film The Moon Is Down (see below), to disassociate himself from Lifeboat. Life magazine noted that Steinbeck "disclaimed any responsibility for Director Hitchcock's and Scenarist Jo Swerling's treatment of his material." Upon learning of Steinbeck's discontent with the film, Crowther wrote an article for the New York Times detailing the differences between Steinbeck's original story and the film, and stating that Hitchcock and Macgowan had "pre-empted" Steinbeck's "creative authority." In a telegram to Annie Laurie Williams, reprinted in a modern source, Steinbeck requested that she tell Twentieth Century-Fox to remove his name "from any connection with any showing of this film." Some critics also complained about the portrayal of "Joe," who they felt was too stereotyped. In a December 26, 1943 New York Herald Tribune interview, actor Lee stated that he had tried to "revise the part" by cutting out some dialogue and action that he found to be demeaning. On March 15, 1945, in a deposition given for a pending lawsuit concerning the film (described below), Lee voiced his disappointment over the released picture. Lee stated that he had thought the character of Joe would be "a variation from any other Negro that was ever on the screen," but instead the filmmakers "stunk it up somehow or other, and it turned out to be the same old stereotyped Negro."
Hitchcock, Macgowan and Bankhead all defended the picture in print. Hitchcock maintained that he had intended the film to show how the Allies must stop bickering amongst themselves and unite in order to win the war. In a March 19, 1944 Los Angeles Times article, Hitchcock defended his protrayal of "Willi" by stating, "I always respect my villain, build[ing] him into a redoubtable character that will make my hero or thesis more admirable in defeating him or it." Bankhead supported Hitchcock in a February 6, 1944 New York Herald Tribune interview, in which she declared that "Hitchcock's a genius, a real genius. He wanted to teach an important lesson. He wanted to say that you can't trust the enemy....in Lifeboat you see clearly that you can't trust a Nazi, no matter how nice he seems to be." In a letter to the screen editors of the New York Times, Macgowan noted that the chief objective of the filmmakers had been to shape "a film with as much excitement and reality as we could summon under challenging technical limitations."
Lifeboat, a box-office failure, was the last film produced by Macgowan for Twentieth Century-Fox. The film did receive much critical praise, with some critics asserting that it was a powerful piece of propaganda, capable of demonstrating that the united Allies could defeat Germany. The acting was lauded, as was Hitchcock's direction, which was challenged by the limiting set. The absence of background music was also noted and praised. [Although there is music during the picture's opening, it ends when the dramatic action begins.] Bankhead was chosen as the best actress of the year by the New York Film Critics, and Film Daily and the National Board of Review named the picture as one of the ten best films of the year. Steinbeck received an Academy Award nomination for Best Original Story, and Glen MacWilliams received a nomination for Best Black And White Cinematography. Hitchcock was awarded his second Academy Award nomination for Best Director.
In January 1945, playwright Sidney Easton filed suit against Twentieth Century-Fox, claiming that the studio had plagiarized his unpublished play, Life Boat No. 13. The studio legal records contain a great deal of information about the suit, in which Easton alleged that he had given a copy of his play to actor Leigh Whipper, who in turn gave it to Steinbeck and the studio. Easton alleged that Steinbeck and the studio then stole his storyline and characters. Reports detailing the studio's internal investigation of the claim reveal that Hitchcock consulted many factual accounts of shipwreck survivors during the film's pre-production. Whipper denied having received the play from Easton, and both he and Steinbeck asserted that they had never met. In his deposition for the lawsuit, screenwriter Jo Swerling said, "After the first reading that I gave to the Steinbeck story, I never again referred to it, nor did anybody else working on the picture. We just didn't use it." On October 31, 1947, Easton agreed to drop his claim against the studio, in exchange for which he received nine thousand dollars.
On November 16, 1950, an hour-long version of Lifeboat was broadcast by NBC on the Screen Director's Playhouse radio show. The broadcast was directed by and featured Hitchcock, with Bankhead reprising her role as "Constance Porter." Other cast members included Jeff Chandler and Sheldon Leonard. In 1993, the Fox television network broadcast a remake of the film entitled Lifepod. Directed by and co-starring Ron Silver, the remake starred Robert Loggia and CCH Pounder, and was set aboard a lifepod that escapes from an exploding rocket in the year 2169.