DVDs from TCM Shop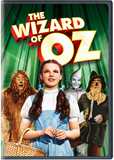 The Wizard of Oz A Kansas farm girl dreams... MORE&nbsp> $11.21 Regularly $14.98 Buy Now blu-ray
NOTES
The following dedication appears in the opening credits: "For nearly forty years this story has given faithful service to the Young in Heart; and Time has been powerless to put its kindly philosophy out of fashion. To those of you who have been faithful to it in return ... and to the Young in Heart ... we dedicate this picture." The Wizard of Oz is perhaps the most famous and best loved fantasy film ever made. It was based on one of the most popular children's book ever written, The Wonderful Wizard of Oz, which, Life noted in an article about the film, differed from most other such "fables" in that it contained "1) a modern U.S. heroine and 2) absence of any really horrifying ogres, monstrosities or bewitchments." The novel sold over a million copies, and many other "Oz" books followed. Prior to this film, a number of other films and plays based on The Wonderful Wizard of Oz or other "Oz" books had been produced (see end of note for detailed listings). [Much modern source material has been written about the production of this film, including at least four English-language books (see Bibliography for more information). Unless otherwise noted, the following information was gathered from modern sources.]
Hollywood Reporter news items from September and October 1933 relate that after the success of Paramount's Alice in Wonderland, M-G-M became interested in producing a film based on The Wonderful Wizard of Oz and was considering it as a starring vehicle for Stan Laurel and Oliver Hardy. However, by the end of September 1933, Samuel Goldwyn purchased the screen and book rights for $40,000 as a vehicle for Eddie Cantor. Los Angeles Examiner on September 27, 1933 reported that W. C. Fields was being considered for the role of "The Wizard," and that Helen Hayes or Mary Pickford would play "Dorothy." In June 1934, Hollywood Reporter reported that Goldwyn had dropped plans to produce the film in that year's schedule. The news item noted that Cantor refused to consider it, stating that the story was not "his type."
No reports of further interest in a film version of the book have been located in the trade press until February 17, 1938, when Daily Variety reported, "Due probably to the success of Snow White and the Seven Dwarfs [which opened in December 1937], The Wizard of Oz has suddenly become a hot story property for which Samuel Goldwyn is reported to have received bids from five major companies within the past three days." A February 19, 1938 New York Times news item noted that Twentieth Century-Fox wanted to acquire the screen rights to the book to use it for a Shirley Temple film.
Modern sources state that in the fall of 1937, prior to the premiere of Snow White and the Seven Dwarfs, M-G-M had become interested in buying the property. While some modern sources state that producer Mervyn LeRoy broached the idea to studio head Louis B. Mayer, others contend that it was songwriter and soon-to-be producer Arthur Freed who convinced Mayer to purchase the book. The film became LeRoy's first production following his move from Warner Bros. to M-G-M. While LeRoy did not officially begin at M-G-M until February 1938, modern sources state that he had discussed making The Wizard of Oz with Mayer earlier. Other modern sources state similarly that although Freed did not become LeRoy's assistant on the film until February 1938, as reported in Daily Variety, he spoke with Mayer about filming The Wizard of Oz in the fall of 1937. A prospective cast list for the film dated January 31, 1938 in the Arthur Freed Collection at the USC Cinema-Television Library attests to the fact that Freed and M-G-M were seriously considering the project at that time. Daily Variety, in reporting on February 24, 1938 that M-G-M had acquired the property, stated that Judy Garland would play the role of "Dorothy," and that Mervyn LeRoy would produce. Modern sources state that Mayer refused LeRoy's request to direct in addition to producing.
A number of uncredited writers worked on the project in addition to Noel Langley, Florence Ryerson and Edgar Allan Woolf, who received screen credit. It appears that Irv Brecher and Herman Mankiewicz were the first writers involved, as their names are listed in notes to a meeting dated February 23, 1938 in the Freed Collection. A studio assignment sheet indicates that Mankiewicz began working on the film on February 28, 1938. (Two days earlier, LeRoy's assistant, William Cannon, had submitted a short outline, which was not used.) Brecher began in the first week in March. Although modern sources state that Brecher was pulled off the project almost immediately, a Hollywood Reporter news item dated May 11, 1938 reports that at that time, Robert Pirosh and George Seaton were collaborating with Brecher on the script. In March 1938, Mankiewicz, Nash and Langley were all developing the story; however, none of them knew that anyone else was also working on the script. Other writers during the early stages of development included Ogden Nash, whose four-page suggested outline, dated April 16, 1938, is in the Freed Collection; and Herbert Fields, who according to a Hollywood Reporter news item dated April 21, 1938, had been engaged to work with Langley.
A lengthy memo dated April 25, 1938 in the Freed Collection gives credence to the view that Freed deserves credit for a number of ideas concerning the focus of the film. In the memo, Freed expressed dismay that none of the work submitted up to that point conveyed the idea that, "When we get to Oz, there must be a solid and dramatic drive of Dorothy's adventures and purposes that will keep the audience rooting for her." He wrote in explanation: "In Kansas it is our problem to set up the story of Dorothy, who finds herself with a heart full of love eager to give it, but through circumstances and personalities, can apparently find none in return. In this dilemma of childish frustration, she is hit on the head in a real cyclone and through her unconscious self, she finds escape in her dream of Oz. There she is motivated by her generosity to help everyone first before her little orphan heart cries out for what she wants most of all (the love of Aunt Em)-which represents to her the love of a mother she never knew. Too much stress cannot be placed on the soundness of the sentimental and emotional foundation of this story because it is only against such a canvas the novelty and comedy and music of our venture can ever mean anything." (In contrast, in the novel, the brief opening in Kansas conveys virtually nothing of "Dorothy's" emotional and psychological longings.) Freed went on to emphasize the importance of music "as an adjunct and accent to the emotional side of the story because the masses can feel music." Using as an example the song "Someday My Prince Will Come" from Snow White and the Seven Dwarfs, Freed wrote that the song motivated the love story in that film and proposed that in The Wizard of Oz they use a musical sequence in the farm scenes to "plant" the emotional connection. (The song "Over the Rainbow" was used in the final film for this purpose.) In addition, Freed suggested that the "Wicked Witch" be made more of an antagonist to "Dorothy," and that "Dorothy" be put "in some spot in Oz with her companions utterly crestfallen and lost with a complete feeling of despair." Concluding the memo, Freed expressed his intention that "when the picture is over, besides our laughs and our novelty we [will] have had a real assault upon our hearts."
After Freed's memo, Langley continued to work on the film and completed what he thought would be the final script before he was taken off the project in June 1938. In addition, Samuel Hoffenstein submitted a two-page outline early that month. Ryerson and Woolf began work at about the time that Langley left, and continued through July 1938. According to notes in the Freed Collection, on 6 Jul, Freed stated that he felt the new script by Ryerson and Woolf was too wordy and suggested that they reassign Langley to get "a rhythm through the whole script in one flavor of writing." Modern sources state that when Langley read Ryerson and Woolf's final script, he demanded to have his name taken off the picture. However, because songwriter E. Y. Harburg preferred Langley's version, Freed supported a move to reassign Langley. In August 1938, Langley rewrote the Ryerson and Woolf script, reincorporating much of his previous work. In addition to the writers mentioned above, additional contributions came from Harburg himself, Jack Mintz, who wrote some gags, Sid Silvers, who worked as a writer on the set with the first director, Richard Thorpe, and John Lee Mahin, who worked during production with director Victor Fleming.
Modern sources have gone into great detail in ascertaining the contributions of the various writers to the final film. According to these sources, a number of ideas originated from a 1925 film version of the novel and earlier stage presentations, including having farmhands in the Kansas sequence appear as characters in the Oz scenes. The sources further relate that the idea to shoot the Oz scenes in color and the Kansas scenes in black-and-white originated before the first script was finished by Mankiewicz; that Langley came up with the idea to make the Oz sequences a dream, a situation that is not in the original book; that the early scripts written by Mankiewicz and Langley before June 1938 included many characters not in the final film; that Ryerson and Woolf were responsible for putting the focus of the film on "Dorothy's" desire to return home and the "Wicked Witch's" desire for the slippers as the prime motivations and removed the attempt, in Langley's script, of the "Wicked Witch" to capture the Emerald City; that Ryerson and Woolf came up with the idea to have the actor playing the "Wizard" appear in a number of other guises, including one in Kansas; that these writers devised the "There's no place like Home" ending motif; and that the diploma, watch and testimonial given to the "Scarecrow," "Tin Woodman" and "Cowardly Lion," was Harburg's idea, which he created when it seemed likely that W. C. Fields would play the role of the "Wizard."
In March 1938, Hollywood Reporter reported that the music for the film would be "pre-scored throughout for the first time in picture history. It is the method used in making animated cartoons, but has never been done for live music." Unlike most Hollywood musicals of the time, the songs in The Wizard of Oz were conceived as an integral part of the script. Harburg and composer Harold Arlen were hired in May 1938 to write the songs. Handwritten notes in the Freed Collection, dated February 23, 1938, list Jerome Kern and Nacio Herb Brown as possibilities for composers, along with Arlen, Herbert Stothart and Roger Edens, who did work on the film, and, as possible lyricists, Ira Gershwin and Dorothy Fields, along with Harburg. On 18 Apr, Hollywood Reporter reported that lyricist Al Dubin had "paired" with Brown to write the score. Modern sources state that Freed finally chose Harburg and Arlen on the basis of their song "In the Shade of the New Apple Tree," which was in their recent Broadway musical Hooray for What! (Modern sources also state that the tune of "If I Only Had a Brain/Heart/the Nerve" was taken from the song "I'm Hanging on to You," in Hooray for What!)
Although most of the songs that Harburg and Arlen wrote for the film were included in the final film, a number of songs or parts of songs were deleted before the premiere. According to studio records, MPAA/PCA records and modern sources, a reprise of "Ding Dong the Witch Is Dead" that was to occur after the witch's demise was cut, as was much of the song "Lions and Tigers and Bears," and part of "We're Out of the Woods." In addition, the complete number of "The Jitter Bug," which reportedly took five weeks to shoot and cost $80,000, was cut. Modern sources state that "Over the Rainbow" was almost cut from the film after a preview. LeRoy, in his autobiography, states that a number of M-G-M executives tried to convince Mayer to cut the song, but that he, LeRoy, along with Freed, Harburg and Arlen argued to keep the song, and that after ten minutes, Mayer allowed it to stay. Other modern sources state that the song was actually cut a number of times during the preview period, and that Freed threatened to quit the picture if the song was cut from the final film before Mayer ruled that the song would remain.
In the prospective cast list dated January 31, 1938 in the Freed Collection, the following suggestions are noted: Judy Garland as "An Orphan in Kansas who sings jazz," Ray Bolger as "The Tin Woodman," Buddy Ebsen as "The Scare Crow," Frank Morgan as "The Wizard of Oz," Fanny Brice and Edna Mae Oliver as witches, Betty Jaynes as "The Princess of Oz, who sings opera" and Kenny Baker as "The Prince." As with other matters, sources disagree concerning who was responsible for choosing Garland to play the lead role of "Dorothy Gale." In his autobiography, LeRoy states that the studio "brass" wanted Shirley Temple, but that he had seen Garland in the 1936 Twentieth Century-Fox film Pigskin Parade and, feeling "she had the quality I wanted for Dorothy," convinced Mayer, after some time and effort, to cast her in the role. Other sources, however, state that Freed actually chose The Wizard of Oz as a property to showcase Garland, but that LeRoy wanted Temple instead. Mayer then, according to this view, contacted Twentieth Century-Fox studio head Darryl Zanuck to get Temple on loan, and Roger Edens, the M-G-M vocal coach, auditioned her. Edens judged Temple's singing abilities to be too limited for the role, and, according to these sources, gossip columns then reported that LeRoy wanted to use Deanna Durbin. However, Freed finally convinced Mayer to give the role to Garland. Some modern sources have stated that Twentieth Century-Fox refused to loan Temple. In her autobiography, Temple states that when Mayer asked for Zanuck to loan Temple, Zanuck offered to buy the property so that he could produce it with Temple starring. Mayer, Temple states, refused and offered to loan Clark Gable and Jean Harlow to Twentieth Century-Fox in return for the loan of Temple for this film and for a film in which she would co-star with Gable. Temple concludes that this deal was not consummated, as Harlow died on June 7, 1937. No other sources, however, report any interest by M-G-M in The Wizard of Oz at this early date.
In his autobiography, LeRoy states that his first choice to play "The Wizard" was Ed Wynn, but that Wynn refused the offer because he felt the role was too small. Wallace Beery attempted to get the role, but LeRoy next tried to interest W. C. Fields; however, he also turned it down. A Hollywood Reporter news item from August 10, 1938 states that at the time, Fields was no longer a candidate and that Frank Morgan, Hugh Herbert and Victor Moore were being considered; however, a September 9, 1938 Hollywood Reporter news item states that M-G-M was then negotiating with Fields for the role and had offered him $150,000. Modern sources state that Fields May have turned down the role because of a conflict in schedule with the writing and production of You Can't Cheat an Honest Man (see below). Modern sources state that Robert Benchley was then mentioned as a possibility and that Charles Winninger was tested for the role before it went to Morgan. For his role of "Professor Marvel," Morgan, with director Victor Fleming and a wardrobe man, choose an old coat obtained from a second-hand store that turned out to have the name "L. Frank Baum" sewn inside. It was determined that the coat had actually belonged to the author of the novel.
Although Buddy Ebsen was first assigned the role of "The Scarecrow" and Ray Bolger that of "The Tin Woodman," Bolger convinced the studio to let him have the role of "The Scarecrow." Edna Mae Oliver had been the first actress considered for the role of "The Wicked Witch," and although Margaret Hamilton was interviewed for that role on August 20, 1938, Hollywood Reporter announced that Gale Sondergaard was to play the part. LeRoy, according to modern sources, had wanted the role to be that of a "glamorous witch," but he was overruled by M-G-M officials, and Hamilton was hired. Fanny Brice was originally considered for the role of "The Good Witch," which ultimately went to Billie Burke. Tex Morrissey is listed on Freed's February 23, 1938 notes as a possibility to play the "Lion." Modern sources state that it was Harburg who suggested Bert Lahr for the role. May Robson was first selected for the role of "Auntie Em," then Sarah Padden was tested for it, and Harlan Briggs was announced for the role of "Uncle Henry" before Clara Blandick and Charley Grapewin, respectively, got those roles. The parts for Kenny Baker and Betty Jaynes, mentioned in the January 31, 1938 memo in the Freed Collection, were eventually written out of the script, as were parts for The Five Little Fiddlers, who were mentioned in the February 23, 1938 notes.
On July 16, 1938, Hollywood Reporter announced that Norman Taurog would direct the film. On 12 Aug, Hollywood Reporter again announced Taurog's selection; however, on 7 Sep, they reported that the previous day, Richard Thorpe was named to direct in place of Taurog so that Taurog could start preparation for The Adventures of Huckleberry Finn. The news item also stated that rehearsals for musical numbers had begun the day before with Garland, Bolger and Ebsen under the supervision of dance director Bobby Connelly. On 30 Sep, recording of the songs with full orchestral accompaniment began under the direction of Herbert Stothart. Daily Variety reported on 7 October that Thorpe, his assistant director Al Shenberg and production manager Joe Cooke would leave the next day to hunt through Southern California for Kansas farm locales. The next day, Hollywood Reporter stated that the company would shoot the musical numbers first and then would travel to Kansas to shoot the "dramatic scenes." It is not known if location shooting in Kansas was ever seriously considered by the studio. On 13 Oct, actual filming began, with Bolger and Garland performing what Hollywood Reporter called the "Scarecrow Song" (which, most likely, was "If I Only Had a Brain"). On 24 Oct, production was suspended, according to Hollywood Reporter, and on 26 Oct, it was announced that George Cukor was "relieving" Thorpe of the "directorial reins," because of Thorpe's "serious illness." Modern sources relate that LeRoy, unhappy with the rushes, had Thorpe taken off the picture and sent to Palm Springs, so that reporters could not interview him, and released the false story about Thorpe's illness. In addition to the "Scarecrow Song," Hollywood Reporter reported that Thorpe had filmed the escape sequence at the "Witch's" castle using a special camera boom 80 feet in length, which followed the action diagonally a distance of 150 feet, said to be the longest boom shot made in color. Modern sources state that Thorpe shot other scenes in the "Witch's" castle between "Dorothy" and the "Wicked Witch." In a modern interview, Carl Spitz, the trainer of "Terry," who played the dog "Toto," commented that Thorpe's footage favored the dog over Garland, and that all Thorpe's footage was reshot later on.
On November 1, 1938, Hollywood Reporter reported that Cukor had been recalled from M-G-M by David O. Selznick to prepare for Gone With the Wind, and that Victor Fleming had been assigned to direct The Wizard of Oz. (Cukor had been planning to direct Gone With the Wind since 1936.) Two days later, Hollywood Reporter reported that Thorpe had been assigned to direct The Adventures of Huckleberry Finn, which was to begin in ten days. Although Hollywood Reporter, when they first announced that Cukor would direct The Wizard of Oz, stated that he would reshoot a couple of days before beginning on new material, modern sources state that Cukor only oversaw a number of tests concerning Garland and Bolger. Cukor, who modern sources state did not like the book and had only agreed to act as an interim director, was responsible for changing Garland's acting style from that of a fairy tale character to a realistic country girl. Under his direction, her blonde wig was discarded, her costume simplified and a good deal of her makeup removed.
On 8 Nov, shortly after Fleming took over, Hollywood Reporter announced that Jack Haley was replacing Buddy Ebsen in the role of the "Tin Woodman" because Ebsen was "forced out late last week because of pneumonia." In fact, in late Oct, Ebsen became extremely ill, most probably from an allergic reaction to makeup specially designed for his character. His lungs became coated by aluminum powder, and he experienced trouble breathing one evening. After a hospital stay and recuperation lasting six weeks, Ebsen recovered, but had lost the role to Haley. A Hollywood Reporter news item dated 15 Oct, describing the makeup process designed for Ebsen's character by Jack Dawn, reported that his features were first treated with a waxlike preparation, then dusted with pulverized silver and burnished with a soft cloth. Haley, who was lent by Twentieth Century-Fox to replace Ebsen, was not told about Ebsen's illness, and for Haley's makeup, the aluminum dust was made into a paste and painted on his face.
The other major accident during production occurred, according to an inter-office communication, on December 28, 1938 when Margaret Hamilton suffered first-degree burns on her face and second-degree burns on her hand. During a take of her exit as the "Wicked Witch" amid fire and smoke in the "Munchkinland" scene, Hamilton was severely scorched by flames before she was able to disappear on a hidden elevator. Hamilton was not able to continue work until the second week of February 1939.
On February 15, 1939, Hollywood Reporter announced that Fleming would take over direction of Gone With the Wind from Cukor, who had begun the film. (Please see the Gone With the Wind entry above for complete information concerning the change of directors.) King Vidor was named as a probable replacement for Fleming on The Wizard of Oz "to carry on pickup shots left unfinished by Fleming," and on 17 Feb, Hollywood Reporter announced that Fleming had completed the Technicolor sequences of the film. Vidor directed the black-and-white scenes on the farm, including the song "Over the Rainbow," the cyclone scenes, and the scenes with "Professor Marvel."
The onscreen credits list "The Singer Midgets" as playing "The Munchkins." As early as February 1938, according to information in the Freed Collection, the studio planned to use the Singer Midgets, a vaudeville troupe of German and Austrian dwarfs formed and run by Leo Singer. By May 1938, Singer apparently had been contacted by the studio, as an inter-office communication from Freed to LeRoy in the Freed Collection states that Singer had suggested also using dwarf animals in the film. (This suggestion was not used.) Modern sources state that Singer was hired soon after to find 200 dwarfs for the production. As his own troupe had only eighteen dwarfs, he traveled the country and hired many of the rest of the dwarfs who appeared in the film. However, some signed with the studio independently of Singer. Henry Kramer reportedly brought in forty dwarfs, and the troupe of Harvey Williams and His Little People brought in eleven.
A Daily Variety news item dated August 17, 1938 stated that 134 dwarfs had been signed and that the studio was searching for more. By the end of filming of the "Munchkins'" scenes, news items and studio publicity reported that 116 dwarfs were in the film; however, modern sources contend that there were between 122 and 124 "little people" and up to one dozen children. The following list of actors playing "Munchkins" is taken from modern sources: Charles Becker (Mayor), Meinhardt Raabe (Coroner), Little Billy Rhodes (Barrister), Matthew Raia and Billy Curtis (City fathers), Nita Krebs, Olga Nardone and Yvonne Moray (The Lullaby League), Harry Doll, Jerry Maren and Jackie Gerlich (The Lollipop Guild), Freddy Ritter and Mickey Carroll (Fiddlers), Karl Kosiczky, Kayo Erickson and Clarence C. Howerton (Trumpeters), Margaret Pellegrini and Karl Kosiczky (Sleepy Heads), George Ministeri (Coach driver and villager), W. H. O'Docharty (Man at back of coach), Frank Cucksey (Man who presents "Dorothy" with flowers), Johnny Winters (Commander of the Navy), Victor Wetter (Captain of the Army), Prince Denis (Sergeant at arms), Willi Koestner, Jakob Hofbauer, Gus Wayne, Harry Monty, Murray Wood, Garland Slatten, Lewis Croft, August Clarence Swensen, Elmer St. Aubin and Nicholas Page (Soldiers), Gladys W. Allison, John Ballas, Franz Balluck, Josefine Balluck, John Bambury, Freda Besky, Henry Boers, Theodore Boers, Christie Buresh, Eddie Buresh, Lida Buresh, Betty Cain, Colonel Casper, Nona Cooper, Tommy Cottonaro, Elizabeth Coulter, Eugene S. David, Jr. Eulie H. David, Daisy Doll, Gracie Doll, Tiny Doll, Major Doyle, Ruth Duccini, Fern Formica, Addie E. Frank, Thaisa L. Gardner, William A. Giblin, Jack Glicken, Carolyn E. Granger, Joseph Herbst, Helen M. Hoy, Marguerite A. Hoy, James R. Hulse, Robert Kanter, Charles E. Kelley, Jessie E. Kelley, Joan Kenmore, Shirley Ann Kennedy, Frank Kikel, Bernhard Klima, Emma Koestner, Mitzi Koestner, Adam Edwin Kozicki, Joe Koziel, Dolly Kramer, Emil Kranzler, Johnny Leal, Jeane LeBarbera, Hilda Lange, Ann Rice Leslie, Charles Ludwig, Dominick Magro, Carlos Manzo, Howard Marco, Harry Martin, Bela Matina, Lajos Matina, Matthew Matina, Walter Miller, Priscilla Montgomery, Nels Nelson, Franklin H. O'Baugh, Frank Packard, Johnny Pizo, Leon Polinsky, Margaret C. H. Nickloy, Hildred C. Olson, Leona M. Parks, Lillian Porter, Margaret Raia, Hazel Resmondo, Gertrude H. Rice, Hazel Rice, Sandor Roka, Jimmy Rosen, Charles F. Royale, Helen J. Royale, Stella A. Royale, Albert Ruddinger, Valerie Shepard, Elsie R. Shultz, Charles Silvern, Ruth E. Smith, Elmer Spangler, Carl Stephan, Alta M. Stevens, George Suchsie, Charlotte Sullivan, Betty Tanner, Arnold Vierling, Viola White, Grace G. Williams, Harvey B. Williams, Marie Winters, Gladys V. Wolff (Villagers). Of the above, Gladys W. Allison, Elmer St. Aubin, Johnny Pizo and Ruth E. Smith were dwarfs, and Betty Cain, Joan Kenmore, Shirley Ann Kennedy, Priscilla Montgomery, Valerie Shepard and Viola White were children.
Studio records list the names of various actors who dubbed the voices of "The Munchkins" ( in cast list.) A Daily Variety news item dated January 3, 1939, after filming of the "Munchkins'" scenes had ended, stated that 88 of the "Munchkins" were to go on a promotional tour to Chicago and Miami, ending at the New York World's Fair, where a "Munchkin Village" was to be constructed from the set of "Munchkinland." It is not known if the tour or the Fair exhibition actually took place. A few of the actors playing "Munchkins" also performed as "Winged Monkeys." According to a modern interview with Ray Bolger, the actors playing the "Winged Monkeys" struck so that they would be paid for each time they were called to perform. A Hollywood Reporter news item noted that Pat Walshe, who played "Nikko," the leader of the "Monkeys," was a veteran animal impersonator from vaudeville. A number of the people connected with the production have commented disparagingly in modern sources concerning the behavior of the actors playing the "Munchkins"; however, modern sources contend that incidents of fights, drunkenness and lewdness suggested in these comments were comparatively low in number.
In the February 23, 1938 memo in the Freed Collection, which mentions perspective cast and crew, Norman Bel Geddes, Vincente Minnelli and Albert Johnson are listed for scenery and costumes, and Hugo Ballin for drawings. While a Daily Variety news item dated August 8, 1938 notes that Ballin was about to make a series of "fantastic drawings" for the production, no further information regarding his participation has been located. Bel Geddes, Minnelli and Johnson do not appear to have actually worked on the film. Publicity for the film noted that a special sensitized film stock, which allowed double exposures at 60 frames per second, was used. In the scene where "Dorothy" opens her door to "Munchkinland," the frames were handcolored to allow a smooth transition from black-and-white to color. Double exposure in color films, according to publicity reports, had never been accomplished before. A quarter-mile cable tunnel under the studio was used to record the echo of "The Wizard's" voice. The wings of a giant condor were borrowed from a museum for the production, and a mathemetician of renown, O. O. Ceccarini, was hired to devise an appropriate noise to represent the center of the cyclone.
After a national advertizing magazine campaign, which cost $250,000, the film had a scarcely publicized world premiere at Oconomowoc, WI on August 12, 1939. What was billed as the official premiere took place at Grauman's Chinese Theatre in Hollywood on 15 Aug. Garland and Mickey Rooney had begun a publicity tour in Eastern cities on 9 Aug, and appeared onstage in New York at the East Coast premiere on 17 Aug. Most reviewers gave the film high praise, although some, notably Time, The New Yorker, The New York Herald Tribune and The New Republic, expressed dissatisfaction with the film.
The film won Academy Awards for Music-Original Score (Herbert Stothart) and Music-Song ("Over the Rainbow," Harold Arlen, music, E. Y. Harburg, lyrics), and Judy Garland received a special miniature "Oscar" for her "outstanding performance" as a juvenile performer. In addition, the film received nominations for Best Picture, Art Direction (Cedric Gibbons, William A. Horning) and Special Effects (A. Arnold Gillespie, Douglas Shearer). In 2007, The Wizard of Oz was ranked 10th on AFI's 100 Years...100 Movies-10th Anniversary Edition list of the greatest American films, moving down from the 6th position it occupied on AFI's 1997 list.
After minor changes had been made in the script, the PCA stated that the script met the requirements of the Production Code, according to correspondence in the MPAA/PCA Collection at the AMPAS Library, although they warned that "care should be taken to avoid an effect which is too frightening to children." The film was passed by the British Board of Film Censors in November 1939 with an adult permit, "because the Witch and grotesque moving trees and various hideous figures would undoubtedly frighten children." Some shots were deleted for showings in Denmark, and in Sweden, the censors "deleted the alleged terrifying shots of the Wizard in the Throne-room. Also shots of the witch and flying monkeys, and Miss Gulch's disagreeable face in the crystal."
M-G-M records state that the film cost $2,777,000 to produce, and that it grossed $3,017,000 in its first release. However, because of distribution and advertising costs, the film actually lost about a million dollars at the time and did not produce a profit until its re-release in 1948-49. On December 25, 1950, Judy Garland starred in a broadcast of the story over Lux Radio Theatre. The film was first shown on television on November 3, 1956 by CBS, which subsequently broadcast it through 1967. The following year, NBC-TV purchased the rights, and they broadcast the film from 1968 through 1975. (A minute of footage was deleted by NBC to make room for commercial interruptions.) The film was re-issued theatrically in 1970. In 1976, CBS reacquired the rights for broadcast. (In the 1980s, CBS cut further shots from the film for additional commercial time. However, in 1985, they restored the cut shots through video time compression, whereby various frames of film were removed to allow a running time of less than 100 minutes.) By 1983, the film had made under $6,000,000 from theatrical showings, and $13,000,000 from television broadcasts. TV Guide reported in March 1989 that 473 million households had viewed the film by that date. After Turner Entertainment acquired the M-G-M film library, CBS negotiated a deal whereby they extended their license to broadcast the film until 1997-98 in exchange for giving up the television rights to Gone With the Wind. In 1989, MGM/UA Home Video released the fiftieth anniversary video, which included at the end a film clip of The Scarecrow's extended dance to "If I Only Had a Brain," as choreographed by Busby Berkeley, which was cut from the final film; a recording of Buddy Ebsen singing "If I Only Had a Heart," accompanied by photographs of Ebsen in costume; and the soundtrack to the deleted "Jitterbug," sequence, accompanied by stills and film shot by Harold Arlen during a dress rehearsal.
An ad appearing in Hollywood Reporter on August 21, 1939 thanks "all the Wizards who made The Wizard of Oz possible." The list includes many uncredited persons, some of whose specific contributions to the film have not been identified, including the head of the studio's camera department John Arnold, editors Margaret Booth and Tom Held, Malcolm Brown, Ulrich Busch, George Cave, Charles Chic, Frances Edwards, Nat Finston, Chips Gaither, Ernie Grooney, Jane Harrison, Sam Kress, Beth Langston, Donna Mason, Betty Masure, Norbert Miles, Ray O'Brien, Webb Overlander, W. E. Pohl, Barron Polan, Roy Raymsey, Gerald F. Rocket, Jack Rohan and Lee Stanfield. Modern sources list the following additional credits: Fill-in dance dir Albertina Rasch; Color technician Henry Imus; Sketch artist Jack Martin Smith; Scenic art department George Gibson; Sculpture department Henry Greutert; Makeup William Tuttle, Jack Young; Ward department Vera Mordaunt, John Scura, Marie Wharton, Mrs. Cluett; Seamstress Marian Parker; Dresser Marie Rose; Props Jack McMaster, Hal Millar, Franklin Milton, Billy H. Scott; Unit publicist Mary Mayer; Stand-in and stunt double for Margaret Hamilton Betty Danko; Stand-ins Stafford Campbell, Bobbie Koshay, Aline Goodwin; Asst dog trainer Jack Weatherwax; Cast: Harry Monty, Sid Dawson, Buster Brody and Harry Cogg (Winged Monkeys). In addition, Fred Detmers May have been a Technicolor consultant.
A number of other films and plays have been based on The Wonderful Wizard of Oz or other "Oz" books by L. Frank Baum. In 1902, a stage version of the book opened in Chicago. A great success, the play, which reached Broadway on January 21, 1903, featured David C. Montgomery as the "Tin Woodman" and Fred Stone as "The Scarecrow" and toured the country. In 1908, author Baum produced a stage show entitled Fairylogue and Radio-Plays that included filmed scenes with characters from the Oz books, and in 1914 Baum formed the Oz Film Manufacturing Co., which produced four feature films, three of which were based on Oz books. The 1925 Chadwick production, also entitled The Wizard of Oz, contained a plot quite different from the novel. That film was directed by Larry Semon, who also starred as "The Scarecrow," and featured Dorothy Dwan as "Dorothy" and Oliver Hardy as "The Tin Woodsman" (see AFI Catalog of Feature Films, 1921-30; F2.6446). A short entitled Scarecrow of Oz starring The Meglin Kiddies was produced in 1931, and beginning in September 1933, NBC broadcast a radio series derived from the books. In 1975, the stage musical The Wiz, based on Baum's books, written by William F. Brown and Charlie Smalls, and with an all-Black cast, opened on Broadway. It was made into a film in 1978, which was directed by Sidney Lumet and starred Diana Ross. In 1981, Orion Pictures produced Under the Rainbow, a fictionalized account of rumored antics of the actors playing "Munchkins" in The Wizard of Oz; that film was directed by Steve Rash and starred Chevy Chase and Carrie Fisher. The 1985 film Return to Oz, which was directed by Walter Murch and starred Fairuza Balk, was also based on Baum's books. In 1987, the Royal Shakespeare Company performed a stage version of the 1939 film in London, complete with the film's songs. That version played in the United States and Canada in 1988 and 1989.