DVDs from TCM Shop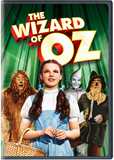 The Wizard of Oz A Kansas farm girl dreams... MORE&nbsp> $11.21 Regularly $14.98 Buy Now blu-ray
Trivia
The title role was written with W.C. Fields in mind. Producer Mervyn LeRoy wanted Ed Wynn, who turned down the role. Studio executive Freed wanted Fields, and offered him $75,000. Fields supposedly wanted $100,000. According to a letter from Fields' agent (and supposedly written by Fields) Fields turned down to role to devote his time to writing the script for "You Can't Cheat an Honest Man".
Gale Sondergaard was originally cast as the Wicked Witch of the West.
Ray Bolger was originally cast as the Tin Woodsman. However, he insisted that he would rather play the Scarecrow - his childhood idol, Fred Stone had originated that role on stage in 1902.
Buddy Ebsen had been cast as the Scarecrow, and now switched roles with Bolger. But the aluminum powder makeup for the Tin Woodsman was toxic and Ebsen apparently had an allergic reaction to it as well. He left the picture, but his voice can still be heard in "Off to see the Wizard".
Jack Haley took over the Tin Woodsman's role, and the makeup was changed to a paste so that he did not inhale the aluminum as much. He presumed that Ebsen had been fired, and did not learn the truth until later.
Contributions
jame (2006-06-01)

Source: imdb triva

When Miss Gultch changes to the Wicked Witch of the East, the wind blows her skirt which reveals the ruby slippers; this is the first (and only) view of the ruby slippers in sepia tone.

Holz (2008-11-07)

Source: not available

At the end of the film, the Scarecrow states the Pythagorean theorem incorrectly: "The sum of the square roots of any two sides of an isosceles triangle is equal to the square root of the remaining side. Oh, joy, oh, rapture. I've got a brain!" The "knowledge" exhibited by the Scarecrow is incorrect. The accurate statement would have been "The sum of the squares of the legs of a right triangle is equal to the square of the remaining side." He was wrong on two counts, it is a Right Triangle (not isosceles) and he also states the formula incorrectly.

MarieTherese (2009-09-25)

Source: not available

Due to a timing mistake, Margaret Hamilton was accidently dropped through the trap door exiting Munchkin Land while flames enveloped her. Her green make-up was hastily removed because it was copper-based and would have scarred her face and hands severely.