DVDs from TCM Shop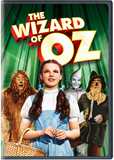 The Wizard of Oz A Kansas farm girl dreams... MORE&nbsp> $11.21 Regularly $14.98 Buy Now blu-ray
USER REVIEWS
See Detailed Ratings
Acting of Lead Performers

Acting of Supporting Cast

Director

Music Score

Title Sequence

Screenplay

Cinematography

Historical Importance

Would You Recommend?

0 Member Ratings
Rate the acting of the Lead Performers

Rate the acting of the Supporting Cast

Rate the Director

Rating of the Music Score

Rating of the Title Sequence

Screenplay

Creatively uses the camera to tell the story

Importance in Cinema history

Would you recommend for fans of this genre
Submit Ratings
Cancel
Write a Review
Read Reviews
NO REVIEWS AVAILABLE
The title has not been reviewed. Be the first to write a review by clicking here to start.
nothing to get excited about..

if this was a pop or rock album..it would be hotel California by the eagles.

1939!!!!!

The greatest year in filmmaking is 1939.....ding dong! This movie is soooo perfect. Winner of three Oscars and should have won more but the competition was tough in 1939. Beautiful color and cinematography, art/set direction, top costumes, a great great cast and performances, Toto, lollipop guild, flying blue monkeys and charming unforgettable musical score ( did pc culture really censor 'Ding Dong The Witch Is Dead' when today's Hollywood offends regularly?). 'I'm melting!' A Top 5 movie of all time. They don't make 'em like this anymore.....alas. Plus lovely Judy Garland!

Classic Musical Never Gets Old

When I was growing up, this movie was a once-a-year television spectacle. Every kid on the block sat down in front of the set to watch Dorothy, Toto, those red slippers, and the little people. The flying monkeys scared the crap out of us! Judy Garland is perfection as a Kansas farm girl who gets caught in a cyclone/tornado that catapults her to the land of Oz. Here she meets a cast of characters one could only meet in dreamland: Tin Man, Cowardly Lion, Scarecrow, Wicked Witch, Glenda the Good Witch, and the Wizard. Her friends on the journey need things we all need--a brain, a heart, and courage. Where will they get this stuff? From the Wizard of Oz. They follow the Yellow Brick Road all the way to the Wizard, only to find out he's a complete fraud. No matter. Their journey, specifically its obstacles, helped them develop the brains, heart, and courage they needed! Dorothy finally gets to click the heels of those red slippers three times and--voila! She's back in her Kansas bed with Auntie Em and her uncles, the latter whom favor her Yellow Brick Road companions, tending to her concussion. The songs are unforgettable. The cast is delightful. The red slippers sparkle. And the flying monkeys will scare the crap out of you! Timeless classic.

Hollywood at its peak...

Hollywood, and Judy at the top. Doesn't get much better than this...

The Wizard of Oz

..."We're not in kansas anymore." "The Wizard of Oz" is such a magical trip for Dorothy and her kansas farm friends who get swept up in a tornado from her black-and-white world and put into the dream-like color world of Munchkinland and start walking down the Yellow Brick Road to the Emerald City where maybe she can be sent back to her kansas farm. Her friends from kansas are all there too...Ray Bolger as a scarecrow, Jack Haley as a Tin Man, Bert Lahr as a cowardly Lion, and Margaret Hamilton, who wanted to take Dorothy's dog Toto away in kansas, is the Wicked Witch of the West. This musical-fantasy has classic written all over it and isn't it amazing that director Victor Fleming did this and "Gone With The Wind" both in 1939....he wasn't in kansas anymore.

Forever off to see the wizard

I recently saw a theatrical production of this movie, and noticed not only that the theater was almost sold out, but that most of the people in the audience were middle aged or older, as I am myself. And it then dawned on me that most of the audience had probably gotten to know the movie as children, and and that they never stopped cherishing it. A higher compliment to the movie I can't think of.

Wonderful Wizard of Oz

This is a wonderful movie. From beginning to end I enjoy every minute of it. Judy Garland was wonderful as Dorothy. The entire cast was perfect. The special effects were amazing especially for the time. I remember watching it as a little girl and still love it.

Do you need a review?

If you breathe air then you should like this movie, if not then there is probably something wrong with you.

Wonderful Wizard of Oz

This is a fantastic movie. I have seen it many times and with each viewing I notice something new. I am a big Judy Garland fan and this movie proves why she is still so beloved.

The Wizard of Oz

A Total CLASSIC. I'm 58 years old, and I still watch it, and now with my Grandchildren A Big Fan of the Wizard of Oz.... Thank you TCM ARCHIVES -- for each year showing this Classic show... on TV... Thank you...!!!!

Ding Dong

I know the song was banned from radio play last year in the UK because it shot up the charts following the death of Margaret Thatcher. I'm surprised TCM would cut it from the movie for this reason, nearly a year later, in the US. Who knows what the reason is, though ... the PC gods run rampant these days and will try to censor anything for any trumped up reason.

Ding Dong Ditch(ed)

Years ago this meant ringing doorbells and running. But now it looks like it means this song will never be in a broadcast. With seeing another mention it, I watched TCM's most recent broadcast and asked my wife and she concurred it was deleted. Can only guess it was deemed insensitive, offensive or exploitive, since their was plenty of room for the whole movie in the 2 hr. time slot. Be nice if TCM explained or are we left to guess the munchkins are next to go ?

Ding Dong this Song is Dead

Interesting that this film aired tonight, during "Oscar" month, and they cut out the song "Ding, Dong the Witch is Dead". Did anyone else notice, and does anyone have any idea why?

Greatest Film

Best Film and Best Song, and JUDY!

best musical and great movie

I love the Wizard of Oz a whole lot and way more. I am a huge Judy Garland fan. This was i thought one of her best movies ever made. It was amazing, clean, funny, animated, real, beautiful, best music, great, and best musical ever made one of the best. The Wizard of Oz was one of my all time favorite and it still is. Love all of the actors and defiently the black and white brown color, and the color scene. My favorite song is Ding dong the wiicked witch is dead. also Some where over the rainbow, we're up to see The Wizard, also If i only had a heart. if i had a brain. Also my favorite part at the beginning of the movie is when Judy says to Margaret Hamilton. "No no i won't let you take him you go away i'll bite you my self". You wicked old witch Uncle Henry Aunti Em don't let her take him away. That's one of my favorite parts in the movie. So is defiently the Munchkin scene. Also when dorthy's riding in the horse carriage. Wizard of Oz is one of my favorite and best movie's ever made that Pete's Dragon, and Mary Poppins.

the best and great movie

I love the Wizard of Oz a whole lot and way more. I am a huge Judy Garland fan. This was i thought one of her best movies ever made. It was amazing, clean, funny, animated, real, beautiful, best music, great, and best musical ever made one of the best. The Wizard of Oz was one of my all time favorite and it still is. Love all of the actors and defiently the black and white brown color, and the color scene. My favorite song is Ding dong the wiicked witch is dead. also Some where over the rainbow, we're up to see The Wizard, also If i only had a heart. if i had a brain. Also my favorite part at the beginning of the movie is when Judy says to Margaret Hamilton. "No no i won't let you take him you go away i'll bite you my self". You wicked old witch Uncle Henry Aunti Em don't let her take him away. That's one of my favorite parts in the movie. So is defiently the Munchkin scene. Also when dorthy's riding in the horse carriage. Wizard of Oz is one of my favorite and best movie's ever made that Pete's Dragon, and Mary Poppins.

The Wizard of Oz

Overall-4/5Lead Performers-4/5Supporting Cast-4/5Director-4/5Score-5/5Screenplay-3/5Cinematography-3/5Importance-5/5Recommendation for fans of the genre-4/5

All This and Toto too!

Indeed a classic among classics, a simply magnificent film fit for the family.

A Movie that Always "Is"

I remember they used to always show this movie on Thanksgiving night (I don't know if they still do). So I was always excited to see it and know that Christmas was coming soon and I always looked forward to seeing "Rudolph the Red Nosed Reindeer". I remember specifically seeing it when I was in the sixth grade. I watched it in my bedroom and for some reason that memory sticks with me. So now 30some years later I watched it again last night and as soon as Dorothy start singing "Somewhere Over the Rainbow" I start crying. I remembered singing that song as a child with my whole life ahead of me.. excited about things to come. And now.. well I don't want to start feeling sorry for myself. But it was wonderful seeing it again. Thank you so much for restoring it. I watched Robert and I'm sorry I forgot his name, talking and showing how they worked on it to make it HD for our new TVs. This is one of those movies that sort of defies movie boundaries and has now become part of our collective conscious. I don't have words to describe it.. it just "Is".

Best Cast Movie of All Time

Always a favorite.I have seen this movie more times than I could count and I can't imagine any other actors as these characters. I love Shirley Temple, but she's no Dorothy.

Favorite Movie of All Time

Watching it right now with excitement to see it again, although I could watch it anytime. Heard Denzel Washington on NPR a few weeks ago say it was his favorite. It is so beloved by so many generations. Thank you TCM

Friends of Dorothy

A timeless classic I could watch over and over again!

Great entertainment

If I could only have one movie on a desert island this would be the one. I've seen this movie more times than I can count, first annually on TV and now with the DVD. I saw it on the big screen when it was re-released in 1999 I believe. Man, was that a treat! This movie is really great entertainment for the whole family. Five stars!

there's no place like "Oz"

This is the real deal directed by the fantasy imagination of Victor Flemming where humans battle wicked witches and masters the power of the ruby slippers. you'll be rewarded by the great oz with this classic.

The Wizard of Oz(1939) ...One For the Ages

Classic is a word often loosely used, but with this film maybe it isn't enough.Judy Garland stars with an All Star Cast, Ray Bolger, Jack Haley, Bert Lahr, Frank Morgan, Margaret Hamilton, and an under credited Mickey Carroll. Hard times are cast over the heartland as Dorothy(Judy Garland) struggles on the plains as well as with growing pains. Having trouble with Almira Gulch, Toto is taken into custody. After escaping Dorothy decides to find sanctuary elsewhere, with calamitous and remarkable results. Terrific music, dance numbers, visual sets, nothing is left to chance and it is Wonderful. Fantasy with a sweet blend of love and warmth. Nothing really compares...5 out of 5 stars.

The Wizard of Oz

There's areason that this is one of the most iconic & frequently-seen movies. Garland is born to play Dorothy, embodying the child-like qualities, as do Bolger, Haley & Lahr. The fantasy world is beautifully realized & the songs are cavalcades for the ears. A great musical fantasy that all generations will love. I give it a 5/5.

The Wizard of Oz (1939)

Recently, I watched this movie for - believe it or not - the very first time. I saw the 70th anniversary deluxe DVD edition for just $5 and so I had no reason whatsoever to not pick it up. With the legendary status of this classic, it had a lot to live up to, but you know what? I enjoyed it. It was a nice fantasy with catchy music and imaginative set design. It had scary parts (the flying monkeys) and witty lines ("That's you all over") and Toto was adorable. I was a little disappointed with the ending, though. From what I understand, in the Baum's book, Oz and its citizens were real. In the movie, they are a dream into which Dorothy projects the people she knows in real life. I have no problem with them having done that, but if one is going to do such a practical thing, then I don't see why they had the Wizard give the three friends such pointless gifts at the end. The Scarecrow thought he was stupid, but in his adventure he learned to use his brain to solve problems. Why wasn't it pointed out to him that what he sought was inside him the whole time as potential? Why the nonsensical diploma that instantly had him spouting mathematical formula at the end? Ditto for the Tin Man and the Lion. That aside, this movie was the Star Wars of its day. Actually, Star Wars must have been strongly influenced by it. Think about it: It has a farmer kid (Dorothy/Luke Skywalker) who goes off on an adventure and hooks up with various allies, including a metal man (Tin Man/C-3P0) and a large, shaggy creature (Lion/Chewbacca), and everyone is continually saved by the loyal little helper (Toto/R2-D2). In the end the heroes must break into the fortress (Deathstar), rescue the girl, and defeat the evil magician (Wicked Witch/Vader or the Emperor). A friendly wizard (Oz/Obi-Wan or Yoda) also gives some helpful advice. Hmm. Who fits the role of the Scarecrow, then? Maybe he's more like C-3P0 and Han Solo is the Tin Man who learns to have a heart. ;)

The Wizard of Oz (1939)

How could a film we all watched as children still be so creepy and so fantastic? The answers all lie in the reasons of how masterful a production this film really was. The film is about Dorothy Gale (Judy Garland) and how she wakes up in the mystical Land of Oz after a tornado hits her house in Kansas and must find her way home. None of the performers, Garland, Ray Bolger, Bert Lahr, Jack Haley, Frank Morgan, or Margaret Hamilton, were stars, but they gave great performance nonetheless. The music with such hit songs as Over the Rainbow, Ding Dong the Witch is Dead, and If I only had a Brain, is great. The direction from Victor Fleming is great as well. The MVP of this film is it's script that transformed and edited the classic book from L. Frank Baum and made it top notch and did something some don't want to believe about a movie to book comparison-it bettered the book tremendously.

Everyone's annual favorite.

It doesn't matter how many times you've seen it. It always amazes.

wizard of oz

a true classic ! when i was young i couldnt wait every year for this to come on tv. imaginaion is everything when your young, i guess when your older too. children now have no idea what a true classic is. they are used to smut in the shows they have now. WHAT A GREAT SHOW.

My story regarding the Wizard of Oz

First of all, no one will ever be able to make another Wizard of Oz again, The story, characters, music, and write-up are the best there will ever be. I am a true watcher of TCM. I have not watched any other channel for over 10 years now. Growing up I would always look for the movie to show around Halloween since I first watched it at 12 years old. I have watched it every year and even the different makes cannot stand up to the original movie. I own memorabilia, books old and new, And now can count on seeing it on TCM from time to time.It was awesome the way Dorothy goes from black and white into a world of color, I laugh and cry still every time I see this movie, and when it seems too long of seeing it I put it on myself to see. It is great to watch TCM with the information about movies of how the characters were selected or not and things that happened on the set and off. So interesting. I can't imagine this world without TCM. The world is changing so fast and there is so much violence and sadness happening to families these days I just stay in my small little world and watch this channel. It is so interesting what the old movies relay in the good and bad times, but I noticed that people really got together when there was good or bad causes going on. So anytime you want a change in this world we live in now, sit down and watch TCM for a new and different prospective.From a long time fan of TCM, Juliet Foster

True Classic

I love and adore this movie! My 6 yr old loves this movie as well! Beautifully made!

He's Still A Wiz Of Wiz to today's audiences!

MGM's 1939 movie version of Mr.Baum's classic children's story retains the thrills,charm,enchanment and the morals that exsisted in the original book.The plot is warm and exciting,the music helps aide the plot,the special effects..more fanciful and imaginative than today's overated gimmicks.The big plus is the casting of the leads and supporting players,who play the "Oz"characters with total believability.

The BEST movie of all time

I cannot remember ever loving a movie more in my whole life than The Wizard of Oz. Everything about this movie is timeless - the cast, the musical score, the screenplay ... Even the special effects were amazing when one thinks about the year the movie was made. People have such a connection to this movie. It is one of those rare gems that is good for all ages, and can be watched over and over, and never be tiring. If I am ever having a bad day, this is the movie I pop into my DVD player to cheer up my mood. The movie is over 70 years old, but it is a classic that you know will stand the test of time and still be loved just as much over the next 70 years and beyond!

One of the Most Beloved Masterpieces of All Time.

Frank Harris Horn

6/29/10

For more than 70 years, this beloved film masterpiece has delighted and entertained more than three generations of viewers of all ages. The teamwork of director, Victor Fleming and producer, Mervyn Le Roy helped make it possible to bring L. Frank Baum's classic story to life on the silver screen. Judy Garland rose to actual stardom as Dorothy Gale, the Kansas farm girl, whose house was swept "over the rainbow" to the magical land of Oz, Ray Bolger as the Scarecrow, Jack Haley as the Tin Man, Bert Lahr as the Cowardly Lion, Margaret Hamilton as the Wicked Witch of the West, and Frank Morgan in the title role of the Wonderful Wizard of Oz. Buddy Ebsen was originally cast to play the Tin Man, but had to leave, when a dangerously allergic reaction to the make-up sent him to the hospital, and Jack Haley took over the role. Harold Arlen and E.Y. Harburg won the Oscar for the song, "Over the Rainbow" and Herbert Stothart won for Best Original Score. With Charley Grapewin, Clara Blandick, Mickey Carroll & Carl Swanson.

MGM Takes Us on a trip to OZ!

This 1939 film version of Mr.Baum's classic children's storyis the best screen interpretation of "The Wizard Of Oz". The script is faithful to the original tale,the settting beautiful,the musical score is charming,pogient and delightful,the specialeffects..better than anything done by today's filmakers. The real treat are the performances by the leads..who makethis film a joy to watch.

Wicked!

I loved the interview with Margaret Hamilton where she told about being offered a role in this movie. When she asked which role, she was told, "The wicked witch, of course....what else?!?"

I'm Melting

My favorate part is the Wicked Witch of the West played by Margaret Hamoition was melted this is a bad time.

The Best Movie Ever Made

The Wizard of Oz has always been my favorite movie and the Scarecrow was always my favorite character. I just can't describe how great that movie is. :))

If I Only Had a Brain

Victor Young and his Orchestra played If I Only Had a Brain with Ken Darby.

The Wicked Witch of the West

The Wicked Witch of the West was Dorothy's slave in the Country of the Winkies in all the Land of Oz.

The Scarecrow

The Scarecrow is Dorothy's first freind in all the Land of Oz. He is searching for a brain, he with Dorothy, Toto, the Tin Man and the Cowardly Lion.

The Wizard of Oz

The Wizard of Oz is the Greastest Family Movie of All Time starting Judy Garland as Dorothy, Frank Morgan as Professor Marvel, the Doorman, the Cabbie, the Garud, and the Wizard, Ray Bolger as Hunk, and the Scarecrow, Bert Lahr as Zeke and the Cowalrdly Lion, Jack Haley as Hickory, and the Tin Man, Billie Burke as Glinda, the Good Witch of the North, Margaret Hamoiltion as Mrs. Glutch, and the Wicked Witch of the West, Clara Blandick as Aunt Em, Charlie Grapewin as Uncle Henry, Terry as Toto, and the Singer Mighits as the Munchkins.

best movie

I have loved this movie my entire life,for31 years. My entire bedroom is The Wizard of Oz. There really is no place like home!

oz fan

I have loved the movie since I was a little girl. I have collected anything I can on the movie. Now that I have grandkids I try to get them to watch the movie with me, sometimes it works. This movie is a great family movie. I should Know I LOVED it for a long time.

ONE OF THE BEST MUSICAL

This one of the most wonderful movie I have seen. I loved when I was a kid and I appreciate now as an adult.

TECHNICOLOR REARS ITS GARISH HEAD

The Technicolor folks give Wizard of Oz a look that is unsurpassed. A film that can be viewed (and loved) 100s of times gets most of its lustre from the amazing rainbow of colors seen provided by the Technicolor process. Technicolor was never meant to look "real" and here it has the vibrance and I will say "garish" briliance so needed to make the story the fantasy it is.

A TRUE CLASSIC!

This is a movie one can never get enough of. A true classic, what great stars.

Wonderful, Timeless Classic

I first saw "The Wizard Of Oz" on TV in 1964 when I was 6 years old. Nearly every year since that I have seen it (especially on TCM uncut and without commercials), I have never ceased to be awed and charmed by this all-time classic. When Judy Garland as Kansas farm girl Dorothy starts to sing "Over The Rainbow" I am not ashamed to admit I get a lump in my throat. I am totally entertained by Dorothy, her friends the Scarecrow, the Tinman, the Lion and her little dog Toto as they travel together to see the wonderful Wizard Of Oz, each of them getting what they want most (Scarecrow a brain, Tinman a heart, and Lion courage). At the end Dorothy escapes the Wicked Witch Of The West who wants the magical red slippers, and the Good Witch Glinda tells her to click the slippers together 3 times and keep saying "there's no place like home". Then she slips back into her dream and is back on her Kansas farm. It's a little sad; I wished she could have stayed in the magical land of Oz with her friends. I love everything about "Wizard Of Oz"; the music, awesome sets and special effects, and the Munchkins (where'd they get all those midgets)! People of all ages have been enchanted by this classic for the past 70 years, and future generations will be amazed and thrilled by "Wizard Of Oz", maybe through some advanced technology beyond TV and DVD's.

After 70 years

It'll never lose its luster

AWESOME 70 YEARS LATER AND STILL AWESOME

SAW MOVIE IN 1939 IN SAN FRANCISCO AND WAS GLUED TO MY SEAT. WHEN THE TECHNICOLOR CAME IN YOU KNEW YOU WERE IN ANOTHER LAND. ALL ACTORS WERE GREAT. A MOVIE FOR ALL AGES. I MYSELF AM A FILM BUFF WITH OVER 15,000 MOVIES AND THIS MOVIE STANDS OUT AMONG ALL THE OTHER ONES BECAUSE OF IT'S FANTASY AND ALL MY 22 GRANDCHILDREN INCLUDING THE GREAT ONES WANT TO SEE THE MOVIE WHEN THEY COME OVER. SO IT'S FOR ALL AGES. RICARDO

Greatest Movie

My Top 5 movies ever made

Great SPFX for 1938

The special-effects hold up very well for 1939. The Tornado from effects-whiz A. Arnold Gillespie scared the daylights out of me (my mom also, when she saw WIZARD on the big-screen when she was a little girl in 1939). Gillespie was the man responsible for the magnificent visual-effects-work in the sci-fi-masterpiece: FORBIDDEN PLANET. The sound-effects of the tornado were EXACTLY what an F4-F5 tornado sounds like, and other sound-effects were spot-on as well. The flying monkeys were terrifying. The Wicked Witch of the West was beyond scary, and her castle, and everything came together, music as well, in this most wonderful, yet the first of the "campy" movies that wink at itself, films of all time.

best film ever

One of the most memorable movies of all time. The entire cast is amazing. Judy Garland is spectacular as Dorothy and completely believable. All the remakes fall short of the original. Nothing will ever to THE WIZARD OF OZ!!!

The Wizard of Oz

It's one of those few movies that you can keep going back to over and over and over again and it never grows old! It's just an amazing piece of cinema with an unforgettable cast.Thank God for "The Wizard of Oz" it's put more smiles on more faces than any other motion picture!Eddy

IT NEVER GROWS OLD

THIS HAS TO BE THE GREATIST FANTASY MOVIE EVER MADE.EVEN THOUGH IT WAS MADE IN 1939 IT IS STILL AS FRESH TODAY AS IT WAS THEN.IT IS A TRUE LEGEND. JUDY GARLAND WILL ALWAYS BE THAT KANSAS FARM GIRL THAT WE GREW UP WATCHING.WE ALL HAVE A LITTLE SCARECROW,TIN MAN,AND COWARDLY LION IN ALL OF US. MAYBE THATS WHY IT NEVER GROWS OLD.THANKS TO TCM FOR SHOWING IT.

The Wizard of OZ

It's a movie that will always be a classic. I love this movie. The cast are just right for this movie. Expatally Judy Garland. There's just something about the song SOME WERE OVER THE RAINBOW that just makes you so happy. If you have never watched this film then you have to. It's a great movie for all ages!

What can ya' say about this one?

There are no words and yet thousands of words to describe how wonderful this movie is. It's the only one of it's kind-EVER. I grew up watching this movie on t.v. and knew every line, every word to every song, and even where all the commercials came in! Even as a teen, I cancelled a date in high school because "The Wizard of Oz" was coming on that night! Needless, to say the guy thought I was nuts! But it just goes to show you what a movie can mean to a person. It's one of my sentimental faves of all time.

what this movie means

this movie is one of the best evermade.I think this movie is so loved becuse it reminds us of our childhood(i'm still in mine)of the people we hate& love.Of thing that frightens us and amazes , of a dream world that we all wanted(or still want) to live in and ,most inportantly that there is no place like home and the people who love you there.I recomend that all children see this.

Simply Wonderful

Though not exactly following the book, The Wizard of Oz is a MUST SEE for any human being alive. The Story, we all know, the music, we all know, the overall greatness of such a once in a lifetime film, we all know. If you havent seen this great picture, go out and see it NOW!

The Three Disc Collector's Edition

We all know the dialogue, so a bad commentary track would make the high cost of this set not very inviting. But the commentary track is one of the best done for any movie, with many stories about the making of the movie and audio clips by many of the actors, including Ray Bolger, Bert Lahr's children and the often hilarious Margaret Hamilton. Also, there is a documentary about the careers of the main cast members and another about the restoration, both of which will tell you things you didn't know. There is much more, including the silent versions and a music and effects only track. True, this version is expensive, but it's worth every dime.
*We protect your personal infortmation and will not provide it to anyone without your consent. For a complete explanation, please refer to TCM's Privacy Policy. By submitting your contribution, you agree to TCM's Terms of Use.