DVDs from TCM Shop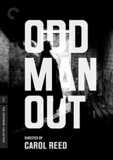 Odd Man Out A wounded IRA man faces... MORE&nbsp> $19.47 Regularly $29.95 Buy Now blu-ray
USER REVIEWS
See Detailed Ratings
Acting of Lead Performers

Acting of Supporting Cast

Director

Music Score

Title Sequence

Screenplay

Cinematography

Historical Importance

Would You Recommend?

0 Member Ratings
Rate the acting of the Lead Performers

Rate the acting of the Supporting Cast

Rate the Director

Rating of the Music Score

Rating of the Title Sequence

Screenplay

Creatively uses the camera to tell the story

Importance in Cinema history

Would you recommend for fans of this genre
Submit Ratings
Cancel
Write a Review
Read Reviews
NO REVIEWS AVAILABLE
The title has not been reviewed. Be the first to write a review by clicking here to start.
Not really noir...

Pretty good film. Not feeling the cynicism, perversion and futility of a great noir. Mason performance necessarily one dimensional. Soap flakes kind of spoiled it for me.

Terrific film from the great Carol Reed.

Kudos to Anthony for stating that he overstepped in saying that C.R. never before or since made a film "approaching" The Third Man. Odd Man Out certainly does. Missing by a whisker (or two) from matching TTM. As Kevin Sellers states, the second half bogs down a mite. Principally due the over cutesy dialogue between Father Tom & Shell. Visually it is almost as stunning as TTM and may have matched it with its superb casting. I admire how much Reed can compress and propel a scene by the use of revealed faces in windows and human shadows skirting the walls of darkened buildings. The revealed humanity(and sometimes lack of same) is striking as Mason's badly wounded character encounters people with varying degrees of compassion and avarice. I thought the constable who is hunting him down was wonderfully written. Focused and intent on his quarry, yet respectful and forthright toward those who would offer succor. Nuanced writing and performances all around. Ok. except for Newton. He IS a ham. But he sped things up a tad. And he's still my favorite Long John Silver / Blackbeard (though that may simply be the residue from my boyhood nostalgia).Let's also end the notion that Welles was a major creative force in the making of TTM. That was dismissed by his biographer.I am a huge admirer of Welles. But he was a blowhard at times. Threatened with lawsuits if he didn't cease claiming his overblown status on the film he stopped. Admitted that a director of Reed's status need not require his input.Eveyrone involved in the production admitted that he did contribute the wonderful "cuckoo clock" line. One of my all time favorites!

Retraction of early statement on Carol Reed

I wrote this assessment of Carol Reed in the thread on his Night Train to Munich. Having seen Odd Man Out (on March 24, 2019) for the first time, I retract much of what I said: "Reed for me was always something of an enigma. His masterpiece The Third Man bears no resemblance to the rest of his oeuvre and nothing he made before or since approaches its quality. That is odd. Another oddity -- one of Orson Welles' culminating achievements -- Touch of Evil -- is a virtual re-telling of The Third Man, in which Welles appears. Naive American parvenues (Joseph Cotten and Charlton Heston) confront evil in visually highly baroque settings. Expressionism (to the best of my knowledge rarely seen in other Reed pictures but a staple of Welles') is rampant, The evil Cotten and Heston confront is embodied by Harry Lime and Hank Quinlan (both played by Welles); the former dies in a Viennese sewer, the latter in a Mexican oil slick. If The Third Man is or should be attributed to Welles' influence this must diminish our assessment of Reed's reputation as a director. Kevin Sellers and others note the influence of Hitchcock's Lady Vanishes on Night Train to Munich. This is clear and convincing. Hard to believe that Welles at the height of his powers (in 1958) would be concerned to emulate Reed (unless, of course, The Third Man is really Welles' picture,)". Clearly, I was wrong to say none of Reed's other films approached the quality of his Third Man. Odd Man Out is certainly on a par with it. It also features many of the same visual aspects of The Third Man, which made it so memorable -- the gritty if baroque rendering of the seamy side of a great city, the exuberant play of light and shadow, the expressionistic bits of business, etc. As OMO predated TTM, clearly, I was wrong to suggest the visual brilliance of the latter might somehow have owed more to Welles than to Reed. But then there is still the conundrum of Touch of Evil owing so much to the The Third Man.

odd man out

In my opinion the main character in this film is not Johnny or Kathleen but rather the city of Belfast, circa 1947, a shadowy, night time world that, through the lens of cinematographer Robert Krasker and the genius of director Carol Reed, becomes an indelible symbol of death, deception, greed, compassion and love. Indeed, if this film had been set in L.A. or N.Y. or S.F. and had Johnny been a mobster instead of an IRA gunman it would be considered not just a great political film, as it is, but a great noir as well. So, even though I agree with Goetan that the pace slows considerably in the second hour (indeed, as soon as Father Tom enters the picture) and the screenplay by F.L. Green and R.C. Sherriff that was so wonderfully laconic the first hour becomes overly talky and moralistic in hour #2, if only for the mastery of setting and mood this has to rank as among this fine director's finest work. Also first rate are most of the actors. James Mason and Kathleen Ryan are excellent, but as in most great films that take in a broad cross section of society you are given a fantastic supporting cast, especially the great actor Cyril Cussack in an early performance as a skittish, none too bright getaway driver, Fay Compton as a sympathetic policeman's wife, Dennis O'Dea as the saturnine head constable, F.J. Mc Cormick and Maureen Delaney as two different kinds of Belfast rats, and William Hartnell (who bears a distinct resemblance to Ralph Richardson) as a bartender who is no fan of the IRA. Indeed, the only cast member I didn't care for was Robert Newton who, as usual, hams it up. So, for the (relatively) slow second hour and Newton let's give it an A minus 'stead of an A.

AND...

Postscript to my review. I was looking at the Police Inspector (the relentless one, who said Kathleen was "dangerous") and recognized him from another movie. 6 years later he played Inspector Starkey, supposedly a Canadian, in the Cotton/ Monroe film "Niagara". I think the fellow who worked for him in that film was Maureen O'Sullivan's brother. FYI.

I vote for James Mason as King!

About a week ago, I watched him in his own favorite film, "A Touch of Larceny". What a shock and distinct pleasure to see him effortlessly portray an IRA leader in this wonderful, poignant movie, "Odd Man Out". And though she made very few movies, I think Kathleen Ryan was splendid in her role as his love, his unknown soulmate. It was SO tense I had to stop and break a couple of times...I had no idea the IRA had so many enemies amongst their own kith and kin. The cinematography is stunning, especially of the dark city full of pedestrians in a downpour, or later in the soft snow, moving past ancient stone buildings, stepping into ornate pubs...the architecture of that era was beyond belief. And the unforgettable pictures left in my mind of Johnny McQueen resting in a barrow, by a stone angel, as the snow begins. Of the hobo-like waifs who live in a rotting baroque mansion, the picture I have of their rooms. The image of Kathleen with the snow in her hair, leaning on the iron fence, down by the wharves. 5 glittering stars for this gem.

One of the best, ever!

Susanne N Cavendish

3/23/15

The Irish have always shown passion for their country, feverishly religious, the sustaining force, of life. Kathleen Ryan was my favorite character, for it seemed that without her gift of love, Johnny might never have sustained himself. Though, like most men, he focused on the external aspects of the fight, hers, always seemed to be focused on life-giving aspects, even to the end, life that had to end. I rank it with Dr Zhivago, for what love can mean in its many ways, staying behind, for love of country, giving up life for the same reason, something greater than oneself!

Odd Man Out

An expressionistic film noir from Britain. Mason is an injured IRA gunman who is confronted with who he is by the apathy, charity and advice of others. The story's tense moments are interrupted by pretentious psychological aspects, I think that to some it's a necessary break from the drama, it also stops the film. Entertaining, thrilling, but at times a little lifeless. I give it a 4/5.

Great Film

Carol Reed's direction is once again, marvelous. A cast of very solid English and Irish actors against a powerful landscape of a dark city. The subtle touches of Reeds direction are really worth paying attention to. How the actors move and gesture, embellishing their character and intent. James Mason is excellent and let us not forget the wonderful Robert Newton, perfectly cast as a manic, sometimes delirious painter.

Terminal Effort for An otherwise noble cause

Always hopeful the protagonist would eventually meet up with another true comrade who would also save his physical self, the viewing was a bit frustrating and tedious. Did enjoy the B/W scenes during the course of the film. Reminded me of high intensity Daryl Zanick.

Great Film-making

So many wonderful actors,sad pic,but well-made.Johnny,who should've taken good advice and stayed home,gets involved in robbery,involuntarily shoots teller who pursued him,gets shot by unintended victim,falls off getaway car and has to make do for himself while comrades try to find him.Meanwhile, many people he meets offer help,or try to cash in on the reward.Nothing to disappoint here,many great Abbey Theatre actors here,loved "Shel",so sad he died shortly after this pic.

Oddly Enjoyed

Great Carol Reed film.Loved James Mason.Can't wait to see it again

ODD MAN OUT

This is one of my favorites.

dynamite noir

All I can say is this is a must see noir movie. I see it is often likened to 'The Third Man'. This movie pulled me in from start to finish. It was more compact then the the third man, yet more intense. It's like comparing black powder to nitro-glycerine. The latter being our movie.

Carol Reed's masterpiece?

Johnny McQueen,(Mason) is the leader of an I.R.A. faction who arranges a hold-up to raise funds for "the organization". There are some doubts, however, as to whether or not he is up to the job; having just gotten out of prison. When things go terribly wrong he is forced to make his way alone. Don't let the political undertones scare you away, since this is really a great character study. The first in Reed's wonderful trilogy (The Fallen Idol and The Third Man followed) showing Europe's fear and mistrust shortly after World War II. Terrific cinematography, believable characters, and great direction, make this, I think, an essential.

One of the finest films of the 1940s

This will always be one of my favorite films, because of its beautiful and dramatic story, fine cinematography, direction and script, and rare performances by James Mason and the supporting cast, including Robert Newton, Cyril Cusack and others. The dramatic ending is one of the best in film.

Great Photography

Looks great, I thought it looked like an Orson Welles directed movie. The lighting and camera movement held my interest through out the show. Hope you make it available on DVD. A great undiscoved movie that I had never seen or heard of.

One of the many classics overlooked.

This film is one of my absolute favorite movies. It's so beautiful to watch... the cinematography is wonderful, the acting is wonderful. It is just a fantastic film. I have actually written a bigger article on this film in the April-June 2007 issue of the online film magazine Reel Philadephia www.reelphiladelphia.com. (click on the Reel Philadelphia link on the menu page)If you aren't convinced yet, read the article, it might change your mind. :)

TERRIFIC!

I unfortunately was only able to catch an hour of this movie, but it was brilliant and very suspenseful! One of the best Noir films I've seen, and it's not even available on DVD!!!

Overlooked film making a comeback

This film appears to be gaining momentum in it's importance to cinema history. It's a grim tale, beautifully told. The cinematography is wonderful and the film's digital restoration is superb. This movie was overshadowed by "The Third Man" but I like it just as well. They are very different films.

Odd Man Out

Among Reed's best.
*We protect your personal infortmation and will not provide it to anyone without your consent. For a complete explanation, please refer to TCM's Privacy Policy. By submitting your contribution, you agree to TCM's Terms of Use.