DVDs from TCM Shop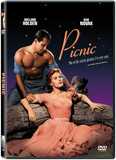 Picnic A handsome drifter ignites... MORE&nbsp> $11.21 Regularly $14.99 Buy Now
NOTES
DVDs from TCM Shop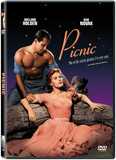 Picnic A handsome drifter ignites... MORE&nbsp> $11.21
Regularly $14.99 buy now
William Inge's play Picnic was awarded the Pulitzer Prize and Drama Critics Award in June 1953. The Broadway production starred Ralph Meeker as "Hal," Janice Rule as "Madge", Paul Newman as "Alan" and Kim Stanley as "Millie." Arthur O'Connell ("Howard") was the only actor from the original play to recreate his role for the movie. According to information in the file on the film in the MPAA/PCA Collection at the AMPAS Library, both Paramount and 20th Century-Fox studios expressed interest in producing Inge's play, but were concerned about problems with the play's frank sexual content. According to news items, Columbia purchased the play in September 1953 for between $300,000 and $400,000. After submitting a script to the PCA in November 1954, the studio was cautioned to cut all suggestion that "Hal" and "Madge" had improper relations after the picnic. In the film it remains somewhat ambiguous as to whether Madge and Hal had slept together or not.
The provocative dance scene between Hal and Madge during the picnic went on to become an iconographic film moment. A modern biography on William Holden indicates the actor was very uneasy about the scene because of his limited dancing skills. The original music from the film was a great popular success and resulted in RCA Victor releasing the theme song as a radio single. Kim Novak appeared in the film as a redhead, a departure from her signature platinum blonde style.
In an oral history at the AMPAS Library, screenwriter Daniel Taradash indicates that Columbia studio head Harry Cohn offered him the opportunity to direct Picnic in exchange for writing the script. However, Joshua Logan, who also directed Picnic onstage, was given the job. Although Logan had years of theater direction experience, he had previously co-directed only one film, United Artists 1938 release, I Met My Love Again. Logan demanded that the play be rewritten to alter its unhappy ending of Hal and Madge not getting together, despite acknowledging that ending was probably more realistic. The film was shot on location near Kansas City, MO. Although the 1956 Paramount release Vagabond King (see below) was filmed first, Picnic was released first and thereby marked the feature film debut of actress Phyllis Newman.
Picnic won Academy Awards for Best Art Direction and Best Editing. The picture also received Academy Award nominations for Best Motion Picture, Best Supporting Actor (Arthur O'Connell), Best Direction and Best Music. In 1986 Gregory Harrison and Jennifer Jason Leigh appeared in a television adaptation of Inge's play broadcast on the Showtime cable network. In 2000, Josh Brolin and Gretchen Mol co-starred in a CBS television broadcast of Picnic.