DVDs from TCM Shop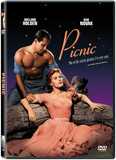 Picnic A handsome drifter ignites... MORE&nbsp> $11.21 Regularly $14.99 Buy Now
USER REVIEWS
See Detailed Ratings
Acting of Lead Performers

Acting of Supporting Cast

Director

Music Score

Title Sequence

Screenplay

Cinematography

Historical Importance

Would You Recommend?

0 Member Ratings
Rate the acting of the Lead Performers

Rate the acting of the Supporting Cast

Rate the Director

Rating of the Music Score

Rating of the Title Sequence

Screenplay

Creatively uses the camera to tell the story

Importance in Cinema history

Would you recommend for fans of this genre
Submit Ratings
Cancel
Write a Review
Read Reviews
NO REVIEWS AVAILABLE
The title has not been reviewed. Be the first to write a review by clicking here to start.
The mass of men lead lives of quiet desperation

Thoroughly Thoreau, with a trust thrust by Madge to Hal and Rosemary to Howard as they throw-down their psychological prisons (the Owens household and only being seen as pretty and for Madge and age and the local school for Rosemary) to be tied to a confirmed bum and a confirmed bachelor, both a friendly drinker winker. The whole picturesque, quintessential fifties melodrama is a pre-sixties throw-down of convention, with individuals ultimately throwing down their superiors in small and big ways. Hal hurls Alan, Alan pops off at and plants his pop, Madge mats her ma, and Rosemary (that "Jack" really brought out the terrier in Russell) roasts her longtime employer. All four break free from those in controlling positions in a poignant yet positive play-turned-film that inspired so many in the decade that followed. Madge even makes her move only after her bohemian (in every sense of the word) little sister pushes her (off the precipice?) toward freedom, as if it were just another word for nothing left to lose.

Loved This Film

I saw this film over and over again as a pre-teen when I moved to Paris in 1962. In those days, films could stay in theaters for weeks, even months (West Side Story). This was one of the few films playing in English and I saw it multiple times. And loved it. I loved that Kim Novak sees something of value in a man whom society has rejected but who has actually had a lot of bad breaks: and that she rejects the local spoiled rich kid even though her Mother and everyone, except her kindly older neighbor, thinks she is crazy. I loved the relationship of the 2 sisters, and the way the younger sister, overshadowed by her beautiful older sister, comes through for her in the end. And I loved the depiction of small-town life: I spent my summers growing up in a small town in NC, and I knew the summer rhythms and social attitudes described in the film were truthful. Its the story of a young woman who breaks out of her small town rut and takes a big risk: to a 10 year old girl in 1962, that was an inspiring story.

Color him Drab

Richard m Godfrey

4/30/18

...a bum adrift too long at the fair.

Sick-nic

This movie would have been greatly improved by an epilogue showing that Kim Novak's character ruined her life by running off with William Holden's character. Because that would have been the only "real life" aspect of the movie. Badly written, badly directed, badly acted, and unpleasant to watch. A pointless movie that is made worse by its pretensions.

picnic

When actors who are usually good, like William Holden, Roz Russell, and Cliff Robertson, all majorly suck it's a sure bet that the director's to blame and when the suckiness of said actors relates to being over the top and stiff it's a sure bet that the culpable director was mainly a stage guy and not a movie guy, as is the case here with Josh Logan. As far as the great William Inge goes (and I use the G word non sarcastically) his writing starts out well, in his patented poignant, wry, and affectionate toward his characters manner, but becomes increasingly unhinged and labored as we proceed through Labor Day, until by the end just about everyone in the cast except Arthur O'Connell and ironically Betty Field is yelling and snarling and declaiming. Great cinematography, though, by James Wong Howe that captures the look and feel of late summer in Kansas. Indeed, it is not too much to say that Howe's camera gives the best performance of all. Solid C.

Pretty bad picnic

Glad to see that I'm not the only one who doesn't like this movie. Three reasons why I think this movie was bad and badly overrated. First, William Holden is too old for the part, and overacted terribly. Plus, I hate hate hate movies where the girl has to choose between the sensible local guy and the drifter that she barely knows and the audience is supposed to be thrilled that the pretty girl chooses the bum in the end. Madge must have been truly stupid to run off with a jerk she knew for 10 minutes. And we're supposed to think that makes the movie have a happy ending. To me, it looks like stupid Madge will end up with as unhappy a life as her mother. Finally, it's just another Hollywood version of midwest small town life, which is as usual insulting to Middle America. Life in the midwest is not as pathetic as Hollywood likes to portray it.

Not a good film.

William Holden is WAY too old for his part. This movie just drags along endlessly.

So glad . . .

To find out that other people dislike this movie as much as I do. Because professional reviewers always rave about it, I've felt rather stupid because I couldn't see much redeeming in it. I usually like William Inge, but I think this story is one of his lesser efforts. And the cast - oh my! William Holden is terribly miscast and too old for the role. He seems embarrassed which may account for his annoying overacting. Kim Novak has the opposite problem. As usual, her "acting" is pretty much just sleep walking. As for Roslind Russell? I just have no explanation. None at all. Susan Strasberg is ok, but I see no evidence of the wonderkind she was lauded to be at the time. I suppose the famous dance was considered sexy and shocking in 1955; but for me, it is definitely a mundane relic of that repressed era. In fact, "mundane relic" is a good description of the whole movie.

Is this a joke?

I must not have seen the same movie that most reviewers did. I watched it to the end on PBS last night because I couldn't believe how bad it was. What made William Holden so esteemed? He overacted every scene! Ridiculously so. For him to take Millie to the picnic as his date was really creepy, looked like a Dad out with his daughter. Kim Novac didn't look like any 19 year olds I knew in the 50's either. Her Mom was awful, basically telling her daughter to put out for Harlan as soon as possible before she turned - god forbid - 22! Rosalind Russell should have been laughed out of Hollywood or else dubbed as a comedienne not a serious actress. I was hoping she would kill herself, then may she would have been Oscar-worthy. I don't know how to put into words how laughable this movie was, all I can say is this movie sucked. 0 stars.

break out the tums..

too much of this movie will give some of you that bloated.. gassy feeling of not enjoying it.

Just Pure Beauty

Everything about "Picnic" is just pure beauty. James Wong Howe's incredible photography--never, has middle America looked so wondrous and magical. Mr. Howe's work always creates extraordinary atmosphere. The picnic night scenes are lit as magical fire. The actor's all from Betty Field to unforgettable Rosalind Russell make this picture worthwhile--I forgot the young Susan Strassberg and how she was everyone's kid sister. If you don't care for the acting Mr. Howe's work is enough to make this movie classic Americana.

Picnic on Criterion Collection DVD

I would strongly recommend this film classic on Criterion Collection DVD and shown in it's original widescreen aspect. The Sony Pictures DVD shows it mostly in full screen which makes it difficult to understand what's going on in every scene entirely.

Unrealistic

Why I persist in watching this turkey every few years baffles me. Totally unrealistic. The beauty queen might have had a one night fling with a handsome stranger but isn't going to marry the broke, old gezzer, especially over the rich kid in town. Look at the real lives of most Hollywood beauties. Realizing their beauty as a valuable commodity, they went for the money! Oil man W. Howard Lee at different times was married to both of the most beautiful, Hedy Lamarr and Gene Tierney. Oil makes a man handsome. At least in real life, Holden had money, who at 55 attached to Stephanie Powers, some 25 years his junior.

Great Movie Needs Better Home Release

"Picnic" is only available on full frame DVD and a $50 Blu-Ray. We deserve a widescreen DVD release and a reasonably priced Blu-Ray.

It Grows on You

When I first saw this movie I thought it was incredibly hokey, stupid and outdated. Something happened in the next few viewings. The more I viewed it intending to scoff at the small town silliness, the more I liked the movie. Yes, Holden is a little old for the part but oh well. Yes Rosalind Russell is an odd school teacher, but oh well. There is a lot that never gets outdated. For example, there is younger insecure sister who in my opinion is equally as pretty as Kim Novak, plus smart to boot, and does not realize she has so much potential. Also, a lot of people are feeling stifled (Holden, Novak), lonely (almost everyone), disappointed (the mother) or threatened (Holden's rich friend). The actual picnic has the typical events - three legged race, food, too much drinking, a beauty queen. Chances are you would not invite a wandering stranger into your home. Chances are you would not wear a suit to a picnic. But chances are you would experience many of these situations in real life. And the dance scene which made William Holden so nervous - oh it's wonderful. It's a magic evening under the stars for two "young" people. So watch Picnic again with a different viewpoint.

West Virginia

I was there! I lived it -- only it was West Virginia and not Kansas -- and life was NOTHING like this. This movie literally made my stomach churn from the poor direction to the bad overacting. I've seen curtains eaten before but never chewed up and then spit at the audience. But let's not forget the writing. If people in the small town where I grew up behaved the way they did in "Picnic", the neighbors would have shunned them for being insane.

The Dance Scene

Picnic's dance scene with Holden and Novak is one of the sexiest in film. Terrific camerawork.

Wanted to Love It, But Bleccchh

Picnic has the surface characteristics of a movie I usually love: Midcentury small town drama focused on human relationships, with three of my favorite actresses (Kim Novak, Rosalind Russell, Susan Strasberg) and one of my favorite actors in William Holden.But having just watched it for a second time, in the words of Gertrude Stein, there's just no there there. Russell in particular overplays her role to the point of embarrassment, but Holden's not much better. Strasberg's Millie lurches from being the most sympathetic character to being a minor nut case and then back again so many times I lost count. The film was based on a stage production, and unfortunately it seems like it all too often, with lines shouted and screamed at the drop of the hat and without any prior warning. But then the entire Holden character is so unbelievable to begin with, and so erratically portrayed, that it's hard to imagine anything that could have saved this clinker. Novak is about the only thing about it that makes it rate two stars instead of one, but even she's been better in a whole string of other films from Vertigo to Middle of the Night. And of the dozens of Rosalind Russell movies I've seen and loved her in, I'm not sure exactly what explains this one, other than a bad director and an even worse script. Obviously I'm in a minority here, but I calls em as I sees em.

Phyllis Newman

No one ever mentions her. Don't know why her name was not in the credits. She's the "flirty" girl who sort of hangs around Bomber. Phyllis was one of the hosts of the NBC show "That Was the Week that Was", which was sort of the precursor to Laugh-In. She was an accomplished Broadway actress and lost out on a Tony to Barbra Streisand. During the early 1960's she was all over TV as a panelist on game shows. I had a serious crush on her. Still do. Just a beautiful actress in a wonderful movie.

overrated?

What's good: the real location setting, Rosalind Russell, and especially Kim Novak who is so fresh and appealing here in a very genuine unactressy way. What's bad: William Holden. He's way too old for the part and not even very believably Midwestern. I also don't care much for the story. It's all about sexual lust. It's in a general league with Streetcar Named Desire, though of course more wholesome. (But curiously, Streetcar is the more interesting story because of its more peculiar aspects.)

Excellent

One of the best films ever made. Superb performances by Holden, Novak, Russell. The dance scene MOONLIGHT is the best ever. Story of small town life over a Labor Day weekend. Not be missed EXCEPTIONAL direction and production. LOVE IT....

I love "Picnic"

This film is about human relationships, and therefore it will never date! It is universal. It is a beautiful film with gorgeous music! It is about love, a universal feeling.

Life is not no Picnic.

A film/play set in a particular time and place will seem "dated" - that's its aim - but "Picnic" also transcends any place and time even as it beautifully evokes mid-century mid-America. The tragic couple recognize in each other a struggle to overcome others' reduction of them to their bodies - Madge the pageant queen, Hal the football hero. Following the classic commedia dell'arte form, a parallel comic couple - Rosemary the desperate old-maid schoolteacher, Howard the reluctant beau/buffoon - also struggle to connect. On the fringes of the human comedy sprawl Millie, Madge's sibling rival and opposite, as awkward in adolescing as Madge is proficient; their mother, who is at the stage of having to give up her young-woman's dreams; and an elderly neighbor who functions as a Greek chorus because she has seen all these things before. The entitled young Alan Benson is every prince who ever gracelessly lost his "prize" to a low-born competitor. All these archetypes are incarnated in the director's successful combination of intimate stage play and small-town outdoor setting. The performances are poignant, the music is haunting, the color is delicious. A picnic for the senses and the soul.

Dated Movie

Margaret Dashwood

6/24/12

This movie is painfully dated. The one star I give it is for William Holden and his sex appeal.

Must see movie

The beautiful Kim Novak (oh gosh, I hope I spelled her name correctly), and the handsome William Holden. I've always have loved the music theme to this movie 'Moonglow', and remember hearing that holden admitted he couldn't dance, didn't want to dance but with the magic of the Director of Photography James Wong Howe, pulled it off and created quite a scene with the young lovers dancing a slow dance that some of us can remember to this day.

Picnic; the All- American Classic Film

This film is a true American classic from the town picnic scenes to the heartbreaking love story for theages. However, Roz Russell is the true star of this movie with her lonely desperate school teacher role thatis so well done it makes you ache for her. She should have let them nominate her for the supporting actress oscar; she would have won it hands down. Holden does an amazing job although I agree he seems a bituncomfortable as the "older" leading actor. By today's standards 37 is still very young!

Picnic Is One Of The Best Of The 50's

Director Joshua Logan brought the William Inge play to the screen and he did it with style and great stars. The only negative thought I have ever had about this film is the fact that William Holden, then 37 years of age, plays a drifter who has a college friend in this part of Kansas who is played by Cliff Robertson, then 27 years of age. Holden looks good at any age but I'm not certain his age was right for the part. College is mentioned so often that the impression of the two male leads is that they should be closer in age to each other as well as not all that far away from graduation. Kim Novak, then 22 years old, plays a girl of 19 and is believable in her part. A terrific supporting cast is also there and boasts Rosalind Russell, Susan Strasberg, Nick Adams, Verna Felton and Arthur O'Connell. This is a film worthy of many awards and is also a movie that should never be missed when on.

Picnic...

" For the life of me...i can not believe you left out Ros Russell... from the credits... on the Picnic movie page...and when Ben introduced the movie today...he also left her name out...and if i remember...she won an Oscar for supporting actress... in this role...Ros Russell has been a great star of stage and movies...and for TCM to not give her due credit...is hard to believe"thank you for your time...TCM member Mary C Meglemre

censorship/PICNIC O5-20-11

Such a wonderful movie, one of the best of all time, and then you cut out the best parts; Millie drinking and half of the dance scene, between Kim and Holden. This PC crap has got to stop. I thought you showed these movies in their original format! So disappointed.

Picnic 1955

One of my top ten favorites of the fifties... this movie helped to shape my adolescence and is an epic love story of the times. Should a girl marry for love or money? A movie that has it all! Love scenes hot and steamy for the times. Lust, deceit, betrayal, comedy, drama, choices and even evoked pity for some charaters. Cast of characters created magic on screen and was very true to life at the time. I watch it every time it is played and wish I could purchase an original widescreen version.

picnic

This movie is one of the best of what the fifties has to offer. Thank God it is not a musical.

There Is Something About This Movie...

That draws me to it each time it is shown. It had the look of a mid-50s Columbia "A" picture at a time when it was releasing pictures like Bridge On The River Kwai, Pal Joey, The Eddie Duchin Story.It's beautifully shot and the score is simply sensational...Picnic and It Had To Be Moonglow with Holden and Novak dancing can make a strong man swoon.It's not that Holden is a touch too old. It's that he's really too powerful compared to Cliff Robertson and as more maturely skilled actor, he projects older.Think of Sefton from Stalag 17 in touch with his inner feelings.Seriously, it's a terrific picture and I always enjoy seeing it.

Picnic

I liked this movie and just viewed it for the first time recently. However, I thought that William Holden was miscast. He seemed uncomfortable in the role and his acting forced.

Picnic

Picnic is my all-time favorite movie. I first saw Picnic in a theater in 1955 when I was in college. I sat through it twice. That summer I watched it again. I own the Video. I still enjoy it. I have memorized almost every line. What do I love about it? Everything! To appreciate it fully, one must view it in the context of the time and empathize with each of the characters. The acting, the music, the story are all superb. The ending leaves you wondering and wishing for a sequel.

Oh, and the DVD? No.

For some moronic reason, the "Columbia Classics" version of the DVD is pan & scan.I cannot recommend buying it. Only the opening is in the original wide screen, then *poof*, pan and scan, which completely ruins most of the shots in the movie.I was lucky enough to get a European copy of it, which IS in the original widescreen.Columbia... stop being stupid and release another version in wide-screen. (And give me my money back for robbing me with a P&S version.)

Was great then, still is now

Too many people watch this movie through the filter of today. Please. Think "1955", think of the morals, the attitudes of the time, *then* watch it. Perhaps you'll see it more clearly then.Brillant casting. Watch carefully... it's not just Madge and Hal, Howard and Rosemary. Everyone has a story in this. Mrs Potts (I love Verna!) is sad to be alone and saddled with her ailing mother. Flo is living vicariously through her daughter, projecting the hurt from her own failed marriage. Millie is smart, but secretly longs to be pretty like Madge. Alan only truly sees Madge as a trophy, the "prettiest girl in town", which Madge realizes isn't what she wants to be.There's so many angles here, so many little stories, so much left open for you to figure out. That's what makes it great.Add to this the soaring soundtrack by George Duning (his "Moonglow/Theme" track is fantastic), and man, you've got a timeless movie.Man or woman... if this movie doesn't touch you, make you think, and make you feel the longings, the heartbreaks, the desires of all the characters, well... then I feel sort of bad for you.BTW... I was lucky enough to visit some of the filming locations while traveling through Kansas. Most are still there. What a thrill to see them in person, especially the park where the picnic was set. (And the grain elevators? Still there, still gigantic.)TCM... you should show this FAR more often than you do now. How this hasn't been on "The Essentials" yet is beyond me. Let ME be a guest programmer... we'll watch it three times in a row! (laugh)

It is the town that I grew up in.

I grew up in the town that the film was filmed in. The visuals are still the same. The wealthy mill owners house was the house of a friend that i grew up with. The park was the scene of may picnics for families etc.

One of the Essentials

I can't celebrate summer without watching Picnic.I grew up in a small town and I absolutely love this movie. I had it on DVR and accidently erased it today. I guess I will have to buy the DVD because its not on for the next 3 months. I can't imagine not watching it a couple of times a month. Love it!!!

Heaving bosoms!

This was one of the strangest movies I have ever seen in my life, therefore i enjoyed it very much. It must be a cult favorite. What melodrama, what overacting, what a strange set of circumstances in each of the character pairs! What I found most disturbingly attractive were the crowd scenes, and activity scenes at the picnic. Watching cultish rituals surrounding the group singing and the arms raised for Neewollah was absolutely hair-raising! How delightful!

Wonderful Anachronism

I may be letting my heart write this review, because this movie was a big influence on my adolescence. Notwithstanding, This movie is dated by today's standards, but the love scene between William Holden and Kim Novak after the picnic remains (With Lancaster and Kerr's beach scence in From Here to Eternity) one of the sexiest scenes ever filmed. As to the question of Holden being "too old" for this role is like saying Orson Welles was too young to play Charles Foster Kane. Holden could do anything, and make it believable. He is one of the most underrated actors of our time. I watch this movie each time it is on TV.

Kim Novak is Magnificent

Harry Cohn of Columbia bought the rights to the smash Broadway play and assigned Josh Logan to direct. A good choice. Casting Bill Holden in the part that might have been played by Marlon Brando or Paul Newman was a box office bet for Holden the Golden Box Office Boy of Movies has a great string of hits in the 1950's. Roz Russell only in her mid 40's seems almost older than she is supposed to be, and is fine as Rosemary. Roz was offered to be nominated as Best Supporting Actress but the Star declined, and I regret that, she would have Won, but in her days, Roz was a Star and a Star she wished to remain. The find here is a great Kim Novak. Miss Novak born and raised in Chicago is pluperfect as Madge. The movie was filmed in Kansas and at Columbia in Hollywood, but the feel is pure Kansas.The scenes of Holden and Novak together -especially the fabled dance sequence- are great and the scene where Kim Novak is crowned Queen ...she is likely the most beautiful woman I have ever seen on screen. James Wong Howe has said Kim Novak was among the 5 greatest beauties of the silver screen, and I agree. A movie Star!

Excellent Movie!

PICNIC is one of my all-time favorites. The acting is terrific and the cinematography is wonderful. Kim Novak is lovely in this film and she is definitely not 'fat'. The fuller, curvier look was in fashion back then.

The dance is highlight of movie

This movie really has not aged very well. A lot of it was shot on a soundstage, Holden comes off as way too old and Novak is kinda fat and has a deer in headlights look in her eyes most of the time. However, their dance at the picnic is a really beautiful thing and I have rented it before just to watch that part.

One Hot Picnic!

This movie is one of the greats. Especially noteworthy is Rosalind Russell's performance as a too frantic, too desperate spinster. While still sexy, Bill Holden was a little too old for the role but it seemed to work for him...he seemed uneasy in the role which was just the right edge for the character. Great Movie!

A Dead Town Turns Lively

Jeannette Bennett

5/23/08

I enjoyed this movie alot from the first time I've seen it when I was very young with my sister whose eyes were glued to our black and white TV. The whole cast was excellent in each part and unforgettable especially William Holden and Kim Novak dancing so smooth and sexy I can still hear the music in my ears. The struggles of a small town and how William Holden who wasn't secure in his life made the town lively. I felt a little sorry for the teacher who wanted so desparetly to be married she settled for anyone. Excellent worth while seeing movie and I have requested this movie for a long time I can appreciate TCM for showing it.

ONE PICNIC YOU WILL REALLY ENJOY

PICNIC IS A REALLY GREAT MOVIE . IT HAS ALOT O F DRAMA AND EMOTIONS THAT ARE WELL COVERED. THE CHARACTERS ARE WELL WRTTEN AND WELL ACTED . THE DANCE SCENE BETWEEN WILLIAM HOLDEN AND KIM NOVAK IS VERY SENSUAL . I RECOMMEND THIS MOVIE .
*We protect your personal infortmation and will not provide it to anyone without your consent. For a complete explanation, please refer to TCM's Privacy Policy. By submitting your contribution, you agree to TCM's Terms of Use.