DVDs from TCM Shop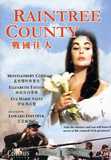 Raintree County In this sumptuous Civil War... MORE&nbsp> $9.95 Regularly $15.99 Buy Now
NOTES
Onscreen credits acknowledge the cooperation of "the Baltimore and Ohio Railroad Company, the Tennessee State Game & Fish Commission at Reelfoot Lake and the people of the Commonwealth of Kentucky." The picture opens with a five-minute musical overture. Following "Johnny's" departure to fight in the Civil War, there is an intermission. Act Two begins as Johnny joins his brigade. The New York Times review lists a running time of 168 minutes. Apparently, sixteen minutes of the film were cut after its premiere.
The picture was, as the Variety reviewer notes, "one of the biggest and costliest (estimated at $5,000,000) productions from Metro since its release of David O. Selznick's Gone With the Wind." It took M-G-M six years to turn the novel into a screenplay. According to modern sources, shortly after the novel's publication, M-G-M purchased the film rights from author Ross Lockridge, Jr. for $150,000, but did not produce the film until 1956 because of script problems. Modern sources note that Raintree County was Lockridge's only novel, and that he committed suicide in 1948.
January and February 1956 Hollywood Reporter news items note that M-G-M originally considered Alec Guinness and Arthur O'Connell for leading roles. Filming was halted after Montgomery Clift's automobile accident on May 13, 1956 and did not resume until July 23, 1956. In the accident, which occurred after Clift had been to a dinner party at Elizabeth Taylor's house, the actor's face was severely injured. Modern sources note that numerous facial lacerations and broken bones altered the structure of Clift's face so much that filming of his scenes after his return to the production was difficult. Modern sources also note that audiences frequently went to the film to make comparisons of "before" and "after" shots of Clift.
Raintree County was the first picture to be filmed using Panavision's "Camera 65" process. Most release prints, however, were issued as 35mm anamorphic prints. Actor Gardner McKay (1932-2001), who appeared briefly as a Union soldier, made his feature film debut in Raintree Country. Most of the film was shot on location near Danville, KY. Variety reported that the swamp scenes were filmed at Reelfoot Lake, Tiptonville, TN, and that mansions were photographed in Natchez and Port Gibson, MS, while a June 11, 1956 Hollywood Reporter article adds location shooting along the Ohio River, Ohio. The film received Academy Award nominations for Best Actress (Taylor), Best Art Direction, Best Score and Best Costume Design.