DVDs from TCM Shop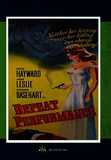 Repeat Performance Sheila Page, a Broadway star,... MORE&nbsp> $10.95 Regularly $14.99 Buy Now
USER REVIEWS
See Detailed Ratings
Acting of Lead Performers

Acting of Supporting Cast

Director

Music Score

Title Sequence

Screenplay

Cinematography

Historical Importance

Would You Recommend?

0 Member Ratings
Rate the acting of the Lead Performers

Rate the acting of the Supporting Cast

Rate the Director

Rating of the Music Score

Rating of the Title Sequence

Screenplay

Creatively uses the camera to tell the story

Importance in Cinema history

Would you recommend for fans of this genre
Submit Ratings
Cancel
Write a Review
Read Reviews
NO REVIEWS AVAILABLE
The title has not been reviewed. Be the first to write a review by clicking here to start.
Repeat Performance

This is such a good file. I haven't seen it in a few years and always wondered why it was never shown. The acting is so good and the film has a wonderful script. I am marking my calendar so I won't miss this one.

Never saw or heard of this incredible film

On this Saturday morning in Dublin-28 June 2014-I took time off from worrying about everything, turned on You tube and up popped this amazing film. I had never heard of it. Really, this is a film noir version of " All About Eve"before "All about Eve" The cast: Joan Leslie-a revelation-Louis Hayward also superb-the most under-rated actor of his generation-Basehart-another under-rated actor-they show theatre life in all its tawdry gloss and venom: its weird glamour alsoHow come this has been so neglected? Because it was made by Eagle Lion and not the great Warner Bros? And How could any Warner's actor match Louis Hayward's deadly fury in that final scene? Paul Heinreid? Doubt it! And Joan Leslie, whose career ended up in the Randolph Scott Western. " Man in the Saddle" I always thought that she was a bland actress whose only decent role was in "High Sierra [i940]. She's great here.Perhaps some film scholar might re-evaluate this amazing studio Eagle Lion? Anthony Mann got his first real break as a director there. Their noirs are so terrific. And this term-Poverty Row Studio- I am just sick of it. I mean, compare most of these films from smaller studios with the mindless romances and musicals of MGM? I would rather see "Detour" or this film than " Belle of New York" or "Royal Wedding" This studio, and others like it, represent the best of the American culture of that timeAs a child growing up in Dublin I saw most of their films in my local cinema-"High Lonesome springs to mind-I loved them. But I can't recall seeing " Repeat Performance" at all. So thanks You Tube for this. If only we could all turn back the clock for a year! Or would that be too dreadful a prospect. I mean look at poor Joan Leslie; terrified that she might kill Louis Hayward all over again. Not such a great idea perhaps? Who at Eagle Lion thought of this plot? And who is the splendid and bitchy Virginia Leslie? In some evil way she's better than Davis in "Deception!

Repeat Performance

I cannot understand why this amazing film is not on TCM I have not seen it in years yet I never forgot it. One of the most wonderfully cast and original movies ever.

gripping, and good acting

Louis Heyward could do anything, I think. He was very convincing and unlikeable in this, as he was in "Ladies in Retirement" opposite Ida Lupino. I liked this movie. Good production values, wonderful clothes, and the story moves along at a swift pace. I loved that glimpse of post-war California (if you were rich). There's one scene where Barney is spitting venom at his wife and calls her "a dumb woman".... which was offensive to me when he said it. But it kind of came true later on, when she stood mute, not opening her mouth to defend the friend who saved her.

Repeat Performance (1947)

When I was a child, I always enjoyed watching this movie at the end of the year. Since TCM seems to own it, why isn't it shown? If it's not shown, why not make it available to purchase?

Repeat Performance

Why isn't this movie being shown anymore? Why isn't it on DVD or VHS? I really miss this movie. It is a GREAT movie. Please show it soon and please make it available on DVD.

Repeat Performance

When I was a child ,I remember this movie being shown at the end of each year. I think it is one of the best classics ever and I never have come across a showing in my adult life. I have always enjoyed it and I would rate it five stars.

Repeat Performance

I remember seeing this movie back in the 60's, but I couldn't remember the name only that richard basehart was in it who was playing Ad. Nelson on TV's "Voyage to the bottom of the sea". I sure hope that TCM will one day show this movie. The concept that I remember of going back one year to change events and finding failure for most of it was unique at the time.

Repeat Performance

I have requested this movie be shown a few times over the last few years, and I'm glad to see I'm not the only one who wants to view this classic again. I was born in 1944 and it's so great to see these actors that my parents grew up watching! This film has stayed with me since the first time I saw it, probably in the 70's when it was broadcast on the oldies movie channel. Every year at New Year's time I hope, hope, hope it will appear on Turner Classic Movies, but not yet. The acting, directing, music, fascinating story and clever twists areenough to hold one's interest from beginning to end.The remake doesn't compare and eventually maybe enough folks will vote to have this shown again, and become available on DVD.

Repeat Performance

Caught this on T.V. many years ago [before VHS/DVD players] and really enjoyed the story's concept - - - to be given another chance to live a year over and know in advance the mistakes made and to now avoid - or not! There was a line by Basehart at the end that I cannot recall, and it absolutely made the point of the picture, and I've looked for a DVD in vain.Several years ago, On the internet, I found a copy available and ordered it; to my dismay it was a bogus copy and the quality so poor that it made viewing impossible.WHY HASN'T THIS BEEN PUT out legitimately for purchase by those of us who have an appreciation of the good movies from the past?COSTCO has recently begun to offer many older movies from the 70's, 80's 'cause the stuff they're putting out now should be ground up and made into roadbed material.

Repeat Performance

I used to own a 16mm print of this charming film noir fantasy in the 1970's,and always thoroughly enjoyed viewing it.My greatest regret is in selling it off to another collector.Have not viewed it again since that time period.I have since wanted to view it again and again,but no luck.Wonderfull stars,superbly acted,a complete fullfilment of a grand motion picture,the likes we never see any more.A wonderfull fantasy,and who amongst us,has not dreamed of a second chance or a Repeat Performance in our lives. Another delicious fantasy,not available anywhere is the 1933 version of Turn Back The Clock,released by MGM. Hopefully TCM will at some point release these two fantasy gems on dvd to the awating public,who would greatly treasure them in their motion picture library.

"Repeat Performance"

A+ Classic Noir, wonderful cast, intelligent & fascinating script! used to watch it whenever possible childhood on, especially New Year's Eve regular showings pre-cable. Perfect & really timeless, including the lovely, haunting theme music.WHY has this incredible film not been released to DVD?!?don't think it has been shown on any channel in many years. would LOVE to add DVD copy to my collection - one of my all-time favorites, absolutely!! Reviews show others feel same! TCM, we count on you for what we cannot get elsewhere - THANK YOU!PLEASE make this one available. ("Turn Back the Clock" was mediocre & disservice to Classic), whether individually or your Vault collection.A friend gave me a hardcover version from time of film release with cover of "the Hit Film Release" & cast - wow!

Haunting film...

Years ago, as a teenager, I was home in NYC watching TV as my parents went out to celebrate - This film, "Repeat Performance" was on and I was riveted to the screen - I've wanted to add this film to my collection for many years and of course they never put it on tape. Richard Basehart's performance was memorable as was the whole premise - I would be so grateful to be able to own a copy of this film.

hey

hello there, ive just jones tcm and i think the movies they put on there are pretty good, but i have a request if you could please put repeat the movie which came on a month ago i believe, its called, SHOWDOWN IN LITTLE TOKYO, if you could put this movie in january 2010 that would be really appreciated. thank you for ur co-operation. hoping to hear from you. bye.

Joan Leslie at Her Peak!

Chuck Reichenthal

11/9/09

REPEAT PERFORMANCE was an important film for Joan Leslie, who had fought out of her WB contract, but, unlike Cagney, Davis, DeHavilland etc., she did not have the clout to combat the 'blacklist' created by Jack Warner. REPEAT...was done for Eagle Lion, and she proved her skills at drama as she had done before with musicals and comedy - expert at all. The opening scene of REPEAT...equals the similar openings of THE LETTER and ROPE. She looks radiantly beautiful throughout and offers her first really adult role with hitherto unappreciated skills. The entire film is an unique achievement for Eagle Lion, with expert direction and a supporting cast of key names. Ms. Leslie had a bit role when a TV version (pretty bad) was done years later. Leslie deserves a monument for underrated abilities as a dancer (with Astaire! Cagney!), a comedic actress, and, as here and in THE HARD WAY and HIGH SIERRA, an actress just waiting for the one big Oscar-nominee role. She should have had it with BORN TO BE BAD in the supporting character role brilliantly on target as the one who is stronger than the victimizing Joan Fontaine. BORN TO BE BAD is also a picture well worth saving.

PLEASE SHOW/PUT ON DVD

I love this movie, but it hasn't been shown in many years. It's a great New Years eve movie.

Please Show this Movie!

It's up to you, TCM, to dust this movie off and show it again. When I was a little girl I would stay up and watch movies all night long during the summer. I even critiqued them with my own little rating system. Repeat Performance was one of my all time favorite movies. The plot, the setting, the moral to the story, the acting. Why is this movie considered to be a classic by only a few of us? It's because it is never on TV nor has it been released on DVD!!!I have searched in vain for it to be listed not only on the internet but in my TV Guide.Again, if TCM won't show it, who will?

REPEAT PERFORMANCE

The PERFECT movie to watch at the stroke of midnight on New Year's Eve! Hope to see it on DVD soon and on TCM soon!

I Miss This Film So Much

Puh-leez make this film available! It's wonderful to watch on New Year's Eve. I have not seen it in so long, and it is a really good film. I want to own it so that I can watch it again and again.

Fantastic Movie!

This is a movie that should be in everyone's classic library. I hope it will be shown soon on TCM--and on a regular basis. It's an unforgettable movie. I only hope it is soon released on DVD.

Been searching for this movie for 20 years!

I saw this movie (probably on New Year's Eve) on cable more than 20 years ago, and having since forgotten the title, the stars, and most of the plot, have been scratching my brain trying to remember its name. Now I've finally figured it out (through a database of movies featuring time travel in all its forms!) and I find it's unavailable on video! The only thing I really remembered about it was that the woman was able to relive a year of her life, that it involved a swanky New Year's Eve party, and that the poet (Richard Basehart) was obsessed with having his words published in a bound volume with morocco endpapers. At least I've found the movie's title now, and I guess I can only hope to catch it on cable or maybe someone will put it out on video. There must have been something there for it to have stuck with me all these years!

Great movie

When I was a little girl, I watched this movie with my mom, that was over 30 years ago. It sure has been one of my most memorable memories. As an adult my mother and I reminisce when we watch this film and have search for it to air hoping to capture the moment of viewing a great movie and spending time together. I would pay dearly to see this movie again let alone own a copy. How wonderful would it be to have the opportunity to share this with my mom agian.

Please Find and Air This Movie

I agree with Helene 100% (see prior comment)! I've recommended this movie to countless acquaintances, but lately there has been no way for them to see it ... and I know they would love this film.Several years ago, "Repeat Performance" was aired on TV at least during the holiday season -- usually (and appropriately on) New Year's Eve. Over the last five or so years, I've searched TCM, Internet, TV Guide, etc., without success. It seems to have disappeared! I can only assume that some company (Turner?) has picked it up and placed it on some forgotten shelf -- much to the chagrin of the movie's fans. The sad part is we can't even get it on VHS or DVD. Worse yet, I can't locate my home recording (likely loaned out and unreturned).I believe "Repeat Performance" is considered a "B" movie, and nowadays it probably would be labeled as a "chick flick". Still, it's a good, solid fantasy/drama movie with a moral question: If we had the chance to do it all over, could we and should we? Any cinema fan who hasn't seen this movie yet will have fun recognizing numerous actors who made it big in films and/or on TV.TCM, you did a great job recently with April's "Lost & Found". This may not fit exactly in that category, but if you find this little gem, you'll put a smile on several viewers' faces. Could you at least consider it for a 2008 Happy New Year gift to your viewers?

Movie That Has Everything

I've been trying to get this on VHS or DVD for years! What a great movie. Louis Hayward is a true bounder, a playwright jealous of his actress-wife's success (she's the perenially appealing Joan Leslie.) He torments her to the point that she kills him. It's New Year's Eve. She's distraught--what has she done? If she could only live the year over again, she'd do everything different. You guessed it: the powers of the cosmos (or whatever) let her live the year over. What happens makes for delicious melodrama. Come on guys, get this one in some format--or at least show it on TV.
*We protect your personal infortmation and will not provide it to anyone without your consent. For a complete explanation, please refer to TCM's Privacy Policy. By submitting your contribution, you agree to TCM's Terms of Use.