DVDs from TCM Shop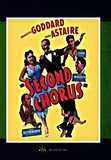 Second Chorus Two composers vie for their... MORE&nbsp> $10.95 Regularly $14.99 Buy Now blu-ray
Home Video Reviews
The American musical is anything but a homogenized genre.
Second Chorus
(1940) is one of the stranger riffs on the genre, not for any stylistic daring or musical experimentation, mind you, but for its weird twist on the buddy film / romantic triangle. Trumpeters Danny O'Neill (Fred Astaire) and Hank Taylor (Burgess Meredith) are ostensibly partners in a successful college dance band but they harbor such a competitive streak that they become vicious rivals who turn on one another at every turn with a wicked vindictiveness. And it is all played for comedy.
Paulette Goddard, surely one of the most underrated stars of the classical Hollywood era, is Ellen Miller, is a smart, savvy woman who plays on Danny's vanity to great effect in the opening scene and goes on to manage their band to even greater effect. She shifts personas with every sales call and comes off just as dazzling with each role, more playful than mercenary as she applies her sex appeal to the art of making a deal. Under her management, their college swing band, Danny O'Neill's Perennials, becomes a hot regional favorite and the only thing that could ruin their success is graduating college, something they been able to put off for years. Sure enough, professional and romantic rivalry sends Danny and Hank sabotaging one another, first in school, then in auditions with Artie Shaw's band. Ellen is one of these sweet and sexy screen women whose affection for these tirelessly competitive and annoyingly (and unjustifiably) arrogant two men allows her to forgive the most juvenile, self-centered, and cruel behavior, but their feud finally pushes past her limits when they go about sabotaging her own life and career out purely selfish, short-sighted reasons.
That kind of brutal edge is nothing new to comedy partners out of the vaudeville tradition -- it's the foundation of such classic team-ups as Abbott & Costello and Hope & Crosby -- and Fred Astaire is no stranger to playing the cocky opportunist, but these boys (and these actors are playing men much younger than their actual years) are utterly self-centered, ruthlessly mercenary, and reflexively destructive. They aren't pals, they are unstable elements in a combustible relationship that explode upon contact with any outside object or force, be it success, opportunity, or a pretty girl. The only time they manage to work together is when they have mutual goals. In those instances they manage to double-team with the best of them, whether it's a dual onslaught of double-talk or a scheme worthy of con-artists targeting a patsy.
Artie Shaw, who has a sizable role in the film, isn't as wooden as many of the real-life bandleaders who appeared in Hollywood musicals as themselves, which is to say he's adequate to the task but hasn't the natural charisma or acting chops to suggest much personality to his character. But he's surrounded by a good cast that keeps the film moving and the patter rolling. Along with Astaire (the romantic), Burgess (the wild-eyed con-man), and Goddard (the born businesswoman) is Charles Butterworth as Mr. Chisholm, a would-be hep-cat of a middle-aged millionaire who adores music and stumbles over swing lingo like a doddering but harmless square. Butterworth plays him as a born sucker, guileless and utterly unthreatening, which allows Ellen to charm him into backing a "serious" concert by Shaw, another project that Danny and Hank trample in their reflexive scheming.
While this is more of a big band musical than the usual Astaire project, with Astaire miming trumpet solos from a bandstand (Bobby Hackett dubs his playing), the film manages to fit in a couple of dance numbers, including an easy duet with Goddard and a finale where he conducts the Artie Shaw band while tap dancing up a specialty number, and he sings a couple of songs as well. Shaw provides the music for the film and Johnny Mercer the lyrics to the songs, and the film earned Oscar nominations for Best Score and Best Song ("Would You Like to Be the Love of My Life?," sung by Astaire to Goddard). Mercer also receives a special credit for "contribution to screenplay," which is otherwise credited to Elaine Ryan and Ian McLellan Hunter. H. C. Potter, who helmed
The Story of Vernon and Irene Castle
with Astaire in 1939, directs the independently produced film on a budget tighter than most of Astaire's more lavish projects. Like many classic films produced outside of the studio structure, it fell into the public domain in the 1960s and has since shown up in scores of poor-quality editions on TV, VHS, and DVD.
The rise of Blu-ray has created yet one more opportunity for labels to dip into the public domain titles that once filled up the bargain bins of VHS and DVD, usually haphazardly transferred from second- or third-rate prints, many of them rough or damaged and many generations from the original. The difference with Blu-ray, however, is an expectation of superior quality. Those scratchy, hissy, blown-out editions of $3 bargain basement discs just aren't going to fly at 1080p.
Some labels are making an effort to rehabilitate the PD catalogue by seeking out good quality archival 35mm prints, making high-quality digital masters, and using software to digitally stabilize shaky images, clean up scratches and scuffs, and repair torn and damaged frames. The results aren't always top drawer, but many are quite good (Kino has been notably successful working with film archives and institutions) and even lesser efforts are invariably a significant improvement over previous incarnations.
Film Chest is among the newer players in the realm of PD on Blu-ray, boasting 2k digital scans of 35mm fine grain nitrate prints. Those prints aren't necessarily archival quality, mind you, as the restoration demonstrations show, and heavy digital clean-up is used to scour away the wear and tear of the image. Because of the 35mm source, the base image gives them something to work with, however, and
Second Chorus
is one of their better efforts. It's not a restoration in any real sense of the term -- some portions are cleaned to the point of removing film detail, there are some damaged patches that all the digital scrubbing can't repair, and some scenes have a tinny echo to the audio -- but it is still much cleaner and sharper than any previous version I've seen, and more sensitive to the original texture of the film than many previous Film Chest releases.
The Blu-ray+DVD Combo Pack features commentary by Hollywood historian Tom Santopietro and a trailer, plus a brief before-and-after "restoration demonstration" and a movie art postcard.
By Sean Axmaker
After his series of unbroken musical delights at RKO, and before his later Technicolor dazzlers at MGM, dancer extraordinaire Fred Astaire moved from studio to studio, refusing to sign a standard contract. He seemed to be searching for harmonious working conditions, worthy collaborators and perhaps even a new career direction. When Astaire found a terrific dance partner like Rita Hayworth, the script might sub-par, and some of the films couldn't muster music worthy of his talent. Paramount's
Second Chorus
is one of Astaire's better efforts. The dialogue is snappy, Artie Shaw's music is fine, and Astaire shows his comedic chops to be in fine working order, even if he only dances two or three times!
Synopsis: Amusingly disloyal college buddies Danny O'Niell and Hank Taylor (Astaire and Burgess Meredith) have kept their college band intact by purposely flunking seven years in a row. They both fall for an irresistible summons server Ellen Miller (Paulette Goddard) and arrange for her to lose her job so as to be more available. Ellen proves to be a whiz at band management, and their band is soon competing toe to toe with the big names, like Artie Shaw (Artie Shaw). Kicked out of college at last, the boys are delighted when Ellen reports that Shaw is coming to see them perform, but the famous bandleader wants her talent, not theirs. Ellen manages to get Danny and Hank auditions with Shaw, but they predictably sabotage each other's efforts!
Second Chorus
is, as the disc liner notes observe, the tail end of the 30s campus comedy, just before it was swept away by the war. Artie Shaw's swing band provides the music and the comedy retains the anarchic and carefree quality of earlier efforts like
College Swing
. Fred Astaire plays a trumpeter and not any kind of dancer per se. Although a couple of tap numbers come out of nowhere and the ending sees him dance-conducting Shaw's orchestra, they are just 'dance relief' in a standard comedy enlivened by some great casting.
Astaire and Burgess Meredith could easily have become a screen comedy team. The best of friends, they battle constantly, trading dirty tricks and underhanded schemes with greater ease than Hope & Crosby. Frank Cavett, Elaine Ryan and Ian McLellan Hunter's crisp screenplay has a number of pitch-perfect scenes, such as a walk across campus in which both the boys learn, in stages, that they've thoroughly double-crossed each other. Doubtful situations become funny highlights, as when one partner hides under a bed, only to find that the other is already there. The mutual deceptions naturally make both of them look like idiots, yet they never let honesty intrude on a perfect relationship.
Comely Paulette Goddard provides the fuel for the rivalry. While Danny and Hank are egotistically blind to any talent but their own, Ellen Miller is the competent realist with skills that provide the link to the big time. She even opens doors for Artie Shaw by schmoozing with the infantile millionaire played by Charles Butterworth. After ruining each other's auditions and working in demeaning jobs, Hank and Danny return and almost spoil Ellen's plans as well. They atone by using their devious skills to set things straight.
Ms. Goddard eventually chooses Astaire, which is interesting because three years later in real life she married Burgess Meredith. Despite losing the role of Scarlett O'Hara, Goddard was at the time enjoying a major career upswing. She was both a talented comedienne and the perfect height for Astaire and Meredith, but she had no formal dancing experience, at least not at Astaire's level. Nevertheless she dances in an extended one-take number,
I Ain't Hep to That Step but I'll Dig It
and comes across just fine. She keeps up with Astaire, who adjusts his steps to flatter her good moves. Actually, if we hadn't read that Goddard worked like the devil to perform the number and barely choked out one good take, we'd never know that she wasn't a seasoned pro.
The battling partners eventually cooperate to make Artie Shaw's concert a success. If
Second Chorus
didn't go soft at the finish, it might be a classic perverse buddy film, the musical equivalent of
Vera Cruz
. Goddard's importance to the plot wanes as we're set up for Astaire's final number. Artie Shaw is fine playing himself, but Charles Butterworth's tiresome ditz is no substitute for Edward Everett Horton. Preston Sturges favorite Jimmy Conlin has a great bit as a collection agent incensed at being offered a $2 bribe, when $10 is his going rate.
Hal Roach Studios' DVD of
Second Chorus
is a clean transfer of this original Paramount release that (wild guess) might have reverted to other hands over music rights. Oddly, the fine print on the package lists Paramount as the copyright holder. Artie Shaw's music comes across well. Earlier Roach releases came from iffy sources or suffered from terminal time-compression, as with the Frank Sinatra thriller
Suddenly
). This title is fine in all the basics.
Roach's graphics and packaging design are unexceptional, but the brief, unattributed liner notes are unusually good. We're told that Frank Capra once called director H.C. Potter (who certainly doesn't crimp the comedy here) "the most humorless person I ever knew." Potter apparently had an argument with Artie Shaw, claiming that the bandleader didn't understand the character he was playing. Shaw fumed, shouting, "You idiot! I'm playing myself!"
For more information about
Second Chorus
, visit
I mage Entertainment
.
by Glenn Erickson