DVDs from TCM Shop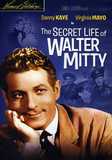 The Secret Life of Walter Mitty An accountant dreams of being... MORE&nbsp> $11.21 Regularly $14.98 Buy Now
NOTES
The working title for this film was I Wake Up Dreaming. While a February 1946 Hollywood Reporter news item lists Theodore Von Hemert as the set decorator, only Casey Roberts received onscreen credit. Boris Karloff was borrowed from Universal for his role as "Dr. Hugo Hollingshead." Because producer Samuel Goldwyn cast Virginia Mayo in both The Secret Life of Walter Mitty and The Best Years of Our Lives, films which were in production simultaneously, a break in the production of The Best Years of Our Lives was contemplated during July 1946 so that Mayo could complete her role in this film. Hollywood Reporter news items add Victor Cutler and Arianne Ross, wife of the New Yorker editor Harold Ross, to the cast, but their appearance in the final film has not been confirmed.
Work on the script of The Secret Life of Walter Mitty began in January 1945, when Ken Englund and Everett Freeman attempted to adapt James Thurber's highly popular short story of the same name into a dramatic property. In August 1947, Life magazine published letters written by Goldwyn, asserting that Thurber loved the film. Also published were letters by Thurber, who insisted that, in spite of his involvement in the film's production, he never fully approved Goldwyn's changes. Thurber wrote that in December 1945, Goldwyn rejected the script the original writers offered, and sent Englund to Thurber in order to receive his input on the story line. The two worked on a new script for ten days, and after that Thurber's ideas were continually sought out and then ignored by Goldwyn. The tone of Thurber's letters suggest that he was entirely unhappy with the final product, complaining at one point that the psychiatrist scene contained "a bathing girl incident which will haunt me all the days of my life." He also recalled that Goldwyn asked him not to read part of the script, as it was "too 'blood and thirsty.' I read the entire script, of course, and I was horror and struck."
News items also note that Thurber fans protested when Goldwyn changed the name of the film to I Wake Up Dreaming in reaction to a Gallup poll he had conducted. A May 1947 Collier's article recounts the letters and threats sent to Goldwyn by fans, and the producer's subsequent retraction of the new title. Although many reviewers criticized the element of spectacle added to Thurber's story, the film did very well at the box office. Another adaptation of the story, produced by Paramount Pictures and to be directed by Mark S. Walters, was announced as being in development in spring 2005. By October of 2005, Variety reported that actor Owen Wilson had dropped out of the project and Paramount was considering Zach Braff to play the lead. At various times, Jim Carrey and Whoopi Goldberg were attached to the project.
The Secret Life of Walter Mitty marked the first film of future director Robert Altman (1925-2006), who appeared in a bit role as an RAF pilot. Altman, who went on to a long career as a director and writer, received five Academy Award nominations as Best Director, as well as a special Academy Award presented to him in 2006.