DVDs from TCM Shop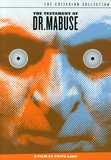 The Testament of Dr. Mabuse A crime wave grips the city... MORE&nbsp> $29.95 Regularly $39.95 Buy Now
Home Video Reviews
The mastermind Dr. Mabuse (Rudolf Klein-Rogge), who was responsible for engineering criminal mayhem in Germany during the early 1920s, has been locked away in an asylum for a decade. In the meantime, eerie correspondences are beginning to emerge between a seemingly disconnected set of circumstances and characters. The disgraced cop Hofmeister (Karl Meixner), who has been working to uncover a counterfeiting ring and regain his reputation, is driven insane before he can divulge the identity of the man behind the scheme. In his search to uncover the person responsible, Police Commissioner Lohmann (Otto Wernicke, returning from Fritz Lang's previous film
M
) follows the trail to Dr. Baum (Oskar Beregi, Sr.), the respected psychiatrist overseeing the institution where Mabuse is kept. Baum, we learn, has been hoarding Mabuse's asylum writings, his "testament": detailed instructions for establishing an "empire of crime" based on fear and terror. Commissioner Lohmann must somehow put all the pieces together in order to prevent the planned large-scale terrorist acts from occurring.
The Testament of Dr. Mabuse
(1933), Fritz Lang's follow-up to
M
(1931) and his last film made in Germany until his return in the 1950s, is a particularly rich example of how Lang uses popular genres--in this case a blend of suspense thriller, science fiction and police procedural--as a starting point for making thematically complex artistic statements without losing sight of cinema's basic entertainment value. In this film, as with the 1922 diptych
Dr. Mabuse, the Gambler
, Lang is using the Mabuse character to comment on contemporary society. The advanced level of social and technological organization that makes modern existence possible is turned against itself by Mabuse through the factory production of counterfeit bills and the conversion of chemical factories into weapons of mass destruction. Even audio recording technology, which facilitates communication, is used here to facilitate crime.
The 1933 film, which was banned by Goebbels and not released in Germany until the 1950s, is famed for its underlying parallels between Mabuse and Hitler, making Fritz Lang one of the few filmmakers at that time to confront the threat of Nazism in any significant way. In subsequent interviews Lang often asserted that phrases such as "empire of crime" in Dr. Mabuse's notes are drawn from actual Nazi writings. Today it is also tempting to see in it parallels with the current wave of terrorism, as noted film scholar Thom Gunning suggests in the liner notes to the DVD. Certainly, the systematic manipulation of fear by a criminal organization in order to assert control over the populace bears a disturbing resemblance to contemporary events. But the point is not that Lang is some kind of uncanny prophet; this film, like
M
, retains its timeliness because of the director's deep understanding of the nature of crime and its underlying social forces in the urban, industrialized world. Lang, one could argue, is the premier Modernist director; that is why his artistic vision has not dated to the same extent as, say, D. W. Griffith, whose films reflect nineteenth century sentiments.
On a purely formal level
The Testament of Dr. Mabuse
is one of Lang's finest works, thanks to its imposing rigor of design. As Lang's second sound film, it displays his concern with developing the expressive possibilities of sound: standout moments include the wordless opening sequence in which the only sound is the din of heavy machinery, the symphony of car horns at a street intersection providing killers the opportunity to fire a gun unnoticed, and the clever transition between the ticking of a bomb and a gangster tapping on an egg with a spoon. If anything, the film marks a distinct advance over
M
in terms of its sophisticated sound techniques. It is also a triumph of production design; Karl Vollbrecht and Emil Hasler's spare textures and clean lines represent the best of the Thirties international style.
However,
The Testament of Dr. Mabuse
is not without flaws; Kent and Lilli's romance, while structurally necessary to the story, brings the otherwise compellingly paced film to a dead halt. This is mainly because of actress Wera Liessem's cloying performance. In the audio commentary David Kalat suggests that Lilli's exaggeratedly smiling, unflinching determination to "stand by her man" no matter what he has done is executed by Lang in a deliberately perverse manner, making her one of Lang's many self-destructive characters underneath her saccharine exterior. It's an intriguing idea, and one certainly in character with Lang's work as a whole. If nothing else, Lilli's character should provide plenty of fodder for contemporary self-help books on unhealthy relationships. Still, whatever you ultimately think about Wera Liessem's performance, it's not enough of a problem to detract seriously from the film's power as a whole.
This restored version of the film was a collaborative effort between the German Film Institute, the Federal Film Archive, the Munich Film Museum, KirchMedia and ZDF/ARTE. 121 minutes of the film's original 124-minute running time have been recovered. Thankfully, Martin Koerber and his team, who were responsible for the acclaimed restoration of
Metropolis
, once again do beautiful work, as does the technical team at the Criterion Collection for the DVD transfer. The richly shaded black-and-white cinematography by Fritz Arno Wagner--responsible for German masterworks such as
Destiny
(1921),
Nosferatu
(1922),
Kamaradschaft
(1931) and
M
--is well-represented here, conveying a strong sense of physical space in the image. On the whole, the DVD is astonishingly detailed for a 1933 film; only a few slightly more damaged and dupey-looking shots betray anything of the film's spotty preservation history. The film is presented in its original 1.19:1 aspect ratio, a format common to early sound films. The mono soundtrack is clean and full for an early sound film, thanks to careful audio restoration work.
In addition to the restored feature film, Disc One contains an audio commentary track by David Kalat, author of the book
The Strange Case of Dr. Mabuse
, a study of Mabuse as a cultural icon in German film and literature. Kalat does a good job of analyzing the film itself and discussing Mabuse as a cultural phenomenon, Fritz Lang's filmmaking style and his biography. Importantly, Kalat debunks widely repeated biographical myths that Lang himself disseminated. Disc Two contains a fairly battered 16mm print (the best materials available) of the French version of
The Testament of Dr. Mabuse
, which was shot simultaneously with different actors in most roles. It also includes: a comparison between the German, French and 1950s American dubbed version; excerpts from a 1964 interview with Fritz Lang; a 1984 interview with actor Rudolf Schundler, who plays the homosexual gunman Hardy; an interview with Michael Farin about writer Norbert Jacques, who originated the Mabuse character; posters, memorabilia and production stills, and Emil Hasler's production design sketches. Lastly, Thom Gunning provides the perceptive liner notes. This release is strongly recommended.
For more information about
The Testament of Dr. Mabuse
, visit
Criterion Collection
. To order
The Testament of Dr. Mabuse
, go to
TCM Shopping
.
by James Steffen