DVDs from TCM Shop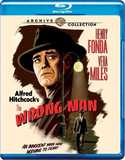 The Wrong Man A musician is mistaken for a vicious thief, with devastating... MORE&nbsp> $18.95 Regularly $21.99 Buy Now
USER REVIEWS
See Detailed Ratings
Acting of Lead Performers

Acting of Supporting Cast

Director

Music Score

Title Sequence

Screenplay

Cinematography

Historical Importance

Would You Recommend?

0 Member Ratings
Rate the acting of the Lead Performers

Rate the acting of the Supporting Cast

Rate the Director

Rating of the Music Score

Rating of the Title Sequence

Screenplay

Creatively uses the camera to tell the story

Importance in Cinema history

Would you recommend for fans of this genre
Submit Ratings
Cancel
Write a Review
Read Reviews
NO REVIEWS AVAILABLE
The title has not been reviewed. Be the first to write a review by clicking here to start.
Draw

I think some reviewers did not see this movie, the cops gave Manny many chances to prove he was innocent .He was identified at the bank ,deli , liquor store . Not until he misspelled drawer as the real robber did , did they lock him up . Good movie .

Fanfare for The Wrong Man

The marvel of this A.H. movie is the unpronounced exertion of H.F. in sync with V.M.'S quietly depressive sink hole that communicates the diminutive attitude of the previous generation when faced with a true personal crisis! It was a study in the humiliation that came with being booked for a crime, the victim's fear of facing her attacker even with the support femininely sympathetic coworkers, a dependent wife's break-down within overwhelming circumstances, & cops unceremoniously doing their jobs to the very end when the situation was at last resolved! Today's people cannot appreciate the simple distilled behavior under great distress during a time when Americans could & did trust legal authorities who also limited their sentimentism. The validity of this movie was its objectivity- in title & black/white film- unlike several A.H. offerings where a perfunctory romance between 2 beautiful actors served to dilute the story's ultimate impact! B.H.'s simplistic music under scored each scene's proceedings like a skater's edge!

Grim and disappointing

I have loved the TCM Hitchcock marathon - and didn't realize there were still a few of his films I had never seen (or hadn't watched in years). So, I viewed "Shadow of a Doubt" and "The Wrong Man" this weekend."Shadow of a Doubt" is very well done, though the audience is ahead of the story and the characters most of the time. But I found "The Wrong Man" to be quite bleak and almost monotonous. Yes, it's scary to see someone railroaded by the justice system - but it was so obvious that Henry Fonda's character was innocent and his alibis seemed to be easy to establish, but for some reason he and the lawyer took forever to do this.Vera Miles' was loving and upbeat in one scene and then had a completely breakdown in the next. No real transition. And while the ending had some payoff. I found this to be one of Hitch's lesser efforts. One funny moment - when Henry Fonda (who was 50 or 51 in real life) tells the cops - twice - that he's 38.

the wrong cast

Henry Fonda and Vera Miles as Manny and Rose Ballistrero...I don't think so.Fonda plays his part in a semi-catatonic state, Miles plays hers in a state of semi-hysteria.Are these two supposed to be playing real people? Missing the humor and irony of most of Hitchcock's successes, it's a misfire in the middle of his winning '50's film period. A better cast would have made this an interesting oddity, but nothing more. Actors that come to mind that would have put the story across... Tony Franciosa, Tony Curtis... Lee Grant, Ann Bancroft.

The Wrong Man

Henry Fonda must be one of the most understated movie actors of all time. He did almost all of his acting with his eyes, using minimal dialog and very slight changes in voice and posture, to portray the gamut of emotions. This movie provides a good example of his acting style. It also reveals his courage - how many major movie stars, even today, are willing to do an honest, convincing portrayal of real fear - to the point of nausea - without resorting to screams and hyperventilating outbursts?

Captivating w/Suspense

I loved this movie. The way Fonda kept his innocent look throughout the movie, made you stay on his side. His wholesomeness was evident, they had the wrong man. I just enjoyed the roller coaster ride of emotions it put me through. I was a Fonda fan after this performance!

Look Out

First, Based on a true story, worries the hell out of me. It means that the writer or writers can go any way they want politically and knowing the Fonda family they would take pride in diminishing our justice system. This is the kind of film from Hollywood that truly worries me "Don't Trust Them"!!!

don't be decieved.

One of the critics made a political statement about this film. I find this film hard to watch, perhaps because I have seen so many guilty go free, only to murder, rob and terrify. That happens so many times more often than what happens in this film. I make t his comment on the basis of our standards of justice in this country. Unless someone pleads, it takes 12 unanimous votes to convict. Ever see a film where an apparently obviously guilty person is convicted. What a boring film that would be. Only films like Wrong Man make a great suspenseful, tearful, and erroneous impression. Its a case of man bites dog. Now that's a story. Dog bites man is not. As part of the system that tries to find the guilty, not the innocent, I can longer watch this film. Until I left college, I loved this film. Now, its too hard for me to watch.

Step by step through a living nightmare....

THE WRONG MAN is a black-and-white on-location film Alfred Hitchcock made before his more famous string of bigger-budget, sophisticated, widescreen hits with which most associate him. Filmed on the streets of New York City, it has the gritty feel of BLACKBOARD JUNGLE and ON THE WATERFRONT, all made within three years of each other.Although documentary-style, social commentary was off the beaten path for Hitchcock, Henry Fonda's mistaken-identity arrest shows step-by-step, practically in real time, what it would be like to be falsely arrested and seemingly trapped by an imperfect legal system. Fonda's iconic all-American face expresses the emotional steps of shock, nervousness and claustrophobia surely felt by innocent people who find themselves in such a living nightmare. To judge THE WRONG MAN against Hitchcock's later, more signature "slick" style seems unfair. In THE WRONG MAN, the viewer can see the seeds of what the director would later explore to more paranoid -- and comic -- effect with Cary Grant in NORTH BY NORTHWEST just three years later.I found THE WRONG MAN imminently watchable.

Naive

The Central Park Five were wrongly convicted of the attack in central park in 1989. Four served their years in prison and were released. While the only one who was over eighteen and who was mildly retarded, remained in prison until the guilty man took pity on him, confessed and proved their innocents by DNA. Don't be naive, New York City, Chicago, America has a long history of wrongful convections.

You nailed it 'Unbelieveable'

Have to agree with "Unbelievable." Maybe this is the way cops grabbed poor souls in an old Iron Curtain nation, but there's no way an innocent American would catatonically go along with being railroaded into jail in this so-called based on fact yarn. Maybe the actual person (Ballesteros?) was indeed an immigrant but Hitchcock needed to cast an Anglo star straight from Hollywood & Vine in hopes of getting his money back. Absurd from top to bottom. Only thing that saves this -- perhaps Hitchcock's most disappointing work -- is the documentary peek of NYC in the 50's. Table service cafeterias in the subway? Get out! Even saw sailors with obsolete flattop dress caps once in background.

Unbelievable

I'm so mad. I love Henry Fonda and this is the worst movie I've ever seen him in. The whole premise makes him look stupid. This is a man who lives in the city and after the second time they take him into the store to walk around he must know something is wrong.This is classic foolishness. All the movies I watch from this era show men who were aware of what was going on around. He plays in a night club, I can't believe that he would play such an character.If I could give it a 1/8 star I would. Truly disappointing. From a TCM fan in NY.

Afraid of the police

It is a known fact that Hitchcock had an unhealthy fear of the police, this maybe the reason for this going off the road type of film---so unlike all of the rest of his pictures. I feel very uncomfortable after watching this film.

Hitchcock scares us with reality

One of Hitch's scariest films - with zero violence or action. I thought this movie would be a chase film, with the wrong man pursued cross-country - boy was I wrong. Henry Fonda underplays perfectly as a man slowly marching into the mouth of a lion, unaware of the dangers before him. My wife wanted to yell at the TV - "Don't do it Henry!" Watch it to find out why.

Hitchcock's True-Life Murder-Mystery Thriller.

Frank Harris Horn

10/6/10

Of all the movies Alfred Hitchcock made during his glorious career as a movie director, this is the first one ever to be made as a semi-documentary inspired by a true story and magnificently written by Maxwell Anderson and Angus MacPhail. Henry Fonda stars as Christopher "Manny" Balestrero, a New York City musician, who has been falsely accused of committing a jewelry robbery, that was originally done by a look-alike crook. Vera Miles gives an excellent, believable performance as Balestrero's wife, Rose, who cracks under strain during her husband's incarceration. Very suspenseful and compelling with a dark and moody atmosphere with an equally dark, moody and suspenseful musical score by Bernard Herrmann. Filmed on location in New York City and at New York City's Stork Club. Also starring Anthony Quayle, Harold J. Stone, Nehemiah Persoff, Peggy Webber, Charles Cooper, Doreen Lang, Henry Beckman, Frances Reid, Werner Klemperer, Charles Aidman, Alexander Lockwood, Bonnie Franklin, Tuesday Weld, Maurice Manson, Olga Fabian, Anna Karen & Maurice Wells.

Obscure Hitchcock Thriller

When you talk about classic Hitchcock films "The Wrong Man" usually doesn't come to mind. It is a very taut and suspenseful thriller dealing with mistaken identity, a theme Hitchcock would later expand on in "North By Northwest". I was surprised to see that it was shown on TCM 8/1/09 (as part of Summer Under The Stars day of Henry Fonda films) in pan/scan format instead of letterbox. I think it would look better in letterbox. Vera Miles, who played Rose Ballestrero, was originally to have starred as Madeleine in "Vertigo", but she had to back out because she was pregnant and the role went to Kim Novak. But she was in "Psycho" as Marion Crane's sister Lila. Doreen Lang, who played one of the loan company clerks, was in two other Hitchcock films ("North By Northwest" as Roger Thornhill's secretary and "The Birds" as the hysterical woman in the restaurant). Esther Minciotti, who played Manny's mother, starred in "Marty" playing his (Ernest Borgnine's) mother also. I would like to see some of Hitchcock's lesser known films like "The Wrong Man", "True Confessions" and "Stage Fright" added to TCM's lineup.

Hank Fonda, the Right Guy...

for "The Wrong Man". Hitch's casting for the lead role was right on the money.Sparse set's and a dour musical score serve as an excellent backdrop for Fonda'a predicament. Based on a true story.

How Could No One Review This Yet?

I am by no means a movie critic or good with words. Being addicted to TCM I'm surprised I've ever looked at reviews until I just saw this movie. There seems to be no reviews about this one unless I'm not reading something right.Alfred Hitchcock and Henry Fonda, this movie was a perfect example of why I watch TCM. Classy, suspenseful, no junk, good acting, a story that you want to see the end of, even made me cry. My THANKS Always to TCM, I hope you never change!
*We protect your personal infortmation and will not provide it to anyone without your consent. For a complete explanation, please refer to TCM's Privacy Policy. By submitting your contribution, you agree to TCM's Terms of Use.