DVDs from TCM Shop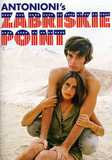 Zabriskie Point A young girl helps a student... MORE&nbsp> $14.95 Regularly $19.98 Buy Now
Home Video Reviews
Michelangelo Antonioni's 1966
Blowup
is an unprecedented American art house thriller that became a surprise mainstream success, grossing over six million dollars. That kind of business elevated the status of a number of European filmmakers, securing big co-production deals for, among others, Federico Fellini. For a brief time, being an Italian master of alienation amid bleak landscapes was a definite asset; if the result brought in audiences, MGM would let Michelangelo film whatever he wanted.
Antonioni chose to film his next opus in the United States, at that time the focus of much intellectual and political criticism from the continent. Encouraged by the status conferred upon profitable pictures like
Easy Rider
and
2001: A Space Odyssey
, MGM green-lit
Zabriskie Point
, a counterculture saga about alienated youth and free love in an America seen as ripe for revolution.
Zabriskie Point
imposes a foreign artist's leftist political interpretations on a stylized American landscape. The beautiful but alienated leading actors are little more than placeholders for disaffected youth. Antonioni's aides reportedly found the male lead Mark Frechette standing on a Boston street corner shouting "motherf*cker". The quote offered by the promoters: "he's twenty and he hates".
*
The story of
Zabriskie Point
is a pretentious trifle. During a period of college unrest, student Mark (Mark Frechette) quits a Marxist planning session (dominated by political firebrand Kathleen Cleaver) and is arrested for hassling policemen booking student demonstrators. He and an associate buy a pair of handguns and return to campus. They may or may not be responsible for the shooting of a riot cop back on campus. The sequence is filmed in such a way that we can't tell who shoots whom. Mark makes his way to an airport, steals a single-engine airplane, and heads eastward to the desert.
In a Wilshire Blvd. office building, free spirit Daria (Daria Halprin) meets executive Lee Allen, a land developer working on an Arizona resort for the wealthy. Daria apparently agrees to accompany Lee to his mountaintop desert house, but instead drives there on her own in a borrowed car. After meeting some grizzled oldsters in a desert café and tangling with some near-feral desert kids, Daria is spotted by Mark from the air. He buzzes her car several times before landing. They don't speak much. She drives him to fetch more aviation fuel, but they instead end up at Zabriskie Point, a scenic lookout at the far end of Death Valley. Their lovemaking in the alkali dust becomes a hallucinatory orgy, with scores of couples engaging in various sex acts all around them.
Zabriskie Point
's tagline is the now embarrassing "far out" phrase,
"How you get there ... depends on where you're at".
Antonioni is uninterested in fashioning an emotional reality for Mark and Daria, who are never more than what they are, two attractive kids going through the motions. The director's efforts are instead invested in the film's visual surface, as with his highly artificial, thematically interesting
Red Desert
. The dramatic scenes are flat and uninteresting; Rod Taylor and his developer cronies are mere stick figures against a sterile corporate backdrop.
Antonioni has a field day making Los Angeles look like a portal to Hell lined with ugly billboards. Lee drives to offices that appear to be at the intersection of Wilshire and Western, somehow avoiding every view that doesn't feature advertising displays. Mark and his fellow triggerman live in a depressed neighborhood, and run red lights in an old pickup truck. Neither the real student demonstration footage nor the staged violence makes much of an impact. The rancor in the 'revolutionary strategy meeting' (scored with Pink Floyd's
"Heartbeat Pigmeat"
) is 100% accurate to this reviewer's college experience, with furious, incoherent rhetoric thrown about by zealots incapable of listening to one another.
Zabriskie Point
finds its power out in the desert, which represents Antonioni's vision of America as a moral wasteland. Daria seems thrilled to be the object of Mark's foreplay, buzzing his stolen plane only a couple of feet above her head. The aerial work in the movie is technically perfect, creating a
North by NorthWest
"meeting cute" as the modern plane zooms over the prehistoric desert floor.
Death Valley, the lowest point in the United States, is more than a little symbolic. The amorous hippies in the spaced-out mass sex scene staged there look like prehistoric animals spawning at the dawn of creation. The film was always "R" rated but more than one orgy cutaway strongly implies hardcore activity. As for Mark and Daria, they gambol nude in the dust but don't appear to be engaging in actual sex.
When existential idyll is finished Antonioni hurries back to his main theme:
America is Evil
. The lovers paint psychedelic patterns on the stolen plane, which Mark flies to a fateful reunion with the "pigs" back in the smoggy city. Daria drives on to her Arizona rendezvous with Lee Allen, at a lavish designer house built into a rocky Arizona hillside, sort of a space age Navajo cliff dwelling. Daria tours the spotless interior, avoiding the soulless executives and their designer women.
When she realizes what has happened to Mark, Daria and the movie indulge a subjective fantasy of destruction. To Pink Floyd's apocalyptic track
"Come in Number 51, Your Time Is Up"
, we watch for several minutes as the cliff house explodes into a million pieces, a staggering blast repeated from numerous angles and in slow motion. The screen then treats us to several minutes of decadent consumer goods -- furniture, kitchen appliances etc. -- exploding one after another. The shots are in such extreme slow motion that both the image frame and shutter are unsteady. One dreamy shot features what looks like hundreds of pieces of frozen food floating like feathers in a pillow fight. An entire frozen turkey sails by like a spaceship from
2001
. Antonioni's message is clear: he'd clearly like to see America, or at least its consumer culture, blasted from the face of the Earth.
Zabriskie Point
was harassed by the authorities during production based on rumors (?) of orgies in a National Park and the notion of a foreign radical promoting unrest on California's tense U.C. campuses. A general critical lambasting didn't help the $7 million dollar production find audiences, and it's been a cult item ever since. The legendary Italian filmmaker remained true to his vision of America as a spiritual wasteland ruled by soulless capitalists, but his superficial interpretation of youth in rebellion was rejected by almost everyone. Antonioni 's artistic reputation was unaffected.
Actors Daria Halprin and Mark Frechette became an item and lived for a time in a commune. She left for a marriage to actor Dennis Hopper, followed by a career as a psychologist. She eventually authored several books about the benefits of art and dance therapy. Mark Frechette participated in an impulsive bank robbery; his accomplice was killed. He died later in what was described by researcher Dave O'Brian as a bizarre accident in the recreation room of a Massachusetts prison. Frechette's quoted rationale for robbing the bank resembles something his angry
Zabriskie Point
character might say: "It would be like a direct attack on everything that is choking this country to death".
Warner Home Entertainment's DVD of
Zabriskie Point
is a bright and colorful enhanced transfer that replicates cameraman Alfio Contini's razor sharp, carefully composed images: nobody will complain about the way this disc looks. The Kaleidoscope, The Grateful Dead, Patti Page, The Youngbloods, John Fahey and Jerry Garcia join Pink Floyd on the soundtrack. The original trailer is a fatuous hoot that now plays like a parody of flower - power inanities. Don't forget:
"How you get there / Depends on where you're at".
(This and subequent quotes are from
"The Sorry Life & Death of Mark Frechette", Dave O'Brian, Rolling Stone
Nov. 6, 1975).
For more information about
Zabriskie Point
, visit
Warner Video
. To order
Zabriskie Point
, go to
TCM Shopping
.
by Glenn Erickson