DVDs from TCM Shop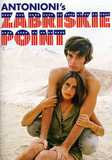 Zabriskie Point A young girl helps a student... MORE&nbsp> $14.95 Regularly $19.98 Buy Now
Trivia
'Ford, Harrison' fans know that his scenes were cut from this film. But he can still be seen; if you look real quick, in the jail scene, you will see him standing up against the back wall right by the door.
Michelangelo Antonioni's original ending was a shot of an airplane sky-writing the phrase "Fuck You, America," which was cut by MGM president Louis F. Polk along with numerous other scenes. Polk was eventually replaced by James T. Aubrey, who had most of the cut footage restored, but without this final shot.
Antonioni's leftist politics made the film a controversial project from the start. The production was harassed by groups opposed to the movie's alleged anti-Americanism, among other things. The FBI had agents shadow numerous cast and crew members; the sets were besieged by right-wingers (who had come to protest a scene of flag desecration that never even existed) and militant anti-establishment students (worried that they were somehow being "sold out"); the sheriff of Oakland, California charged that Antonioni provoked the riots he had come to film; Death Valley park rangers initially refused to allow Antonioni to shoot at Zabriskie Point because they thought he planned to stage an orgy at the site (which Antonioni had conceptualized but never seriously considered); and the U.S. Attorney's office in Sacramento opened grand jury investigations into both the film's "anti-Americanism" and possible violations of the Mann Act, a 1910 law prohibiting the transportation of women across state lines "for immoral conduct, prostitution or debauchery," during the Death Valley shooting. (The investigation ended when it was learned that Zabriskie Point was at least 13 miles west of the California-Nevada border.)
A piano piece composed by Richard Wright of Pink Floyd for the 'violent scene' went unused, but was later reworked by the band as "Us and Them" on their album "Dark Side of the Moon".